Guanajuato, Mexico: Love at First Sight
Article and photos by Lies Ouwerkerk
Senior Contributing Editor
2/5/2017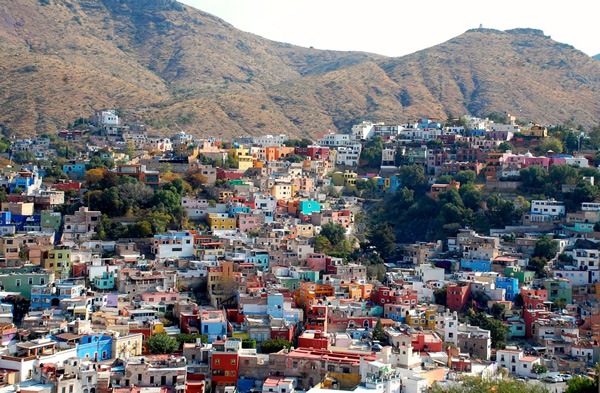 The city of Guanajuato, built on hill slopes.
Imagine a picturesque, narrow valley, with houses and churches painted in all colors of the rainbow crammed onto the slopes of its surrounding hills; winding alleyways and steep staircases, for vehicles impossible to reach; small, quaint squares and gardens with old stone fountains and wrought-iron benches under centuries-old, carefully manicured trees; impressive colonial mansions and theaters built of pink sandstone or adobe, revealing a strong Spanish influence; a remarkable subterranean road system where once a river used to flow; and an abundance of music, visual arts, good food, and intriguing legends.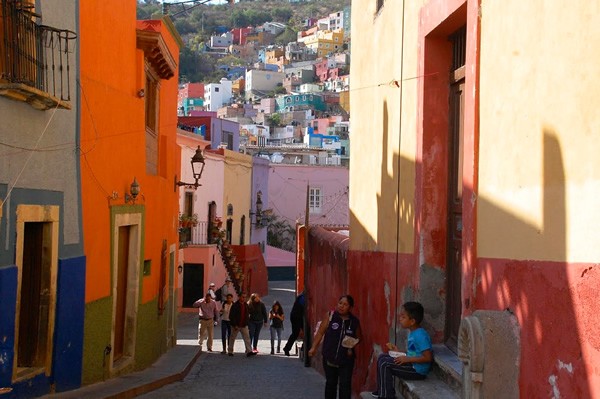 Winding streets of Guanajuato.
Quiet, shady squares galore.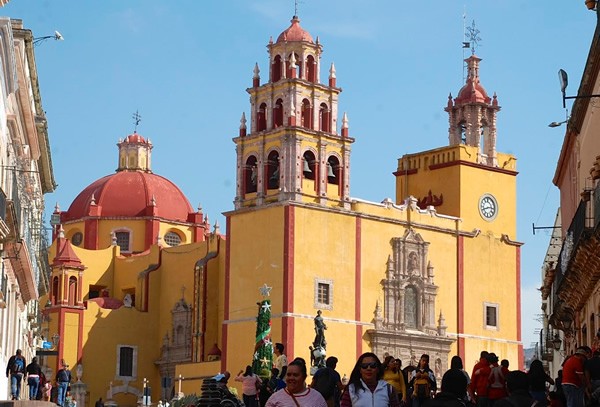 The Basilica of our Lady of Guanajuato, dominating the center of town.
The picture-perfect city of Guanajuato (meaning "the place of frogs" in the indigenous Purépecha language), is situated in Central Mexico, at an altitude of approximately 2,000 meters (6,561 feet). Struck by its beauty, I cannot help but fall in love with it as soon as I set foot in its charming callejones (alleyways).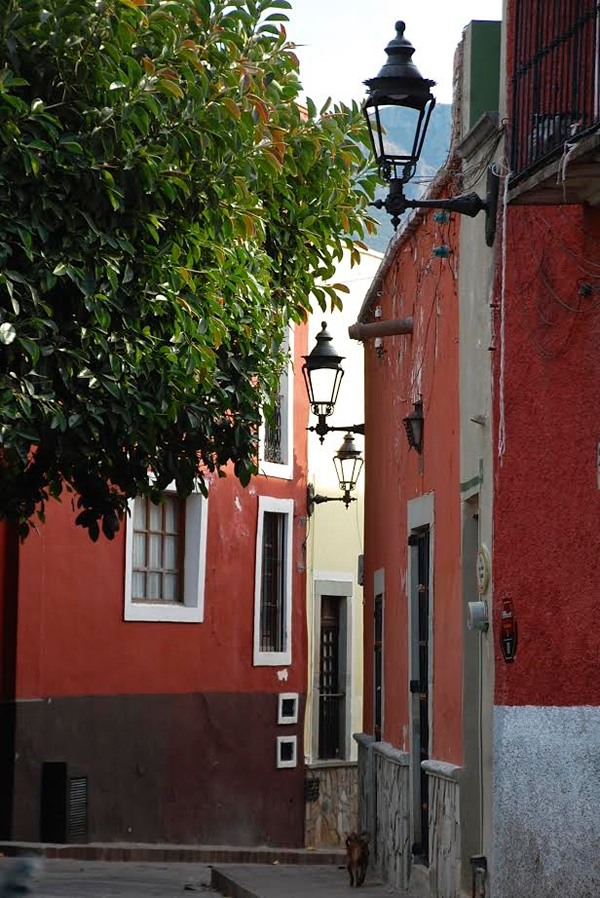 One of the many callejones (alleyways) I wandered in the city led to yet more colorful discoveries.
Slow Travel
Guanajuato is an ideal place to indulge in slow travel. Enjoy living with a local family and immersing oneself in their daily routines, customs, language, and cuisine; wandering through the city unhurriedly, without any pressure to visit the obligatory tourist attractions; walking the carretera panoramica that encircles the city up above; strolling over the Hidalgo market or the smaller one in Embajadores; hiking in the hills of nearby Santa Rosa de Lima; or embarking on daytrips to towns such as more rural Dolores Hidalgo — cradle of Mexico's Independence — or more touristy San Miguel de Allende, UNESCO Cultural Heritage Site since 2006 and magnet for North American expats.
I stay for a long period high up a hill in a barrio on the northeast end of Guanajuato, in the beautiful home of Ana, a concert pianist who gladly introduces me to her various neighbors and friends. When she had her place built against the rocks a couple of years ago, she was highly inspired by the simple forms, natural materials, unique landscape designs, and bold colors of the late Modernist Mexican architect Luis Barragán.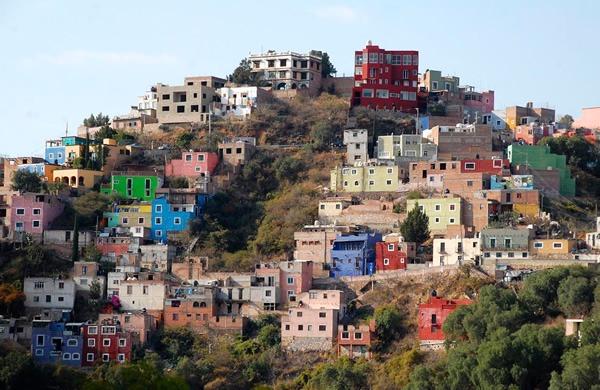 A barrio in Guanajuato.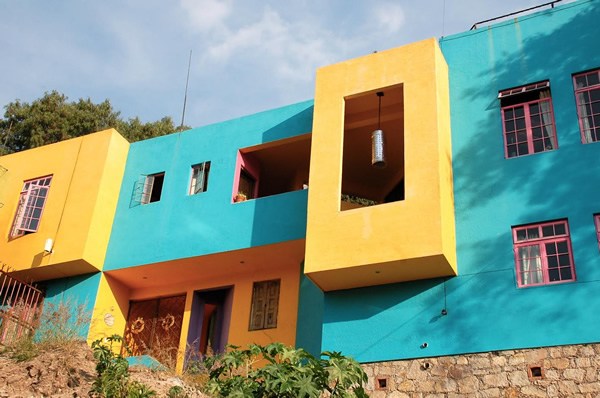 A house in Louis Barragán style.
From the many floor-to-ceiling windows, the unexpected open wall spaces and the immense rooftop terrace, I have magnificent views over the valley, the surrounding hills, and the ever-blue sky. During happy hours on the roof, I watch the sundown, listen to Ana playing the piano, and sip contentedly from a local mescal or tequila, drinks made from the maguey and blue agave plants.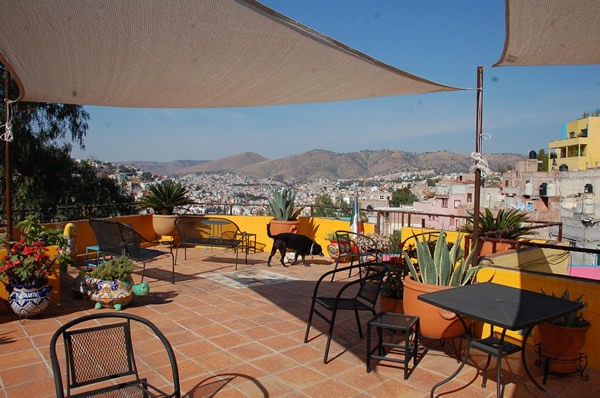 A roof terrace overlooking the city.
In order to reach the city below, I descend every morning into a maze of staircases, squares, and alleyways, accompanied by the sounds of crowing roosters, barking watchdogs living on the rooftops of my barrio, and church bells, at regular intervals still rung by real campaneros (bell ringers).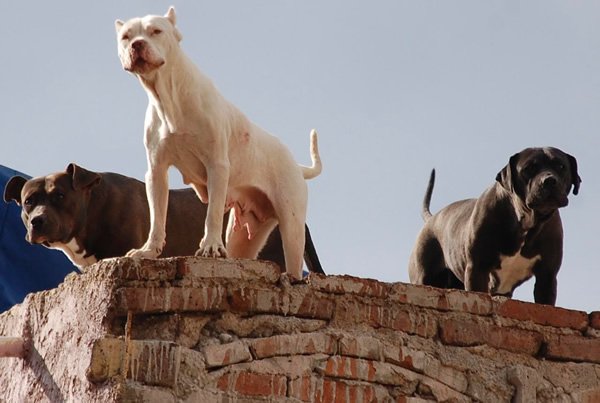 Territorial dogs on a rooftop keeping it real.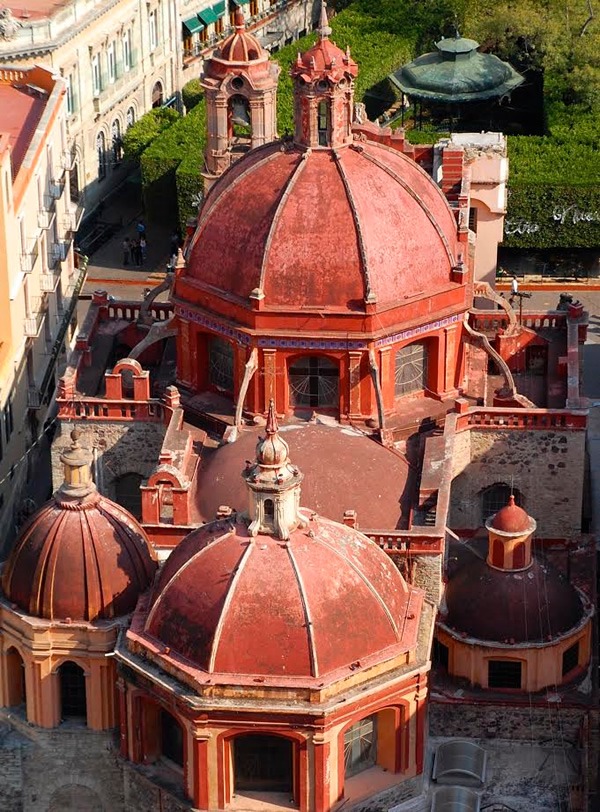 Domes of Templo San Diego.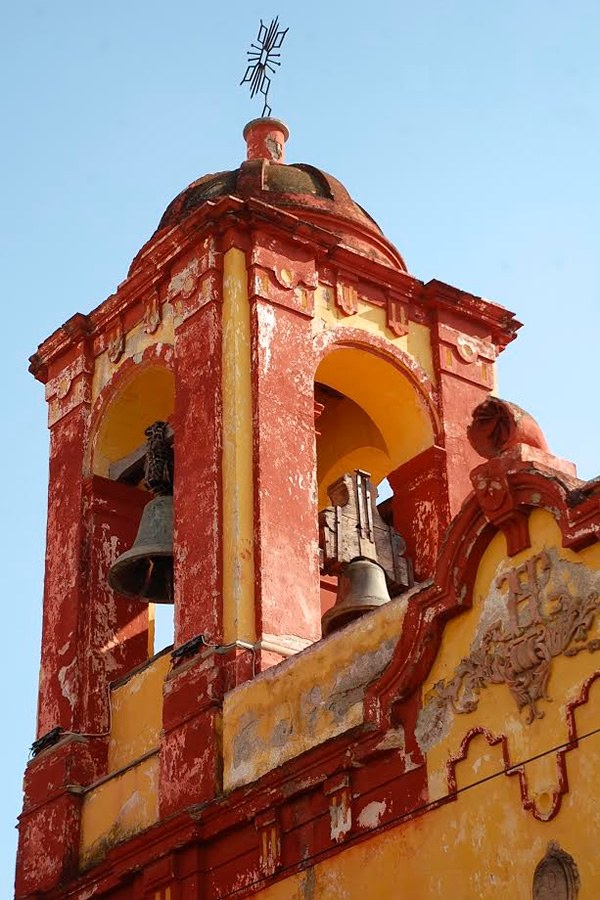 Church bells are rung at regular intervals.
At nearly every bend along the way, I am touched by something I encounter on my path: a quiet, shady garden, a Florentine fountain, a façade in an unusual color, balconies full of plants, a beautiful wooden door with an old-fashioned knocker, a romantic bench occupied by whispering lovers, a cheerful greeting by owners of a tiny hole in the wall, a "buenos días" exchanged with men who carry huge propane tanks and water bottles to their clients uphill, or the hee-haw of a lone donkey, packed with heavy cement bags, waiting for further orders.
I may unwind at a cozy sidewalk café to enjoy the stunning cityscape and a customary limonada or agua de Jamaica (hibiscus punch). Or, I might pause for a snack at the street vendor off Plaza del Baratillo, famous for her delicious homemade gorditas, tortas, tacos, tamales, and enchiladas, which she serves to long line-ups of mainly local customers. Since Guanajuato is a university town, there are also plenty of excellent, affordable restaurants such as "Los Campos," "El Mestizo," "Café El Santo," and "Midi."
| | |
| --- | --- |
| | |
| Press used by street vendors to prepare fresh tortillas. | A molcajete, made of volcanic rock, a traditional Mexican version of the mortar and pestle, used for salsa verde. |
| | |
| Home-made street food being prepared. | Two quesadillas filled with scrambled eggs and beef ragout. |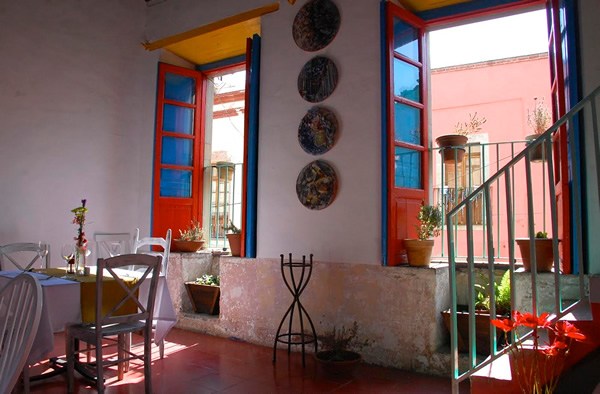 Restaurant "El Mestizo"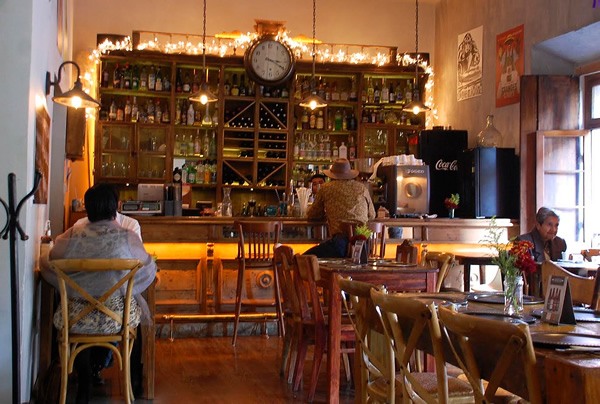 Restaurant "Midi"
I may also interrupt my wanderings to browse through the books of the stalls in El Jardín de Reforma, or to observe passersby from a bench along the walkway in the main square, El Jardín de la Unión. The benches are also a great vantage point for listening to live mariachi music emanating from the terraces of the many surrounding restaurants, enjoying the Symphonic band that plays a few times a week in the kiosk in the center of the garden or watching the various street performers at Teatro Juarez, across the street.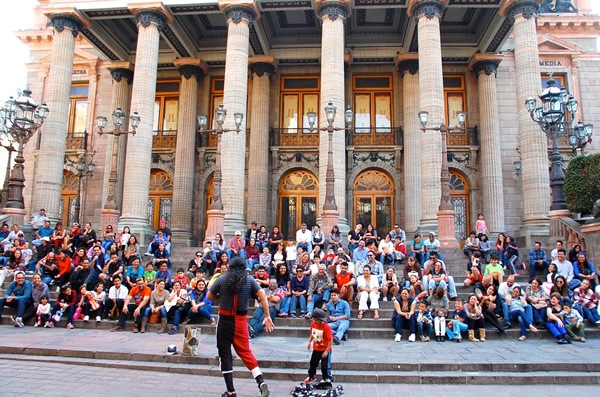 Street performer in front of the majestic Teatro Juarez, opposite El Jardín de la Unión.
Buses without mufflers have their destinations hand-written on their windshields and add their own "music" to the street scene with their noisy engines and grinding gears. And so do university students dressed in garbs of Renaissance minstrels, guiding people through the historic center while singing, dancing, playing music (string instruments and tambourine), and reciting the city's old legends. It is a Spanish custom called callejoneadas, in the old days performed by poor university students eager to earn some pocket money. Although it has practically died out on the European continent, it is a tradition kept fervently alive in Guanajuato. Sometimes, tequila is part of the "walking serenade" as well!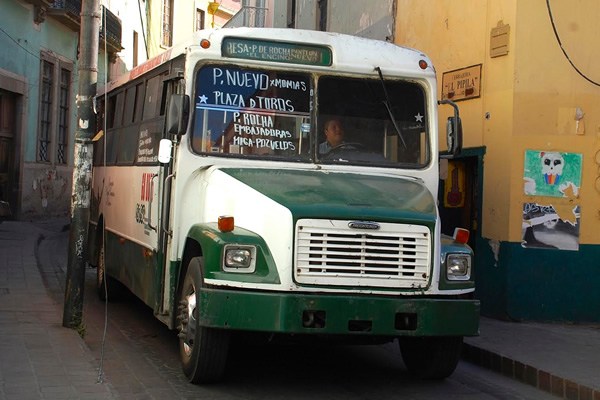 Bus making its way through a narrow, curvy street.
History
The predominantly nomadic tribe of Guachichiles (meaning "heads painted red") inhabited the area before Spanish conquerors arrived and invaded the territory. Under Spanish rule, Guanajuato became home to some of the most productive silver mines in the world. The wealth generated by the mines filled the coffers of Spain and the pockets of the silver barons in Mexico (called New Spain at the time), who heavily exploited the locals to do the hard labor.
Opposition to Spanish domination had been brewing for decades before it culminated in "el grito de independencia" by an unconventional and rebellious parish priest named Hidalgo, in the nearby city of Dolores. In 1810 Hidalgo called for the end of 300 years of Spanish rule. He incited fellow citizens to take up arms and demanded racial equality in a highly stratified caste system of Spanish noblemen, criollos (descendants of Europeans, born in Mexico), mestizos (those of mixed European and Native American descent), ameroindios (Native Americans), and negros (African slaves).
With a growing following of peasants, miners, rebel soldiers, and looters in tow, Hidalgo slowly made his way to Mexico City. When he passed Guanajuato, one of his men, a miner called Pípila, is said to have set the large wooden doors of a granary (La Alhóndiga de Granaditas) ablaze, behind which the Spanish and loyalists had barricaded themselves. Trapping the Spanish that way was one of the first victories in the country's struggle for independence, but it would take 11 more years to gain complete freedom from Spain. Hidalgo was unfortunately captured and hanged in 1811 before he could see the final victory, and his decapitated head remained in Guanajuato, hung in an iron cage for 10 years, from one corner of the Alhóndiga.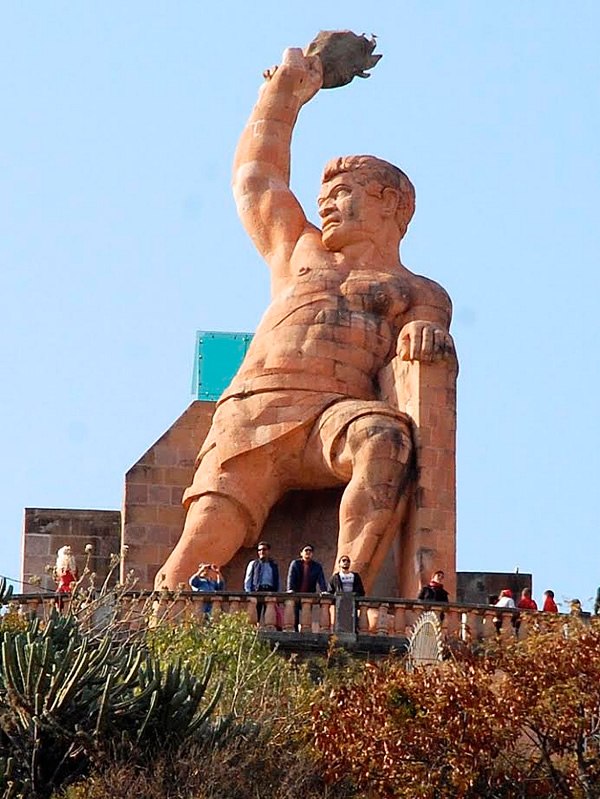 Statue of Pípila with torch, towering over the city.
Today, Guanajuato is a university town with over 30,000 Mexican and international students, spread across several campuses in the region. In 1988, the city was designated a UNESCO World Heritage Site, together with its adjacent mines, of which La Valenciana is still in operation.
Legends
Legends abound in Guanajuato, often linked to streets, squares, or buildings in town, ending tragically in many situations. One of the top tourist attractions in the city is a walk through El Callejón del Beso, the Alley of the Kiss. Here, the romance of two lovers, separated only 68 cm (2 feet) from balcony to balcony, ended with an irate father plunging a dagger in the chest of his daughter upon discovering the liaison.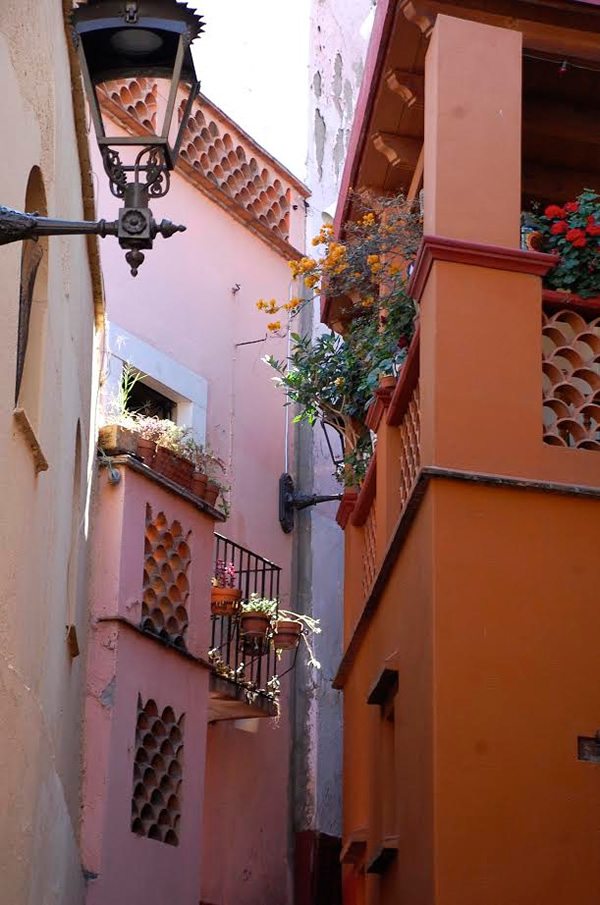 El Callejón del Beso.
Plaza del Baratillo is not only known for its magnificent bronze fountain, a gift to the guanajuatenses from Maximilian of Habsburg in the mid-1800s, but also for the legend of Don Melchor Campuzano, called "El Usurero (loanshark) del Baratillo" who is said to have lived on the square around the turn of the 19th century. He was known for charging high interest on loans, and became so obsessed with his amassed riches, that all he ever did was count golden coins and enjoy their jingling sound. One day a stranger obtained a short-term loan for an extremely high amount, but instead of returning the money plus the high interest a few days later, the man vanished. The loan shark lost his mind over this misfortune and lived for the rest of his life as a beggar in the streets. The story goes that if you listen well on nights with a full moon, you can still hear the jingling of coins on the square.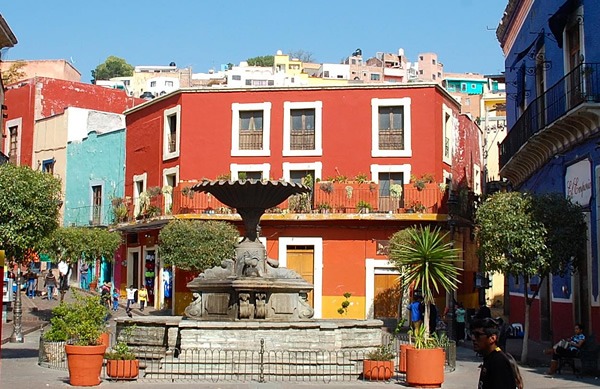 Plaza del Baratillo.
Another tragedy seems to have happened in the area of San Roque, where a young couple of Spanish lovers lived in a house on the corner of Galarza and Positos streets. During the uprising of 1810, the couple went into hiding by crawling into a secret enclosure. Nobody suspected their existence except a servant who would bring them food and the latest news. Unfortunately, the servant was killed a few days later in the chaos of the revolt. Only many years later, when new proprietors repaired the house, did their bricklayers discover and demolish a false wall. Lighted by a candle, they saw two cadavers in the small space. In a matter of seconds, according to legend, the room began to disintegrate and turn into dust…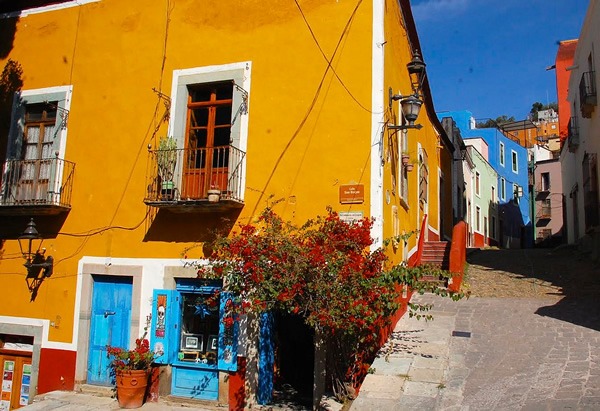 Corner of Plaza San Roque.
Guanajuato, City of Culture and the Arts
Guanajuato has an eclectic variety of museums. The mummy museum, next to the municipal cemetery, contains a collection of naturally mummified bodies that were disinterred when a new law required bodies to be exhumed if survivors did not pay their taxes. It is Guanajuato's major tourist attraction, and skulls in all formats are the city's prime "souvenir."
I do prefer various other museums, however, including the Diego Rivera Museum, that serves as a tribute to the life and works of the 19th century painter, famous for his large murals and marriage to Frida Kahlo; the Don Quijote Iconographic Museum, where works in several media, from paintings and statues to postage stamps and chess sets, depict Don Quijote and his sidekick Sancho Panza — the literary creations of the 16th-century Spanish novelist and playwright Cervantes; and the Gene Byron Museum, where the home and artwork of the late Canadian artist can be viewed, and concerts from classical music to jazz are held on Sunday afternoons.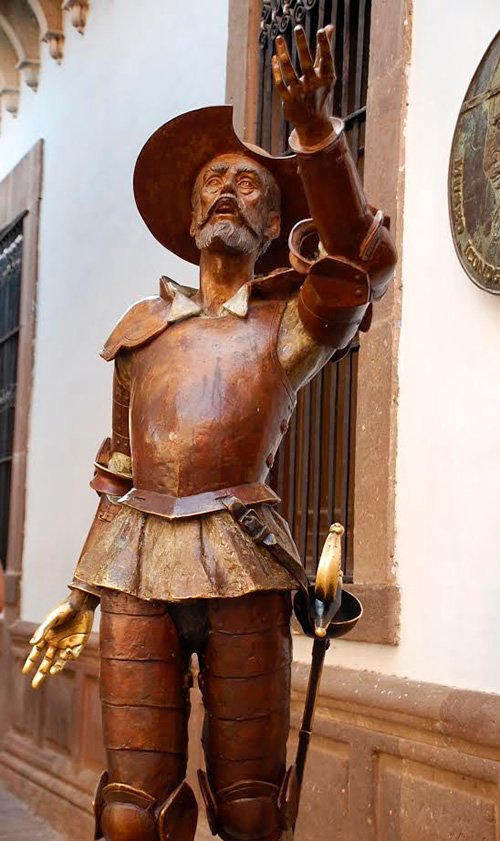 Statue of Don Quijote in front of the Don Quijote Iconographic Museum.
In addition, Guanajuato boasts several theaters, such as the Teatro Juarez, Teatro Principal, and Teatro Cervantes, where performances include those of the University Symphony Orchestra during the academic year.
The city also houses various talleres (ateliers) of well-known artists, among them: Gorky González (traditional Majolica pottery), Felipe Olmos, Mika Mátsuishi (giant Mexican puppets, the mojigangas), Capelo (paintings and ceramic objects), and Catherine Gielis (jewelry, sculpted from discarded silver from the mines).
| | |
| --- | --- |
| | |
| Terra cotta objects in a pottery atelier. | Jewelry sculptor Catherine Gielis at work in her taller (workshop). |
Last, but not least, Guanajuato celebrates a 3-week-long cultural extravaganza each fall, called Festival Internacional Cervantino, which is said to rival the yearly arts festival in Edinburgh. Originally just an amateur street theatre of Cervantes' entremeses (one-act sketches) on Plaza San Roque in the 1950's, the event has grown into an international festival featuring a large variety of artistic disciplines including theater, opera, music (from classical to rap), dance, cinema, literature, and the visual arts.
Direct flights from several U.S. cities including Houston, Dallas, and Atlanta, would be the perfect excuse for attending such an October festival. Enchanting Guanajuato, I will be back!
Lies Ouwerkerk is originally from Amsterdam, The Netherlands, and currently lives in Montreal, Canada. Previously a columnist for The Sherbrooke Record, she is presently a freelance writer and photographer for various travel magazines.
Related Topics

Independent Travel
Cultural Travel
Traditional Guatemalan Cooking in Antigua
How to Get a Taste of Daily Life in Cuba's Bed and Breakfasts
Stay in a Safe Rio de Janeiro Favela: A Unique Bed and Breakfast in Tavares Bastos
Visiting Patagonia with an Argentinean Adventure Travel Company