Stay in a Safe Rio de Janeiro Favela
A Unique Bed and Breakfast in Tavares Bastos
"Are you sure this is the right address?" asks my taxi driver in disbelief, after we have been zigzagging uphill for about 15 minutes and have now come to a halt at the end of a steep incline. Probably more used to bringing foreigners to Copacabana and Ipanema beach, the trendy hoods of Lapa and Santa Teresa, and tourist staples such as Corcovado and Sugar Loaf mountains, he had already frowned upon hearing about my destination at the moment he was assigned to me at Rio's airport taxi desk.
We verify the address with a group of jolly construction workers, sitting on the edge of the sidewalk during a coffee break, and exchange some pleasantries with them through the car window. After the taxi driver has given me the OK sign, I step out, and before I can even fully realize it, my luggage is already placed in a wheelbarrow, and pushed into a narrow and winding alley. Not really your ordinary way of being guided to a hotel accommodation, I guess. But then, "The Maze" is not your ordinary B&B either.
The Best View of Rio De Janeiro
When Bob Nadkarni, owner of "The Maze" came to Tavares Bastos for the first time, he could not believe his eyes when he looked out of the window at the house of his pregnant maid. He had offered her a ride home that day because she felt sick, although his Brazilian roommate had strongly advised against it. As a BBC war correspondent just having exchanged Beirut for the cidade maravilhosa (marvelous city) in the early 80's, Bob was indeed aware of the fact that Rio's favelas (shanty towns), famous for their drugs, violence, and poverty, were no-zones for outsiders.
But once he had discovered that breathtaking view of Guanabara Bay, Sugar Loaf Mountain, and the cityscape below, he knew he would settle for good in Tavares Bastos, one of the about 750 favelas scattered across Rio's lush hilltops where roughly one fifth of Cariocas (inhabitants of Rio) reside. Originally housing former slaves in the 19th century, Rio's favelas had considerably expanded when a construction boom in its affluent neighborhoods in the 70's had caused a rural exodus of people from poor regions all over Brazil, many without a place to go.
Changing the Face of a Favela
Soon Bob was carrying 50kg bags of cement through the alleyways of Tavares Bastos for months on end, in order to eventually build a magnificent and highly unusual, white stucco, now 9-story high building, with huge verandas to take in the most magnificent views of Rio and surroundings. Also being a successful painter, documentary maker, photographer, and musician, he originally used the house as an atelier, art gallery, and film studio. But he kept building and building, and finally added the B&B and jazz events several years ago.
Bob and his Brazilian wife Malu now employ over 30 part-time and full-time favelados, depending on season and activities, and they lodge not only tourists from all over the world, but also film (the Incredible Hulk was shot here) and TV crews, as well as well-known musicians during their hugely successful monthly jazz nights.
Before he could fully realize his dream, however, Bob also had to join battle with the drug lords and corrupt police officers, who tyrannized the favelados, robbed their tiny shops, and killed innocent people who did not do what they wanted. One day he was able to film them in the act, and then threatened to send the clip to the BBC for the whole world to know, using his ties with the British government to his advantage. When a former casino building in the area became available, he also succeeded to convince the Rio SWAT to move in. As a consequence, the cocaine trade was eventually pushed out, and the people who had previously fled to safety, as well as small businesses, slowly returned.
New Projects
Today, you can also find literacy classes, a samba drum band, a ballet school and a small classical orchestra for children & adolescents in the favela. At least 12 favela students have got into the Municipal Ballet School in the last 2 years, and Bob's 16 years old neighbor Aureo just entered the Orquestra Sinfonica Brasileira, and plays double bass with the MAZE jazz band as well. As funding by government, municipality, or sponsors for these favela schools is not always forthcoming, revenues of the jazz nights often have to make up for it.
Experiencing Tavares Bastos
"It is absolutely safe to walk around here" a cheerful and gregarious Bob Nadkarni—fondly called "O Grande Bobé'" by the favelados—reassures me during a lavish breakfast amidst his impressive artwork. While we overlook the Guanabara Bay and the still orange-hued sky above, in which the spectacle of a magical sunrise has just unfolded, he adds: "that's not to say that you can walk into just any favela in Rio, absolutely not! But with the police just around the corner, there is no way the old problems will come back to Tavares Bastos."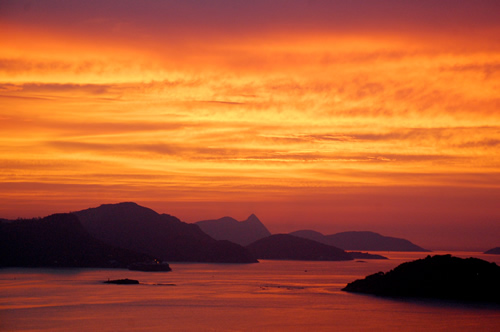 "Don't forget to buy your bottle of water or some fruits at the shop next door, and have a chat with the locals", Bob also suggests." They are proud of their favela, and it makes them feel valued when you want to be part of it too, instead of immediately stereotyping them as violent, drug-using outcasts or having your camera rolling, aimed at their poverty". And indeed, already by the second day of my stay in Tavares Bastos, friendly neighbors greet or lift their hand in recognition, and make a point of showing me the exact spot for catching a kombi to downtown.
Transport
These kombis—vans with three seating rows constantly filled far above capacity—are driven by inhabitants of the favela. It is the only affordable transport for the favelados, who pay one real (about 50 cents) for the descent, and two reais for the return trip up hill, much too steep to walk. Since there are only a few kombis in operation, there might be the occasional waiting time. But not for long, though, as a few favelados owning a motorbike gladly fill the gap to earn some extra bucks. They even have a spare helmet at hand. "A vida, não é maravilhosa?" (isn't life beautiful?) marvels one of them over his shoulder, when he speeds me one morning down the hill and through busy Rua do Catete, to the bus stops on nearby Largo do Machado.
Trust
My blind trust is literally put to the test when I return late one night to "The Maze," after a dinner engagement elsewhere in the city. A taxi brings me back to a pitch-black Tavares Bastos, where a power failure has not stopped the favelados from convening outside, seated in small clusters on their folding chairs. When I hesitate entering the obscure alleyway leading to "The Maze," one favelado says in a reassuring voice "não tenha medo" (don't be afraid) and lights his cell phone to show me the narrow pathway. Then, once I advance with trepidation into total darkness, more cell phones start lighting up, while people leaning out of their windows give me directions as to how many steps and curves I still have to go. Finally, a young man opens the gate of "The Maze," shines light on the staircase, and wishes me goodnight. O Grande Bobé's goodwill is unmistakable.
Departure
In the early morning of my departure day, I am waiting at the top of the steep incline for the taxi I had reserved the night before. The combs, hats and sunglasses vendor who is just setting up his stall, concludes with sincere concern and dismay, after a wait of at least 10 minutes: "your ride is not showing up! I will call an amigo taxi driver, otherwise you might miss your plane." Two minutes later, I throw—with an already surging feeling of saudade (yearning)—a last glance at the place where I have had some of the most warm and touching experiences during my months in Brazil.
The fee for the ride comes to about half of what I had spent when I arrived weeks earlier. The young driver is all smiles, and visibly empowered by his command of English. "You welcome," he says, after carrying my luggage inside the terminal, "you good trip! And maybe come back?"
Lies Ouwerkerk is originally from Amsterdam, The Netherlands, and currently lives in Montreal, Canada. Previously a columnist for The Sherbrooke Record, she is presently a freelance writer and photographer for various travel magazines.