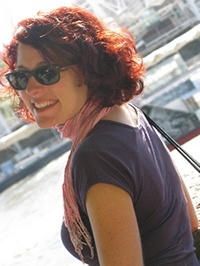 Nora Dunn
Nora Dunn's Columns for TransitionsAbroad.com
Nora Dunn is a Professional Hobo and International Freelance Writer, who enjoys life on the road with no fixed address. Since selling everything in Toronto Canada in 2006, she has climbed and caved the Rocky Mountains, fallen off the grid (literally and figuratively) in Hawaii, started an international NGO on the fly in Asia, survived Australia's worst-ever natural disaster, sailed the Caribbean for months, and experienced some of the longest and most epic train rides in the world.

As a former Certified Financial Planner, Nora travels responsibly despite her Hobo moniker. She has the key to traveling full-time in a financially sustainable way, and helps others achieve the same dreams.

Nora travels slowly and in a culturally immersive way through free accommodation techniques such as house-sitting, volunteering, living on boats, hospitality exchanges, and more; and she has parlayed her expertise and experience into the ebook How to Get Free Accommodation Around the World.

Nora has also created an ebook describing her immersion experience traveling on trains worldwide she calls Tales of Trains: Where the Journey is the Destination.

She has authored books and articles globally, including regular columns with Wise Bread, Vagabondish, Credit Walk, and more.

Find out Nora's latest whereabouts and tips at The Professional Hobo, or join the conversation on Facebook or Twitter.