Volunteer in New Zealand at Mana Retreat
WWOOFing Never Felt So Good
Mana Retreat in New Zealand.
In my travels around New Zealand, I spent one glorious month in the sought-after Coromandel region on the North Island. I stayed at a luxurious retreat and conference center on the side of the tallest mountain in the area, with panoramic views of the nearby ocean. I hiked, meditated, participated in rejuvenating workshops, and ate some of the best vegetarian food I could have imagined. Best of all, it was all free. Welcome to WWOOFing at Mana Retreat.
WWOOF Basics
WWOOFing (which stands for Worldwide Work on Organic Farms) is a way to travel the world slowly, volunteering in trade for accommodation (and sometimes food and other amenities as well). And contrary to the acronym, it's not all about gardening. Tasks required of volunteers can range from cleaning to cooking to animal husbandry to a variety of miscellaneous chores, including (of course) outdoor landscaping and gardening.
WWOOF organizations exist for many countries. Simply purchase a membership for your intended destination country, and peruse the booklet you receive for opportunities that appeal to you. The application process varies from place to place, as do the work requirements and amenities. Generally you are expected to work 15-30 hours per week, and minimum commitment periods range from a few days to a few months.
Mana Retreat
Mana Retreat couldn't operate without the help of their "WWOOFers," who come from all over the world. As a retreat and conference center, it accommodates groups of up to 50 guests, most often for workshops relating to yoga, meditation, spirituality, and health and wellness.
The property is massive and incorporates many kilometers of rugged walking tracks, some leading to the nearby mountain-top with awe-inspiring 360 degree views, while others weave down into the valley by waterfalls and through groves of century-old trees. There is also a non-denominational sanctuary which is a 20-minute walk up the hill, with incredible views and a magical aura. Great care and love has gone into the construction of all the buildings and cabins, many of which were built (and continue to be maintained) by a dedicated group of people who share a common vision and positive energy.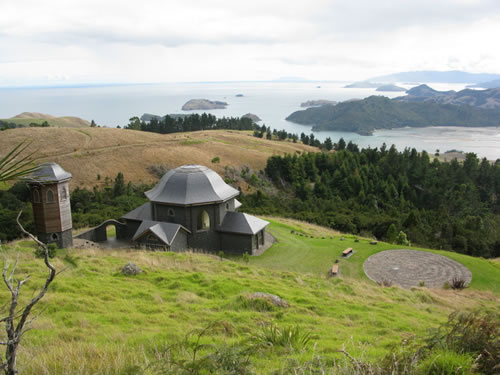 Views of the Sanctuary and the ocean beyond.
Amenities include sauna, bush bath, sweat lodge, hammocks nestled in groves of trees, and meditation platforms—with guest cabins and lodges built almost seamlessly into the land. The main building houses the kitchen, dining room, a huge octagonal room for workshops, some more guest rooms, and a library. And despite its somewhat remote locale, there is still internet access and WiFi for those with laptops.
With all this attention to mind/body/spiritual health, the vegetarian cuisine is wholesome and largely organic, mainly sourced from the beautiful gardens on the extensive property. Although I am not a vegetarian per se, I found during my time there I not only did not miss having meat or fish in my diet, but I also thrived on the amazing variety of absolutely delicious dishes the kitchen produced. And as a WWOOFer at Mana, I was lucky enough to be a part of the food preparation.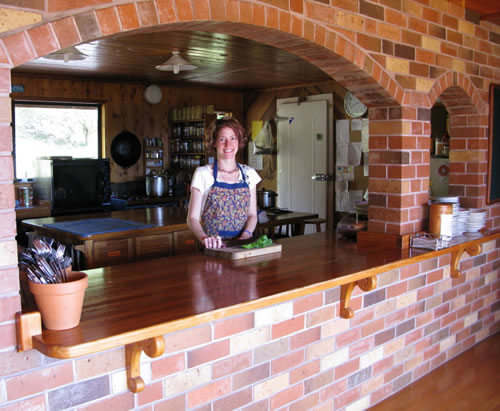 WWOOFing in the kitchen at Mana Retreat.
WWOOFer Responsibilities at Mana Retreat
WWOOFers are responsible for the day-to-day operations at Mana. There are up to eight WWOOFers who complement the paid staff members, attending to duties such as housekeeping, gardening/landscaping, and—my favorite task—working in the kitchen. In fact, by my second shift as a WWOOFer at Mana, I was lucky enough to be instrumental in preparing a delicious breakfast and lunch for 35 people.
Mana requires that their WWOOFers commit to staying for at least one month, due to the training required and amount of responsibility given. But this is barely a hardship; in fact, it's not uncommon for Mana's WWOOFers to take on more than is required of them and to stay for many months, often coming back over and over again. One woman I met at Mana had been a repeat WWOOFer for over five years, returning each year for at least two months each time. (I plan to be a repeat WWOOFer myself.)
Another good reason to stay at Mana for at least a month is to experience the two very difference paces of life there; the energetic buzz of attending to a group, as well as the more relaxed pace of not having any guests in the center and having unmitigated access to all the amenities therein.
Work requirements are at the upper echelon of standard WWOOFing gigs at 30 hours per week, divided into five 6-hour shifts. With time off for meals and breaks, a six hour shift usually stretches to seven hours, and the shifts follow an irregular schedule of times and days of the week. The first shift, for example (required to prepare breakfast and lunch), can start as early as 6 a.m. (ending around 1 p.m.), and the last shift required for dinner can start around 2 or 3 p.m. (ending after dinner and cleanup). And because groups are often in on the weekends, the schedule runs seven days a week.
As strenuous as this may sound, however, the pace is generally relaxed, the work enjoyable, and there is flexibility built into the schedule. Mana is the sort of place where you can get out of the experience what you put into it—physically and otherwise. Mana is a very special place to be, especially for a certain type of person.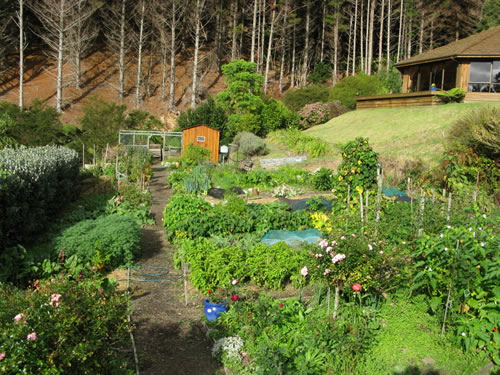 Much of the vegetarian cuisine at Mana comes from their organic garden.
A Day in the Life
Despite different working schedules and responsibilities, WWOOFers at Mana tend to develop strong bonds as a result of living and working closely together. Each day at 8 a.m., many of the WWOOFers congregate in the library for a short group meditation to the melodious serenade of the sanctuary bells echoing from atop the hill. We then draw inspirational cards for contemplation and a positive focus for the day.
When groups are in the center, the kitchen is actively staffed with WWOOFers who are instrumental in food preparation, storage, and hygiene. Almost everything is organic and homemade, and under the wise guidance of a staff member dozens of different dishes are prepared daily. Although the pace can be almost frantic at times (which is typical for most commercial kitchen environments), we also have a lot of fun together. Other responsibilities include ongoing housekeeping duties, which are generally shared across the complement of staff.
After a group has left, more attention is paid to housekeeping, gardening, advance food preparation, and other projects around the property. The pace is more relaxed, and WWOOFers are often given a list of things to do and left to their own devices (once properly trained).
Meals are enjoyed together with or without groups in-house, and are delicious highlights to the day – both in terms of nutrition and conversation. When there is no group, everybody pitches in with food preparation and cleanup like a big family. And raiding a kitchen as extensive as Mana's is an absolute joy for a "foodie" like me!
Time off for WWOOFers is usually a combination of desired seclusion (for hiking or meditation for example), and social activity (like watching DVDs, enjoying saunas, or taking outings together). You have the option to be as social or secluded as you like, as your time is your own and there are no staunch requirements beyond the work schedule.
As a drug-free, alcohol-free, vegetarian property with a spiritual bent, Mana Retreat may not be for everybody. However you don't have to be a yogi or meditation guru to enjoy all that Mana has to offer either, since it is a very open and harmonious place. Mana tends to attract people who love nature, travel the world, enjoy working in trade for the accommodation, and are developing their own brand of spirituality and personal growth.
My own time at Mana provided me with some solid grounding and was a beautiful launching pad for a new chapter in my life (as I began to explore the world of solo travel after traveling with a partner for a number of years). It is a place very near and dear to my heart, and I have already planned my return visit. I hope to make WWOOFing at Mana Retreat a semi-regular stop in my circuits around the world as a full-time traveler.
For More Information
For more information about Mana Retreat, and to apply for their work-exchange program, check out their website.
For other WWOOFing opportunities in New Zealand and elsewhere, visit check out the WWOOF International website.
And for more information on volunteering for accommodation in general, you can read about caretaking around the world.
Nora Dunn is a Professional Hobo who has been traveling full-time since 2007. She stretches her travel dollars and deepens the experience by WWOOFing and volunteering in trade for her accommodations in many of the places she visits.