The Art of Saving: Paris for Less Than 50 Euros A Day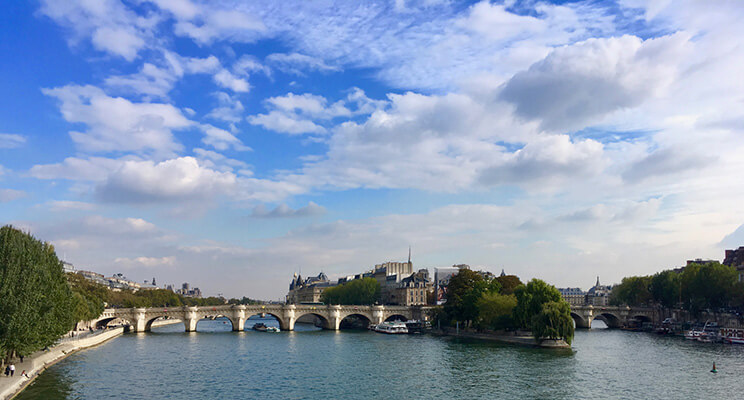 Views of the Seine, bridges, and surroundings in Paris can be enjoyed on any budget, and often the most relaxing way is by foot.
Économiser. It's a transitive French verb meaning exactly what you think it means: to economize or to save. It's a word on the tip of every bordeaux-stained Parisian tongue. Paris, even for the French, is expensive and the French are always looking for ways to save and cut corners… even when it comes to romance. After all, as the French poet Jérôme Duhamel tells us, on Valentine's Day it's better to not be in love, si veut économiser les fleurs — then you can save on flowers!
Romance aside, the truth is, Paris can be as expensive as any city in the world. Expenses are even greater if you're spending your days on Avenue Montaigne, slipping into the latest in haute couture at Versace, Dior and Jimmy Choo, strapping on heirloom pieces from Jaeger LeCoultre or Rolex at Place Vendôme, and then popping into Hermès for your silk carré to wrap around your neck for those chilly fall days. But this Paris, the Paris of haute couture and fine eveningwear, is a rare slice, even for Parisians.
Forget l'art de vivre à la française. The real art of living in France is the art of saving. Nearly all Parisians practice this art with grace and humility. Here are a few tips to join in this real, living artwork. This way, when someone says to you: j'économise de l'argent, you can tell them that you are saving your money, too.
Where to Stay in Paris and Save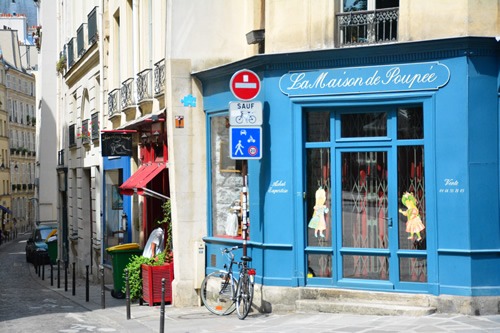 A typical street in Paris where you may save money on accommodations ranging from Couchsurfing to hostels to Airbnb rentals.
Your two biggest expenses on any trip, after your airplane ticket, are typically room and board. The more you can save money on both of these, the more you will have to spend elsewhere. Luckily, there are some fantastic options to stay for cheap, and even free, in Paris, saving you a ton of money on your room. Here are a few to consider:
Shakespeare and Company — It might be strange to read about a bookstore when asking where to stay in Paris, but the world-famous Shakespeare and Company bookstore has long run a "Tumbleweeds" program. If you are a writer or lover of books, you can write to the bookstore or show up after you've already arrived, and sometimes, if you get lucky, there will be an open bed for you somewhere in this rickety old bookstore. You will have to help out a bit, maybe feed the cat, and you will certainly need to write your life story as payment. Henry Miller, Richard Wright, Langston Hughes, Ray Bradbury, James Baldwin, William Burroughs, Allen Ginsberg, Zadie Smith, Paul Auster, Lydia Davis, and  Dave Eggers are just a few young writers who have spent time as a bookstore tumbleweed.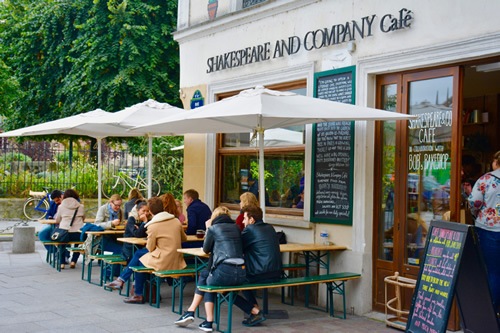 You can sometimes find a free bed in the famous Shakespeare and Company bookstore and cafe.
Hostels — If rubbing elbows with fellow budget travelers is your thing, the hostel is still the meeting point. There are many hostels dotted around Paris with prices ranging anywhere from 25 euros a night for a single dorm-style bed on up. Be aware of age limits, with some hostels only allowing ages 18 - 35 in shared rooms, while other hostels have curfews and lockout periods. The Loft, is a popular boutique hostel in the trendy Belleville district while partygoers would do well to check out Peace & Love, a lively hostel located near the famed Canal St. Martin.
Airbnb — For single travelers, groups, and families, Airbnb makes a lot of sense. You can find apartments for as little as 15 euros a night right in the heart of Paris. Many Parisians put their apartments on Airbnb when they are traveling as a way to make a little extra income while others stay with friends when you rent their apartment. It's a fantastic way to save money and get that feeling of what it's like to live in Paris as the Parisians do, plus you'll have a kitchen to make some of the basics that can save you some money on food!
Where to Eat Well in Paris on the Cheap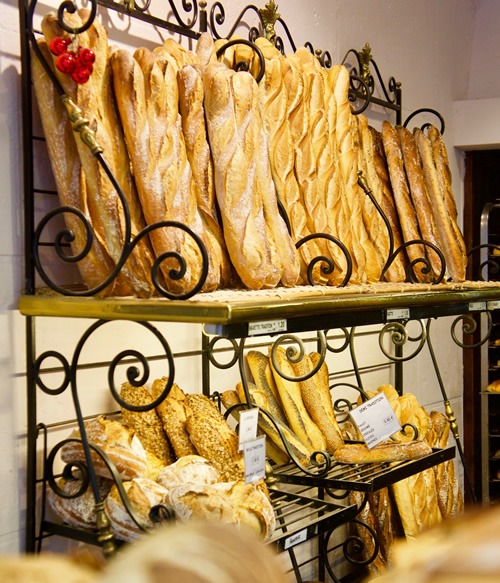 A boulangerie in Paris, where the traditional accompaniment for most meals can be found.
If you can save money in Paris on lodging, you can splurge a bit more on food. After all, there is something spectacular about cozying up with a chocolat chaud à la africain at the late 19th century tearoom of Angelina's, splurging on macaroons from Ladurée and enjoying a boeuf bourguignon for lunch at the neighborhood bistro with a glass or pinot noir. Spectacular, sure, but not cheap. Fortunately, with all the cafés and bistros in Paris, there are some wonderful ways to save your hard-earned travel funds.
The Local Bakery — There are hundreds, if not thousands, of bakeries around Paris. They are not all excellent, though they all cost about the same for a baguette. In your neighborhood, you'll likely spot a few places selling bread, pastries and other bakery items. To ensure you're getting the most bang for your buck, look for bakeries that have a sign or sticker that reads: Artisan Boulanger — this means that they truly bake the bread on the premise — or have a long queue, which pretty much ensures quality. You will want to ask for a baguette tradition, baguette à l'ancienne or baguette de campagne as these are all usually more enticing options than the baguette parisienne. While the baguette parisienne is fundamentally the French version of white bread, the other baguettes are hand-formed and usually have a sourdough starter, making for a delicious tanginess. If you're looking to seriously save money, you can ask to buy only half of a baguette, which is considered entirely normal. Many Parisians do this because it is the perfect size to accompany a meal or make a sandwich.
Picnic on the Banks of the Seine — The French invented the picnic. So it should come as no surprise to see Parisians flock to the banks of the Seine, picnic baskets in hand, as soon as the temperatures start to warm. There are a number of small parks and pedestrian-friendly walkways along the river. Pick up a baguette (see above) and then head to your neighborhood grocery store for a hunk of cheese, tomatoes, and maybe some pâté. Why not grab a chilled vin blanc while you're at it and relax with friends on the riverbank with the rest of the city.
Picard — While the French love to économiser, they also love to eat complex, varied food. Enter Picard. This French-owned, flash-frozen food giant is a hit in Paris. You'll find a Picard in every neighborhood. Aisles of flash-frozen meals, snacks, and desserts are all available with many meals costing less than 5 euros! The many options bear no resemblance to a Hungry-Man meal. Picard has hired renowned chefs who carefully flash-freeze their meals at just the right moment. The menu is varied, seasonal and is a staple of every Parisian household. In fact, many Parisians eat from "Chez Picard" at least once a week! Look out for Picard with ovens and microwaves onsite next to a counter-style, café-style eating area. These can be a great place to grab a quick lunch or dinner.
Grocery Stores — The local grocery store can be a great place to save some money, particularly if you have access to a kitchen. You can go shopping your first day in Paris and stock up for breakfasts, pack lunches and think about having a few dinners at "home" to save even more money. Grocery shopping is a great window into local culture. See first hand where Parisians spend their money and how they manage to save. Think about saving even more by signing up for a carte de fidelity (club card) which normally has some extra discounts and savings immediately available. It takes just a few moments, but it can save you a few Euros. Look out for Franprix, Carrefour, Monoprix, and G20. These are the most common grocery stores in the city.
Cafés and Bistros — Nearly all cafés and bistros have tiers of pricing. For a café, you might pay 4 euros on the patio, 3 euros at a table and 2 euros at the bar. Needless to say, if you're looking to save money and want that real French café or bistro experience, head straight for the bar! During lunch, many bistros will also have a limited bar menu with a main plate, drink, and coffee for 9-12 euros, which is one of the best restaurant bargains you can find.
What to Do in Paris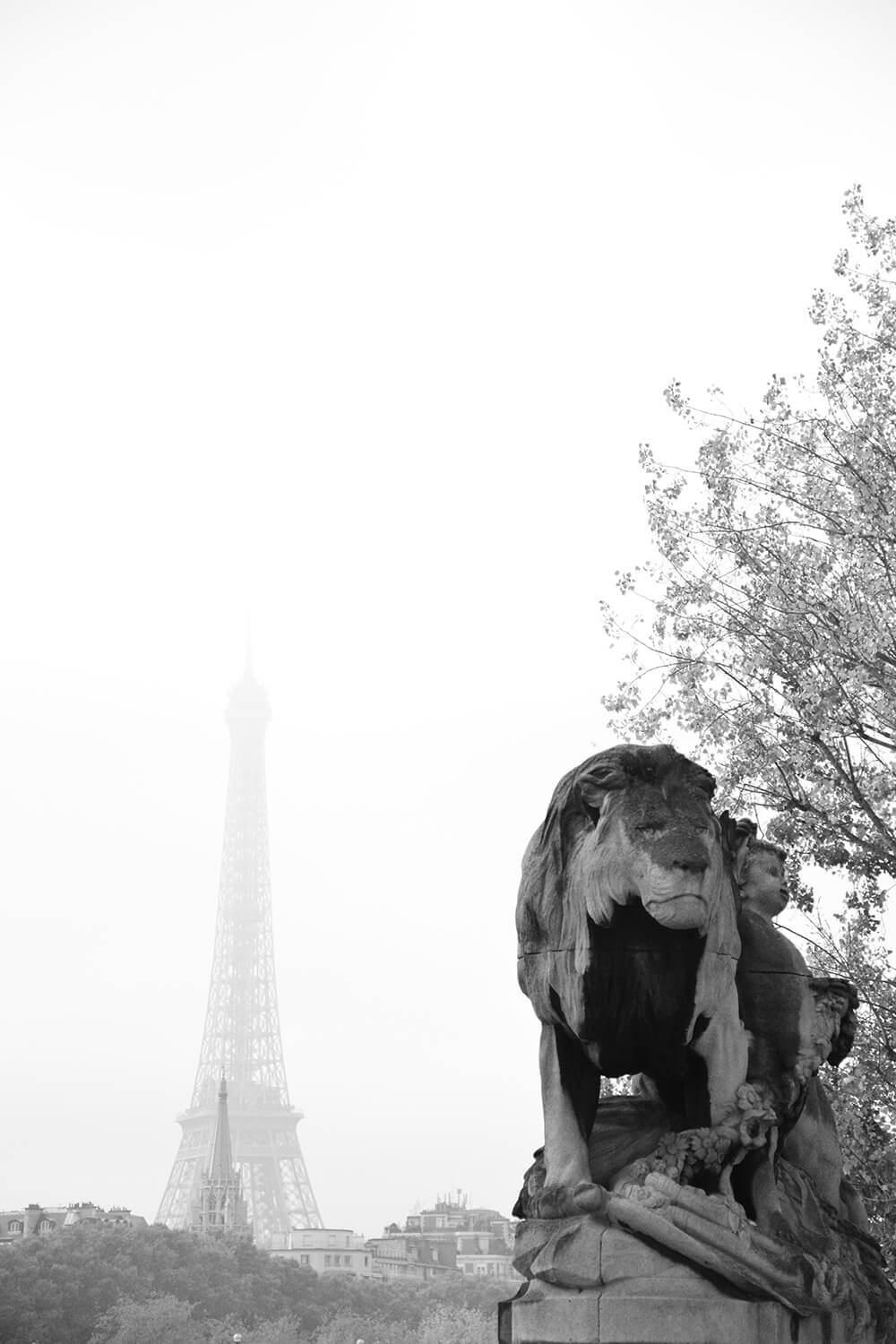 A view of the iconic Eiffel Tower is just one of many sites in Paris that cost nothing.
So you've saved some euros on lodging and food, but there is still so much to do in Paris. Between the museums and galleries, performances and nightlife, you can easily spend hundreds of euros in a single day! How can you possibly enjoy yourself and see all that Paris has to offer without spending a lot of money? Here are a few ideas:
Talk Long Walks: Paris is meant to be seen from the streets. Grab your camera and spend a day out photographing people, the monuments and getting a sense of the day-to-day bustle of the City of Light. Stumble along cobblestone streets, hike up Montmartre and enjoy the view from Sacre Coeur, stroll along the Seine browsing the bookstalls, turn past Republique, and up the storied Canal St. Martin. Make sure to pack a good pair of walking shoes.
Notre Dame and Sacre Coeur — The Cathedral of Notre Dame, in the heart of Paris, and Basilica of Sacre Coeur, atop Montmartre, are among the many churches and cathedrals that have free entry. Enjoy these architectural marvels for free.
Museums — On the first Sunday of the month, many national museums — including the Louvre and the Musée d'Orsay — offer free entry. You will want to get in line early in the morning, and long lines aside, this a great way to see some of the most famous artwork in the world for nothing! For art enthusiasts under 26, the Louvre offers free admission on Friday nights, from 6 pm - 9:45 pm, making this another alternative to see some great artwork for nothing. Otherwise, most museums offer discounted admission to students and persons under 25 daily. Art lovers might want to consider investing in the Paris Museum Pass. If you're planning to see more than a single museum a day, this will quickly pay for itself.
Cooking Classes — Though often the domain of travelers with a bit more means, cooking classes are a great way to get a peek inside the local culture and figure out how to make some local cuisine. Fortunately, the Fédération française de cuisine offers over 500 free cooking classes from the end of May through December! In association with the Town Hall of Paris, these cooking classes are held in the local farmer's markets where chefs purchase ingredients to create a recipe related to the chosen theme of the day.
Free Events — Check the Paris Info calendar for up-to-date information on the latest free events happening around the city, from celebratory festivals to concert series, such as the popular Night of Music that takes place in museums throughout Paris or the annual Poetry Market held at Place Saint-Sulpice in the 6th arrondissement every June.
Getting Around Paris
Biking around Paris is a great way to see and feel the city in motion. The Metro is another fast and flexible option.
Obviously, you can strap on your walking shoes and hit the cobblestone sidewalks to get around Paris, but that's not always the quickest or best way to save time and money. You will not want to walk across the entire city just to capture that photo of the Eiffel Tower or spend all day walking to the museum when you would rather be in the museum. Thankfully, Paris does have some great public transportation options.
Metro — Often the easiest, quickest way to get around is the Metro, the subway system running throughout Paris and its outlying neighborhoods. Buy a carnet of 10 tickets instead of buying one ticket at a time to save a few euros. If you're going to take the Metro, or any other form of public transportation frequently, consider purchasing a 5-Day Pass. Make sure to pick yourself up a free copy of the Paris Metro Map, which can be a great aid in planning trips and getting around.
Bus — You can buy a ticket for any bus from the driver (2 euros, non-transferable) though you'll best served to buy a carnet of tickets from a Metro station as you can use these tickets for the Tram, Bus or Metro. Though you can use the same ticket to transfer between buses or the bus and the tram, you can't use a ticket previously used on the Metro for a bus or tram. The bus can be an excellent way to see the city in comfort. Line 69 — which takes you from the Marais, past the Louvre and to the Eiffel Tower — is an excellent line to get a near-free sightseeing tour.
Bikes — For years, Vélib' was the only bike service in town. You would go to a station of bicycles, punch in a few numbers on a machine and unlock a bike that you could ride across town and park at another station. There are some problems with the system and stations are often full (meaning you can't find parking) or empty (meaning you can't find a bike). That is changing. Vélib' service is being massively revamped with the new name of Vélib' Métropole and will include an app and many other conviences. Meanwhile, there are also other bike rental services popping up.
Lucas M. Peters recently penned and photographed the Moon Morocco Travel Guide with Avalon Publishing. His articles, essays, short stories, poems, photos and videos have appeared with Creative Nonfiction, Ploughshares, The Voyage Report and various other magazines and websites. He has been a travel consultant for The Travel Channel and is the editor-in-chief of the Journey Beyond Travel travel web series. 
Lucas lived in Morocco from 2009-2015, where he taught English Composition, Literature and other courses at Al Akhawayn University. He now lives in Paris with his wife and son, and keeps a dad blog at www.papaparisien.com. He can sometimes be found giving students a hard time at the Sorbonne, where he adjuncts. 3-4 times a year, he still travels Morocco, visiting friends, family, researching and finding moments to capture.