Affordable Paris! Enjoy Your Stay in a Cheap Vacation Rental Apartment
Living and Eating Like a Parisian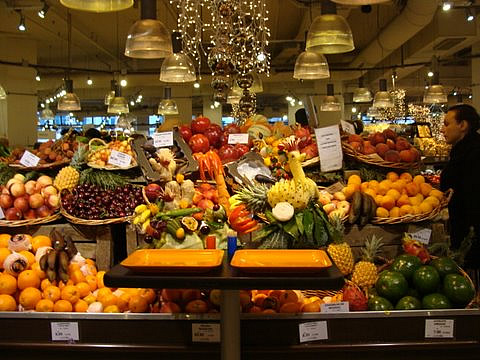 Just some of the offerings at the nearby Bon Marche in Paris, which is a "Foodie Nirvana" for locals and foreigners alike.
While the dollar has recovered in value against the euro since 2014, the cost of hotel accommodations in Paris has also increased such that some Americans may still feel the pinch when splurging for that special trip to the cultural center of France. We suggest a way to do so that involves finding a fantastic way to live comfortably while stretching your dollars, exploring all the city has to offer like a Parisian, and eating as well as you wish in a culinary capital.
For many years my husband and I spent a week or so in Paris, where I had lived in my youth, to catch up with friends, who unfortunately for us did not live in apartments big enough to put us up. Instead we stayed in inexpensive hotels. When not invited by our friends for dinner, we ate all our meals in restaurants or smuggled prepared food from a local "traiteur" into our tiny cramped rooms. Not that we complained considering how well we were eating and how much we enjoyed being in Paris—but nonetheless our stay always ended up costing more than we had anticipated.
Perhaps it took the years of the "Great Recession" for us to get smarter, and now that the dollar is much stronger against the euro, even a still-expensive city like Paris offers affordable options.
Renting an apartment in Paris is a great way to save money and extend one's stay relative to staying in a hotel, for example. As a bonus, you also to get to know a neighborhood very well, while pretending, at least, to be living like a Parisian if you so desire. You can go shopping where everyone shops for food and easily make at least one meal a day from all the wonderful things that area food stores and markets offer (see Numbeo's crowd-sourced average cost of food from markets in Paris). At the same time you will be living in a comfortable, often roomy place compared to a hotel, equipped with all your daily needs—from fully functional kitchens, (dishwashers, washing machines, coffee makers, etc), well-designed bathrooms with plenty of linens, and WiFi access.
And all this at less than daily cost of one cramped and often dingy room in a hotel. France, and Paris in particular, is not known for the size of the average hotel room.
Use a Vacation Apartment Rental Agency for a Cheaper Stay
There are a number of agencies that deal with apartment rentals—all found on the internet. Not all rentals are available only from Airbnb or VRBO—those huge international agencies whose prices are sometimes a bit steeper than local agencies relative to what you receive in return. Vacation apartments range from luxury rentals to layouts that are not only affordable, but charming, and particularly suited to bringing family.
I rented an apartment for 10 days (and have done so for a month or more on many occasions), which I spent with my daughter via Paris Address (see all links to this and other agencies at end of article), and they happened to offer exactly the right place in the right "arrondissement" (neighborhood) for our tastes. The location was lively, central, and right next to some really, really good things to eat.
Our apartment was in a tiny part of the "6ieme arrondissement" on the rue du Cherche Midi, where I had so often in the past gone to the famous bakery Poilane to buy rustic apple tarts to go with our café au lait in a nearby café. Now, a stone's throw from the bakery, breakfast "chez nous" was assured!
The first floor apartment in an ancient building over a small restaurant was completely modernized—though the winding stairway would have looked the same in the 1700's!
There were beamed ceilings in the living room and bedroom, whitewashed walls and a completely modern and up-to-date kitchen with all necessary appliances and lots of cooking utensils. Furnished in "pure Ikea" style, it was comfortable and attractive. Furthermore it was close to one of the greatest food shops in the world, "la Grande Epicerie" of the department store "Le Bon Marche." To guild the lily, we were just a few streets away from the tri-weekly "marche biologique" of avenue Raspail, where farm products from all over France—from a fantastic selection of cheeses, baked goods, meat, fish, charcuterie, etc. draws Parisians from the surrounding area. Women in expensive designer coats line up to shop along with students in windbreakers and housewives with their string shopping bags.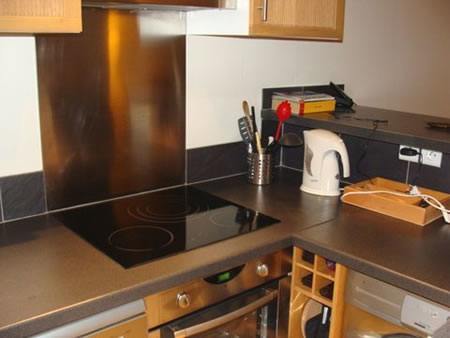 Kitchen with modern appliances in the apartment rental in Paris. Many apartments feature all modern appliances and electronics throughout.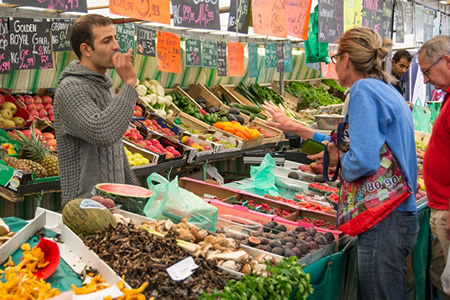 Outdoor markets in Paris provide excellent, tasty, fresh produce—and are often organically grown. Cook your own food and go easy on your budget while often eating better than at restaurants or bistros. Markets are also a great place to meet locals and get a feel for daily life.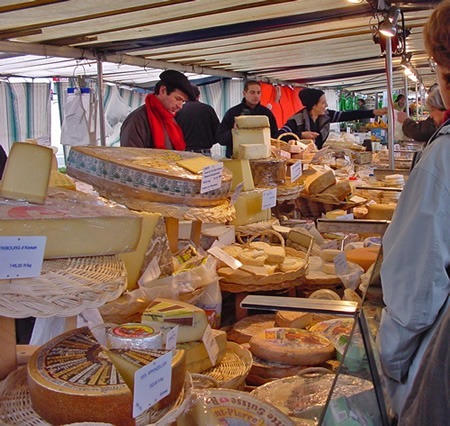 Outdoor markets include stalls with an incredible array of cheeses.
Another feature of apartment living is that if you are a dog lover you can bring your animal (well, perhaps not a Saint Bernard) and let it acquaint itself with Parisian dog life—though an elegant coat for the smaller variety of dog may be necessary! You will certainly meet people who pay a great deal of attention to your pet and strike up conversations which can lead to invitations to sit and talk in a café—and you can even take your pet to restaurants—though not inside food stores.
Why Would You Want to Stay in a Hotel in Paris?
Unlike in a hotel, with a rental you are free to come and go as you please—meaning that you can be out as late as you like without incurring the wrath of the night concierge in the small and cheap hotels which we have frequented.
Not only will you save money on lodgings and on eating out but you will soon begin to feel like a "regular" in the neighborhood, where the shopkeepers will greet you kindly. Should you speak French as my daughter and I do, you will strike up long conversations about where they get their products from, how terrible the political situation is at the moment in France (the French love to mock themselves as much as any people on earth, including the English), and how Paris has changed!
The apartments range in size, price, and locations. Clearly those in the very heart of the city will be more expensive, but if you are willing to use the Metro or walk you can find larger and even more affordable places in the outer arrondissments. There you will see fewer tourists but will still have access to wonderful places to buy your groceries and experience a "more authentic" neighborhood.
I have nothing but praise for Paris Address, the agency through which we rented our apartment. Their staff is courteous and bilingual, any problem we might have had—a phone glitch, for example, was settled immediately, and the place was spotlessly clean. The agency also managed to get transportation for our middle of the night departure from Charles de Gaulle airport.
But as in all cases of rentals, you must keep a few things in mind:
The agency is not responsible for phone, internet, or television malfunctions—though they do their best to repair what needs repairing.
You will be billed for an extra day even though you leave at 4 a.m. for your flight.
Your contract claims that the agency can withhold up to 3,000 euro as a deposit against damages to the apartment.
If you are very paranoid and your flight home does not leave too early you can request that someone from the agency come to inspect the apartment and sign a letter confirming that there has been no damage done during your stay.
For More Information Vacation Rentals in Paris
Other Vacation Home Rental Agencies in Paris
Global Vacation Rental Databases with Vacation Rentals in Paris
Some like the security of going through a larger network rather than a smaller agency.
Of course, the huge and enormous network that is Airbnb.com is now an enormous presence in Paris (with some controversy) for apartment rentals.
VRBO.com is a network, with many options, used many times by the author.
Both offer plenty of options worth checking out.
Sabbatical Homes is also a great option for vacation home rentals and home exchanges in Paris.
See our section on vacation apartment rental agencies for more vacation apartment rental options.