Teaching English in Morocco
Enjoy Living in a Beautiful Country Where the Demand is Increasing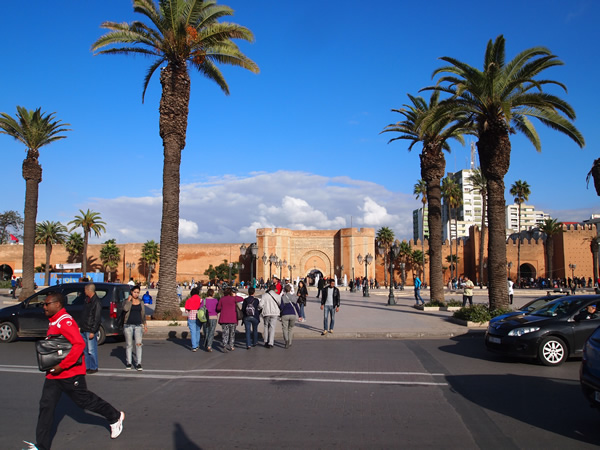 Outside the bustling main door, Bab El Had, of the old city of Rabat.
Morocco has a moderate demand for English teachers, though the need is growing rapidly with the recent uptick in tourism and business with English-speaking countries, as well as China and South Korea, whose citizens may know English as a second language. Most jobs pay a very good living wage. If you live humbly, you can even make enough to save a bit. Those interested in living in other countries in North Africa or the Middle East—such as the United Arab Emirates, Saudi Arabia, Qatar, and Kuwait—offer far better paying job opportunities, but lack much of what draws people to live in Morocco.
With its long history of blending cultures, exciting cities, breathtaking countryside and easy access to Europe, Morocco is uniquely located for those looking a bit of an adventure while they teach. Though there are many job opportunities around the country, it helps to be in the country to pursue them. Language schools in major cities, such as Casablanca, Rabat, and Marrakesh are usually looking to fill hours at the last minute near the beginning of the semester while other teaching opportunities are often available year round.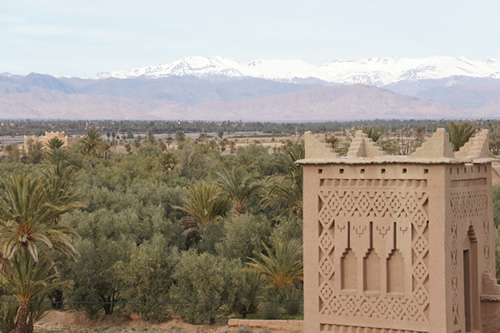 The palm oasis of the Draa Valley with the snow-capped High Atlas mountains.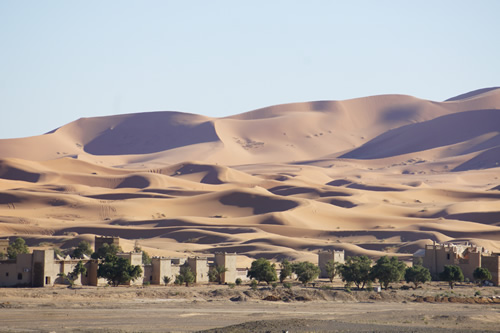 Casbahs tucked at the edge of the Sahara in Merzouga.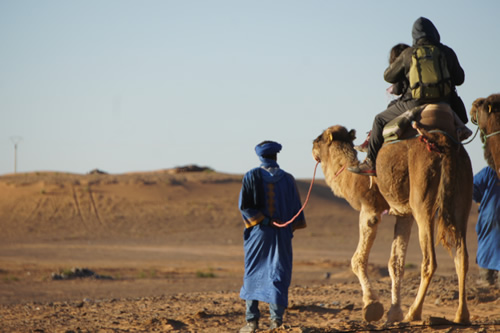 A tour on camel back begins their trek into the desert.
Many positions go unfilled (or filled by someone less qualified) at the last minute largely because open positions are generally not publicly posted. It's best to contact the school or institution you're interested in working at directly, either by telephone or email, to inquire about possible job openings. If you email, be sure to follow up with a phone call after 2-3 days if you haven't yet received a response.
Public and Private Schools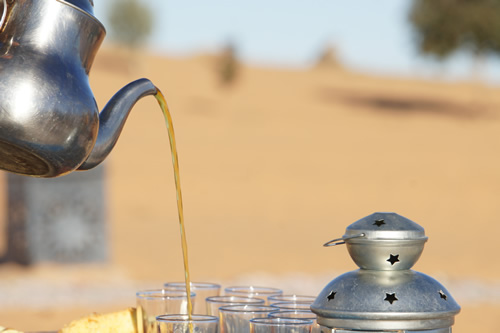 Mint tea is a Moroccan staple.
Unless you're a Moroccan national, it is nearly impossible to get a job at a public institution. As a result, the vast majority of positions for teaching English are with private schools and institutions. Those with K-12 certification can easily find jobs in most cities and towns with private elementary and high schools, and this can also be an option for those holding a Master's degree or higher.
Class sizes range anywhere from 5-30 students, with larger class sizes typical in the larger cities.
Salaries range anywhere from 12,000 to 20,000 dirhams a month (approximately $1,200-$2,000), depending on your location. Typically, salaries are higher in the cities, but so is the cost of living. However, most positions come with a free or subsidized apartment, health care, and a small travel stipend. Food is extremely inexpensive in Morocco, with daily staples costing less than 250 dirhams ($25) a week for a family of four). Imports, such as alcohol and some types of cheese and packaged foods, are comparably priced to Europe and the U.S. This means that if you're careful and eat what the locals eat, you really can save much of your salary. For a sense of the cost of living, see Numbeo's cost of living in Morocco online crowdsourced site.
Language Centers
All around Morocco, you'll find language centers longing for well-qualified English speakers. Language Centers require a Bachelor's degree and a T.E.F.L. certification and/or a Master's Degree, though they usually pay less than private schools. Salaries range from 6,000-10,000 dirhams ($600-$1,000) a month and commonly include a subsidized apartment as well as healthcare. A few even offer travel stipends and a free apartment for the first week or two until you get settled.
Like most language centers around the world, the hours can vary greatly, with the majority of teaching done after regular school hours, in the evening, and on the weekends. The American Language Center operates in 10 cities in Morocco, including Marrakesh, Fes, Rabat, and Casablanca.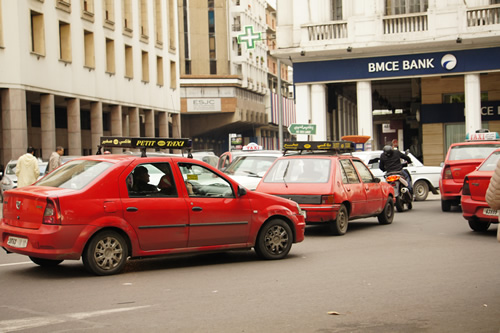 Taxis are an inexpensive way to get around town.
Universities
Nearly all of the private universities hire outside of the country and boast a very international staff. Salaries range from 12,000-30,000 dirhams or more ($1,200-$3,000+) depending on experience and qualifications. Most universities require a Master's degree, minimum, though some universities have an attached language school and will consider hiring those holding a Bachelor's + T.E.F.L. Certificate. The teaching loads are normally light, with 3-4 classes per semester of 20 students or so, though often this includes administrative work and serving on university committees.
International Schools
Some of the best teaching positions for K-12 are in the International School system. Not only do these schools have a similar wage to other private schools—12,000 to 20,000 dirhams a month ($1,200-$2,000)—but the students here tend to be better behaved. The American School system includes schools found in cities through Morocco and are accredited by U.S. institutions. All subjects are taught in English. Graduates from these schools often go on to study at colleges and universities in the U.S.
Private Tutoring
In the major cities, particularly Casablanca and Rabat, there is some money to be made from tutoring, but not much more than pocket money. Most tutors charge 50-200 dirhams per hour ($5-20) and students are notoriously flaky. It's better to have students pay for a few lessons ahead of time, though few people have reported great success with this.
Visas
Obtaining the right to work in Morocco goes hand-in-hand with your residency permit. However, obtaining this permit can be a real headache. Luckily, most employers will help you through this Kafkaesque process. Generally speaking, you'll only need to provide your employer with the documents needed, though you might be asked to travel to Rabat to submit or retrieve paperwork in person.
Living in Morocco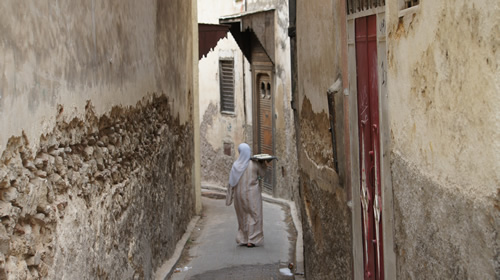 A woman takes bread to the public oven in the medieval medina of Fez.
Housing
Most teachers live in subsidized or free apartments that are somehow attached to the school or university they're working for. Often, these apartments can be a bit cold, both literally (lacking heating) and figuratively (many newer apartments are decorated in tacky white tile everywhere). It might take a little work, but it's possible to make these apartments perfectly cozy.
If you're looking for your own accommodation, a one-bedroom apartment can go for as much as 5,000 dirhams ($500) a month or higher in Casablanca and Rabat, while in other cities it will be half as much. To find housing, it's best to look in the neighborhood where you're interested and ask around. Undoubtedly, your place of employment will help with this, though you will want to have a thorough inspection for rodents and pests. Cockroaches, in particular, can be a real problem in some areas.
internet access is readily available throughout the country. For good service, there are Maroc Telecom and Inwi. Both providers allow you to take advantage of packaged deals that include telephone, television, and internet access for less than 400 dirhams ($40) a month, including 20+ hours of free talk time to the U.S. You can bring your unlocked smartphone into the country and either pay for a monthly subscription ($20+ a month) or pay-as-you-go, the choice selected by most expats.
Food
Moroccan cuisine is often considered to be among the best in the world. Mounds of hand-rolled, saffron-spiced couscous, succulent beef and sweet prune tajines are all examples of the traditional cooking. In the larger cities, nearly all kinds of international cuisine are available, from sushi to fois gras. For those that like to cook, cheap produce and spices are in abundance, making home cooking the thriftiest option for those looking to save or live on a budget.
Street eats are popular among Moroccans and are a quick way to get a bite on the go, with most soups or snacks costing less than a buck. For more information, read about the Moroccan street food scene.
Transportation
If you're in a major city, it's best to stick to the taxis and trains. All cities have a regular taxi service that will get you around for 8-25 dirhams ($1-3) during the day while prices nearly double at night.
The extremely affordable national train connects with most of the major cities. The ONCF group runs the national train and the attached Supratours bus systems, while the privately run CTM group has the most reliable, clean, dependable intercity bus fleet in the country. Grand taxis are another option for traveling between cities, and though they are more expensive, they are also a lot more flexible. All cities and towns have a grand-taxi station.
If you want to buy a car, the international community often has "yellow plate" cars for sale. These are literally "yellow license plate" cars that can only be owned by a foreigner living in Morocco, and the best way to get a decent deal while ensuring that the car is in good working order. Used car prices are still greater in Morocco than one might think, with a decent 10-year-old, 4-door sedan easily costing 40,000 dirhams+.
Money
Moroccan currency is the Moroccan Dirham (MAD) and is closely linked with the Euro, as France and Spain are two of Morocco's biggest trading partners. The general rule of thumb is that 10 dirhams equal 1 Euro. There are cash machines easily accessible in all cities and larger towns, making your ATM card the easiest way to exchange money from your account back home to Moroccan Dirhams and avoid the less-than favorable exchange rates from the airports. However, plastic is not widely accepted in stores and restaurants. It's a good idea to carry around cash.
The Moroccan Dirham is a closed currency, which means that getting dirhams out of the country can be a little tricky. Depending on the job situation, foreigners are allowed to transfer anywhere from 50% - 100% of their earnings back to their home country. You can do so via a wire transfer through your Moroccan bank, as other wire transfer options, such as Western Union, are not allowed to send funds out of Morocco. Even though it is a closed currency, most airports will exchange Moroccan Dirhams for Euros.
Electronics
Morocco runs on the 220-volt European two-prong plug system, so to charge most of your electronics, such as laptops and cell phones, all you'll need is a European plug or plug converter (available in most hardware stores for $3 or so). Appliances and other electronics that need a volt converter (such as hair dryers) are easily found in country and are better purchased here on arrival.
Language
Though Modern Standard Arabic (MSA) and Tamazight are the two official languages of Morocco, most Moroccans speak Darija (a Creole-type Arabic with influences from different languages). MSA is primarily spoken for official, administrative or religious purposes and rarely, if ever, in day-to-day life. Tamazight is spoken mostly in rural areas. There are three major dialects of Tamazight that roughly correspond to the three major mountain ranges (Rif, Middle Atlas and High Atlas) that fashion a spine through Morocco. The second language of many Moroccans is French, which is spoken in all the major cities, though Spanish and English are also spoken. English is rapidly gaining ground, particularly in business culture.