Why College Graduates Should Teach English in South Korea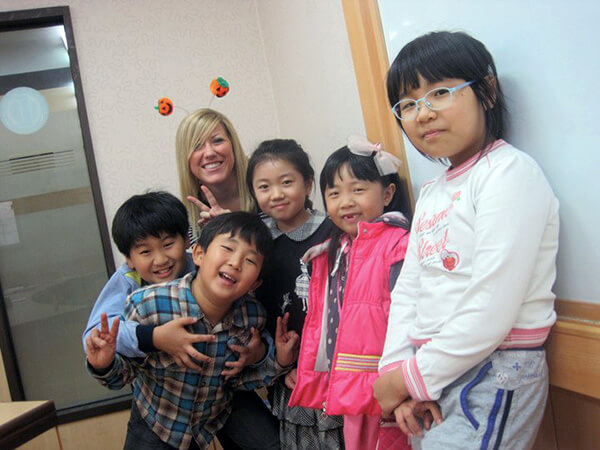 Author teaching South Korean students in a classroom.
What Are You Going To Do After Graduation?
As a student, the ominous question may hang heavily over your head from the moment you step off the stage with your brand new diploma, and probably for the months leading up to that shining moment. Often, students don't have a sure answer. We may get to know the bedroom in our parent's house again, go back to our summer jobs, or perhaps enter straight into the impending "real world" we have heard so much about. But for those who would like to take a break from the everyday (myself included) there are numerous options to satisfy the travel itch you may be feeling. I took advantage of one of these opportunities by teaching English in South Korea after graduating from Illinois State University and had, in so many words, a life-changing experience. Here is how you can take advantage of this opportunity as well.
First thing is first. You need to have conversations with friends, family, and yourself. Every school in South Korea, unless under very special circumstances, requires ESL (English as a second language) teachers to have a bachelor's degree (no matter the major), a passport from an English speaking country, and there is a working 1-year obligation. Although the time went by incredibly fast in retrospect, a year is a long time to be away, and you need to make sure you can commit. If you can, the perks are outstanding. Of course, there are other countries in which you could teach English, but Korea offers some of the best benefits. You will receive a flight to South Korea and back (upon completion), free accommodations, half of your insurance is covered by the school, a huge bonus at the end of your contract, and most importantly, the chance to immerse yourself in an incredible culture with easy access to surrounding countries and thousands of years of history just waiting for you to uncover. Not a bad deal.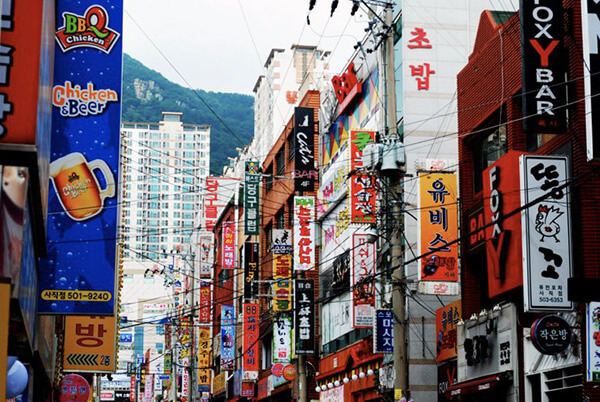 Street in Busan.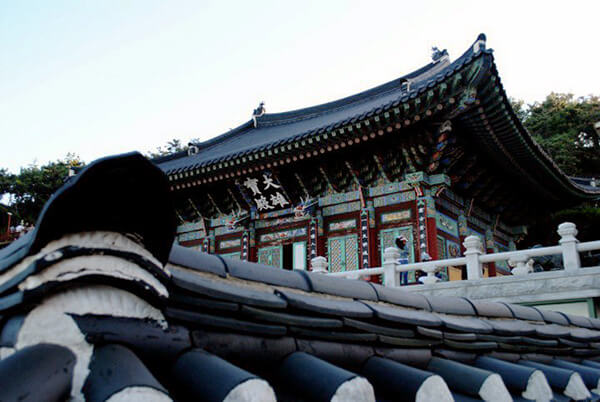 The Yonggungsa temple.
Research Where You Wish to Work and Live
So if you do decide that South Korea is right for you, the next step is to research the school and location that works best. I had a friend who was teaching in Busan and he had nothing but positive things to say about his experience. After speaking with him for a while and after deciding I wanted to teach there, he was able to put me in touch with the director of his school and the process began. If you don't have friends currently abroad, there are plenty of options to get you there! Dave's ESL cafe is a great resource for finding teaching positions overseas, but there are others that are more regional. You can search the job boards, post your resume, and connect with past and current ESL teachers. Take advantage! Otherwise, you can find a recruiter such as Footprints Recruiting with a quick Internet search who will find a job for you in just about any city you would like. There are plenty of large recruiters offering South Korean ESL jobs. Recruiters are extremely helpful, but since they are getting paid (with money from your completion bonus) they sometimes whitewash situations to get you into a school when it might not be ideal. Trust them, but do your own research and ask plenty of questions when interviewing with potential schools!
In Korea, you have the choice to teach in a public school or a private academy. At a public school, you have more students and more responsibility. You will have to work earlier in the day (a pretty standard 8 a.m. - 3 p.m.) and your pay may be just a bit lower. However, you will have far more vacation time and the contracts are very reliable. Public schools usually require teachers to have a degree in an educated-related field or some teaching experience, but not always. Sessions start two times a year, in March and September, so make sure you plan accordingly if public schools are for you!
You also have the choice to teach in a private academy, or a hagwon. If you opt for this position, you will have less students and a bit more freedom when planning lessons. The hours vary, but are usually later in the day (I worked at an academy from 3 - 9 p.m.), and your pay might be a little higher, though that varies as well. 1.8 – 2.4 million won is pretty standard for either public schools or hagwons. You will have less vacation time and horror hagwon stories do exist, as they will for every country. Make sure you do lots of research on the school you are considering. Check black list sites, talk to current and past teachers (if the school doesn't give you a list of contacts, that's a pretty good indication that you shouldn't go there), and ask questions. Ask more questions than you think necessary. This is a big commitment and you should know as much as possible about the school, living situation, students, etc. You are not being a pest, I assure you!
Other than deciding what type of school you should teach at, you need to decide where you will want to go. Seoul and Busan are great options if you enjoy big cities. Both have incredible expat communities, and most comforts from home will be available, though cheese can be a bit expensive. Daegu and Daejeon are smaller, but both will offer the feel of a city with a little less chaos. There are small towns as well, and experiences will differ depending on where you go. No matter where you live and teach, you will likely find beautiful scenery surrounding you. Before going to Korea, I had no idea the country was so mountainous. I was pleasantly surprised when I arrived and spent many weekends hiking and discovering new trails. It was incredibly relaxing and I learned a lot about myself during that time.
After you found the job and location that is right for you, it's time to tackle the sometimes tricky visa process. Korean E-2 visa standards are getting more difficult, but it is for the safety of all, so it is well worth the time and effort you will put into it. It is important to understand that your school and recruiter will help you every step of the way, and they will be great resources should questions arise.
The required documents and background checks change often. No matter what, you are going to need your diploma and if your school is like mine, it takes a while to be delivered. Make sure you talk to the right people and let them know you need it immediately. They will work with you and make sure it happens. I received my diploma in late May when everyone else got theirs sometime in August. Also be aware that background checks can take months before they come through, so make sure to give yourself adequate time when ordering one. There are several steps in the visa process that are outlined above, but it's important to keep in mind that you'll have to make a trip to the Korean consulate that is closest to you.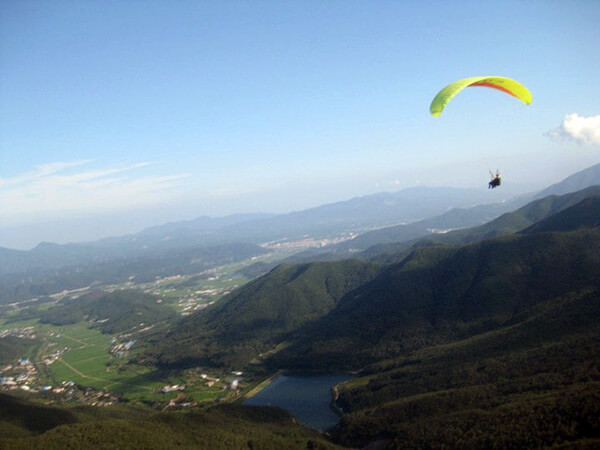 Paragliding in South Korea.
Adapting to and Enjoying the Culture
Once you get your passport and visa back, congratulations! You are leaving for Korea soon and you are well on your way to experiencing a remarkable 12 months. There are some things you need to remember when assimilating into Korea and your new home. Keep in mind that this new culture is likely different from yours in many ways. Always remain respectful of others and aware of practices that might seem strange at first. And if you do have some concerns over safety and your new neighbors to the north, do not let it weigh heavy on your mind. I felt safer living in Korea than most countries I have been to. If you are anxious, express your concerns. People who have lived in the country for a long time can speak with you about the subject and most times, they will be able to put your worries to rest. Although you do not have to speak Korean, or Hangul, to teach English, it is beneficial to learn key phrases like hello (annyeonghaseyo) and thank you (gamsahabnida). If you have the time, try to memorize the alphabet. This helps tremendously when using public transportation or eating in restaurants.
Now prepare for fun. You will probably notice that some locals really like to let loose. Everyone works hard; why not play hard as well? You will likely be invited to social events, dinner parties, and weddings. While this might be intimidating at first, do not let it be. This is a great way to meet and get to know your new co-workers and friends. There are customs and traditions for food and drink, but you will catch on. I encourage you to take advantage of things that Korea does best, including noraebongs (singing rooms) or Korean BBQ restaurants (cheap and endlessly delicious), among other gems you will discover along the way. Sample new foods and try something unexpected. This is your chance to explore!
And after you have experienced new food, new customs, and met new friends you will keep for a lifetime, it will be time to go back before you know it. Beware, reverse culture shock is inevitable. The difference is how you react to it. I was pretty hard on myself upon returning to America. Since I had become so independent during my travels, I figured it would carry on into my life at home. And though it has, the transition has been gradual. Give yourself time! You do not have to have a plan as soon as you return. It might take you a small time to find a job, and that is okay. You have had experiences others can only dream of and you can transform all that you have learned into very real and very beneficial skills that will be put to use in your personal and professional life. Employers will understand that you are independent, highly adaptable, and quick thinking. You have seen a lot and done a lot, be proud of your accomplishments and translate that into success at home and abroad!
For More Info
To learn more about some of my adventures in Korea, including a trip to an abandoned amusement park, check out some of the highlights below! There is also a small list that highlights some of the hilarities you might encounter during everyday life in the Republic of Korea.
—Don't be surprised if a Korean asks you your blood type. Many people believe this tells a lot about a person, comparable to zodiac signs in America.
—As mentioned before, there are rooms, or "bongs," that are used for various reasons. Noraebongs, or singing rooms, always make for impromptu Karaoke parties where some of my favorite memories in Korea were made. There are also DVD-bongs, Wii-bongs, and the all-important PC-bong. Cheap entertainment? Yes, please!
—"Fan death" is legitimate in Korea. Whether or not it happens, people believe in it! Fan death is the belief that a rotating fan kept on overnight in a room with closed windows will cause the people inside to die. Due to suffocation or hypothermia, I am unsure. Apparently this has been proven to be real, but skeptics remain!
—Food in Korea is some of my favorite. If you do not have the taste for kimchi right now, you'll probably acquire it since this pickled cabbage dish is served with every meal.
—Baseball games in Korea are an experience unlike any other. Do not be surprised if you see people tying plastic bags around their heads toward the end of the game. This is common practice, much like the 7th inning stretch, and these bags are later used to collect garbage around the stadium.
An unlikely adventure in Okpo land, an abandoned amusement park in Geoje-do.
Paragliding in Ulsan, South Korea.
A trip to Loveland, an educational sex park in Jeju-do.
Korean weddings and traditions.
Lotte! Lotte! Lotte! Baseball games in Busan.
Getting outdoors for some fresh mountain air, hiking in Jirisan.