Top Volunteer Abroad Programs
Learn, Explore and Make a Positive Difference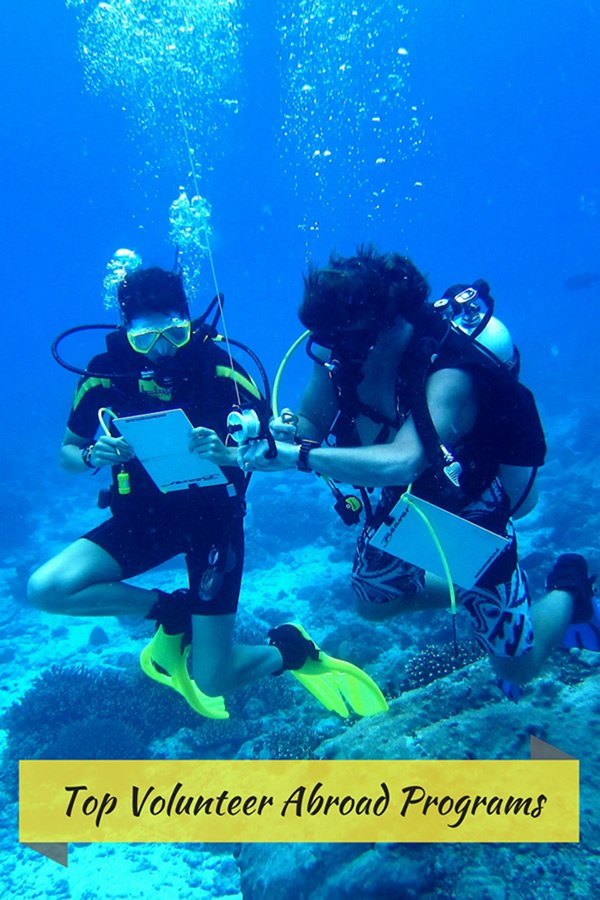 Photo courtesy of GVI. Adapted by Transitions Abroad.
Please note: Due to the global pandemic, each of the following volunteer organizations have adopted policies and modified some of the locations of their projects to take all due safety precautions. Please see the websites of each organization for more information on their policies and specific response. In addition, we suggest that you are aware of the most updated information available on the WHO website as well as through your national and local public health authority before making volunteer plan abroad. TransitionsAbroad.com highly recommends that you only make plans after ensuring that both your home and destination countries are safe and open for short- and long-term travel.
Many organizations have created "virtual volunteering" programs for those who wish to volunteer or intern remotely helping children with education, community development, global health issues, and sustainability. All such programs are clearly far less expensive than being onsite, and still provide many invaluable ways to help others overseas.
Volunteering abroad is an excellent way to learn from others in new lands to be of most help for their particular needs. Volunteers can share their skills and energy while gaining meaningful global experience in the service of others. At the same time, top colleges and universities favor international volunteer experience. Why? It is extremely important for students to learn as much as possible about themselves and the world to excel academically — knowledge that can motivate and elevate future personal accomplishments, careers, and future participation in volunteer projects at home and abroad. The best volunteer programs aim to do more good than harm through careful study and continuity while respecting locals, their culture, and their land.
As with any experience abroad, if you volunteer you develop new perspectives and knowledge. However, volunteering is somewhat different than travel or study abroad because of the direct ways you interact and learn from locals. The experience of living and working together offers a deeper understanding of how interconnected we all are and how we all need to listen and learn from each other.
Volunteering is an extraordinary investment whose value is returned to the volunteer in countless ways throughout life — from careers to interpersonal interactions to simply realizing the value of learning. Having that advantage — possessing global experience, being able to adapt to different surroundings, proficiency in learning new languages, and acquiring greater knowledge of others and ourselves — will give you an edge in today's interconnected, international world. Your experience as a volunteer can help you build an international resume.
There are a wide variety of programs offering volunteer opportunities — and a wide variety of options, including length, cost, pre- and post-program support, and more. Some programs run for a week or two, while others are offered from 12 weeks to a year (or longer, such as Peace Corps). The costs of volunteer programs range widely, as well — from a minimal or low-cost experience to a more extensive and inclusive opportunity with broad, in-country support. The costs are directly related to the amount of program support provided, including housing, meals, training, insurance, etc. You should research very carefully and determine your needs. You should think about what you hope to gain from your volunteering experience before choosing a program to ensure the best fit.
Finally — and this is becoming an important consideration for many more volunteers recently — you should research programs and ask alumni probing questions to ensure that the program you choose meets your expectations while matching the needs of locals without unintended consequences.
Our Picks for Top Volunteer Abroad Programs and Organizations
A non-profit, United Planet offers programs for teens, families, gap year, and medical volunteers that focus on relational diplomacy and building a global network of leaders and volunteers which fosters cross-cultural understanding and uniting beyond borders.
Dave Santulli, Founder and President, United Planet, notes, "In today's world, global challenges transcend borders. To address these challenges — poverty, global health, climate change, involuntary migrations ─ we need to work together as a global community. We are constructing the upper stories of a building in efforts to effect change without focusing on the foundation…the foundation necessary to solve these global challenges is in building stronger relationships and greater understanding across cultures."
Why we recommend United Planet:
United Planet stresses the importance of civic engagement and building partnerships around the world. Their goal of overcoming global challenges and fulfilling each person's global potential is useful over an entire lifespan, and indeed, encourages a lifelong engagement in volunteering.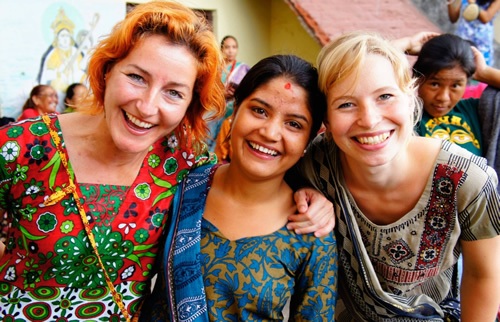 Volunteers working with women in Nepal. Photo courtesy of GoEco.
GoEco is an eco-tourism company, with an emphasis on responsible volunteering, founded by Jonathan Gilben and Jonathan Tal, who met in high school and instantly became friends, bonding over their appetite for travel and adventure. After graduating, they traveled extensively together, which eventually led to an interest in volunteering with communities and geographies they had visited, and those they had not as yet. GoEco developed out of their partnership and offers a varied selection of affordable volunteer projects abroad. They work with over 150 community, wildlife and environmental initiatives all over the world thanks to partnerships, and carefully vet every program. GoEco's stated goal is to ensure that you enjoy your experience in another country so much that you bring the passion home and share the experience with other potential volunteers as part of the global green and responsible movement.
Why we recommend GoEco:
GoEco is very stringent about the programs it chooses and values providing volunteers the best and most sensitive service possible. The strong emphasis on eco-tourism and responsible volunteering allows for many important and interesting opportunities for volunteers and interns at all ages to help with environmental conservation and to make a positive contribution to the lives of other communities worldwide. GoEco has a passion for ensuring that their volunteers engage in meaningful, eye-opening, and memorable projects with tangible results.
The volunteer work with CCS contributes to five key objectives of the United Nations Sustainable Development Goals: End poverty in all its forms everywhere; end hunger and achieve food security and improved nutrition and promote sustainable agriculture; ensure healthy lives and promote well-being for all at all ages; ensure inclusive and equitable quality education and promote lifelong learning opportunities for all; and achieve gender equality and empower all women and girls
ELI is a registered non-profit organization that specializes in individualized volunteer and internship programs. The organization does not plug participants into a placement because it's convenient. They seek out the right for the right fit. ELI works closely with organizations around the world to make a difference in host communities. ELI has many years of experience and a deep commitment to the field.
Why we recommend ELI:
I appreciate the broad and deep experience in experiential learning and developing groundbreaking international programs of the founder and director, Kevin O'Neill, which has translated into an organization offering programs with a purpose where participants make a difference. ELI sees volunteering as part of a lifelong learning process and offers programs abroad to participants ranging from 18 to 82. Many of their volunteers have gone on to work in the non-profit sector, or even form their own foundations.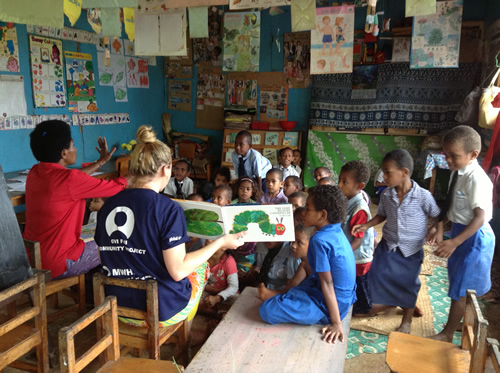 Photo courtesy of GVI.
GVI offers a wide range of programs for the environmentally minded traveler, such as conservation work. Volunteers take a service-learning course connected to hands-on involvement with sustainable projects, volunteer communities, as well as meaningful cultural exchange.
GVI notes, "Groups could be involved in renovating a crumbling classroom in Cape Town, completing biodiversity surveys and species identification walks in Thailand, or taking part in fish and coral data collection dives in Mexico. Students will immerse themselves in an unknown culture while contextualizing their experience within an established curriculum."
Why I recommend GVI:
All GVI's projects each have objectives geared towards achieving the United Nations' Sustainable Development Goals, which build upon the Millennium Development Goals. These are a set of coherent goals focused on sustainable development in the economic, social, and environmental fields. Volunteers work on decreasing Poverty & Hunger, creating Environmental Sustainability, providing access to Primary Education, Child and maternal Health initiatives, as well as disease awareness, and Gender Equality.
Volunteer abroad with child care in Uganda. Photo courtesy of Projects Abroad.
Offering programs from 1 week to 1 year in over 20 countries around the world, Projects Abroad is the world's leading short-term international volunteer organization. You choose the location, duration, and start date of your program. Options include working with children, teaching, conservation work, sports coaching, archaeological work, building, farming, and in the arts — and all are sustainable projects that benefit the community. You need to be 16 or older to participate.
Why we recommend Projects Abroad:
Projects Abroad is one of the few volunteer opportunity organizations where you can choose when to go and for how long. You can do a gap year or go for a week. You will work with established projects and stay with carefully chosen host families, which helps with cultural and language immersion.
A Broader View Volunteers is a 501(c)3 charity and world leader in volunteer service trips and immersive travel. Programs are available for retirees, families, teens and those who want to make their travels meaningful. Sarah and Oliver Ehlers, Founders of ABV Volunteers, say "We created programs that reflect how we love to travel with culturally immersive activities, homestays/guesthouses and a commitment to support the local community. Our volunteer programs open the mind of our travelers, deepens their understanding of the world around them and introduces them to a new culture."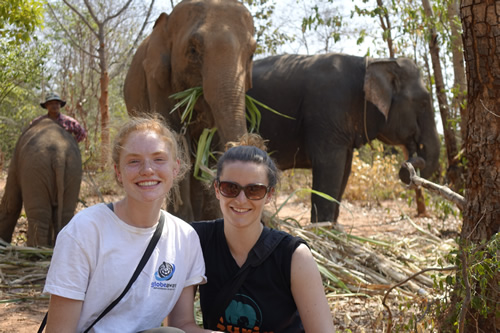 Work with locals of the Surin province in Thailand to preserve the native elephant habitat. Photo courtesy of GlobeAware.
Globe Aware is a nonprofit which offers a variety of short-term volunteer programs abroad starting at one week. The Executive Director of Globeaware, Kimberly Haley-Coleman, sums up the goals of the organization: "What separates Globe Aware in the field is it's focus on providing highly organized programs for the very busy North American lifestyle. We mobilize concrete projects that really make an impact that can be done in only one week, such as assembling wheelchairs for land-mine victims in Cambodia, installing concrete floors in the homes of single moms in Guatemala, adobe stoves in rural Peru. Our goal is to make the lives of both our community recipients and that of our volunteers much brighter."
Why we recommend Globe Aware:
Globe Aware has a variety of international programs where people of all ages can give back—with an emphasis on total immersion while volunteering. From educating children in India to sustainable community-based tourism projects in Costa Rica to sustainable wildlife conservation in Thailand, Globe Aware tailors projects worldwide so that volunteers can help make a positive difference in a short time.
International Volunteer HQ (IVHQ)
While traveling abroad can be expensive, International Volunteer HQ offers affordable and available projects in over 45 different destinations, including Bali, South Africa, Costa Rica, Peru, Fiji, Nepal, and Italy. They have supported over 90,000 travelers to volunteer abroad safely since 2007 and have an experienced team of volunteer travel experts who will ensure you are well prepared for your trip. Their top rated programs and focus on safety are what makes IVHQ a popular choice for solo travelers, couples, families, and groups. They also have the world's a very wide range of projects to choose from with volunteer opportunities in Healthcare, Childcare, Teaching, Conservation, Construction, Wildlife and Animal Care, and more. Some of the most popular destinations to check out are Madagascar, Vietnam, Kenya, Cambodia, Spain, and Thailand, and they've recently opened new programs in Jamaica, Greece, Malaysia, Belize, Belgium and USA — New Orleans.
Why we recommend International Volunteer HQ:
IVHQ offers such a very wide variety of options for volunteer projects worldwide, and most start at very affordable weekly fees. The community of current volunteers and alumni is huge. You can visit their very busy social media pages (Facebook, for example) to check out what current participants and alumni who have engaged in a wide variety of life-changing programs say about their experiences.
GLA offers service learning adventures for high school students in many areas, including Children, Language Immersion, Environmental Conservation, Animal & Wildlife Conservation, Sports, Medicine & Public Health, Social Entrepreneurship, Photography & Journalism, and Find Your Passion in Africa, Asia, Europe, Latin America, and the Caribbean. Each program is crafted to include community service, cross-cultural learning, and adventure, and is a fully supported experience with experts and mentors.
Vanessa Allen, Director of Marketing, Global Leadership Adventure, remarked that "these experiences are often a tipping point for students to reconsider doing what they are doing with their lives and be the change they want to see in the world. Leadership is crucial to GLA, and we weave lessons in leadership throughout the experience. We include reflection discussions, cultural learning immersion experiences, and volunteering as a delivery mechanism for leadership."
Why we recommend Global Leadership Adventures:
When I chatted with Vanessa, her words truly resonated with me. She said, "It's a service learning adventure — service and learning go hand in hand, and the adventure is important as well. Because many of the areas in which we work are developing, we don't want a student to leave without understanding the richness of a country, both the natural resources (scenery) as well as cultural and historical richness. For instance, the issue of poverty will come up — besides economic/lack of resources — we illustrate that there are riches in so many other ways."
Volunteers can travel for a week, a month or a semester. The focus of ABV volunteer travel is providing hands-on, community-driven service work. As an added benefit, ABV offers travelers the opportunity to choose when they travel, where and how long.
Opportunities are focused on preventative public health education and outreach (medical, nursing, dental and global health), education and enrichment programs and language immersion projects (Spanish, Mandarin, Nepali). All include a homestay/guesthouse experience, which is invaluable to true cultural immersion trip.
Why we recommend A Broader View Volunteers:
We appreciate the dual emphases placed by A Broader View on volunteer service and cultural immersive travel, which are both central to our own mission. The wide variety of programs help produce meaningful change in local communities while allowing a personally transformative experience. The project choices in 27 countries worldwide are very flexible in location and duration, and often include language immersion as well—an added bonus that participants can carry throughout their own lives.
Global Works offers summer service adventures for high school students.
Opportunities include global service programs, with a balance of community service, cultural exchange, and adventure activities; Language immersion programs, with community service, cultural exchange, and an emphasis on language development; and Enrichment programs, with community service, cultural exchange, and adventure activities with a specialized emphasis. All include a homestay experience, which is invaluable to true cultural immersion.
Why we recommend Global Works:
Global Works partners with a community to provide a grassroots experience that impacts students and partner organizations in the community in the areas of community development, education, environment, public health, and wildlife care and conservation. Regular reflection meetings focus on discussing projects, accomplishments, challenges, cultural differences, impact on the community, and sustainability.
Global Volunteers offers short-term programs for individuals, families, and groups of all ages. Their goal is to address hunger, poverty, and educational needs around the world. Founded in 1984, Global Volunteers has worked with more than 33,000 volunteers in 200 communities in 34 countries. By working with local community partners, under the direction local leaders, and providing only requested services, Global Volunteers offers a unique glimpse into sustainable community relationships. Projects include schools, playgrounds, gardens, dormitories, water systems, language learning, health care, tutoring, and more, all focused on health, hunger, and IQ (which includes education, girls' education, potable water, and psychosocial support).
I'm quite impressed by their goals for volunteers: to share skills in a culturally respectful way, contribute to genuine development, produce measurable outcomes, wage peace and promote justice, learn from and about local people, be immersed in the local culture, be properly guided and appreciated, make friends and grow personally, remain connected after returning home, and to have fun and make a genuine difference.
Why we recommend Global Volunteers:
Global Volunteers' goals include waging peace and promoting justice, worldwide. Add to it their commitment to working long-term with local people on the sustainable needs that locals desire and need, and you have an organization that focuses on true international development.
A non-profit 501(c)3 fair trade service organization, Amizade values community-driven service, deliberate learning, inter-cultural immersion and exchange, global citizenship, and reflective inquiry. They focus on fair trade learning — "the individuals and communities that host students and volunteers are uniquely impacted by visitors and should be offered fair working conditions and compensation, hold significant voice in the orchestration of programming, and be offered proper professional development opportunities."
Amizade's Youth Ambassador Program is a program of the U.S. Department of State, Bureau of Educational and Cultural Affairs, and provides students from Peru and the North Central Appalachia region of the US  an opportunity to learn together about culture, leadership, and impacting positive change. As well, Amizade works with the Fulbright Program (U.S. Department of State's Bureau of Educational and Cultural Affairs) to connect service learning for Fulbright students and Fulbright alumni in a week-long program.
Amizade offers other options, including open group programs, individual programs, faculty-led courses, road scholar, and customized group programs.
Why we recommend Amizade:
I first met founder Daniel Weiss while we were doing our Ph.D.s in the Comparative and International Development Program at the University of Minnesota. From the start, I knew he was on to something big — from the way that the programs were structured, in terms of community-driven development, to their fair trade ethos.
WWOOF (World Wide Opportunities on Organic Farms) provides opportunities to volunteer on small, independent organic farms. You work for a few hours each day, in exchange for food and accommodations. WWOOF stays can be short (a few days) or long (up to 6 months) — depending on your needs and travel plans, as well as the needs of the farm. Each country participating in WWOOF has its own website with opportunities; the reach is global, so you can include WWOOFing in your travels. There are over 100 countries participating in WWOOF. Most countries participating in WWOOF require volunteers to be 18+. 
Why we recommend WWOOF:
This is a unique opportunity to participate in organic agriculture while having a homestay. Do not look for deep cultural immersion, but rather, the ability to help an organic farmer and learn from them and your fellow WWOOFers.
Helpx also offers accommodation and food to volunteers in exchange for working 2-6 hours a day. Helpx differs from WWOOF in that opportunities are a bit more varied — there is an online listing of host organic farms, non-organic farms, farmstays, homestays, ranches, lodges, B&Bs, hostels, and even sailboats.
Why we recommend Helpx:
This is an easy and low-cost way to volunteer while you travel, especially if you just have a few days to volunteer.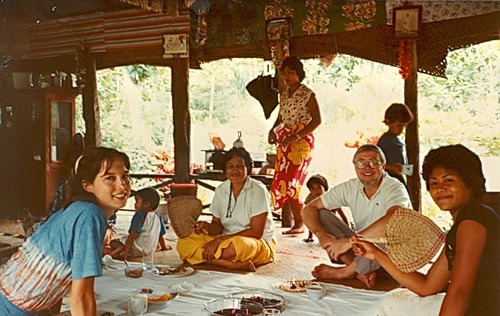 Former Peace Corps Director Carrie Hessler-Radelet with a local family while volunteering abroad.
Perhaps the grandparent of modern volunteering, the Peace Corps provides a small living stipend and extensive support network to volunteers, who sign up for a two year term. Volunteers must be 18+ and a US citizen. There are opportunities in 60 countries for people interested in being a change maker and collaborating with local communities.
"My experience as a Peace Corps Volunteer was the most important transformational moment in my life, particularly because it provided me with a foundation for my career. Peace Corps service transforms both the Volunteer and the community members they serve." — Returned Peace Corps Volunteer Dr. Russell E. Morgan, Jr., Kenya
Why we recommend the Peace Corps :
The immersive service experience is life-changing. Many of my friends have volunteered with the Peace Corps, and there is a large and active community of RPCV (returned Peace Corps volunteers). This organization promotes world peace and friendship.
NGOs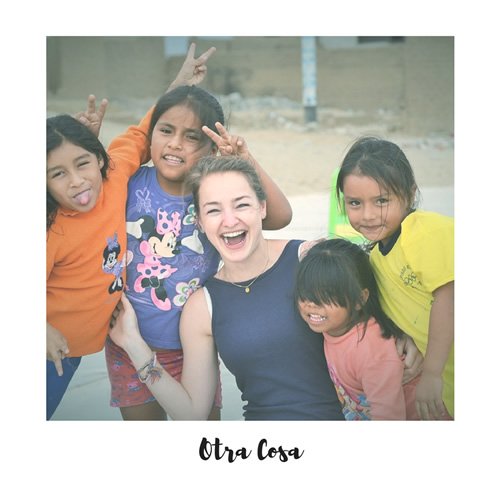 Volunteer abroad in Peru with children. Photo courtesy of Aviv Hochbaum.
Last but not least, there are many NGOs (non-governmental organizations) that offer volunteer opportunities. Things to look for include responsible programming, need, impact, funding, and fit. Here is an excellent checklist for researching and finding a good program for your needs. As an example of the many NGOs in any given location worldwide, here is a detailed list of 25 suggested NGOs in Peru.
Dr. Jessie Voigts is the publisher of Wandering Educators, a travel library for people curious about the world, a travel site for her favorite place in the world. She's published six books about travel and inter-cultural learning, with more on the way. You can usually find her family by water—anywhere in the world.