Top Volunteer Programs in Central America and Mexico
Tips and Recommended Organizations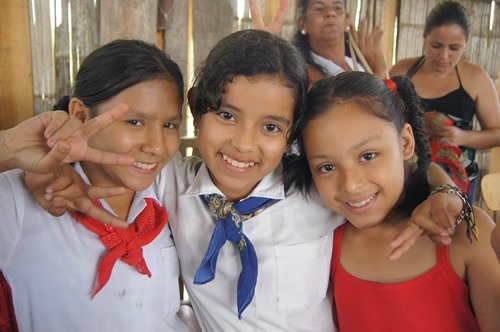 WorldTeach students in Costa Rica. Photo courtesy of Worldteach.
Many international volunteers, especially those from North America, find Mexico and Central America to be inviting and exciting places to serve. Easier and cheaper to get to than Africa and Asia, this region offers a huge range of volunteer opportunities from working with street children in Mexico City to counting butterflies in the rainforests of Cost Rica.
I first volunteered in Central America in 1986, and I still recall the feeling in my muscles while mixing cement with a shovel on a sister city project in Nicaragua; the sound of Mayan mothers patting homemade tortillas into shape; and the taste of fruit juice served in little plastic bags from a corner street vender in Managua. In Mexico and Central America, I fell in love with Spanish, Latin food, and the Meso-American approach to life.
Since then, I have interviewed dozens of volunteers who agree with me. Mexico and Central America are inviting, culturally rich places to volunteer.
Popular Options for Volunteers in Mexico and Central America
Working with children. Due to the tourism industry and economic globalization, there is a demand for volunteers to teach English. Throughout Latin America, vibrant nonprofit and faith-based communities provide a plethora of opportunities to work with young people at afterschool programs, and cultural centers.


Providing health services. Many clinics and hospitals in the region are underserved and volunteers in the health sector, especially doctors, nurses, PAs, and physical therapists are in demand.


Promoting environmental conservation. From sea turtle conservation to promotion of fair trade coffee and sustainable agriculture, there are abundant opportunities to volunteer to help protect the environment.
There are many opportunities to volunteer on sustainable farms in Mexico.
Top Tips for Volunteering in Central America:
Study the language: Your ability to volunteer effectively in Mexico or Central America will be greatly enhanced if you speak at least some Spanish. Consider making Language Learning part of your volunteer experience—take a Spanish class before leaving home, start off your volunteer experience with a Spanish language program, or volunteer with an organization that offers language training as part of the volunteer experience.

Of course, Spanish is not the only language spoken in the region. In Belize and the Mosquito Coast of Nicaragua, most locals speak English or English-based Creole. Among indigenous communities in Mexico, Guatemala, and Panama, Spanish is widely but not universally spoken.


Consider regional differences: In Mexico and Central America, regional differences within countries are almost as wide as between countries. For example, in Mexico, you could volunteer with impoverished communities just south of the Rio Grande, a sophisticated cultural center in the underappreciated capital Mexico City, an indigenous community in Oaxaca, or an environmental organization in Baja.

In most parts of Guatemala you'll experience the indigenous majority which has kept Mayan languages and cultures alive despite centuries of repression, but in the capital you will find significant pockets of Mestizo communities with connections to Europe. In Panama you can experience African influenced communities as well as Kuna and other indigenous communities that have preserved their land, art, and language. Consider these regional differences as you plan your experience—are you most excited by the idea of living in the rainforest in Costa Rica or working with Mayan children in a Guatemalan school?


Know the history. The best volunteer programs in this region will provide not only opportunities for meaningful service you opportunities to learn about the culture, history, and politics of the country where you are volunteering. Especially in Central America, the United States has a history of intervention as well as international citizen solidarity. It will serve you well to learn the context of international volunteering in the region.


Protect your health. Dengue fever, hepatitis, and intestinal disease are common throughout Latin America. Make sure to get all recommended shots and evacuation insurance before you leave home. To avoid serious stomach troubles, I always travel with acidophilus and a back up pre-filled prescription for antibiotics. Do not assume you can get a prescription filled away from home. In an emergency, call your embassy and get an embassy-recommended doctor. Don't swim outside of designated areas and even then only after you know about local currents.

If you prepare yourself well, chose the right volunteer program, and make an effort to stay safe, volunteering in Mexico or Latin America can be a transformational experience that enriches your life with new skills, heightened cultural understanding, and deep friendships.
Recommended Volunteer Sending Organizations for Central America
Here are top organizations to consider for Mexico and Central America based upon 6 years of research for the book I co-wrote, How to Live Your Dream of Volunteering Overseas.
For college grads and professionals with more money than time:
For college students:
For high school students:
If you want to learn Spanish while you serve:
Family or intergenerational trips often offered:
For medical professionals:
Note: If you already speak Spanish, you could consider setting up an independent volunteer experience in Central America by contacting the many low-cost NGOs.