Volunteer in Cuba with Global Volunteers
Forming Friendships, Building Bridges, and Helping Our Neighbors
Article and photos by Lynn Lotkowictz
3/17/2017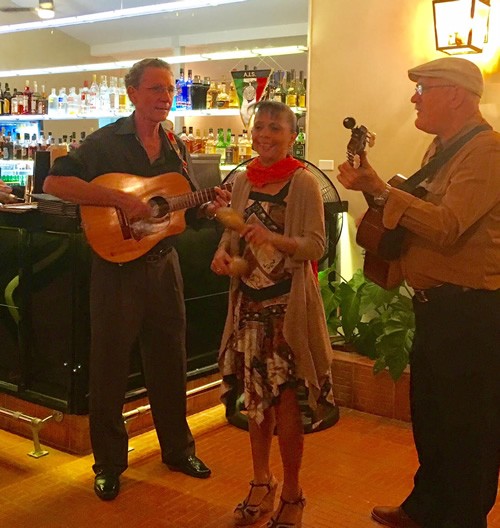 Dinner in Miramar with great musical entertainment.
In mid-January, I flew from Tampa to Havana on a trip that would introduce me to a country that has been off-limits to most Americans for most of my life. I participated in a one-week service program in Cuba with Global Volunteers, a non-profit NGO based in Minneapolis.
Along with 19 other volunteers, ages 30-78, I spent a week on various work projects that included painting a fence at our base (The Cuban Council of Churches), spending time with seniors at a senior care center, and working with students on English in an evening program. Another team joined in crocheting with a women's group for part of the day.
Every afternoon we had a few hours of free time before working with students to teaching and practicing conversational English for about two hours. Later we all met for dinner, with our excellent team leader, Stephanie, at various locations. The trip combined helping our host community with a wonderful cultural learning experience for a group of Americans, most of whom had never been to Cuba.
My Hosts in Cuba
We stayed in Miramar, a nice residential suburb of Havana near many of the city's foreign embassies. All 20 volunteers stayed in guesthouses within three or four blocks of each other. We were two blocks from the water and near our base at the Council where we met each morning around 9:00.
The advantage of staying with locals in Cuba is that you have the opportunity to observe people going to work and school and can regularly interact with the locals. The result is a more authentic experience than merely staying in a hotel. You feel like a part of the community, particularly since you are there to help in some small way.
We walked throughout the area every day and night. As a foreigner visiting an unknown land for the first time, I never felt nervous nor did we see anything that looked questionable. The only danger I encountered was the uneven sidewalks, which like many of the buildings, are in disrepair. In addition, in the evening, many streets did not have lights, so we walked with caution and used flashlights when necessary.
Getting a Web Connection
internet access if limited on the island. Missing connectivity, we asked our hosts about options. They told us there was an "internet Park" about a 20-walk from my casa where we could purchase a card from a mini-mart or store. But, they let us know that there were long lines and forms to fill out along with passport information. The alternative was to walk to a certain small park and make a connection with a young gentleman and his pals who would sell us a card for five Kooks (approx $5.00) for one hour of internet. The card provides a password and username.
My three new Global Volunteer friends and I decided to visit the park. It was full of empty beer cans and bottles and with many young people on their phones sitting on the ground. A group of men standing around looked like our connection. We approached the young men and they immediately offered each of us an internet card. With our $5 purchase complete we took a photo together with the "sellers" and then enjoyed the using the internet for about 30 minutes. (We kept the card for another day's use.) Mission accomplished. As we walked back to our work site I wondered, would I even consider walking up to a stranger in, let us say, Central Park or Chicago and purchase an "off the grid" card with the hope it would work? Then take a photo with them? Probably not.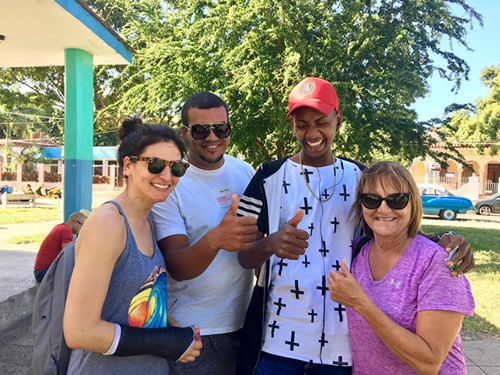 At the park with the internet card sellers.
Music, Art, and Entertainment
If you choose to stay the weekend, you have the option of adding on a weekend package of people-to-people activities. On the other hand, you can make your own plans for the weekend. The Global Volunteers program includes a tour of the Ernest Hemingway House, art galleries, Old Havana, and a morning lecture by two local professionals who discuss history, education, and even politics. All in all, the extended weekend offered by Global Volunteers is a great value that includes meals and accommodations.
My favorite weekend activity was the excellent live music heard everywhere day or night. Street entertainers are everywhere. Restaurants, bars, and coffee shops all have talented solo or group performers. Art is everywhere, and you will see a wide variety of architecture including colonial, Spanish, Art Deco, and contemporary.
Entrepreneurial Spirit
My students for two evenings were a young couple in their early 20s. Allen is an independent contractor at a tour company and is eager to learn English so he can better communicate with visitors. His wife Daniella takes care of the home. She knew some English and was eager to help him with his growing business. We reviewed his tour prices, what was included, and then added language to make the tours more appealing. We went over phrases such as, "Welcome to Havana, my name is Allen, and I would love to show you my country. What is your name?
After some competitive analysis, we determine that he is competing with the fancy old American cars that all the tourists seem to love. Their hourly rate is $50 per hour. We work on an appropriate response. "Yes, those old American cars are beautiful, however, instead of $50 per hour you might want to consider my van at only $15 per hour." Allen masters three or four sentences that we work on intensely for two nights. They are sure to enhance his business opportunities.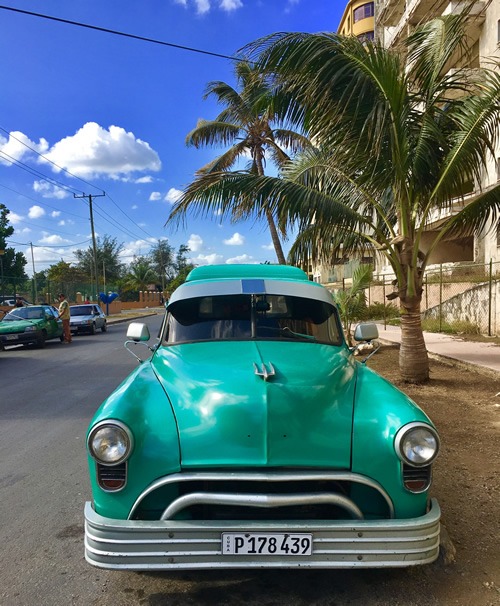 An older model American car in Havana.
It is a pleasure to see a 23-year-old happily married entrepreneur with such enthusiasm and eagerness to succeed. When we finished the second night, he looked at me and said, "God Bless you and thank you." I was beginning to see how individuals could make a small but significant impact in a short time and, more importantly, could better understand such warm and welcoming people.
Some people operate and create small businesses out of their homes or garages,  serving meals, coffee or beer, or own repair shops. Homes are rented out rooms to visitors for additional income. Most of these new business opportunities are new to Cubans, who seem very happy about the options.
Yes, as often described and depicted both realistically and romantically, the streets, sidewalks, many buildings are in disrepair, run down, there is much need for improved infrastructure, painting, plumbing, electrical, etc. Litter is an issue in some neighborhoods. For many, work is hard to find, and salaries remain low. Supplies of every kind are limited. Many of the local grocery store shelves are sparsely stocked.
Cuba's Economic Progress: Looking Forward
The refreshing thing is you sense the change that is coming. In a lively conversation with one of our casa owners, she described the situation, "It started like the snowball on top of the mountain, it's rolling down and getting bigger and bigger and you cannot stop it."
Tourists from all over the world have been visiting Havana for many years without restrictions from their countries of origin, and now there are finally many American visitors. In Havana, we saw a cruise ship, red double-decker tour buses, and souvenir shops. Colorful flora and fauna are everywhere, and a walk along the Malecon — a walkway along the sea wall — is the perfect place to people watch.
Havana, a city with three million inhabitants, bursts with activity and exudes a colorful history that people want to experience. It is old, it is new, it is Spanish, European, modern, young and fun!
I only saw a small part of Cuba on this trip. However, I am sure I will return to visit Varadero, Santiago de Cuba, Trinidad, and other places on this fascinating island.
Visit globalvolunteers.org/cuba/ for more information about their responsible short-term volunteer tours in Cuba designed to build a bridge to friendship with the Cuban people.
Lynn lives in St. Petersburg, Florida with her husband Bill who is an entertainer at assisted living facilities in the area. Her greatest joys comes from spending time with family, meaningful travel experiences and health and fitness. She recently returned from 10 days in Cuba with Global Volunteers Havana program. In addition to the program in Cuba she has participated with their Global Volunteers Greece program on three different volunteer projects.