A Working Holiday in New Zealand for an Adult Gap Year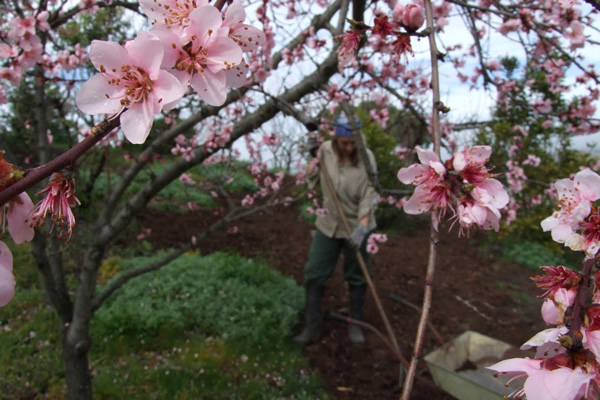 A working holiday in Mapua, New Zealand with WWOOF.
It was a steep climb up, but once we had reached the summit and looked out over Wanaka on a glorious day in late summer, we knew that it was worth every lung-busting step that we had taken. This was a celebration. It was the 1-year anniversary of our arrival in New Zealand, on a working holiday that we originally thought impossible. We spent some time revelling in the dramatic views of Lake Wanaka and the Mount Aspiring National Park, and later toasted our success with steak and chips, accompanied by a delicious Central Otago Pinot Noir, and reminisced over our adventures.
Working in New Zealand via BUNAC
We had first thought about taking a working holiday in New Zealand 18 months earlier. My sister Suzanne and I were close in age, temperament, and interests, and having worked together as Island Managers in Greece, we were confident of our ability to live, work and travel together. There was only one problem. At the grand ages of 33 and 34, we were considered too old! Then I discovered BUNAC, an organization which offers an exclusive 12-month visa for New Zealand called the IEP Work Exchange Visa, which is for U.K. citizens between the ages of 18 and 35. We were in!
The Visa runs in conjunction with IEP, whose office and resource center in Auckland was excellent. They arranged for our first few nights' accommodation, held an introductory meeting full of information on job-hunting, accommodation, transport, tax numbers and mobile telephones, plus a wealth of information on New Zealand. They advised us about the possibility of extending our visa by three months, in return for three months work in any horticulture or viticulture industry, a useful option to maximize our time and enable us to save for our travels home. They provided free internet access and luggage storage, plus a mail-forwarding service throughout our stay. Most importantly they were always on hand to deal with any problems or queries that arose.
The Plan
Our plan for the year was simple. We were approximately 10 years older than most working holidaymakers, and had spent our twenties in busy, stressful city jobs. This was not something we were doing to further our careers, but a chance to rediscover who we were and what our priorities were in life. We wanted to immerse ourselves in the varied and awe-inspiring landscape of New Zealand, explore the weird and wonderful wildlife, and really get to know the country and its people.
Transportation in New Zealand
The first issue to address was transportation. While New Zealand offers a good national bus service named Intercity, plus various adventure buses such as Kiwi Experience and Stray, we soon realized that if we wanted to get off the beaten track and explore the countryside, we needed our own. Enter Shadowfax, our trusty white steed (a Toyota Corolla) without which our many adventures in New Zealand would not have been possible. We were lucky with our car. We bought it from a rental agency that sells off vehicles at the end of every season, and since we approached them at the end of their sale, we bought a well-maintained vehicle at a hefty discount. We got doubly lucky a year later when we sold the car. We advertised the car over a month before our departure date, and eventually sold it in Wellington for exactly the same amount as we paid for it, before finding a relocation deal to take us back to Auckland. This is a top tip for anybody planning to buy a vehicle, as we encountered many travellers trying to sell their vehicles in Auckland before their flight, and often being forced to accept a much lower value as a result.
Finding Work in New Zealand
Finding work was a bit time-consuming at times, but this was largely because of our choices. Our priority was to explore the length and breadth of New Zealand, so we needed to keep moving and finding short-term work along the way. We found that by spending two or three months in one job we could save enough for a month on the road, and so on. Hence our best option was seasonal work, which also helped with our visa extensions. Many seasonal jobs involve extremely hard work, and we found fruit-picking to be too tough as it is based upon both strength and speed. We preferred to work in the pack houses, although our favorite jobs were on vineyards and in a viticulture nursery. We also found cleaning work a good short-term option. We found the internet useful for determining the type of work available in an area, but had greater success in securing decent jobs when turning up in person. Many people expressed surprise at us taking this sort of work, after all we were native English speakers, with good CVs, but we loved the freedom it gave us. Moreover, I have never been as fit and healthy as I was at the end of our travels.
However, if earning money hadn't been necessary, we would have WWOOFed our way around New Zealand. WWOOF (Willing Workers On Organic Farms) is simply a brilliant concept. For a small fee you have access to many organic projects throughout the country, ranging from lifestyle blocks, to cattle farms and chocolate shops. In return for between four and six hours work per day, your host provides you with food and accommodation. While it is not an easy option it provides fantastic opportunities to interact with the locals and learn about life in rural New Zealand. We used WWOOFing to our advantage. Once we had chosen an area to settle we would find a WWOOF for a week or two while using our spare time to look for work and accommodations, something often aided by our hosts who knew the area and had insider knowledge on the sort of jobs and accommodations available.
Accommodations
With regards to accommodations, we joined BBH, the largest of three backpacker associations. Membership ensured reduced rates and it was often possible to negotiate a deal on a weekly or monthly basis. We found them to be a good option in the short-term, but preferred a twin room, for which they were less keen on offering deals. We also preferred the autonomy of holiday parks, and once we had purchased our own plates, etc, found ourselves always looking at this option first. Once again we found that turning up in person had its benefits. When looking to secure a long-term deal over the phone, the owner of a holiday park insisted that they did not make deals, but upon meeting us in person they decided to take a risk and we had an amazing 10 weeks with them. Of course, it is always worth remembering that neither hostels nor holiday parks will negotiate long-term rates during their high season when price for accommodations are at a premium. We also looked for work with accommodations included: one holiday park where we were cleaning offered us a caravan free of charge. And in Wellington we provided a housesitting service for a retired university professor who was away for the winter.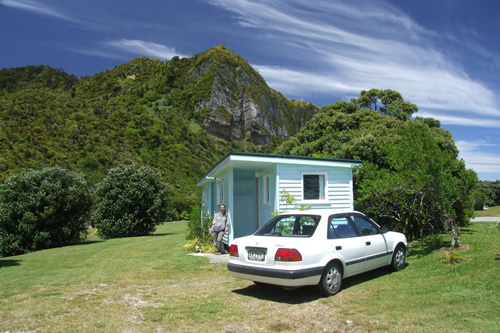 Life in a holiday park on the west coast, with our trusty "Shadowfax."
The Land
And what about New Zealand? Well, New Zealand was the real star of our story. In area, the country is roughly similar to the U.K., but with approximately four million people, over a quarter of which are based in Auckland, the sense of space is truly delightful. While the North Island offers some beautiful areas, such as Coromandel and Northland, the South Island is simply stunning. The Southern Alps forms the backbone of this dramatic island, a snow-tipped area of glaciers and imposing mountains, with windswept beaches and rainforests stretching for miles along the west coast, and the Abel Tasman National Park and Marlborough Sounds sitting at the top, like a jewel in the crown.
We had many wonderful experiences in New Zealand, such as learning how to make (and taste) wine, but our favourite memories will always be the peace and tranquillity we found in that extraordinary countryside, whether immersed in a lush, vivid green rainforest, or breathing in the wild sea air on a stormy west coast beach. And of course there was the wildlife, whether being surrounded by a majestic albatross off the coast of Kaikoura, to encountering pods of dolphins playing in the surf, exploring penguin and fur seal colonies, and meeting Sparky, a one-legged kiwi, and Woof-Woof, a talking tui at the Whangarei Bird Recovery Centre.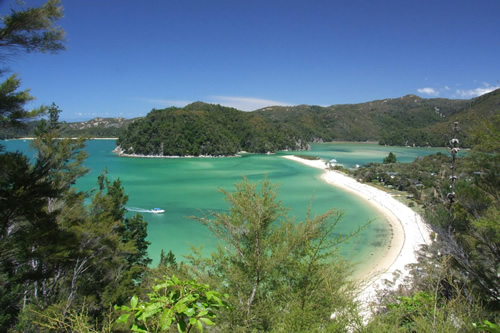 The jewel in the crown: Abel Tasman National Park.
New Zealand Locals
And finally, a note on New Zealanders. Wherever we roamed, North or South Island, with Maori or Pakeha (white European settlers), we were always welcomed. People were interested in us, our stories, and what we thought of their country. A brief meeting often led to an invitation to stay. We had just one uncomfortable encounter on a WWOOF (with a non-native host) that left us without a place to stay less than a week before Christmas. So what happened? We were taken in by Joy, thereafter our Fairy Godmother, who welcomed us into her house and shared everything she had with us throughout the festive period, and for us, that experience embodied the spirit of New Zealand and its people.