Living in New Zealand's South Island
Work and Travel in the Name of Fun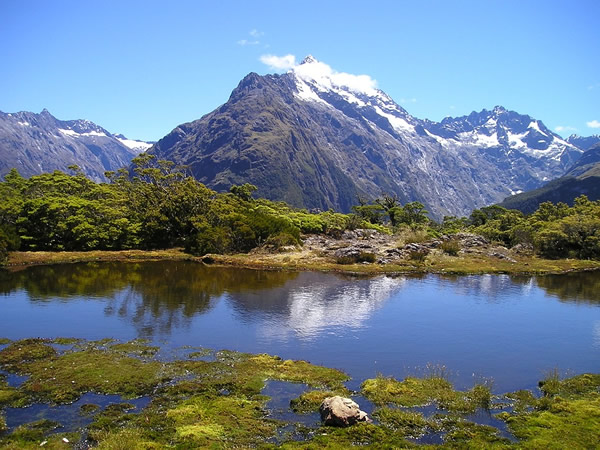 New Zealand South Island lake and mountains.
Few countries conjure up as many all-around images of paradise as the sliver of terrain that is New Zealand. The shifting and varied geographical layout and the friendly, accessible spirit of the people inspire in many across the globe a travel yearning.
In my case, it was the allure of continuing an endless winter and chasing the snow to the southern hemisphere for year-round skiing after the U.S. snow melted away. Though the cost of a plane ticket and first-world country prices gave me pause, the promise of being able to ski every month in a beautiful locale overcame my financial concerns.
Currently six weeks in, living in the small lakeside town of Wanaka on the south island, I am living a dream.
However, given the current economic climate, any life decision that can compromise financial stability should not be made lightly. I aim to offer advice from my own experiences and say that I could not be happier about having committed to moving.
First Find a Job
For starters, you need to be able to work legally. For U.S. citizens, as well as citizens of most other countries, working holiday visas (good for 12 months in a non-permanent position) are available. For me, this consisted in filled out a few pages of forms—which took a couple hours—and I had 12 months to work, explore, play, travel, and everything in between. It was almost too easy.
However, I learned next that having the right to work and actually being offered a job are two wholly separate beasts. The ease of obtaining a Visa and the attractions of New Zealand assures that many like-minded travelers are out there. Competition for jobs such as being a waiter, a ski instructor, or even a dishwasher can be amazingly stiff.
On our very first day in New Zealand, our hostel owner in Queenstown painted a bleak picture of the flocks of would-be-workers descending upon a town of 10,000 people. He described a seemingly daily influx of more and more foreigners to compete for less and less jobs. The next morning, while buying groceries, the local paper's headlines gave the impression of an overload of jobseekers flooding local businesses with unneeded CV's. The impression seemed based on reality, as local businesses even posted "No Vacancies" signs in order to keep the traffic away.
I was lucky enough to secure a job delivering meat pies and chips at a ski resort outside Wanaka after applying to everyone I could online.
The two other girls with whom I came to New Zealand also entered the country unemployed, so they jumped on a work-for-accommodation program at a popular hostel. In exchange for a few hours of work a day, the girls received a free room and the chance to get to know other travelers from whom they gathered job hunting tips and ideas. Many hostels offer this option but do not advertise it, so you should simply ask the receptionist.
In a small town, "Help Wanted" sections, supermarket message boards, and word of mouth are priceless. Being a visible face in town, staying upbeat, and networking will likely increase the odds more than anything else you can do.
Avoid the obvious draw of pubs and restaurants; they have billions of resumes on file. Try everywhere, not just the places that look fun and glamorous. After steady bouts of daily searching, one friend found work at a video store by chatting up the local clerk, in addition to a few paid days at the work-for-accommodation hostel. She now has ample time for skiing and enough money to get by. And that was her primary mission for the trip to New Zealand, after all.
Now Enjoy Yourself
I was giddy with anticipation to explore the Central Otago region once I settled into a house. The town of Wanaka is nestled against a lake, which is butted against the Southern Alps, offering up outdoor options galore. Hiking is free and fascinating. A day hike on the Outlet Track around the lake electrifies the senses, and the nearby Milford Trek, dubbed by some as "the finest walk in the world," is a 3-hour drive away. Visit the local Department of Conservation (DOC) office for more information.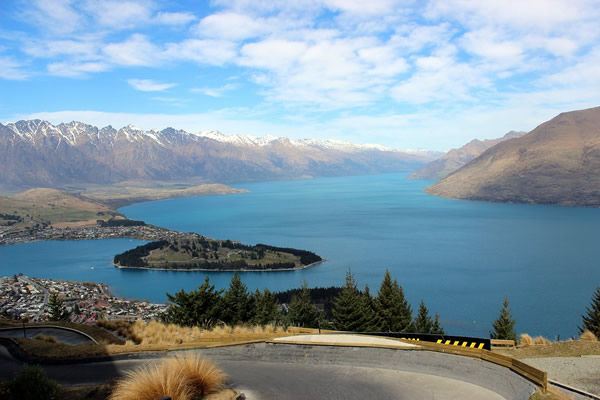 South Island lake and snow-covered mountain backdrop.
Then, of course, there is the skiing and snowboarding in July and August. With nearby mountains just a 45-minute drive or less, there is something for everyone—from mellow groomers to elite-level terrain parks to high-profile competitions. For those with skills and gear, backcountry skiing remains free and pure. Take a stroll around town and you will bump into several outfitters ready to offer up a gauntlet of ski experiences.
With so many international visitors, the Kiwi's can appear as though they are hiding. To see some local personality (and because I had no car) I hitchhiked up to the mountain to snowboard. It feels 100% safe in Wanaka and it is recommended by everyone. It is also a great way to interact and experience the legendary friendliness of Kiwi's. In just a couple weeks I met local families who showed me shortcuts to the mountains, local ski-bums who were happy to take some runs with me, as well as many enjoyable and informative conversations.
When the Work is Over
After my job ends in October, I will likely have little more money than I started with (which is zilch). With a decent chunk of time and a country still to see, I must stretch my dollars. To do this, I plan on joining the wide network of Wwoof farms throughout New Zealand. Through Wwoof, in exchange for daily work (the amount of which varies) I will be able to eat organic foods, discover new regions, and get to know more about the local cultures—-all for free.
If you wish to escape any work at all, there are beautiful hikes all over New Zealand, which may be accessed by an intricate and cheap hut system for overnight excursions.
Those considering a season (or longer) in New Zealand need only minimal preparations in order to make the trip possible. Those who commit to the trip are virtually guaranteed an experience that will infuse the spirit with a new vigor drawn from New Zealand's vibrant natural landscape and unassuming small-world atmosphere.
Resources for Traveling and Living in the South New Zealand Island