How to Find Extraordinary Budget Accommodations Abroad
The Most Authentic are Locally Owned
By Michael Gonchar and Allison Kwait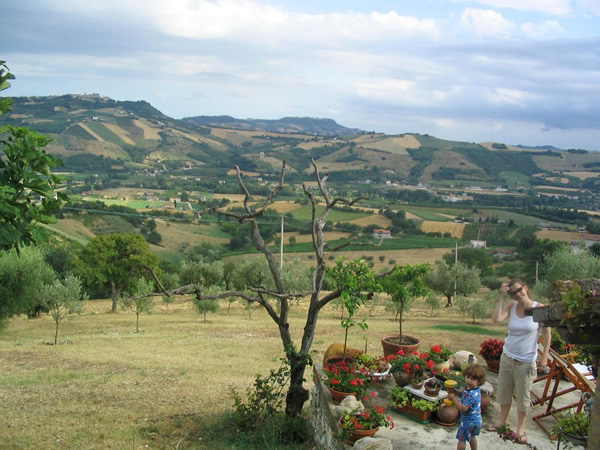 Son and wife from the gardens of Vento di Rose, and the hills of Le Marche, Italy in the background. Photo by Michael Gonchar.
When we travel, we love to stay local. One of our all-time favorite places is Vento di Rose, a beautifully restored country house near the town of Monterubbiano in the Marches, Italy. Our double room was gorgeous, the views of medieval hilltop towns were incredible, and the expansive breakfast full of regional specialties was truly awe-inspiring—all for 115 Euros a night. But it was the warm welcome and generosity of our hosts, Emidio and Emanuela, which made our stay so memorable.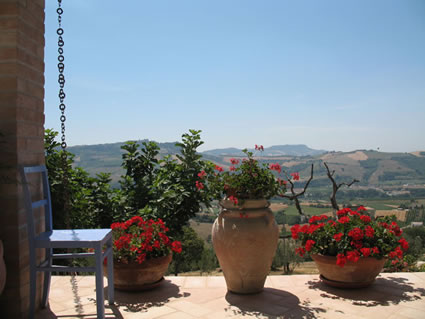 Photo by Vento di Rose, Monterubbiano, Le Marche, Italy.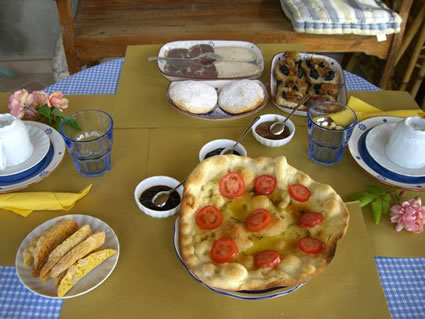 Photo by Vento di Rose, Monterubbiano, Le Marche, Italy.
Finding extraordinary, locally owned places like Vento di Rose is not easy, but we have a few tips for travelers who are up for the challenge.
Use guidebooks. Guidebooks are a great place to start because a trusted source has already done much of the homework. Lonely Planet and Rough Guides are excellent resources for budget travelers Obviously the many online apartment booking sites provide online booking and reviews that offer more first-hand information, with the proviso that all subjective reviews must be taken with a grain of salt.


Read magazines. One of our favorite magazines is National Geographic Traveler, and we particularly like its "Hotels Under $150" section. Other magazines worth checking include Budget Travel.


Search the review sites. While guidebooks and magazines are helpful, we always double check our finds using an hotel and apartment rental meta-search website for traveler reviews. Review sites are also a good place to start your search, especially if you know exactly where you want to go. TripAdvisor and Hostelworld list thousands of reviews written by travelers about their hotel experiences. We found Saint Anthony's Guest House through reviews on Trip Advisor. For just 50 Euros a night, we stayed in a lovely convent run by a group of Franciscan sisters in the heart of Assisi.


Surf forums. Online travel forums on Fodor's, TripAdvisor, and Lonely Planet can be great places to get recommendations, as well as to solicit traveler feedback on your own hotel ideas.


Get inspired on specialty sites. Many websites are devoted to travel niches, like senior travel or family travel. Alastair Sawday's lists thousands of small, distinctive properties, Purple Roofs has a large collection of LGBT owned or friendly places.


Know country-specific lodging options. Spain has its paradores, Japan its ryokan, France its gites, and Italy its agriturismi. Learning the appropriate jargon can useful for web searches, although figuring out which properties are truly exceptional can take a bit more work.


Visit the hotel website. We always check out hotel websites to get more of a feel for a place, such as whether it is eco-friendly or if it gives back to the community. Through its website we learned about La Loma Jungle Lodge's Hooda Chi project, which helps neighboring indigenous Ngobe families in Bocas del Toro, Panama.


Do not get hustled. Double and triple check everything. Even guidebooks get it wrong sometimes, and we have found plenty of fake traveler reviews on review sites. Note that websites receiving commissions or payment from hotels may be less reliable because of an inherent conflict of interest.


Do not be afraid to rewrite your itinerary. We think it can be worth going out of your way to stay someplace extraordinary. We planned our entire trip to Puerto Rico based on our desire to stay at Casa Grande Mountain Retreat. We loved our stay there and we visited some memorable sites, towns, and beaches in central and western Puerto Rico that we may have otherwise missed.


Remember to make a good match. Pay attention to the details that matter to you, especially if you have special needs. You may want to consider whether an inn is family-friendly, has steps to climb, or is near public transportation.
Finding truly exceptional, locally owned places to stay within your budget takes genuine effort and persistence, but when you find these gems, we think you will agree that the search was well worth the effort.