Budget Vacation Apartment and Home Rentals in Europe
Enjoy Local Hospitality and Travel at Your Own Pace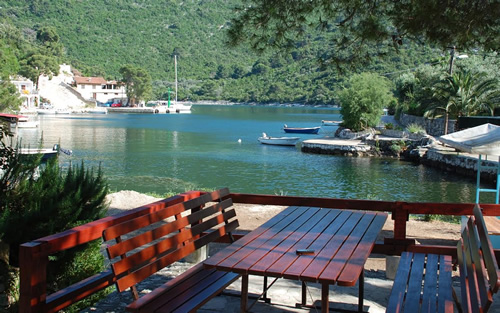 View from annex patio of apartment rental overlooking the bay in Mljet, Croatia.
When I started planning a trip to various major cities in Europe earlier this year, the obvious question arose: "where will I spend the night?"
After some careful consideration, I decided to rent apartments and rooms at local hosts instead of staying in hotels and pensions, for a variety of reasons:
Rooms and apartments rented from locals are usually cheaper than hotel rooms
As a firm believer in getting to know a country by its people, I hoped that staying in locals' homes would give me a better opportunity to meet folks informally and experience their way of life
Only a small fee goes to the international listing company; the rest of the money stays in the visiting country
The prospect of having a cozy place to come home to after a long day of sightseeing seemed more appealing than returning to an impersonal hotel room with a bed, desk, and chair at best
Access to a kitchen would lower my daily expenses considerably
Local hosts have usually a wealth of information to share, may arrange for reliable taxis or tickets for theatres, recommend great restaurants and unusual places to visit
I would likely discover interesting neighborhoods I might otherwise not go to
Local hosts rely heavily on online reviews and so care a great deal about client satisfaction
Some of the well-established companies demand a screening procedure for both hosts and guests and offer 24-hour emergency phone numbers. That gave me some reassurance I was not going to end up with a fool's bargain.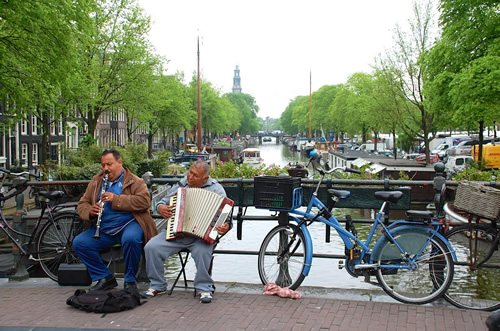 Canal in Amsterdam.
Rent a Room or an Apartment?
To enjoy some privacy, I rented small self-contained apartments inside or close to owners' premises. Without any exception, these turned out to be charming and well-equipped "homes away from home." I did rent rooms in a couple of occasions too, which can be a great bargain, as their fee comes to about half the price of an apartment. In Dubrovnik, for instance, I really only needed a bed for two overnight stays, and in Stockholm, lodging was so expensive that my budget did not allow for another choice. However, in both cases I got so much more than I bargained for!
Although the small bedroom with annex bathroom on the Adriatic coast was already an excellent choice for $55 per night, the caring owner picked me up from the ferry on arrival day, offered me a welcome drink at an outside café along the pretty boulevard of Cavtat, invited me to his family home downstairs to meet his wife and children over a glass of wine, organized an affordable day trip for me to neighboring Montenegro, and gave me a ride to the airport on departure day before the crack of dawn. Croatian hospitality at its best!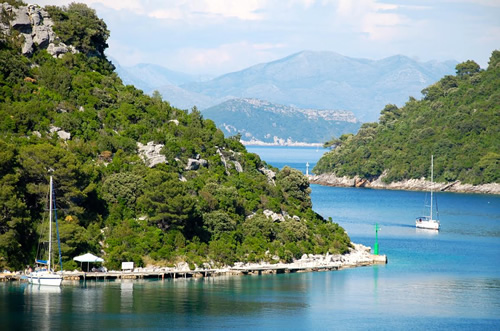 Croatian Coast close to Dubrovnik.
In Stockholm, my hostess left the apartment for a short stay at her summer cottage, after she had given me a tour of the house, introduced me to the nearby grocery store, and provided me with a detailed city map, great tips, and emergency phone numbers. Instead of being confined to the small bedroom I had rented, I suddenly had the whole place three days for myself: the actual bedroom with open doors to a courtyard balcony, a bathroom with an old-fashioned clawfoot tub, a kitchen with a well-stocked fridge ("be my guest, breakfast is included"), and a pleasantly decorated dining room where I could put my feet up at the end of the day.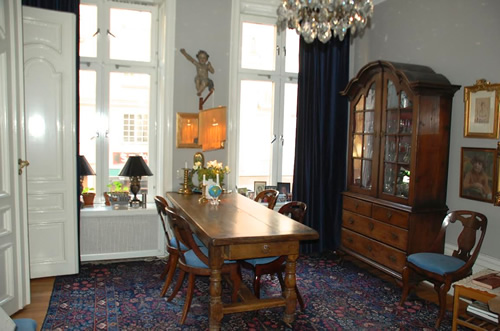 Dining room of the apartment in Stockholm.
Location
The various companies offered such a broad selection of accommodations, that it was not difficult to find a room, apartment, or house in areas of my preference: quiet neighborhoods, but a hop and a skip away from downtown cores where the action seemed to be. All listings offered enough pictures, descriptions, and reviews to get a good idea about what to expect. After some careful skimming, I zoomed in on what turned out to be some real finds:
In Amsterdam, I rented a cute little garden house in the backyard of a beautiful Golden Age home with an original old-fashioned pull bell, along one of the inner city canals. From there, I could easily walk to downtown, to a plethora of museums including the recently renovated Rijksmuseum, to the trendy Pijp and Jordaan districts, and to the amusement areas of the Leidseplein and Rembrandplein.

Rental in a garden home in Amsterdam.
In Stockholm, I stayed in a stately 19th century home in the elegant neighborhood of Ostermalm, at walking distance from the palace, the well-preserved houses in the medieval city center Gamla Stan, Sweden's largest department store Ahlens, the harbor with ferries to neighboring islands such as Djurgarden, and Stockholm's many museums.

The Gamla Stan in Stockholm.
Equally centrally located was the $48 roof studio in magnificent Krakow. In a corner of its little balcony a pair of doves had just expanded their family on a "nest" of some rudimentary branches. All activities in Krakow, from walking food tours through former Communist and Jewish neighborhoods to a visit to Auschwitz, could be coordinated from the main square in the compact historic center, a 10-minute walk from the studio by crossing Planty Park that encircles the old town.

Main square in the historic center of Krakow.
And when it finally came to unwind for a week on a small and unspoiled Mediterranean island off the Croatian coast, I could not have wished for more in that lovely $59 apartment overlooking a picturesque bay with small fishing boats coming and going. On the annex patio, I not only enjoyed breakfasts with fresh homemade croissants (included in the price of the apartment), and dinners with fish caught the same day and grilled by my hosts in the stone oven outside, but I also received a crash course in baking bread the traditional Croatian way.

Dinner on the patio of the apartment rental in Mljet, Croatia
Local Hosts
Of course, not every traveler is necessarily looking for interaction with hosts in this way, nor do all owners want to hang out with their guests, or even meet them. The latter I had to find out the hard way in Berlin where I received the apartment key from the cleaner when I dropped off my luggage in the morning. Upon return, however, that key did not work. When I called the owner for help, he was irritated, simply dismissed the problem, assured me I just had to jiggle with it a little bit and hung up stating he had too many other rentals to take care of. Luckily the cleaner returned to the building to pick up the dirty laundry that very moment, offered me his key instead, and that was the end of my brief misery.
On the other hand, I had wonderful and surprising exchanges with highly interesting hosts in other places. In Amsterdam, I joined my hostess Charlotte, a well-known industrial designer, for dinner at her favorite hangout and found out more about her many inventions, including the famous world time clock.
I also enjoyed a dinner with my Stockholm hostess Nicoline once she returned from the country. I found out she was an inventor as well, and had just received the inventors' prize of Stockholm for her 3D color system Kolormodo.
My Croatian hosts had lived impressive lives of another order: Lari had become a quadriplegic following an unfortunate car accident, but regained his spirits when he became port master of Cavtat, now swiftly wheeling around the harbor. And Vera, a Bosnian War survivor, lived through many atrocities during the siege of Sarajevo, but managed to escape the war-torn city eventually, and start a new life on the island of Mljet.
Needless to say, my wanderings through Europe were very much colored and enriched by the fascinating encounters with local hosts I otherwise would never have met, by the inspiring stories they had to tell, and by sharing a small slice of their daily lives. I returned home totally converted, and I will definitely use the same mode of lodging on my trips ahead, wherever possible.
For More Information
The following are the vacation rental listing companies used during the trip in Europe:
Lies Ouwerkerk is originally from Amsterdam, The Netherlands, and currently lives in Montreal, Canada. Previously a columnist for The Sherbrooke Record, she is presently a freelance writer and photographer for various travel magazines.