Volunteer as a Family on Farms Abroad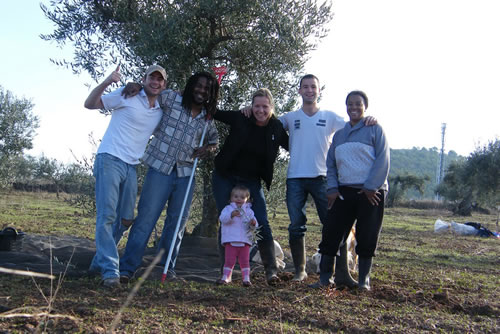 Olivepicking volunteering on a farm in Spain with the family and other volunteers.
Piercing blue sky, dew glinting on the ground in the early morning sun, a changing landscape of green fields, golden hay, dense woodland; and nothing but the sound of hooves gently plodding beneath me. At that moment the whole world could have been for me only and really, can you put a price on that? Well actually you can: five hours work, five days a week, in return for good food served on an old wooden table in a French farmhouse, comfortable accommodations, the opportunity to meet locals, and ride horses!
It was back in June 2008 when our family embarked on our first farm volunteer exchange in the shadow of the Pyrenees of SW France and we have since helped with an olive harvest in Southern Spain and also spent three months living and working at a vegetarian hotel and small farm in Northern France. These experiences have really helped to give not only a real insight into new countries, but perhaps most importantly an appreciation of different ways of living.
Why Do Volunteer Work While on Vacation?
In the case of our family, we had long dreamed of owning a derelict farm in the French countryside with acres of land, or perhaps an olive grove in Spain or Italy. By actually living this way for a few weeks helped us fine-tune our dreams and realize what we really wanted, while also enjoying ourselves in the process. For other families, it might fulfill a desire for a more authentic experience of the country you are visiting, to meet people and make friends, or perhaps an opportunity to learn new skills away from your comfort zone. I know that my husband and I joked many times about how strange it was to be away from offices and factories, instead turning grass by hand or sharing beers with fellow workers in a small Spanish bar after a busy day picking olives in the fields.
How Do We Find the Volunteer Opportunities?
When we first thought of volunteering on a farm we were not aware of the specific communities that now easily connect hosts with helpers and instead we searched the internet for hours before we stumbled, completely by chance, on a forum thread by a lady requesting help with hay-making. At that point we had been traveling around France in our camper for a while and although enjoying ourselves we felt there was something missing, as though somehow we were lacking a true experience of the country and its people. Granted, the family we stayed with were British-born, but they introduced us to their French friends and took us to local fetes (festivals) and parties, which gave us a real experience of rural France.
What Can We Gain from the Experiences?
However it's not just the involvement with family life that is enjoyable, but also the skills you pick up while taking part. We have learned how to make hay, care for ducks, geese, turkeys, and sheep. We found out about running a business in France, and can tell you a fair amount about pruning olive trees, what olives to pick and when, as well as what they will accept at the weighing station. Not to mention that my 3-year-old daughter has been lucky enough to have been exposed to a few different languages first-hand and an array of wonderful people. But I think the thing I love most about these organic farm opportunities is that they are open to all. You do not have to be a gap-year student or a single traveler, instead you can be young, old, middle-aged, a couple, or a family. In our case that family came complete with a 1-year-old daughter and a slightly crazy dog.
Don't Be Afraid to Ask!
If you are a family, don't be put off by the fact that many advertisements state that no children are allowed. If you find something that really looks of interest, drop the host a line and discuss your situation with them—most are happy to negotiate, and certainly we have never had a problem finding people who accepted us as a package. For instance, often we have contributed towards food in return for my husband being the main worker, thus leaving me to continue as primary care-giver for our daughter. We also negotiated a house to stay in of our own for a longer-term assignment in return for a few more hours work.
Why Would the Experience Be Great for My Children?
I am a huge advocate of really trying to meet the locals when you visit a country as it always leaves me with a deeper experience, so of course the opportunity to expose my young daughter to the things I believe in is ideal. I want her to grow up with the knowledge that there are many people, languages, and ways of living in the world—and what a great way of achieving this at relatively low cost! She has helped build a yurt in Portugal, is perfectly adept at picking olives, and doesn't bat an eyelid when placed in a co-op with a menagerie of poultry!
Where Can I Go?
We have so far only volunteered in Europe, but the opportunities are worldwide and also extremely varied. From living in a yurt on a yoga retreat in the Andalucian mountains or learning about permaculture in Portugal, to working on a ranch in Nebraska and caring for animals and land from England to Thailand—the options available really could not be more diverse.
Of course, after first discovering a lone advert for the opportunity in France, I have since had my eyes opened to a whole host of websites and communities eager to welcome you into their homes, such that you can become part of something exciting that potentially could change your life forever.
Advice for Planning Your Own Volunteer Placement as a Family
Advice
Ask lots and lots of questions so that you know exactly what to expect when you get to your placement.
Be up-front about what you can offer and for how long. It is best that all parties know where they stand so all benefit from a great experience.
Make a shortlist of favorites and then contact them well in advance so that you have plenty of options long before you intend to go.
Don't be afraid to approach people even if their advertisement appears to not welcome families.
Make sure you have travel insurance.
Links
Alice Griffin is a mother, wife, writer, traveler and daydreamer. She is also the author of "Tales from a Travelling Mum," which documents the travels she embarked on with her young family during the first two years of her daughter's life. She lives in England on a boat and travels further afield whenever she gets the chance!