Family Narrow Boat Holidays in the UK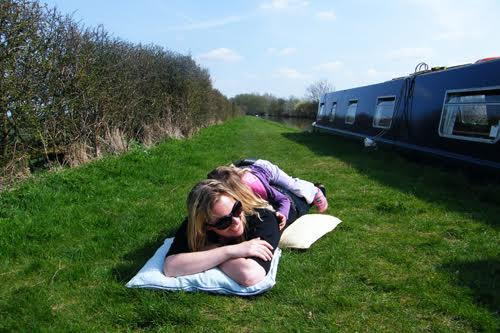 Alice hanging out next to her narrow boat.
Many a person has said that being close to water helps us slow down, reflect and really breathe in life. Now I know I'm biased living on water as I do, but as I sit here writing this from the front deck of my boat with only a heron and various ducks and ducklings for company, I look out towards the hedgerows that are alive with colorful poppies and bird chatter, and can't help but agree.
Here in the UK we are lucky enough to have a huge network of historic canals and beautiful rivers winding their way through some of our most treasured countryside and vibrant cities, and I can tell you from experience that there is a pronounced difference between taking the highroad, and taking the towpath. Whereas on the busy streets people shuffle by with not so much as a hurried nod, down below lies a whole new world. A world where people readily pass the time of day, observe wildlife – and life – in greater detail, and where I can guarantee that you, as a visitor, will enjoy a truly unique and different experience of this wonderful country.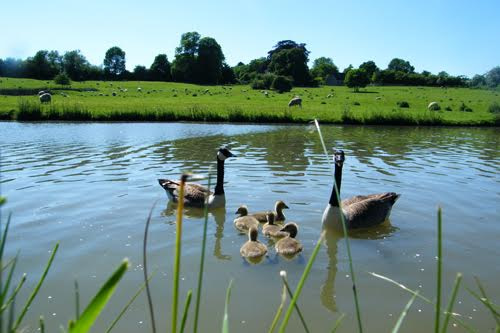 With the narrow boat moored, gazing out at the ducks and ducklings.
It's Not Just For Adults!
Aside from the thrill that children will get from helping Dad steer the boat and Mum open and close the locks, there are also numerous pubs dotted along the waterways offering great food and beer along with spacious children's play areas.
In addition, there are plenty of ways to alleviate unlikely boredom. If we are out on the boat and our daughter tires of feeding the ducks from the front deck or sitting on the roof watching the world go by, my husband simply pulls alongside the towpath and lets us off so we can take a stroll. As the boat pretty much goes at the same speed as our legs, it's not a problem.
Can Anyone Enjoy a Slice of the British Canals?
You might find it hard to believe, but you do not need a license, or even any experience, to take a narrow boat out on the British Waterways. Instead, anyone with a smidgen of common sense and a desire to see this country at a new pace is welcome. So if you like the idea of stretching out on the roof watching the world drift by, this kind of holiday might just be for you.
But I'm Not Sure I Will Be Able to Drive the Boat Safely!
When you book to go on a narrow boat holiday, you will of course be given a brief instruction course on boat safety, the workings, and also how to deal with locks. It can seem a little daunting at first, but there are plenty of folk happy to help you out along the way and at four miles per hour, you are unlikely to cause too much damage anyway. The only thing I would suggest is opting for a boat less than 50 feet, as this will give you greater accessibility and ease of turning, perfect for beginners.
Where Do I Find Out About These Holidays?
There are plenty of boat hire companies throughout the United Kingdom (listed below in the fact box) who offer on-line booking, advice and information.
But Surely I Won't See as Much at Such a Slow Pace?
I don't know about you, but whenever I travel by car I often choose back roads over toll roads and motorways. The promise of chocolate-box villages, secret undiscovered cafes and conversations – however broken and embarrassing – with real residents, is simply too much of a draw. A boating holiday in the UK takes this approach a step further. Yes it is slow and no, in the great scheme of things it is unlikely you will cover much map area during a week, but the richness of experience is sure to be far more memorable than if you were to nip-zip about from city to town to country on our busy network of motorways.
What About Taking Young Children Aboard?
I live aboard a narrow boat with my 3-year-old daughter and, of course, before moving from dry land I went through the usual worries about the dangers that living on water presents. However, I wholeheartedly believe that as long as we teach our children quickly about these dangers and ensure safety at all times, then it really is no more treacherous then taking them to the seaside.
I love nothing more than the sight of children merrily sitting on the roof of boats (in lifejackets of course), helping out with locks and strolling along the towpath as dad drives alongside, and I believe that as long as parents remain vigilant, there is no reason why children should not gain as much fulfillment from a family narrow boat holiday as everyone else.
Where Can I Go?
There are more than 2,000 miles of canals and rivers throughout England, Wales and Scotland and they stretch through stunning countryside as well as many towns and cities. Think about the type of activities you want to indulge in: Are you happy to stay rural and have barbecues on the towpath each evening or eat in local pubs? Or would you prefer to moor up somewhere that allows for a relaxed stroll into town for coffee, theater, and festivals? These are all options
As for mooring, you are allowed to do this all the way along the towpaths unless signs indicate otherwise. There are some restrictions, such as not to do so too near bridges and locks, but this will all be explained to you when you head out onto the water.
I am of course a huge advocate of this way of life, and am therefore somewhat biased, but I really do believe that a narrow boat holiday here in the UK offers something a little different and undiscovered to the foreign visitor.
Useful Websites To Get You Started
Waterways Holidays is an online boating holiday specialist offering live availability and booking on over 1200 boats.
Drifters is the flagship organization for narrow boat holidays in Britain. Comprising the very best independent boat hire fleets, and working in partnership with British Waterways, the Drifters brand represents the most respected names on the inland waterways, with nearly 500 boats to choose from.
Alice Griffin is a mother, wife, writer, traveler and daydreamer. She documents the travels she embarked on with her young family during the first two years of her daughter's life. She lives in England on a boat and travels further afield whenever she gets the chance!