Trekking Through Enchanting Oman
Article and photos by Lies Ouwerkerk
Senior Contributing Editor
Published 4/5/2017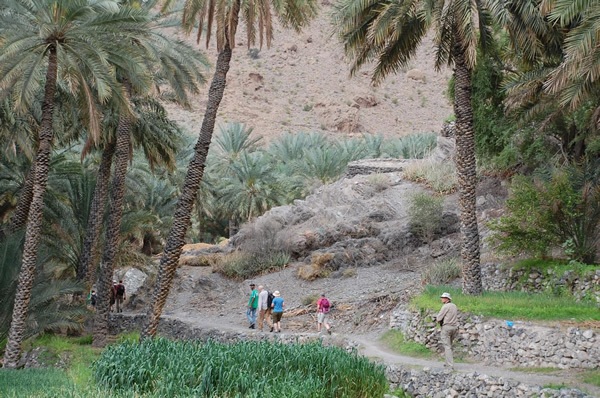 Trekking with a small group through a palmerie in Oman.
The Sultanate of Oman is blessed with a variety of spectacular landscapes: barren plateaus, steep-walled canyons, and rugged mountain ranges dotted with castles, forts, and tiny villages clinging to rocks. The country includes dried-up riverbeds (wadis) and green oases with banana groves and date palmeries; massive desert dunes in the Wahibi Sands and the Empty Quarter; rocky fjord-like inlets around the Musandam Peninsula; and pristine, isolated beaches with diving centers and sea turtle breeding sites scattered along the 3,165 km-long coastline.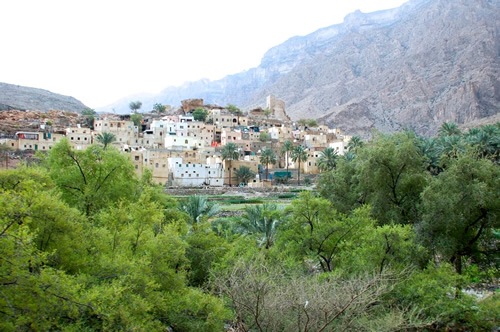 A mountain village.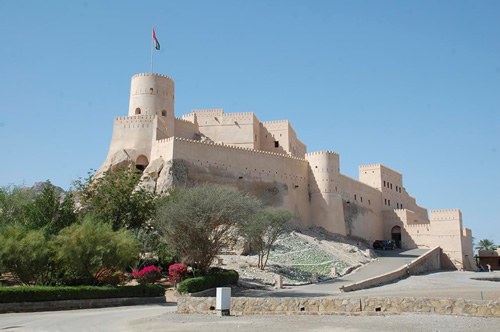 Nakhal fort.
The capital of Muscat, in contrast, features a long stretch of clean, prosperous, whitewashed suburbs with trendy restaurants, posh hotels, modern shopping malls, and a dazzling network of multi-lane highways, flyovers, and roundabouts spruced up with neatly manicured grass patches and continuously irrigated flower beds. To experience a touch of the Arabian Thousand-and-One-Night atmosphere, you will have to head for the scenic port of Muttrah, its nearby souk, or the ancient walled town of Muscat proper.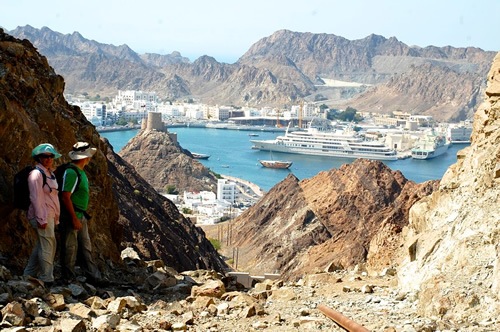 Port of Muscat.
Oman's current prosperity and stability is largely attributable to their ruler Sultan Qaboos bin Said al Said, in power since 1970. From an impoverished, politically unstable backwater without any infrastructure, he turned his country within a few decades into a relatively wealthy, peaceful state, introducing sweeping reforms in the political, economic, and social arenas. He also established diplomatic relations with all Arab countries and the world at large, while remaining true to his firm belief in dialogue and non-violence.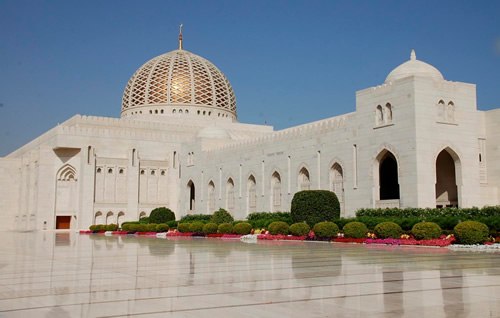 Sultan Qaboos Grand Mosque in Muscat.
Modernization and preservation of traditions go hand in hand in Oman. One way of expressing the passion for tradition is the uniform dress code: men wear most often a white, ankle-long robe with long sleeves (dishdasha), with either an embroidered headdress (kuma) with small holes throughout the embroidery to keep their head cool, or a turban (massar). Women wear a modest, black cloak (abaya) over their personal choice of clothing and a black hijab to cover their hair. Some women also hide much of their face behind a traditional Omani burqa that marks the particular tribe to which they belong.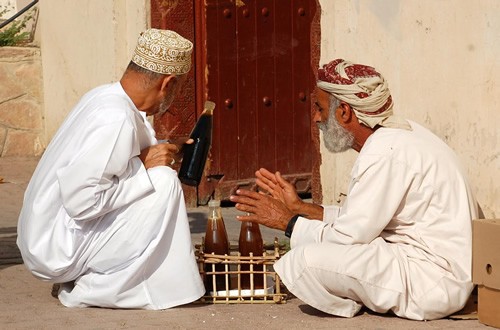 Omani men in traditional dress.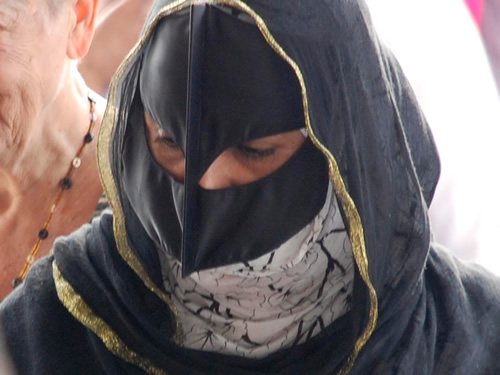 Omani woman.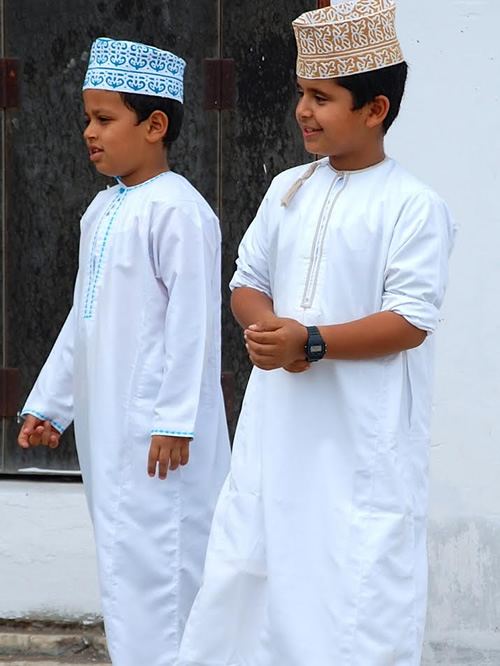 Omani boys.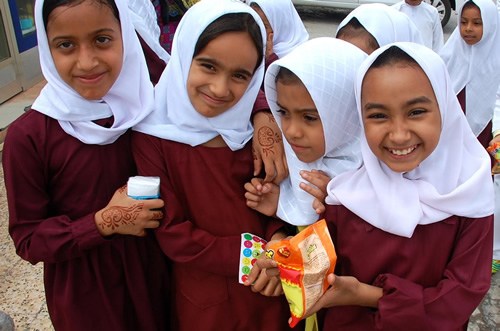 Omani girls.
Hiking and Camping
For nine days, I am joining a guided group of 12 hikers, mostly Brits, in the most remote areas of the Western Hajar Mountains, where few tourists dare to venture. We walk an average of five hours a day over rocky, uneven terrain, or follow ancient, narrow goat paths connecting old, abandoned hamlets. At times, we have to wade through shallow water or jump over slippery stones in a running stream. Other times, we walk over beaches and cliffs along the isolated coast. However, for the most part, we trek through mountainous terrain, where the occasional steep ascents and descents, loose stones, and sharp, pointed rocks can make the trek sometimes tricky. A certain level of fitness and experience is therefore definitely required.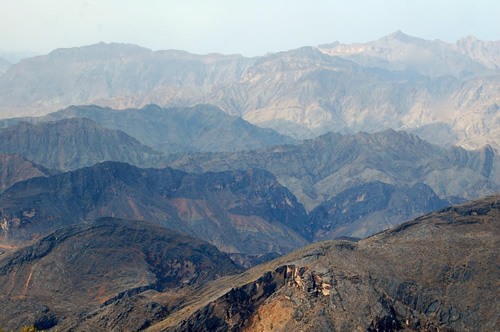 High in the Western Hajar Mountains.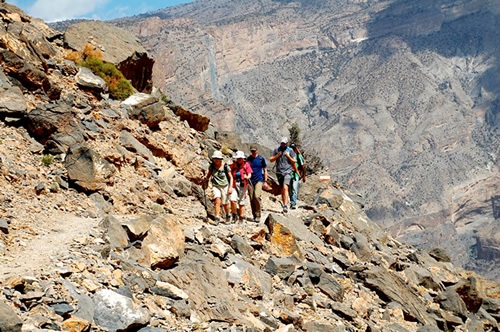 Trekking with the group.
Each day, three vans drop us off close to the hiking areas and pick us up again at the end of the day. They also transport luggage, food, and camping material from camp to camp, which means we only have to carry a small daypack with several liters of our daily water intake. Having enough water is an absolute must, as Oman is one of the hottest countries in the world, due to low rainfall and very mild winds.
We camp in the wild for seven nights and have a hotel break on one night in the ancient town of Nizwa, once upon a time the capital of Oman. Overnight facilities are basic: we sleep on a foam mat in a two-person iglo tent, which we erect ourselves each night and dismantle the following morning. The tour company provides tents and mats, but we use our personal sleeping bag.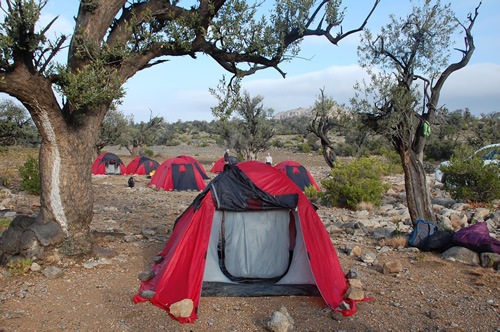 Camping in the wild.
We eat decent meals prepared by our small crew, seated on rather uncomfortable plastic mini-stools, and clean our own utensils, plate, and cup. Drinking water is always available, as is a limited amount for a quick wash-up. Fortunately, we encounter here and there a natural swimming pool high in the mountains, which can come as a great relief during a long and difficult hike in the burning sun! Since access to toilets is out of the question, being one with Mother Earth is our sole recourse for a pit stop.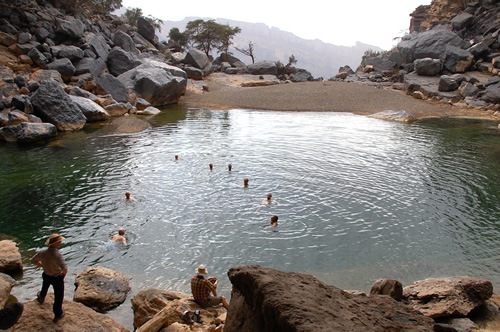 Swimming high in the mountains.
Who would ever have thought of carrying winter wear to a country where temperatures usually hover around 30 degrees Celsius in wintertime? When we are heading for our camp on Jebel Shams, "the Mountain of the Sun" and Oman's highest peak after a 5-hour hike in the sweltering sun, I wish I had thought of bringing at least a hat and gloves! Not only do temperatures drop considerably the higher we get, but we also enter a magical winter wonderland. Luckily, our tour leader leads us to a sheltered spot untouched by the snow, where we can set up camp and spend the night.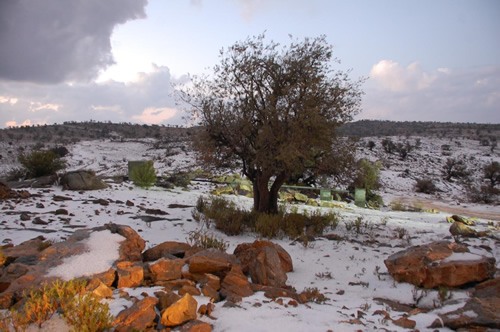 Winter wonderland in the mountains.
Swimming gear comes in handy as well. One evening, we set up our camp on a secluded beach, unreachable by any vehicle, so our luggage is dropped off in a nearby harbor and delivered at the beach by a local motorboat. When arriving at that idyllic spot after our 6-hour long hike along the scenic coastline, the first thing we do is jump into the balmy ocean water to refresh ourselves. After one member of the group brings out a totally unexpected bottle of gin and some tonic water, and the crew tops it off with a fish barbecue under the stars, we soon drift off to sleep to the light beach breeze and gentle sound of rolling waves right at our "front door."
Hiking along the beach.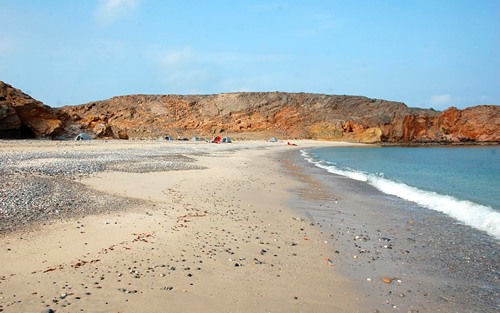 Camping on an isolated beach.
The Souk of Nizwa
Our night of respite in a decent hotel combined with a lavish dinner in a typical Omani restaurant coincides with the famous weekly cattle market in Nizwa, situated at the base of the Western Hajar Mountains, where Omani trade their livestock according to a centuries-old tradition.
Every Friday between 7:00 and 9:00 a.m. cattle farmers come from far and wide to parade their goats, cows, and bulls around a circular structure in the southern section of the souk. They yell out their prices to contenders seated in the interior. Sometimes a stubborn bull does not cooperate, so the event becomes a bit chaotic, and other times the haggling gets quite heated. But eventually, owners and bidders confer, the animals are carefully inspected—especially the teeth to detect any disease—and either they reach a compromise, or another round is initiated to find a higher bidder.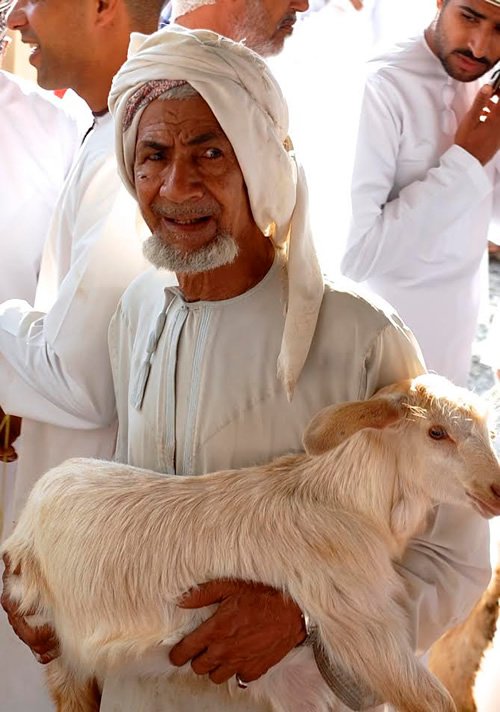 Man with a baby goat.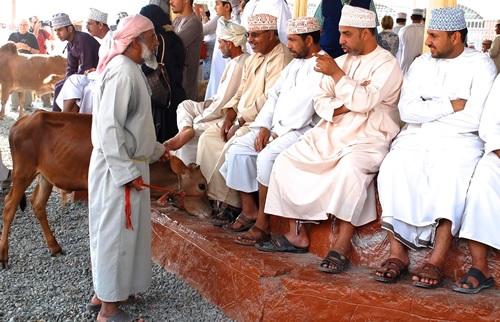 Haggling over a calf.
The high-walled souk, lying in the shadow of the imposing Nizwa fort and mosque, was renovated in the 90's and is — although far from authentic—lively, atmospheric, and colorful. The place is divided into many different sections: dates, fruits, vegetables, meat, fish, frankincense, jewelry, pottery and handicrafts, and many types of small birds. Particularly notable is the section with silver tribal daggers (khanjars) and rifles, which Omani men carry as part of their ceremonial attire at important events like wedding ceremonies.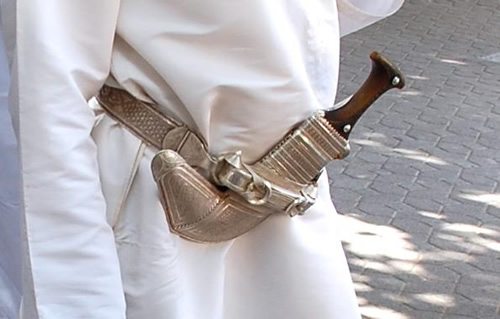 The khanjar, a traditional Omani dagger.
Frankincense
The rugged interior of Oman was completely off the map for outsiders until well into the 19th century. Even then, only a few explorers ventured inland. By contrast, Oman's Frankincense Route along the coast was known by traders sailing between Europe and Persia, India, and China in the 3rd century B.C.
Because of Oman's favorable geographical location at the southeastern edge of the Arabian Peninsula, with long coastlines on the Persian Gulf, frankincense was for long one of the major export products from Oman's ports, in exchange for spices, ivory, wood, and silk from the East. Only found in Somalia, Yemen, and Oman, frankincense became a highly sought-after commodity, from Europe to Asia, and it commanded astronomical prices.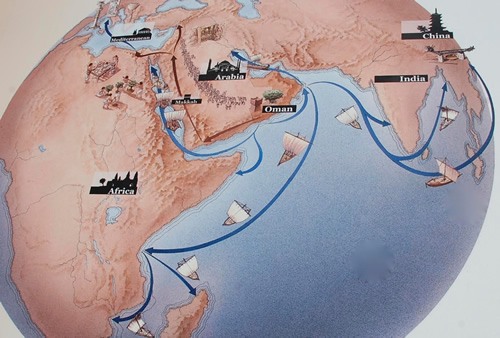 Frankincense trading routes (photo credit: Khor Rori archeological site).
Not wanting to miss the opportunity to learn more about this side of Oman and its fascinating history, I hop on a plane to Salalah at the end of the hiking trip, the capital of the southern Dhofar region, also known as "the perfume capital of Arabia." There I meet with a local guide called Nasser, belonging to the Al-Shahri mountain tribe, who has exchanged subsistence farming for guiding foreigners along the most important sites of his land and introducing them to the tribal culture of the South.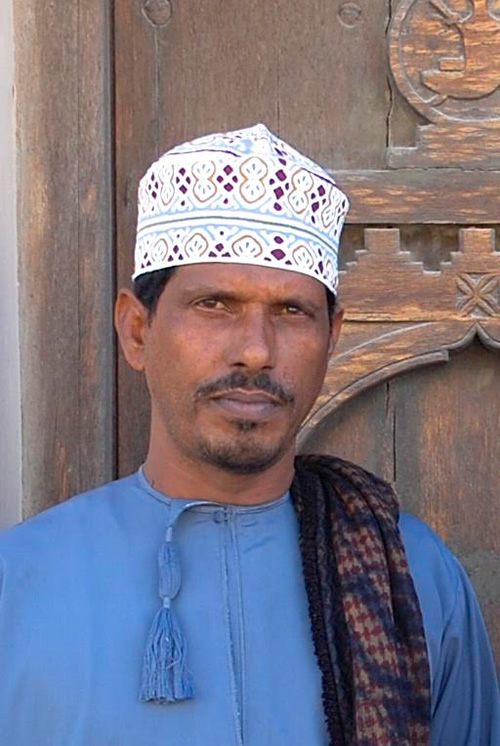 Nasser, my guide in Dhofur.
During some action-packed days, we drive through landscapes with mountains, desert, and plains, and pass archeological sites, ports, and forts along the Frankincense Route, such as Sumhuram, the oldest known settlement, and Mirbat, the ancient breeding center for Arabian horses. I learn about the falaj, Oman's sophisticated, centuries-old underground irrigation system that provided ancient trading settlements with water. I am told about the khareef, the monsoon that turns part of Dhofar into a lush and green area over the summer months, and had such a profound impact on the course of history in this region by providing the ideal conditions for frankincense trees (Boswellia sacra) to thrive.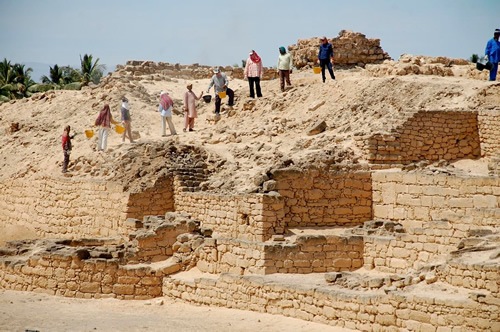 Excavation site near Salalah's frankincense museum.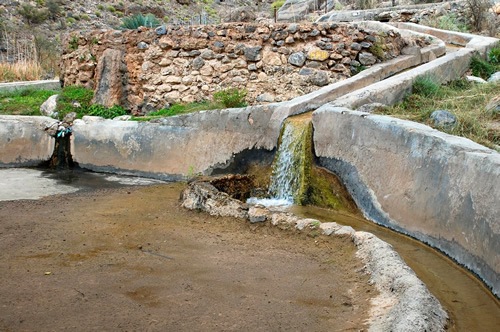 The falaj, an ancient irrigation system.
We also visit Wadi Dawkah, the rocky, semi-arid valley between mountains and sea, where many frankincense trees grow—now a natural park included in UNESCO's World Cultural & Natural Heritage list.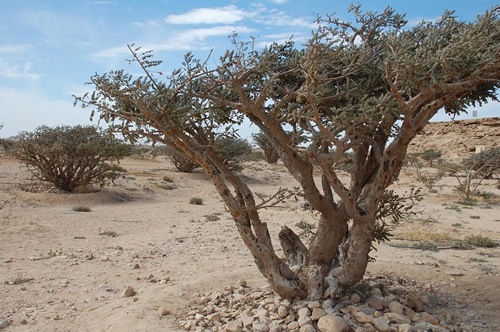 Frankincense tree.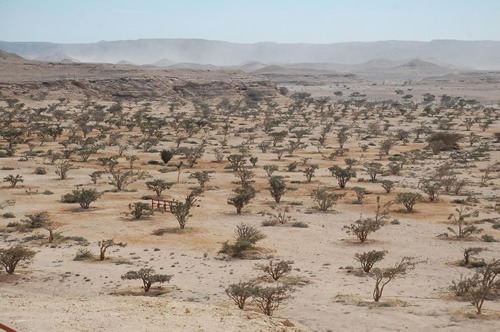 Frankincense trees in Wadi Dawkah.
Harvesting the frankincense gum is a process. Careful cuts are made in the trunk and branches of the scrubby trees. In the days that follow, translucent droplets seep out. The droplets are collected once they have hardened in the sun.
The resulting resin can be placed directly on a burner using charcoal to create incense. Alternately, it can be processed into oil, frequently used in aromatherapy, for skin care, or for medicinal purposes.
Back in Salalah, I learn about yet another purpose when we stroll over the frankincense souk. I notice that the market is packed with turbaned men in white dishdashas, swarming around like busy bees. "They are on the prowl for the perfect perfume," explains Nasser with a mischievous grin on his face, "in anticipation of their 'private night'…"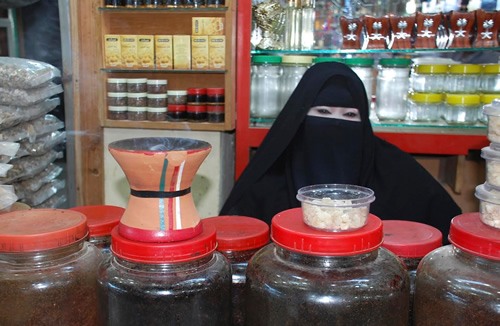 Vendor at Salalah's frankincense souk.
For More Information
Guide-drivers in Salalah, Dhofar:
Nasser, tel. 968 994 98858
Khalid, tel. 968 923 48418, and
Basim, tel. 968 995 88954
Lies Ouwerkerk is originally from Amsterdam, The Netherlands, and currently lives in Montreal, Canada. Previously a columnist for The Sherbrooke Record, she is presently a freelance writer and photographer for various travel magazines.