9 Sensational Ways to Live Overseas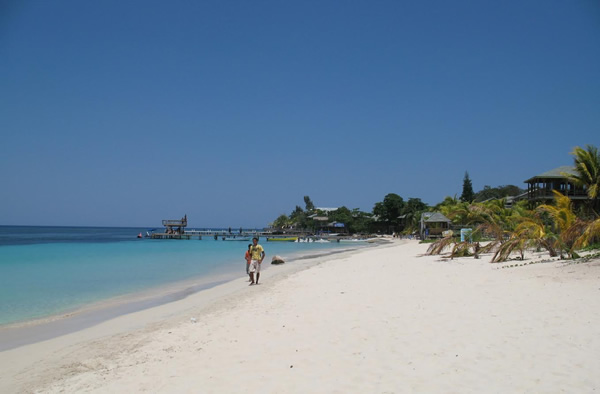 For travel writers, researching a beach like this one on the island of Roatan, Honduras, is all in a day's work. ©Amy E. Robertson.
Work and family obligations, budget limitations… it can be a challenge to get away for more than a long weekend and to go any farther than a couple of hours drive from home. For many, international travel is a rare treat, and even for the lucky is often limited to two or three weeks per year.
I remember as a kid telling my mother that I would live on spaghetti noodles and canned tuna fish when I grew up, so that I could save the rest of my money for traveling. I didn't even have a passport back then, and the only foreign country I'd been to was Canada, a 3-hour drive from my hometown of Seattle. What was once the occasional trip has become indefinite relocation abroad. The more time I spend overseas, the more aware I become of the variety of ways to make a dream of living abroad a reality. For anyone else dreaming of making international travel a way of life rather than an occasional event, here are nine ways to make it happen:
1. Teaching Jobs Overseas
Teaching English (or whatever your native language may be) is one popular choice for an overseas job. A wealth of information on teaching English internationally is available on Transitions Abroad. No more than native fluency in English and a Bachelor's degree are needed for many opportunities to teach English in Japan, Thailand, and elsewhere.
A love of kids is not required — places such as the British Council and Cervantes Institute have branches in dozens of countries, and hire native speakers to teach classes mostly for adults. The former recruits people with English teaching certifications or willing to gain one, while the latter offers its own courses on how to teach Spanish. Neither restricts its teachers by nationality.
If your specialty is in another subject (history, math, science, PE, etc.) and you have a teaching degree, international schools are constantly looking for teachers to bring an international flavor to their staff body, for nursery through high school. A list of resources for certified teachers can be found in this teaching resource section, the most important of them being The International Educator, which lists teaching jobs at schools around the world.
Yet another option is to teach English online from the location you choose, as offered by this successful long-term teacher and expat in his course "The Ultimate Guide to Teaching English Online!".
2. Study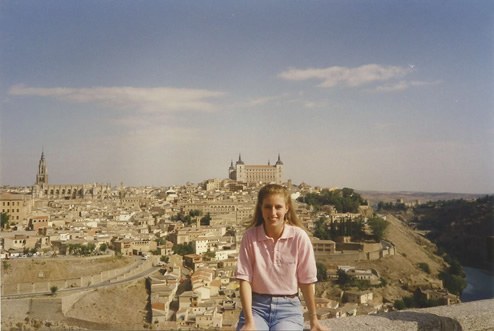 Amy E. Robertson in Spain, during her first study abroad experience. ©Amy E. Robertson.
Again, Transitions Abroad has innumerable articles on study abroad chock-full of tips and advice. At the high school level, it's important to ensure that credits will be granted in your home country for the semester or year abroad. Exchange programs such as the one organized by Rotary International or EF can make that easier.
At the college level, many universities offer their own study abroad program, such as the one I attended through my alma mater Boston University in Madrid, Spain. Established programs take care of many of the details for you, and at BU, most program costs were covered by the regular tuition fees. (BU now offers study abroad in 36 destinations, even including a "semester at sea," and 24 of the programs are open to non-BU students as well.)
It's also possible to directly enroll at a university overseas. Many international universities offer degrees in English, such as Bocconi University in Milan and Copenhagen Business School in Demark (where my husband once did a semester abroad). Direct enrollment can be an especially good fit for a graduate degree, as there is less hand-holding and can therefore require a bit more independence and management skills than undergraduate study abroad programs. My family is a big fan of graduate studies abroad: I obtained my Master's degree from the London School of Economics (where I met my husband, who comes from Italy), my brother-in-law got his Master's at the University of Hamburg in Germany and his Ph.D. at the University of Rotterdam in the Netherlands (both programs in English), and his Italian/Venezuelan wife is now working on her second Master's degree at Duke University in the U.S.
Strong foreign language skills are not required: even outside of North America and Europe, there are a number of English-language universities (including outposts of American ones) located in the Middle East and Asia. (This Transitions Abroad article discusses Masters' programs in Southeast Asia, for example.)
3. Volunteer
Not everyone can afford to take time off from work, but did you know that long-term volunteer assignments often provide room and board, and sometimes a small stipend?
The British organization VSO offers 6 to 24 month assignments for professionals with at least two years' work experience between the ages of 24 and 75. They have opportunities in: teaching and education; health; engineering, technical and vocational areas; business management and IT; community and social development; agriculture and natural resources; and communications and fundraising. While volunteers are expected to fundraise around US$1,500, they do receive accommodation, a living allowance, and one return flight from the UK to the placement.
While the Peace Corps was once the domain of recent college graduates, it now offers a variety of volunteer programs. Its University Program offers the opportunity to integrate Peace Corps service with a graduate degree, as well as a fellowship program that offers financial aid in exchange for support of an underserved community after completing the international service. Peace Corps Response has 3 to 12 month opportunities, for professionals with skills in agriculture, community economic development, disaster preparedness and response, education, environment, health, IT and youth development. The standard Peace Corps program is for 24 months overseas. Volunteers of all ages are welcome, including senior retirees. Some of the opportunities accept couples; some accept applicants straight out of college, and others require up to five years of work experience.
Teaching is again an option, and non-certified teachers are occasionally recruited to teach at smaller schools as volunteers. Arrangements are often made either directly with the school or through a local organization. To give just one example, Bilingual Education for Central America runs three schools in Honduras, provides a teacher-training prograhttps://becaschools.org/get-involved/volunteer-teaching-program/m, room and board for its volunteers, plus a stipend for those who return to teach a second year.
4. Healthcare Jobs Overseas
In addition to volunteering, there are paid international positions available for those with a degree in health care. While obtaining the license to practice medicine in a new country can be complicated, requirements for nurses are easier to meet, and significant global imbalances means that nurses from places as diverse as Philippines and Lebanon getting recruited to work in Europe and the U.S., and nurses from the U.S. and Europe are heading to places like the Persian Gulf. Both nurses and doctors (especially with French language skills) are always urgently needed by the international NGO Doctors without Borders / MSF.
5. Government
Many Western governments offer two different options for overseas work: either as part of the Foreign Service, or in development aid. In the U.S., these careers are with the State Department and USAID. For the U.S. Foreign Service, there are five career tracks: consular, economic, management, political and public diplomacy. The State department website has detailed information about each, and even a quiz to determine which might be the best fit. Entry to the Foreign Service is highly competitive, but those willing to consider a less popular career track (such as consular or management) have better chances of entry. Foreign Service isn't all glamour however: willingness to serve in a hardship post is an absolute requirement (think Afghanistan or Iraq). The bulk of jobs with USAID are in international development, but they also have needs for travel or computer specialists, in financial management and more. Overseas jobs for U.S. citizens can also be found on the USAJOBS website, which is searchable by region. At the time of writing, many engineering jobs were available, and even paid summer internships in Africa for students 16 and older.
6. United Nations or an International NGO (Non-Governmental Organization)
The obvious background for this type of job is an interest in international development or humanitarian assistance, but it's not necessary to have a directly related degree. All those aid workers also require a support structure, and there are international positions for specialists in finance, human resources, IT, communication, agriculture, environment, law, logistics and more. Many mid- to senior-level positions are open to any nationality and listed on the UN career website.
International NGOs have similar needs, and can be a good stepping stone to one of the UN agencies should that be your end goal. Support positions in areas such as HR and IT are more likely to be filled by locals. A few good websites with global job listings are Idealist.org, Reliefweb and Devj.
7. Journalist / Writer / Photographer
While it takes some serious credentials to end up as the New York Times foreign correspondent, it is possible to break in to international journalism as a freelancer. You can pitch one-off pieces to any media outlet around the globe, and may become a stringer (regular contributor) with one or more of them. Remember to think outside of the box when considering outlets for your work — your piece on Slovakia may be more popular with readers in London than with readers back in your hometown of Detroit.
International locations with a significant expat community often have an English-language paper that may have opportunities for native English speakers. Places as diverse as Dubai and Durban, Beirut and Bangkok, all publish newspapers and magazines in English, the local lingua franca.
Writing about or photographing tourism in your destination for outlets around the world (in English or your preferred language) is another way to earn an income, although as most travel writers will tell you, it's a tough business to have as your only source of income. Freelance editing and copywriting is another way to supplement earnings. While living in Quito, Ecuador, I picked up several clients by reaching out to the managers of hotels, restaurants and tour companies when I noticed errors in the English-language version of their brochures, websites and menus.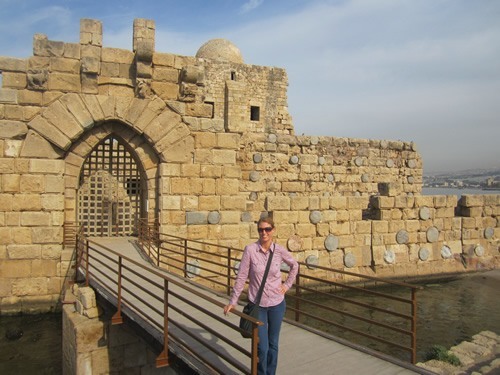 Visiting the Crusader Sea Castle in Sidon, while living in Lebanon. ©Amy E. Robertson.
8. Hospitality and Airlines
While these are industries where the most international opportunities are found at the top, airlines typically send a station manager from the home country to oversee operations in most destinations. International hotel chains, on the other hand, typically have expatriate general managers, and also often recruit senior staff internationally for operations, human resources, and even chefs.
9. Digital Nomads
Any article on international lifestyles isn't complete without a mention of the overseas job of the moment: digital nomad. As the name implies, nomads tend to be itinerant rather than anchored to a single place, utilizing their location-independent job to enable global travel. There are plenty of travel bloggers out there, often earning income for their writing and photography skills through monetization strategies. GoatsOnTheRoad covers and embodies the subject of income generation as travel bloggers very well. Many other sites, including TransitionsAbroad.com, offer articles that discuss setting up and using travel blogs, with examples of travel bloggers who succeed financially.
Author and blogger Tim Leffel discusses the benefits of travel blogging and many other types of virtual jobs. Indeed, tech skills beyond blogging, such as SEO, content creation, social media consulting, and web and software development, can create a lot more opportunities to earn an income. In fact, bloggers are the minority of digital nomads, with yoga coaches, psychotherapists and even doctors finding ways to be location-independent nowadays. In sum, there are countless websites currently serving as marketplaces between freelancers and employers, with this article on freelance job resources reviewing some of the most popular.
Amy E. Robertson is the author of Volunteer Vacations in Latin America (2013, Moon Handbooks). Her writing has been published on NPR, Vice MUNCHIES, Budget Travel, Delta Sky, National Geographic Traveler, Wall Street Journal, Christian Science Monitor and Travel + Leisure, among others. Amy has lived in six countries and traveled in more than 60. Her volunteer experiences include building houses in Washington State and Honduras, monitoring presidential elections in Ecuador, working with youth on social documentaries in Bolivia, and serving lunch at soup kitchens in Seattle and Beirut. She has a background in international development and nonprofit management and has worked in both the private and nonprofit sectors.

You may see Amy's many articles for us, her numerous books, and her expanded bio page here.