Teaching English in Thailand
How to Find a Job on a 10 Day Job Search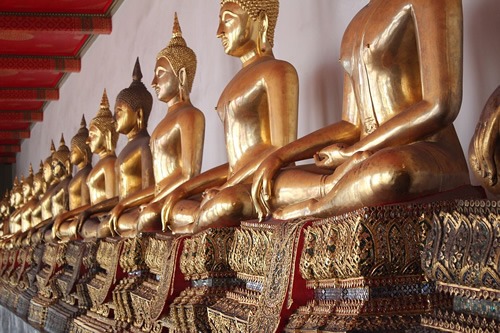 Buddhist altar in Bangkok, Thailand.
Within 10 days of arriving in Thailand, it is possible to have a job.
In my experience, the best way to get a teaching job is to get on a plane, fly to Bangkok, and search once you are there. This can seem intimidating. Many worry that they will arrive with a tight budget and not find work.
It is a logical fear, but unfounded. If you are a native English speaker and have a college degree in any subject, along with a TEFL certificate (which can optionally be obtained in Thailand in a month or so), you can get a job in 10 days. Just follow the steps below.
Before You Arrive
There are a number of things to do before you set foot on the plane.
1. Pack nice clothes. In Thailand, physical appearance and dress are very important. For men that means you should bring long- and short-sleeved dress shirts with collars for ties, as well as a few pairs of slacks. For women, bring two or three business outfits, with long skirts or pants. Everyone should come to Thailand to teach with nice pairs of dress shoes.


2. Resume. Put together your resume before leaving. Save it to memory stick and also as a second backup to an email account such as Gmail so it can be easily printed at one of the many internet cafes in Bangkok. Bring professional head shot photos. Emphasize your teaching, training, and travel experience.


3. Certificate. Bring several copies of your teaching certificates. Having a TEFL certificate, which you can do online or in a 6-week class, is a big plus and great investment.


4. College transcripts. Some employers ask for university transcripts. Request these before leaving home and pack several copies. As with all paperwork, it does not hurt to have scanned images on a memory stick or in backed up to your email account.


5. Reference letters. Most employers ask for at least three references. Arrange these before departing. Ex-bosses, teachers, and co-workers make the best references. Ask each to write a brief letter of recommendation. Tell them you are applying for English teaching jobs. Ask them NOT to date the letter (so you can use it for a long time) and to include an address, phone number, and email address.


6. Pre-contact the big chains. Before leaving, send emails to the big schools in Bangkok such as Inlingua, and AUA. These schools have multiple branches and are a source of continuous job openings. Email a brief letter—tell them when you will arrive, summarize your qualifications, and ask to set up an interview. Paste your resume into the body of the email. You may have a job waiting when you arrive.
Day 1: Arrival
If you are on a tight budget, you can book ahead or go straight to one of the many cheap Bangkok hostels, which usually range from US$6-14 a night and often include WiFi. The cheaper areas to rent longer-term accommodations are in the backpackers' area in Banglumpoo (Khao San Rd), and you can find apartment listings online or just look around. You can also use a Lonely Planet guidebook or their website to find guest houses in Bangkok for any budget. Take this time to relax and sleep. No reason to start the job search today.
Day 2: Get Bearings
No job search today either. Sleep late. Take a stroll. Wander about. Let your body and mind adjust to the new environs. You have only one task today. Unpack one set of interview clothes. If they are badly wrinkled, take them to a laundry service and have them ironed. Once ironed, hang them up. Polish your shoes should they need polishing. Unpack the memory stick(s) with copies of your resume, degree, transcripts, etc. and carry one with you.
Day 3: Mobile Phone
Employers will want to call you. Asking them to leave a message at a guest house or hostel is both tacky and unreliable. It is very important to get a cell phone to secure your job. New mobile phones are cheap and easy to find. Take a taxi to the Central Shopping Mall in Pinklao. Tell the driver Sentan Pinklao. On the fourth floor of the MBK Centre mall are many shops that sell both new and used phones. Get a cheap phone for the current prices (which change all the time).
You have a phone, now you need a telephone number. For that, you must buy a "SIM card." The main SIM-card service providers are DTAC and One-2-Call. They are both reliable and easy to use. Most mobile phone shops also sell SIM cards, and will install them (very easy to do). If they do not, take the phone directly to the DTAC (4th floor) or One-2-Call (2nd floor) office. A SIM card costs about a few dollars. Once you have a SIM card, you can now receive calls. Before leaving the store, remember to ask the staff to switch the language options on your phone to English.
Finally, to make calls you must put minutes on a cell phone. This is done by purchasing prepaid phone cards, available at any convenience store (including the omnipresent 7-11s). Simply go to the counter and ask for a DTAC or AIS One-2-Call (depending on which SIM card you have). Cards come in small Baht amounts. To activate the card, call the access number (printed on the card), then enter the serial number (followed by #) and password (followed by #). In a few seconds, the money is added to the account.
Once you have accepted a teaching position, using Skype via a laptop is perhaps the best way to go for any international calls.
Day 4: Computer Work
Go to an internet cafe with the memory stick that holds your resume. Open your resume and add the new phone number of your cell phone to the top. Then print twenty copies. Cheaper shops charge only a few Baht per copy. Store your printed resumes in a thick folder to keep them clean and unwrinkled.
Next, head to the Ajarn.com website. This is the primary internet website for teaching jobs in Thailand. Scan the job listings and copy or print out any that sound promising. Email a cover letter and resume to each job. It is better to paste the resume into the body of the email rather than attach it as a file. Many people will not open attachments. In the cover letter, tell the school that you are currently in Bangkok and are interested in a position immediately. Ask them to look at your resume. Ask for an interview. End the cover letter with your phone number and email address.
Take a break, get some food, perhaps some of the famous treats to be found at street food carts, and stretch your legs.
Go back to the internet shop for round two. Visit the eslcafe.com website or one of the job posting boards listed below. Go to the international job board. The eslcafe.com site is not a job website specific to Thailand but there are often Thai jobs listed and a useful forum discussing teachers' experience with employers and other expat issues. Scan the entire list and email promising Thai jobs, even if the listing seems old. Always communicate online that you are currently in Thailand. Always ask for an interview (politely), and always include contact information at the end of your cover letter (even though it is also on the resume).
The final task for Day 4 is to contact the big chains—the ones you emailed from home. Send each another email. Stress that you are now in Bangkok and are prepared to start work immediately.
Day 5: Hit the Pavement
Put on business clothes, gather a stack of resumes, diploma copies, and copies of reference letters. Almost all schools will ask for a recent photo when you apply, so head to Khao San Road. Khao San has numerous photo shops that take passport-size pictures if you forgot to bring them before arriving. Most charge a few dollars for four pictures. Get 12 or more.
Next, check your email for responses from yesterday's inquiries. Immediately call or email any schools that express an interest. Schedule an interview and get directions to the school.
The remainder of Day 5 will be spent visiting schools. This would appear to be an inefficient way of job searching, but it is invaluable to have face to face encounters. Get comfortable talking to employers. Smile and show enthusiasm. The best place for walk-in visits is Siam Square, which has a high concentration of English schools. Tell the taxi driver Siam Square. Once there, just stroll. The British Council and Inlingua have schools in or near Siam Square, as do a few smaller companies. Visit the schools.
Then take the BTS sky train to Ratchidamri station. From the station, walk south (towards Lumpini Park) for five minutes to arrive at AUA, a large and well known language school. Drop off a resume and try to arrange an interview.
When visiting schools, greet the receptionist, ask to talk to someone about a teaching position, and hand them a resume. Smile. You may get an interview, and a job offer, on the spot.
But do not be discouraged if nothing happens. Remember, the purpose of walk-ins is to grow more comfortable talking to employers.
Day 6: The Bangkok Post and The Nation
After breakfast, go straight to a bookstore (or coffee shop) and grab a copy of The Bangkok Post, the better of Bangkok's English language newspaper. Sit down and scan the classifieds. They always contain ads for English teachers. Circle them and immediately call those which list phone numbers. Mention that you meet their qualifications and are interested in a position. Arrange an interview.
Perhaps more importantly, get back on the internet and check email for responses to inquiries. Immediately respond to them, preferably by phone. Arrange interviews. Email contacts from the Bangkok Post that could not be contacted by phone.
By this time, you should have interviews should be rolling in, so devote the rest of the day to them. When interviewing always overdress. Dress like a banker. No matter how casual the job itself may be, it is best to dress very conservatively for the interview. This is especially true in Thailand, where many employers will judge you by appearance, smile, and enthusiasm more than qualifications or work experience. In Thailand, it is often better to look good than to be good!
Day 7: Interviews
Check email and respond to inquiries. The rest of the day is devoted to interviews, as several should be scheduled by now. Continue to dress well, smile, and show enthusiasm.
Day 8: Relax
Unless there is a promising interview scheduled, take it easy today. Sleep late. Get a massage. Relax. Do check email and respond to inquiries, but otherwise this is a rest day.
Day 9 & 10: Interviews and Contracts
Check Ajarn.com and respond to new job listings. Check email every morning, and immediately respond to inquiries. By Day 9 you should have one or more job offers.
Do not accept the first job offered. Examine the contract carefully. Ask questions: How many hours a week will you teach? (over 25 is too much). Will they sponsor a work visa? (They should). Will they help find an apartment? (They should). How much do they pay? Jobs should pay monthly between $1000-$1300, including housing, insurance, and the critical work permit. 350 Baht (US$10) per hour is an absolute bare minimum for hourly jobs, but you should stay away from such arrangements, as there are less guarantees. If possible, talk to other teachers at the school and confirm that they are treated well and paid on time. Once satisfied, read and sign a contract.
By following the above steps, almost anyone with the qualifications described can find a job in 10 days or less. TESOL jobs in Thailand often do not pay well by Western standards, or even compared to neighbors in South Korea or Vietnam. However, by local standards the pay is more than adequate due to the cost of living. By living simply it is possible to cover expenses. Furthermore, there still remain a huge number of jobs. With a neat appearance and a little organization, it is easy to find a job within 10 days of landing in Bangkok. Follow the steps above, and success is assured.
For More Info
Ajarn
The best internet job board for English teachers in Thailand. Also general information about living and working in Thailand.
AUA Language Center
A well respected language school with several branches.
British Council Thailand
English teaching jobs are often posted online.
A.J. Hoge has a Masters degree and over 10 years of English teaching experience. He lived and taught in Bangkok, Thailand.