Working Abroad in France
An Introduction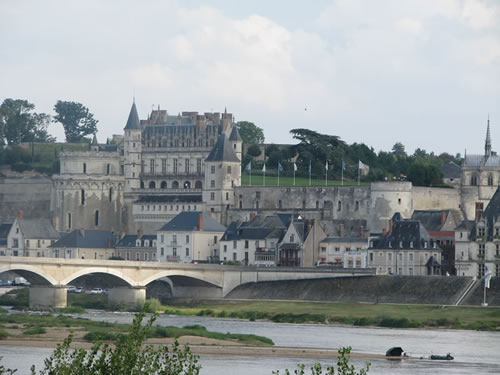 Photo of Amboise, France in the Loire Valley. © Transitions Abroad .
Although France still remains one of the hot spots for American expatriates in continental Europe, the days when American expatriates could easily come to Paris and stay indefinitely are long over. For foreigners and especially for citizens of countries outside the EU, finding work and living in France is not an easy task. You are not only competing against French citizens, but also against citizens of other EU countries who do not need a work permit in order to work in France.
The economic outlook for France is similar to that of other major European economies, although the French economy has proven to be more resilient in its recovery from the 2008 global recession than other countries in the Euro-zone. These macroeconomic factors also impact the job market for foreign job applicants, especially for citizens of countries outside the EU. If you want to successfully compete with local candidates for a job in France, you need to prove that your skills exceed those of your competitors, while dealing with the notorious red tape. For many jobs, excellent knowledge of the local language is essential, and having a working knowledge of French will significantly improve your chances of getting a job offer. There are multinational companies in France looking for American or English-speaking employees, but few of them will expand their operations in France during times of economic slowdown.
But do not give up! Despite the current economic downturn in France, there are still jobs available for foreigners in a variety of fields and work schemes. Depending on the region, France has a shortage of skilled professionals in certain fields, such as engineering, information technology, health care, and teaching. If you fall into this category, your application for a work permit has a good chance of getting approved. Keep in mind that in the current economic climate it is easier for young people and students to find short-term work and internships than it is for experienced professionals to find legal employment in France. Below I have outlined several options for people who are interested in working in France, but do not have European citizenship or a French residency permit.
Jobs for Highly Skilled Professionals
Having professional skills that are in high demand is the best way to get a job offer from a French company. Unfortunately, due to strict labor laws, Americans have a significant disadvantage over Europeans when it comes to finding a job in France. Citizens of the EU can work in any member country of the EU without a work permit, but Americans need an employer in France to sponsor their work visa. Once you get an offer of employment from a French company, your application for a work permit needs to be approved by the Departmental Directorate for Labor, Employment and Vocational Training (DDTEFP) in the political district where you apply for work. If the local Directorate approves your application, the French embassy in your home country will then issue a work permit for you.
"Skills and Talents Card" for the Self-Employed
With an aging population and an inflexible labor market in France, there is a constant demand for entrepreneurs and professionals who can inject new ideas and entrepreneurial skills into the French economy, either by opening a business or by working as a highly skilled self-employed professional. If you fall under this category, you do not need a job offer. All you need is to demonstrate exceptional professional skills and enough funds to get started. To facilitate the residency permit process for foreign self-employed professionals, the French government has created the "Skills and Talents" permit (Compétences et Talents), a new program for people that can make a considerable cultural, scientific, artistic or economic contribution to the country. The following are some examples of eligible applicants: University graduates, qualified professionals, regardless of their academic level, investors in an economic project, independent professionals such as artists, authors, athletes, etc., senior managers, and high-level executives.
Part-Time Work for University Students in France
If you have a student visa and are studying at a French university, you are entitled to work in France after completing one academic year. During the academic year, students may work no more than 17.5 hours per week. During vacations, students may work full time (35 hours per week).
Working Holiday Visas
France offers working holiday visas for citizens of Australia, Canada, and New Zealand. This program allows young people aged between 18 and 30 to undertake paid employment for up to one year. For more information, contact the French embassy in your home country.
Internships
In addition to work exchange programs for college students, there are a few paid and unpaid internships offered by companies and organizations in France that are aimed at young people regardless of their academic status. Internships are a great way to gain international job experience without a long-term commitment. If you are approved for an internship in France, you will receive an internship visa. Check out our Internships in Europe section, where we have listed a number of websites and organizations which offer or refer internship positions in France in a variety of fields.
Teaching and Research Positions
The job market for English teachers in France is pretty much saturated, either due to decreased demand or overabundance of qualified native English speakers. Many language institutes and schools require a TEFL or CELTA certification in addition to a college degree. Preference is usually given to English-speakers who are already citizens or legal residents of the European Union. It is possible to work as a private English tutor, but it is time-consuming and difficult to find enough students to make a living.
If you have teaching credentials and would like to work as a teaching assistant at a French high school, you should check out the Franco-American Commission for Educational Exchange (www.fulbright-france.org). This program is administered by the Fulbright Commission in France, which provides grants for American to live and work in France for a year, with a stipend. The Fulbright Commission also provides grants for professionals and academic researchers to spend a year in France. There is also the very popular and established The Teaching Assistant Program in France for those aged 20-35 that offers a €810 stipend per month net, but it fills up quickly, so apply well ahead.
France also offers the "Protocole d'accueil" (Hosting Agreement), an official document issued by a French university or public institution that allows a foreigner to work in France during a certain period of time as a researcher or university professor.
Short-Term and Seasonal Work
If you are mainly interested in improving your French and living in France for a while, you could also consider temporary or seasonal work. There is a steady need for seasonal and temporary workers in France, especially in agriculture, construction, the hospitality industry, and tourism. If you are happy with low wages and temporary employment, you will probably be able to find work and make enough money to get by and even save a little bit.
Some EU countries have made it fairly easy to get work permits for seasonal work, but unfortunately your salary will be little more than the minimum wage in most cases. There are several programs and organizations that refer Short-Term Jobs in France and can help you get a temporary work permit. Since this work permit is only valid for the duration of your short-term or seasonal job, it is usually much easier and quicker to obtain than a regular work permit.
Au Pair Work in France
Au pair work is a great way for foreign students to live in France, take French courses, immerse themselves in French culture, and even earn a little bit of money. Anyone interested in au pair work in France needs a long-stay visa (visa de long séjour ), which is dependent on a work contract and letter of invitation from a host family in France. The contract is then certified by the French Ministry of Labor and sent to the au pair candidate. Although it is fairly easy to get a long-stay visa for au pair work (which is in effect a student visa), there are several requirements candidates need to fulfill to be eligible. Applicants must be between 17 and 30 years old, be enrolled at a school or university in their home country, and be enrolled in a language course in France.
France makes it fairly easy to obtain an au pair visa, and most applications are processed within three weeks. Unlike other long-stay visas, the visa issued for au pairs doubles as a residency card, eliminating the bureaucratic procedure of obtaining a temporary residency card after your arrival in France. You will only need to apply for a resident card if you stay in France for more than a year. However, long stay visa holders still have to register with the French Office of Immigration and Integration (OFII) during the first three months of their stay in France. You may find au pair listings in France on this website.
Volker Poelzl is a Living Abroad Contributing Editor for TransitionsAbroad.com. He has traveled in over thirty countries worldwide and has lived in ten of them for study, research and work.