Food Adventure in Sri Lanka
Article and photos by Lies Ouwerkerk
Senior Contributing Editor
1/28/2020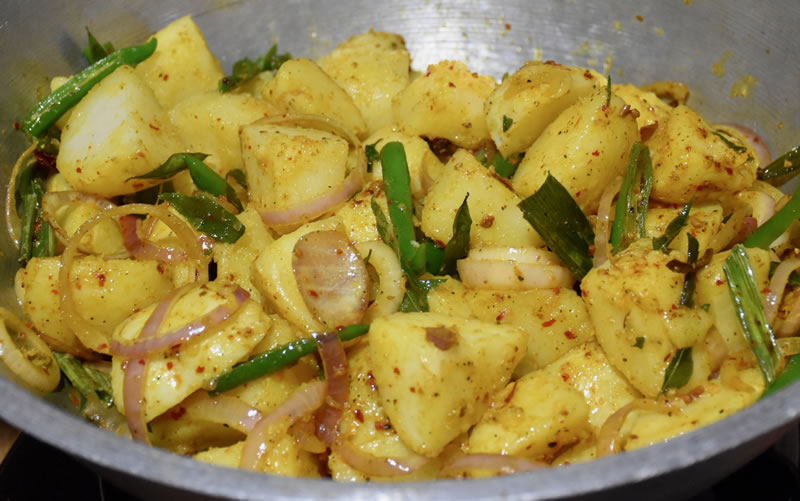 A typical potato curry made in southern Sri Lanka.
After the taxi has dropped me off at my Airbnb in Colombo, my welcoming host suggests we head straight for Galle Face Green, a large urban park and seaside promenade. She tells me that you can fill up for pennies rather than pounds on the most delectable snacks and drinks at food vendors' carts. As I will soon join a 12-day road trip through the country, focusing on anything food, I am eager to get a heads up on some of Sri Lanka's famous staples and do some sightseeing in the island's capital.
It is early in the evening, and many Colombo residents pass by after work, for a stroll, watching the sunset, playing ball, or flying a kite over the open seafront stretch. What is now a park was originally designed for military reasons to give cannons a clear line of fire. Now, inviting smells waft from food vendors' carts lined up along the coastline, lit by small electric lights, and lure passersby to Sri Lanka's most popular street food.
We drink a delicious faluda, a milkshake made from wheat vermicelli, sweet basil seeds (also known as sabja or faluda seeds), fresh milk, and rose water, served with an ice cream dollop, and we nibble from staples like appam and kottu.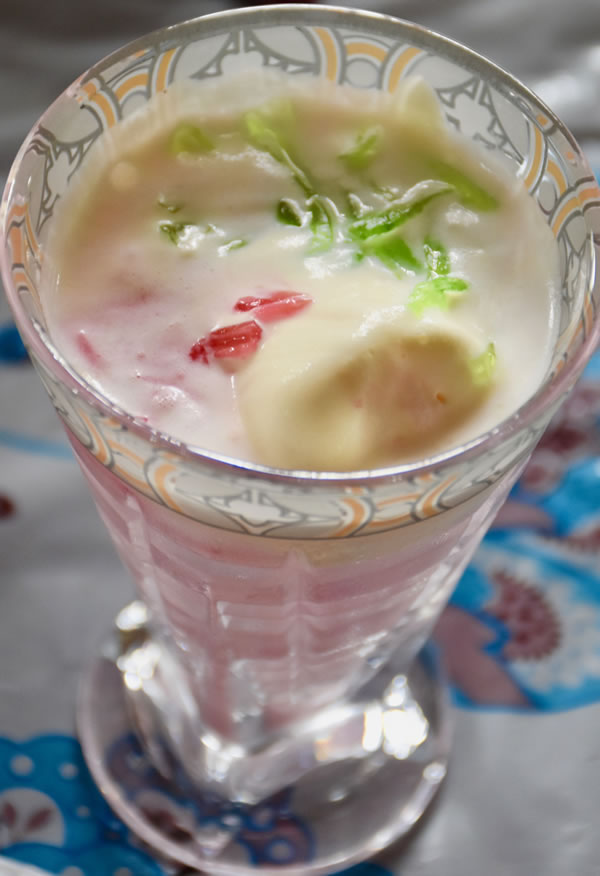 Faluda.
Appam is a small bowl-shaped, crispy-edged crepe made with batter from ground rice, coconut milk and yeast, fermented overnight, and generally called a "hopper."
Kottu, also known as kottu roti, is consumed as breakfast, lunch, dinner, or late-night snack. It consists of onions, cabbage and other veggies, meat or eggs, and scraps of leftover rotis (wheat flour flatbread), rhythmically chopped with two metal pieces each connected to a handle. The mishmash is then stir-fried with herbs and spices on a hot griddle and served on a banana leaf together with a curry sauce.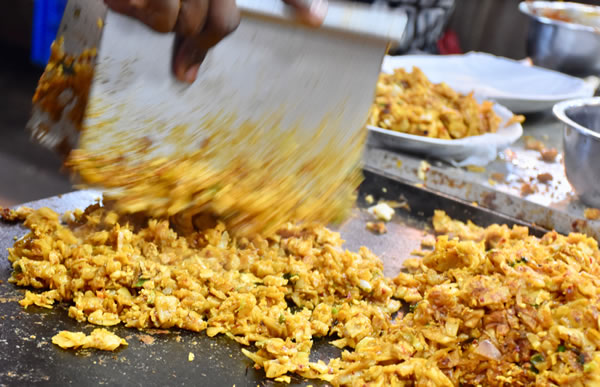 Chopping ingredients for a kottu.
Markets
After a day of combing the famous beaches of Negombo and catching up with jetlag, our guided food tour through Sri Lanka is on its way. We take off in an air-conditioned mini-bus, spacious enough for our group of twelve travelers hailing from Australia, Canada, Ireland, the UK, Austria, and Italy.
The bustling fish market of Negombo is a must-see, especially in the early morning hours, when fishing boats loaded with their fresh catch of the night are returning to the harbor. Big fishes like stingray, shark, tuna, barracuda, and sailfish are unloaded, salted, and left to dry in the sun, or cut up in pieces and sold on the spot. There are also smaller creatures like sardines, squid, and a variety of crustaceans. Negombo is not only close to the sea but also situated near a lagoon and renowned for its crab, lobsters, and prawns.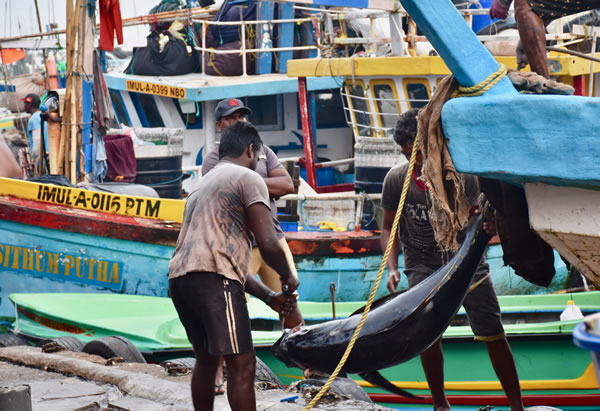 Unloading a fish in the harbor of Negombo for the market.
At the wholesale vegetable market in Dambulla—a city land-inwards, famous for its cave temples richly decorated with Buddha images, frescoes and paintings, as well as for the nearby ancient rock fortress Sigiriya or Lion Rock, a UNESCO-listed World Heritage Site—we get a real sense of Sri Lanka's agricultural diversity. Yams, drumsticks, long beans, different gourd and eggplant varieties, gotukola (Asiatic pennywort), and betel leaves are just some of the produce stacked up on the many trucks heading for Colombo and the rest of the country.
There are plenty of markets in the country offering locally grown vegetables and fruits. At the Central Market of UNESCO-listed Kandy, the last capital of the ancient kings, we get an opportunity to sample from the remarkable selection of tropical fruits. All are produced in Sri Lanka, not only the popular fruits like pineapple, mango, strawberries, and bananas, but also the lesser-known mangosteen, soursop, rambutan, passion fruit, and cashew apple.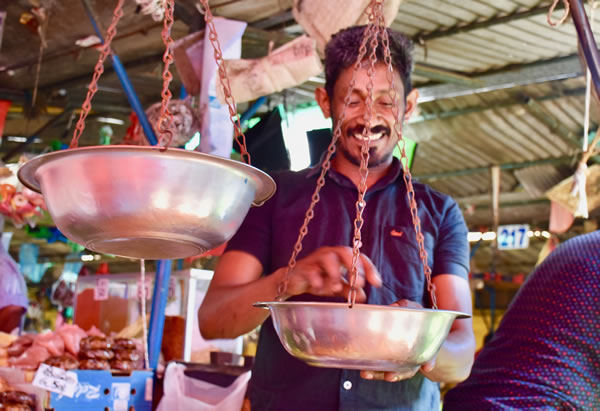 Vendor at Kandy's fruit market.
Plantations
At a small family-owned coconut plantation between Negombo and Dambulla, we learn why the coconut palm, called "the tree of life," plays such an important role in Sri Lanka. Not one part of the tree is wasted: the leaves of the palm tree are used for roofs, its wood for furniture, the flesh of the coconut for oil and milk, its clear water for cool drinks, the shell for bowls and handicraft, the fiber inside the shell for ropes and mats, and the flower of the tree for nectar, toddy (nectar fermented into palm wine), and treacle (syrup obtained by boiling nectar for several hours and then letting it cool—often eaten with buffalo curd).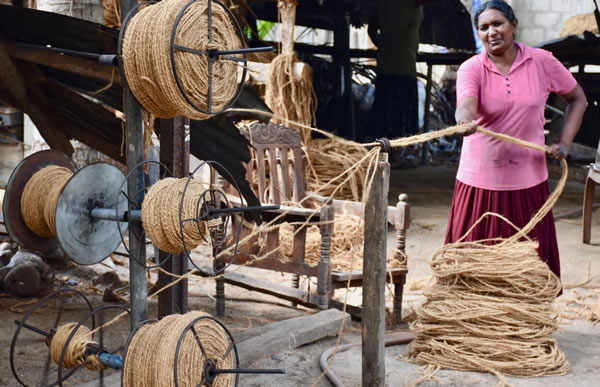 Production of rope from coconut shell fiber.
In Sri Lanka, the saying goes: "a coconut a day, keeps the doctor away," because of its many perceived health benefits. After we have been shown how fiber is processed into rope, one of the employees demonstrates the perilous art of toddy tapping. He climbs in one of the palm trees using footsteps carved in the trunk, and reaches a budding flower in the top of the tree, under which he makes a cut to obtain a white sap that is collected into mud pots, fastened to the tree around the flower and its stem. Then he skillfully balances the dangerous tightropes between the trees to reach other flower buds whose time is just right.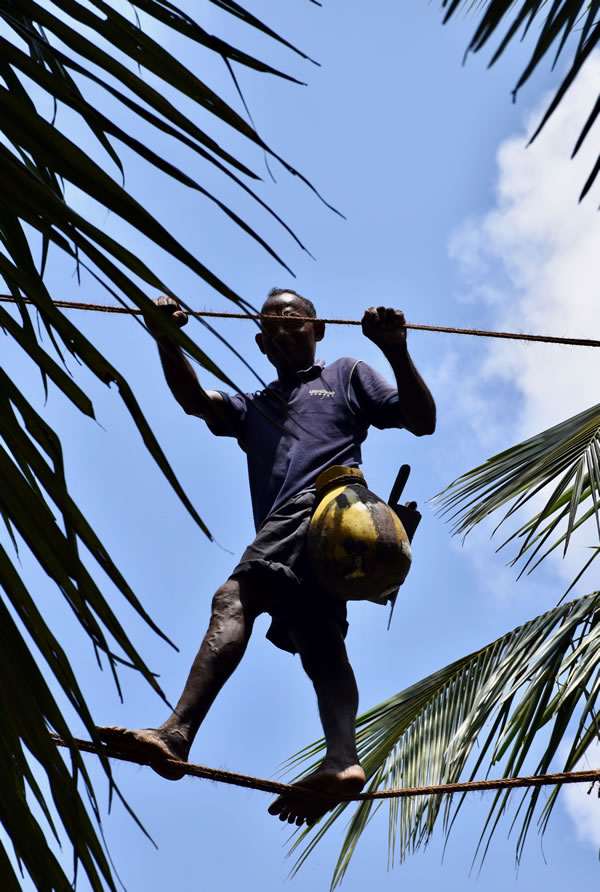 A toddy tapper in action at a coconut plantation.
Nowadays, this seasonal trade faces extinction because of the inherent dangers of dangling high up in the trees. There are also many jackfruit trees at this plantation. This healthy green fruit with its thick, spiky hide, and hundreds of seeds tightly packed together in the fruit's flesh, is an important staple in Sri Lanka, and can be prepared in a variety of ways. The owners of the plantation treat us on a lunch where we feast on rice and jackfruit curry, in which the fruit is mixed with onions, pepper, curry leaves, coconut milk, and spices such as fenugreek, turmeric, and ground mustard. We learn that cutting jackfruit trees is nowhere allowed in Sri Lanka. As a consequence, people who lack the funds to buy their daily rice can always find jackfruit in nature as a nutritious and free substitute.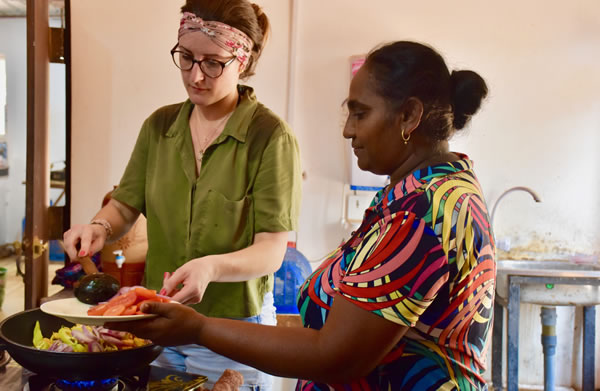 Helping the hostess to prepare a jackfruit curry.
In Kandy, we board the train and ride for hours through the stunning scenery of the Central Highlands, Sri Lanka's pre-eminent tea district. The region has the perfect ecosystem for growing high-quality tea. On our way to the rural city of Banderawela we pass lush green fields, and in the surrounding Haputale region we watch tea pluckers carefully harvesting the tender leaves of Sri Lanka's most important export product, and carrying heavy baskets on their backs (they will have to make at least 18 kg a day). In the adjacent factory, we follow the process of withering, fermenting, drying, sorting, and packing.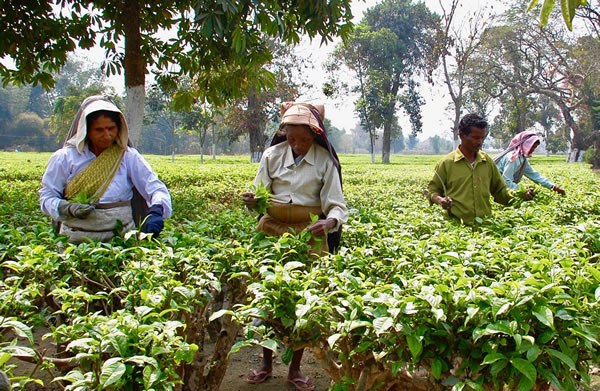 Tea pluckers at work.
Sri Lanka, formerly known as Ceylon when it was a British Crown Colony between 1815 and 1948, is mostly known for its Ceylon black tea, but also produces green and white tea. The latter is the most rare and expensive, due to how it is harvested. White tea is made from the buds of the tea plant, which are handpicked in the very early morning before sunrise.
At a farm known for its "chena" cultivation (the centuries-old method of shifting land, practiced especially in the dry zones of Sri Lanka), we learn about cultivating crops such as rice, cereals, grains, yams, and corn. We enjoy an "al fresco" lunch amid the rice paddies, feasting on their red rice, tropical vegetables, pumpkin curry, fried fish caught in a nearby lake, and fresh coconut drinks to lessen our thirst.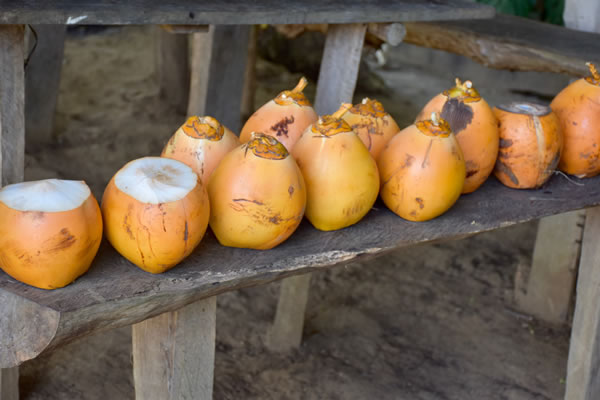 A fresh coconut drink is awaiting us at a shack in the countryside.
Rice is undoubtedly the main staple of Sri Lanka's population, who consume 100 kg a year per capita. Brown and red rice are healthier, but most people use various types of white rice. If there is enough rain, there could be three crops a year, although two crops during Maha and Yala (monsoon seasons) are more common.
Rice is not exported, and there is a minor import of basmati rice from Pakistan.
Cooking and Eating at Locals' Homes
One of the major attractions of this food tour is the chance to learn informally about Sri Lanka's best recipes, in the homes of locals who open their kitchens to demonstrate to us their cooking skills and invite us at their tables afterward.
As represented in Sri Lanka's flag, the country's population is mainly made up of (Buddhist) Singhalese (73%), (Hindu) Tamil (15%), and Muslim (7%) people, each with their own culture and customs. This diversity is also reflected in the choice of families we visit.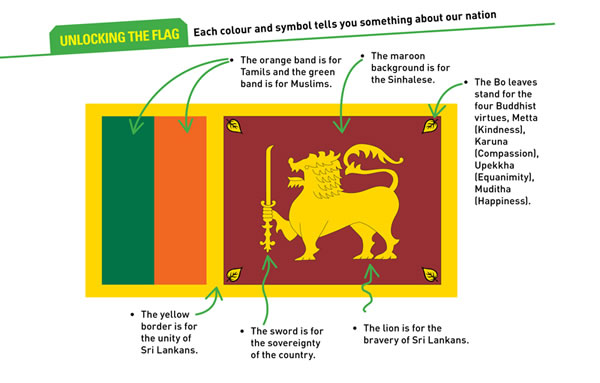 Flag of Sri Lanka.
A Singhalese family in the outskirts of Kandy conjures up a classic North Indian curry, and caters to our sweet tooth with a cooking lesson on desserts, inspired by traditional Portuguese and Dutch recipes that date back to the time Portugal ruled the island (1505 – 1658) and then The Netherlands (1658 – 1796).
One of these originally Dutch desserts are the delicious waffle-like kokis (Dutch: "koekies," later anglicized to "cookies"), made with a mold dipped in batter and then in hot oil, making sure the mold is not completely submerged.
Bowl of kokis.
We also learn how to make string hoppers by squeezing batter into a noodle press, after which the thin noodles are quickly steamed before serving.
In Bandarawela, we enjoy a lunch at the home of a retired tea plucker who teaches us tricks from her traditional Tamil cuisine. We eat our heart out on dosas (crispy rice pancakes), idli (savory steamed rice cake), and to-die-for deep-fried lentil fritters served with various chutneys and curry sauces.
| | |
| --- | --- |
| | |
| Hostess in her kitchen baking dosas. | Deep-fried lentil fritters and dosas. |
In the southern beach town of Mirissa, we visit a Muslim family and try watalappam, a creamy coconut custard pudding dotted with cashew nuts, sweetened with traditional jaggery and spiced with cinnamon, cloves, cardomom, and nutmeg. The dessert is said to have Malay origin, and is particularly popular amongst the Muslim population in Sri Lanka.
Not far from here, in the town of Galle, with its many remnants from the Dutch colonial era, we enjoy a copious meal of fish, crab, eggplant, and potato curries at the home of a fisherman. He recounts how their lives have dramatically changed since Sri Lanka was struck by the disastrous tsunami of 2004, which especially hit this part of the country.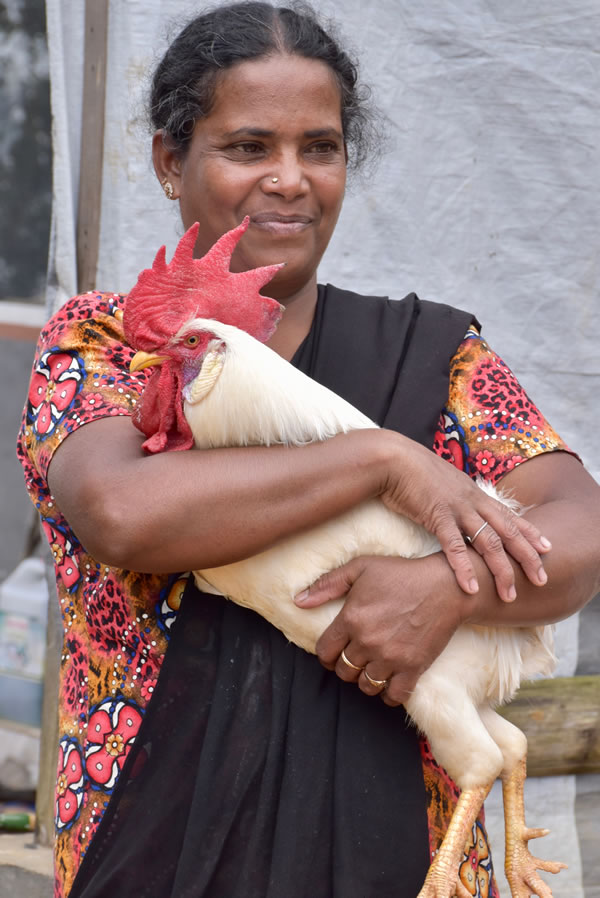 Our hostess in Galle.
After an exhilarating close-up sighting of a leopard in Yala Natural Park on Sri Lanka's southwest coast, we drive back to Colombo, and conclude this well-rounded food tour with a traditional "Burgher" or lamprais meal. For the longest time, I imagined it to be something like a meat burger, but it turns out to be a traditional dish kept alive over the centuries by "Burghers"—Portuguese, Dutch, and British descendants—and consisting of rice, veggies, and meats, wrapped together in a banana leaf, and slowly cooked on an open fire.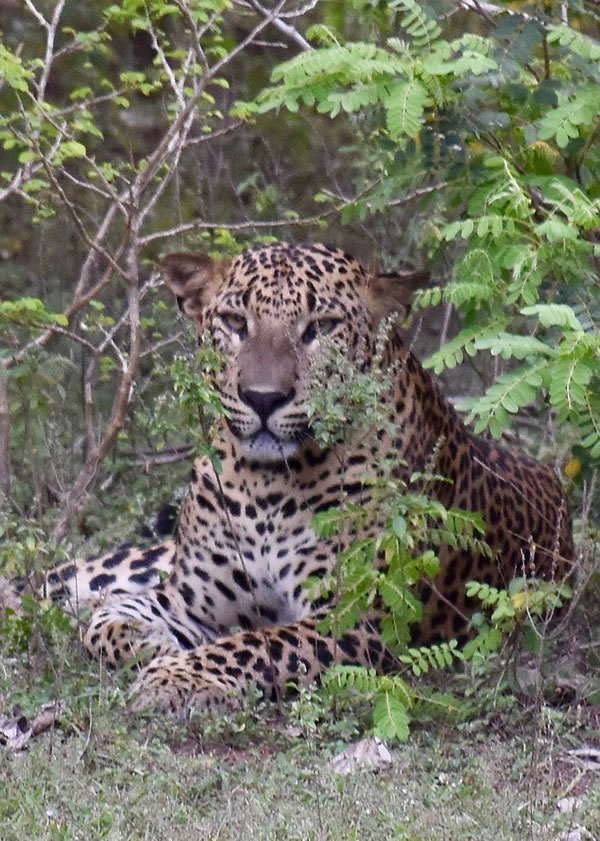 A leopard in Yala Natural Park sizing us up.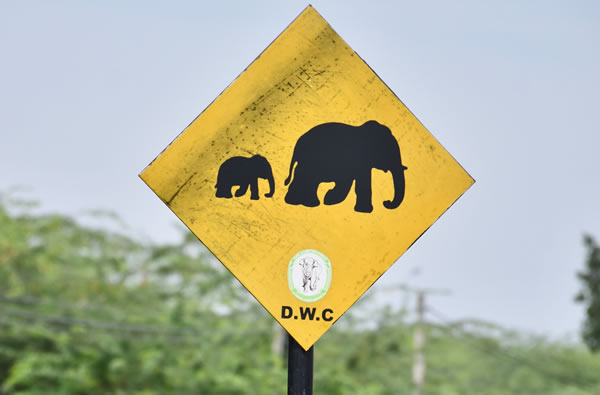 Warning sign along the road in southern Sri Lanka.
This enlightening 12-day food tour is offered throughout the year by Intrepid Travel.
You may also want to check: The Ultimate Guide to Sri Lankan Foods: 50 Must Try Dishes and Sri Lankan Food: 40 of the Island's Best Dishes.
Lies Ouwerkerk is originally from Amsterdam, The Netherlands, and currently lives in Montreal, Canada. Previously a columnist for The Sherbrooke Record, she is presently a freelance writer and photographer for various travel magazines.