Study Abroad in Thailand as an Undergraduate
Choosing a Program or Direct Enrollment
Article and photos by Mary Ware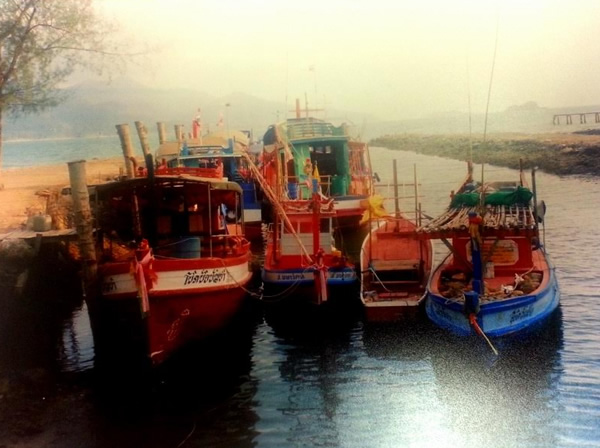 Brightly colored fishing boats on the island of Ko Samed.
Thailand is a beautiful and very diverse country in terms of geography, with a fascinating history and a rich culture composed of many different subcultures. Thailand is a land of touristed and inaccessible islands, unspoiled hills, rainforests, landmarks, along with ancient and modern and diverse cities often brimming with expats. There are destinations for people having almost any interest. The personality of the local population is generally warm and relaxed compared to many parts of the world. The distinct tastes and varieties of local food are known to lovers of fine cuisine worldwide. In addition, in the "Land of Smiles," there are many great options for studying abroad, whether for a semester or in pursuit of a full degree, including both sponsored programs and direct enrollment.
Cost is often an important consideration in determining a person's ability to study abroad, and certainly plays a role in deciding on the right location. Thailand is an excellent choice to consider for students on financial aid and those worried about the costs involved, since program fees or tuition costs to enroll directly into a Thai university tend to be lower than European locations. Additionally, there is a relatively low cost of living once in the country, making it possible to live off personal savings.
Many forms of financial aid are applicable to the cost of studying abroad, which often includes program tuition, housing, and sponsored field trips, requiring participants to cover the cost of food, travel, and other additional purchases. There are even scholarships available specifically for terms abroad—whether through a program or enrolled directly in an international university.
Financial Aid Resources
Examples of program or country specific scholarships:
USAC at Rangsit University International College
As a freshman, I studied at the Rangsit University International College, through the University Studies Abroad Consortium (USAC). I made this choice based my financial restraints and my desire to have a unique cultural experience. I was able to use financial aid and scholarships such as the Freeman-ASIA award to cover the cost of the program, and used my savings to cover the flights and in-country spending. The low cost of living made it easy to live, travel frequently, and to enjoy the experience.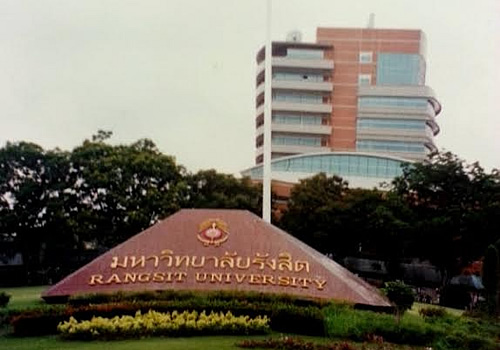 The campus of Rangsit University in Patum Thani, outside of Bangkok.
Life as a Student in Thailand
Rangsit University is located in Patum Thani, just outside of Bangkok, and has a relaxed suburban atmosphere with easy access to the capital city and beyond. Program participants from the U.S., Europe, and Asia lived in a hotel apartment close to the university. The International College (IC) offered classes such as Thai Language and Business Communication for program participants, and general education courses, such as Chemistry, which are open to all Thai and international students attending the International College.
In addition to studying Thai language, my program took regular day trips to sacred temples and important historical sites, such as Kanchanaburi and the River Kwai, and we attended cultural celebrations, including Chinese New Year. Other ways to get involved in university student life included attending concerts and taking part in Fashion Week on campus, which were great ways to feel a sense of belonging to the university community.
For those studying in Thailand, other top experiences not to miss include:
Getting to know local students and spending time in places they recommend
Visiting exotic islands and ancient cities, such as Ayutthaya
Wandering through Bangkok's Chatuchak weekend market bargaining for the best deals
Sampling street food,  such as Som Tum (green papaya salad), and Tom Yum soup
Studying Abroad in Thailand: Program vs. Direct Enrollment
Going through USAC or a similar program may be a good option for people looking to have all their logistics managed (such as enrollment, housing, etc.), those on financial aid, and individuals wishing to connect with a close-knit group of students from around the world in a structured program. As enjoyable as it was, the downside of my program was that it did not require me to step too far out of my comfort zone or to push me to get out and meet Thai students.
Many study abroad programs in Thailand focus more on cultural immersion and community involvement, and many now offer Thai roommates to provide additional learning opportunities.
Direct enrollment can be a good choice for many students, depending upon their study abroad goals and degree requirements.
Study Abroad Programs
The USAC program to Thailand no longer runs through Rangsit University. The current program is located at Chiang Mai, in the northern part of the country surrounded by rainforests, and provides a unique cultural perspective on living in Thailand.
Direct Enrollment
Direct enrollment is a good alternative for those looking to integrate fully into Thai university culture. Applying directly to a university offers many unique benefits, often including a significant reduction in costs when compared to a U.S. university. This may be especially beneficial for those looking to complete a full degree program. The same applies equally if not more so to graduate school studies.
Most universities in Thailand make it very easy to locate information via their websites and to complete the admissions and visa processes. Schools generally have many international degree programs that are created in conjunction with universities around the world. There are a diverse list of both Bachelor's and Master's degrees offered in English, English, Thai, or even Chinese.
Taking the time to figure out whether a program or direct enrollment is the right match for you will help ensure the best possible experience in Thailand to meet your individual needs.
Mary Ware is a graduate of The George Washington University, where she majored in Global Public Health in the Elliot School of International Affairs. She is an avid traveler, including having studied abroad in both Southeast Asia and Europe.