Studying Abroad in Copenhagen, Denmark
Viking Kings and Little Mermaids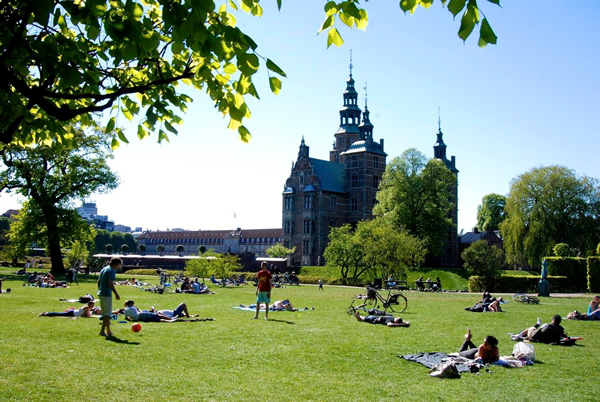 Rosenborg Palace and Kongens Have ("The King's Garden") become grounds for play and picnics as soon as the sun comes out.
No one anecdote quite captures my experience in Denmark. The Danish language repeats å, æ, and ø, but never gets them quite right. It is finding out from my host sister that ducks go "rap," not "quack." It is trying to pronounce the tongue-twisting rødgrød med fløde before digging into my red berries and cream dessert. Denmark is studying Nordic Mythology in the Vikings' ancestral home and elbowing tourists for a look at the famed Den Lille Havfrue (The Little Mermaid) statue. Denmark is the crisp cold wind on my cheeks during my walk to the Metro station. It is fishing for herring off-shore from Hamlet's castle and biting into the marshmallow-like center of flødeboller. Denmark is beer and meatballs and tiny Danish flags decorating birthday cakes. The Danes are toddlers waddling in snowsuits and women in three-inch heels riding their bikes to work. Copenhagen is bakeries and shawarma shops, castles and cobblestones, and libraries made of glass.
| | |
| --- | --- |
| | |
| Traditional smørrebrød, an open-faced sandwich, typically comprises rugbrød, remoulade, and various fish, pate, and vegetable toppings. | The Danish flag, or Dannebrog, is a traditional birthday decoration. |
My semester in Denmark took the form of a collage of memories and sensations that will always stay with me. Culture shock can be uncomfortable, but it is a small price to pay for months of endless learning. Each moment, each step, each word was an opportunity to discover something brand new. Life in Copenhagen is not always a fairy tale, but it is constant classroom.
Why Study in Copenhagen?
In some ways, Copenhagen is like my hometown of Portland, Oregon. It balances the cosmopolitan atmosphere and cultural benefits of a major city with the intimacy of a smaller one; the metropolitan area's population sits just below the two million mark. Copenhagen is considered an environmentally friendly city, and cars share the road with hoards of fashion-forward bicyclists even when it snows.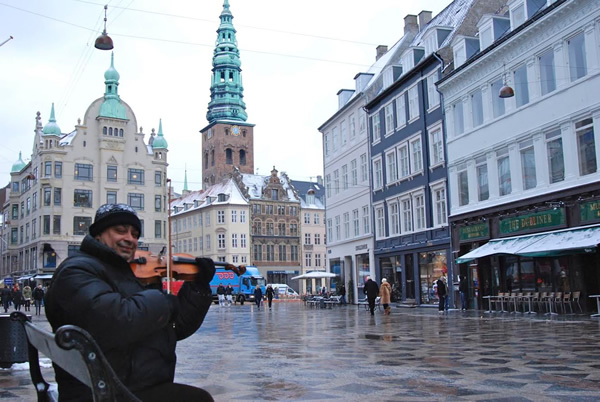 Scandinavians are well known for their blonde hair, but waves of immigration have added diversity to Copenhagen's population.
For most students, Denmark offers new insight into many fields of study, as the country is often glossed over in high school history books and global studies classes. The nation's rich history stretches far beyond what we learned in Lois Lowry's Number the Stars. From the Hanseatic League to H.C. Anderson to World War II to Denmark's current standing, there is much for the humanities student to uncover. Denmark is also an innovator in sustainability, architecture, and positive psychology.
While there is plenty to do in Copenhagen, the city also places students in a prime location to explore the Scandinavian region and the rest of Europe if they can afford to do so. The cost of living in Denmark is exceptionally high, even compared to Los Angeles, so cash-strapped students may find weekend travel hard to achieve.
Before You Leave
Danes are known for their nearly impeccable English, so you can get by if you know nothing but hello in Danish before your arrival. You already know hello—hej is pronounced "hi." However, if your goal is to make real progress in the language, you will need to start before you arrive and try convincing Danes to speak with you in Danish. Whichever language materials you choose, a listening component is imperative. Danish is one of the easiest languages for native English speakers to learn because of its Germanic roots, but pronunciation is a struggle.
Buy the clothes you know you will need. Sturdy, waterproof boots and a down coat are good starters. Layers are important. Hats, scarves, and earmuffs will help keep you warm on the windiest days. Good walking shoes are necessary; heels are nice, but much of Copenhagen is paved unevenly or with cobblestone.
If you have never learned to ride a bike, and you have the opportunity before you leave the States, do learn. Bicycles are an essential mode of transportation in the city, and you will have a much shorter commute if you find yourself possessing a bike. But if you still need to learn how to ride, you will not find much patience for your errors in the bike lanes of Copenhagen.
Arranging a Program
Like many Americans, I spent my semester abroad through the Danish Institute for Study Abroad (DIS). Each semester, DIS enrolls more than 700 students, mostly North Americans. If this sounds like a sizeable American bubble, you are right. However, DIS's size offers significant advantages for students, and the program attracts those with myriad motivations for their months in Denmark. I chose DIS for the ability to customize my experience. A broad range of courses is offered, with 16 core programs, including Architecture & Design, Biomedicine, and Sustainability in Europe.
If a program with other American students differs from what you're looking for, you might study abroad through Danish universities.The University of Copenhagen and Copenhagen Business School offer classes taught in English. An hour-commute from the city center, Roskilde University also offers classes taught in English against the backdrop of a Viking-age town.
Accommodations and Transportation
Housing options are many at DIS. I valued immersive cultural exchange and was placed with a host family in the Copenhagen suburbs. Other immersive housing options include Danish and International dormitories (called kollegiums) set around the city or at a folkehøjskole, a uniquely Scandinavian youth community. Students seeking to live in the city's center may live with other DIS students in the DIS Residential Community.
Students wishing to arrange their housing should research Copenhagen's network of neighborhoods and suburbs. Of Copenhagen's central neighborhoods, Nørrebro is popular with students for its more affordable prices.
Travel in and Around Copenhagen
Many airlines, like SAS Scandinavian Airlines, connect the U.S. and Denmark. If exploring Scandinavia is one of your priorities, check out flights to Copenhagen via Icelandair. The airline allows stopovers in Reykjavik at no additional cost.
Students traveling to Denmark with DIS receive visa support and guidance from the program, and students will obtain a residence permit from Immigration Service after arriving in Copenhagen as a tourist. Students arranging to spend a semester or year through a Danish university should apply for a residence permit from the nearest Danish embassy before traveling. This process is straightforward and can be done via mail. As with some European visa applications, you need not physically appear at an embassy or consulate.
Though Denmark is not centrally located within Europe, it is still a good base from which to explore the region. Despite being located on an island, Copenhagen is part of the Eurail system. Long-distance trains and International buses depart from Copenhagen's Central Station. A popular daily ferry runs between Copenhagen and Oslo. Poland and Germany are also accessible by ferry. Copenhagen's airport connects the city to Europe, and students regularly travel to destinations as far away as Greenland, Morocco, Russia, and Turkey during breaks.
Within Copenhagen itself, travel is easy and convenient. A complex system of buses, metros, trains, and water taxis make public transportation accessible for all. VisitDemark has excellent information about transportation options, including a tool to help map your route and determine departure and arrival times. Ease of public transportation is just one way that Denmark has made its reputation as a "green" country.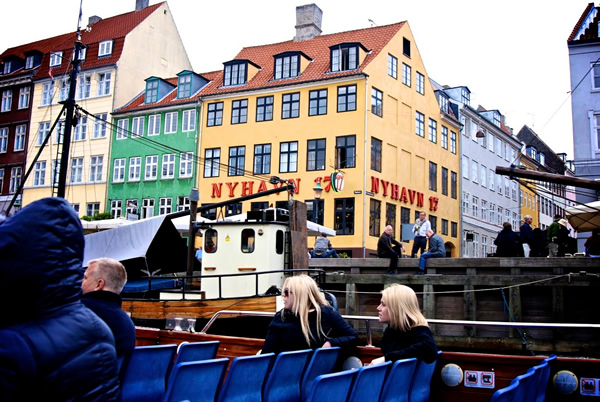 A canal tour is a great way to see Copenhagen's most picturesque places.
Jobs and Volunteering
Young Danes often work while attending school, and international students meeting specific criteria are invited to do the same for up to 15 hours per week. International students searching for a part-time job should consult WorkinDenmark for advice on eligibility and the job search. DIS offers limited work-study allotments to incoming students. Some students occasionally find work as English language tutors or nannies and are paid under the table.
DIS arranges interested students with volunteer opportunities with Danish nonprofits. Students may join CPH Volunteers to help with events like the Chocolate Festival or Copenhagen International Fashion Fair.
Practicums are also offered to DIS students in some academic tracks to work in Danish pre-schools, after-school programs, and mental health facilities.
Cultural Differences
Denmark consistently tops lists of the world's happiest countries, but you're not likely to encounter many smiles in the street. Unlike in the U.S., it is unusual for strangers to smile or speak to each other in passing unless intoxicated or attending a festival. Small talk is rare, and a question like "How are you?" will provoke a strange look or a long-winded answer about a person's day and well-being.
Danes appreciate promptness and follow-through. If you commit to an event, even if you click "attending" on Facebook, you are expected to show. There is no Danish equivalent to "fashionably late," so plan to arrive on time. If you're attending a dinner party, bring a gift for your hosts. Fresh flowers are always appreciated. Prepare to spend several hours at dinner, as social events can move slowly and often end in hygge, a "cozy" atmosphere typified by candles, drinking, and comfortable conversation.
Alcohol plays a significant role in the social life of Denmark, and it has for many hundreds of years. It is legal to drink publicly in the street and parks, and the city is home to many eclectic bars and cafés. By tradition, many Danes are introduced to alcohol at their confirmation party (age 13), after which it becomes socially acceptable for them to drink. Denmark is home to international beer brands Carlsberg and Tuborg. Small glasses of Danish snaps are sometimes sipped over dinner or a traditional lunch of smørrebrød, an open-faced sandwich.
Don't Miss!
Copenhagen is a beautiful and easy city to explore. A walk or stroll down the street will inevitably lead to a garden, statue, museum, store, or café of some interest.The National Museum of Denmark is free and located a short walk from DIS in the Latin Quarter of Copenhagen. The museum spans Danish culture and history from the Vikings to the present day. Another museum in central Copenhagen, Ny Carlsberg Glyptotek, houses collections of Danish, French, and Ancient Mediterranean art. Adjacent to the Glyptotek is Tivoli Gardens, the amusement park that purportedly inspired Walt Disney. A visit to Tivoli can be expensive, particularly if you eat in the park, so check for special concerts or fireworks to make the most of your visit.
Whatever you do, don't leave Copenhagen without sampling their cakes and pastries. Amusingly, the pastry we know as a Danish is called Wienerbrød ("Vienna Bread") in Denmark. Bakeries with fresh muffins, drømmekage, croissants, and teboller are abundant. Conditori La Glace is known for its decadent cake and pastries, and is worth an indulgent visit.
Upon Return
When I came home to Portland, I missed the lilt of my host mom's Danish accent. I missed the fresh-cut flowers sold on the streets next to the hot dog vendors. I even missed my 45-minute commute from home to school. I did not buy many souvenirs, but that was ok because I left Denmark with a new perspective on the world, a broadened awareness of global politics, and, most importantly, a Danish family. As I pursue a career in higher education administration or international education, I hope to help students search for personal and academic growth by going beyond our borders.
Ariel Bloomer, after her studies in Denmark, taught for a year in Bulgaria as part of the Fulbright Program. She graduated from Scripps College in 2012 with a major in creative writing and minors in European studies and religious studies. She now lives in her hometown of Portland, Oregon where she works at Powell's Books.