Teaching English in South Korea with EPIK
Modern Life Meets Rich Traditions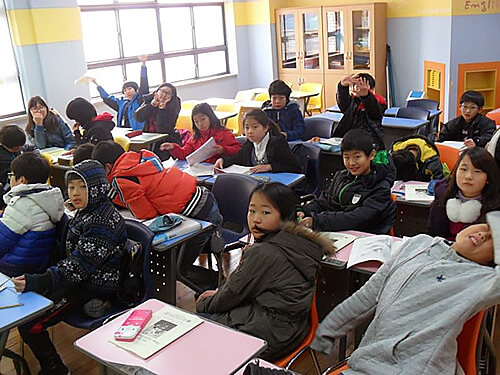 Elementary students inside the English classroom.
South Korea is a country that boasts having become highly developed in a very short span of time. The proof is clearly evident in the shiny lights and tall skyscrapers that permeate its various cities as well as with the Samsung electronics and Hyundai cars sold all over the world. Who would not want to live in a country that is forward and developed but still retains intact its own culture and heritage for visitors to experience? South Korea is a place known for their delectable and often wild (think live octopus) foods as well as their intense night life (e.g. grabbing drinks with your boss). There is nothing better than to immerse yourself in another culture in order to truly appreciate how different regions of world are and to experience new tastes.
With my undergraduate degree almost completed, I was stuck trying to answer the question of what I was going to do after college. Even after paying for years of schooling I was not able to come up with a descriptive answer regarding a plan for my life. Luckily I happened to come across the EPIK program, which allows those with undergraduate degrees to teach English and live in South Korea. As globalization spreads at an increasing pace, there is a consequent higher demand for the knowledge of English, and this is especially true in South Korea.
For years South Korea has been recruiting English speakers to come speak and teach public school students. I decided to go with English Program in Korea (EPIK), as it is a government funded and reliable program. Teaching English in Korea proved to be the best option in my seemingly (at that time) goal-less life. While experiencing Korean culture first hand, I was able to learn new skills teaching and think about my future plans even as I was earning money. Although you must stay at work as in any 9 to 5 job, you are not teaching the whole time. You are actually teaching no more than 22 hours a week, which means you have 18 whole additional hours to yourself during the work week. After finishing my teaching hours, I found I had enough time to prepare my next week's lesson plans and also enough time to study up on Korean language and the GRE test.
The best part about working in Korea is going on vacation. With your monthly salary, you will certainly be able to afford an incredible vacation to a Southeast Asian country such as Thailand or even go to a bustling city like Tokyo. You are given roughly ten days of vacation each summer and winter, and you can go wherever you please. Round trip tickets to any surrounding country are extremely cheap, so it is common for native English teachers to travel to at least four or five different countries before finishing their work contract and heading home. Gaining work experience with tropical paradises nearby—can it get much better?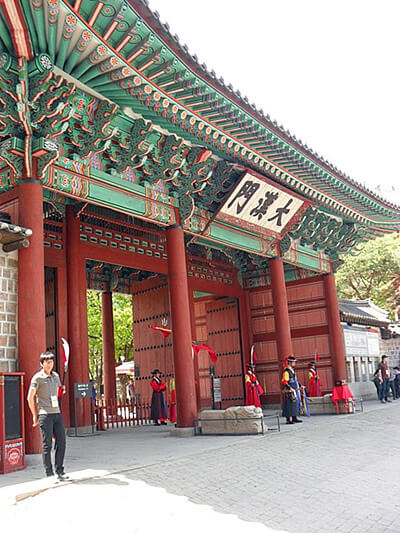 The royal Korean palace in the city of Seoul.
Work Hard and Play Hard
"Work hard, play hard" seems to be a motto that everyone can relate to in South Korea. The first week of work, my school hosted a dinner where the entire faculty went out to eat together. The "first round," as they call it, started off at a barbeque restaurant where we sat in groups and grilled meat together and even drank some beer as well as soju (a Korean alcohol) together. As bellies were slowly getting filled, the teachers would walk around with shot glasses and offer a drink to other teachers. Once everyone finished eating, we went to "round two" which was the noraebang (a karaoke bar). The drinks were plentiful and even with the hint of pink burning on some cheeks, the drinking went on with some added singing and dancing. These dinners are actually a common occurrence; throughout the year my school had a total of six of these staff dinners! Even after a hard day's work, people are not shy about relaxing and enjoying a drink or two with friends. Surprisingly there are many restaurants called hofs that open and serve alcohol 24 hours a day, as well as bars interspersed downtown.
Although Korean nightlife is an experience in itself, there are many other activities. If you are on a subway during the weekend, you will often see older men and women dressed in hiking gear. Hiking mountains is a very common pastime for Koreans. Not only is hiking good for your health, but it is also good way to experience Korean culture since many mountains are homes to Buddhist shrines and other Korean artifacts.
The Application Process
Becoming an English teacher through EPIK is a 3-part process. Part one involves filling out the application form and getting two letters of recommendation. With the large number of applicants for this program, EPIK has now made it mandatory that applicants create a sample lesson plan which outlines how the prospective native English teacher will conduct a lesson. Once you send in the application form along with the recommendation letters, an EPIK recruiter will contact you via email for an interview. The interview is part two of the process. They will ask questions related to your application as well as questions about the job. Once you have completed the interview process, they will contact you to let you know whether you have made it or not. After a successful interview comes the longest part of the process: gathering your documents from home to send them over. EPIK works on a first-come first-serve basis, so the faster you send in your documents the greater your chances of securing a spot. You have to request that some forms have with an apostille attached, which is a seal certifying that the document is an authentic copy of the original.
The required documents include:
Completed application form
Copy of bachelor's diploma with apostille attached
Original sealed transcript
National level Criminal Record Check with apostille attached
Two recommendation letters from academic/professional sources
Copy of passport photo page
See the EPIK Program Facebook page for much more information.
Application Advice
The first thing you should do even before your interview is to try and start collecting as many of the documents you can. The national Criminal Record Check (FBI check) for Americans is especially time-consuming, so it is best to send in a request for this as soon as possible. Getting an apostille for a document is also time consuming because you have to get the document signed by a notary public and then stamped by the secretary of state. There are various ways to do this: you can hire someone for up to 150 dollars to get your document an apostille, or you can research online and do it yourself much more cheaply.
With such a large surge of people trying to get into the English teaching field, some people are not able to find a job. Being cut from a program is not the end of the world! There are a handful of programs that help native English speakers get teaching jobs in Korea. There are programs like GEPIK and TALK that also provide jobs teaching English. GEPIK is also a government funded program, but only hires teachers for the Gyeonggi-do region. TALK is a program that even students in college are able to participate in, so long as they have been enrolled for at least two years. The difference is that with the TALK program the pay is lower and the accommodations for the potential teacher consist in a home stay in a rural city. There are also "hagwons" English speakers can apply to, which are after-school academy programs where local students go to get tutored and try to learn more and gain advantage outside of public school. It is best to try and find one of these jobs using a recruiter or using websites to find where and to whom to send your resume. Be sure to do your research regarding hagwons, asking for references, as a few are on notorious "blacklists."
The following are useful websites that have job listings and recommendations for teaching positions in Korea:
Another option is to find a recruiting company and have a recruiter walk you through all the steps required to obtain a job. These recruiting companies help you find a job in the EPIK, GEPIK, TALK program or even at a "hagwon." The best part about having a recruiter is that their service is free of charge for the applicant.
The following are a few well-known recruiting companies: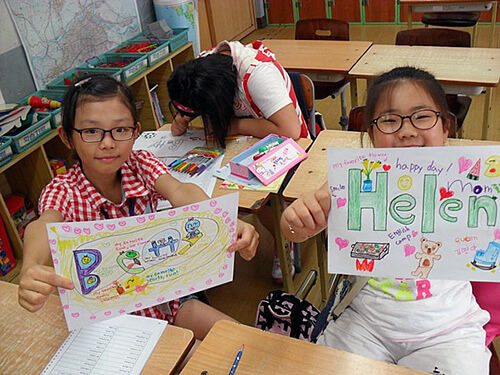 Elementary girls choosing English names for English camp.
Benefits of the EPIK Program
Almost all jobs in Korea provide the same type of benefits for a native speaker who signs a 1-year contract (Note: 1,000,000 Korean won = US$900 as of 10/2016). Here is the EPIK payscale page.
Monthly salary of minimum 1,800,000 won
Entrance / Exit allowance of 1,300,000 won
Settlement allowance of 300,000 won
Free furnished housing
Severance pay
Medical insurance (50% paid by your employer)
Renewal allowance of 2,000,000 won provided you resign with your employer for another year
Forewarning
Before departing for Korea, it is best to organize your life back home as much as possible. You are going to be working for a full year, and your life will be much easier to manage if do not leave behind any loose ends. Being a foreigner with a language barrier will make tasks that might be simple at home not quite so simple in Korea. While most co-workers have a basic knowledge of English, things can still get lost in translation.
Foreigners from certain countries are exempt from paying taxes in Korea. If you provide your employer with a Residency Certificate (form 4080 for Americans) they do not deduct the South Korean taxes from your pay. It would be best to get the Residency Certificate while you are still at home, because if you try to get it while working it takes a long time both sending the form to request the certificate as well as to receive it.
Your placement depends upon the program that you apply to, and if you desire to work in a metropolitan city you may still be placed in a rural province through some bad luck. For example, the EPIK program starting in 2012 is placing applicants in three areas (Seoul, Metropolitan city, or a Provincial province) instead of offering you the right to select your teaching destination. If the spots for Seoul or Metropolitan city are all filled by the time you turn in all your documents, then you will be placed in a Provincial province. With the GEPIK program, you can still specify your preference, but it depends on which schools and how many schools are willing to take you on as a native English teacher. With GEPIK the schools actually have discretion over which native English teacher they would like to hire, whereas with EPIK the schools have no choice. With the TALK program, you have no choice but to teach in a rural area.
Dynamic Korea
Korea, as with any other country, has its own set of rules and customs that people must abide by in order to be respectful of the culture. Somehow many people who come to Korea lose sight of the need to respect the host culture. Korea is a place where old age commands more respect and work schedules sometimes are rendered unnecessary. Things change on short notice and sometimes events are unexpected; local people might ask you to do things on short notice. Some find this hard to adapt to, but other people find a way to manage and learn from the experience. You have to remember that you are a guest in a country that does not necessarily share the same notions about the type of "common courtesy" compared to where you come from, and therefore you should adapt respectfully. Such cultural adaptation is a small price to pay for an experience you will never forget.
Born and raised in Southern California, Michelle is a twenty-three year old Korean-American who wanted to fully experience Korean culture by moving to South Korea. Her home in America is in Hacienda Heights, California but she is currently still working in South Korea. Having majored in economics and minored in education at UCI, she is still considering her options. Teaching in Korea is her first job out of college and is proving to be an extremely helpful learning experience, which is why she decided to let others know about it!