How to Enjoy a Successful Semester Teaching English in Chile
Article and photos by Alison Climes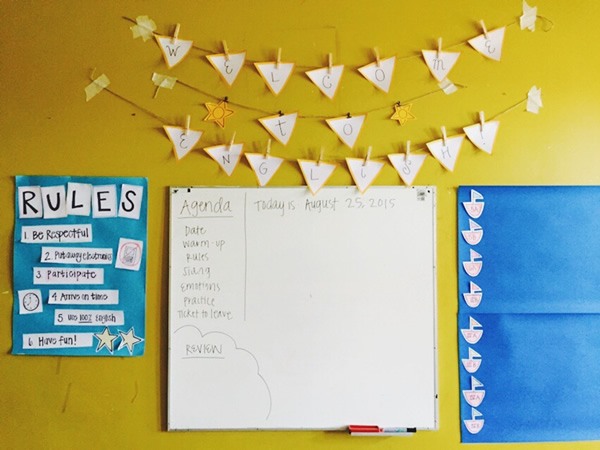 Front of a classroom while teaching English in Chile.
There was a common phrase English Opens Doors staff used to answer questions during orientation — "It depends." Everyone's experience teaching English in Chile is different. It depends on your school, city, host family, the people you meet, and on your attitude. The staff advised us that you get out of your experience what you put in as a teacher. In retrospect, the advice resonates even more now than when initially offered.
It Depends… on Your School
"Today is Thurrrrrsday, September, twentttty eighthhhh," I emphasized loudly and slowly to the students sitting in the circle of chairs in front of me. "Today is Tursday, September twent eight" they responded back in unison. "Today is Thurrrrrsday, September, twentttty eighthhhh," I repeated enthusiastically, and then threw the ball to Matias, waiting for him to say it back to me and then encouraging him to throw the ball to someone else to also say the date. All this was part of our daily routine, as well as making sure everyone asked and was asked, "How are you?"
Some days I had seven classes back to back, and other days I had only four spread out more casually throughout the day. Even though it was often exhausting and always challenging, it was the students that made every day an adventure. It was also the little things. Cony's big smile and hug every morning during homeroom. Experiencing the complete silence and the whole attention of my 11th-grade class while reading The Giving Tree. Byron's serious and sweet "see you later!" before walking out the door. Playing games with my 12th graders even after the bell rang. Such little moments turned out to be the best part of my days at school.
Teaching English abroad is a commitment. Yes, you do have the privilege of travel to a new place. You will meet new people, try new food, and have your senses completely overwhelmed with the smells, feelings, and sights you see. But, I think it is often easy to forget what you will be doing every day in that new country when you still in the planning stages. Sometimes, even after arrival, you still question why you are ripping off the seven layers of blankets in the morning to set your toes down on the cold tiles of your room to prepare for work while it's still dark outside. Ultimately, you do it all for a  unique opportunity to work with students.
The English Open Doors Program in Chile
Through the English Opens Doors program, I was placed at Colegio Maipo, a K-12 school in Puente Alto, Chile. All volunteers are placed at a municipal, or public school, and are paired up with a head English teacher. You split 90-minute classes by dividing the students into two groups. The volunteer takes one group for 45 minutes, and then switches to the next group. The head teacher continues to focus on grammar, while the volunteer focuses on listening and speaking activities.
But, every program is different. When researching programs, here are some good questions to ask:
Will I be teaching my own classes? Or will I be a teacher's assistant?
Will I have to do my own lesson planning?
What grades will I potentially teach?
Where will I be teaching? 
Will the program place me in a school?
Is there a fee to participate in the program?
You should also think about what you would prefer. For example, do you work better with kids or adults? If you are teaching at a school, what grade levels do you think would be most appropriate for you to teach? Do you want to be responsible for lesson planning and having your own classroom? Or would you rather be working in the same classroom as another teacher?
Teaching Challenges
Lesson planning: With many different grades, classes, and topics, it can seem overwhelming at first. Staying organized, reusing games, and adapting lessons for grade levels can all help save time and energy. You can find a ton of ideas online. You can also talk to fellow volunteers about what's working in their own classrooms.
Classroom management: Chilean classrooms are distinctive places. Maintaining control of the class is vital to the success of the lesson. There are a variety of strategies you can try — including positive reinforcement methods to reinforce good behavior and enhance class participation. Stickers and candy were among my key tricks in order to get kids to participate. Having a class competition between grades was a great incentive to help students hold each other accountable. Keep in mind that the classroom setting you may be entering could look very different than that of your home country.
To learn more about what it's like to be a teacher through English Opens Doors, you can check out my interview on youtube.
It Depends… on Your Host Family
Marcia and Antonio, along with their three daughters, Stephany, Constanza, and Isidora, greeted me warmly at the gate of their house when I arrived on a cloudy and cold August Sunday. With my host family, I was privileged to live in the loud and crazy household that I never had growing up. Everyone would gather around the table every night for "once," I would sit nursing a steaming hot cup of tea with the sound of the latest telenovela playing in the background, while Antonio slowly prepared his sandwich, Cony told us about her day at school, and Isi ran around laughing and climbing into someone's lap. It was always a reminder to slow down, enjoy a meal, and spend some time talking and being with the people you love.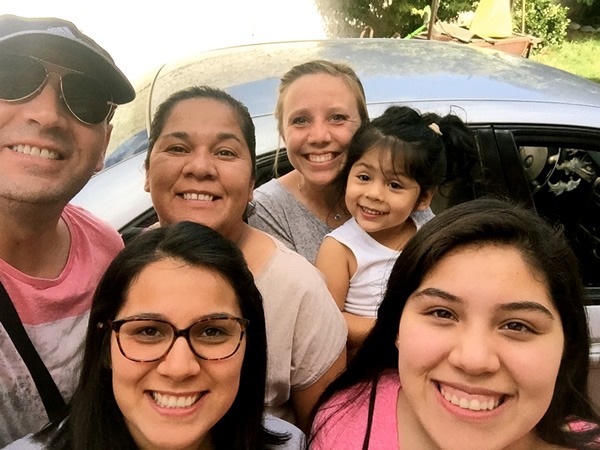 Left-to-right with my host family: Antonio, Marcia, Stephany, the author, Isidora, and Constanza.
Living with a host family can be a wonderful experience. It is a way to get to know people in the host country through total immersion. Hosts will most likely be willing to show you around, introduce you to people, and make you feel welcome in your new home.
When thinking about teaching English through a program, make sure to research the actual living situation.
Is it up to you to find your own accommodations?
Will the program assist you in finding a place to live?
Will you be placed with a host family?
If you do have an option to live with a host family, make sure to consider whether are comfortable doing so. It can be challenging to be friendly and kind to your 2-year-old host sister after you've had a long day at school. It can be uncomfortable when people in your family are upset with each other. It can be frustrating not to have control over what time you are going to eat dinner or when you will get home from a family outing. It's important to recognize that there will be struggles. But, if the arrangement is something you embrace, it can also be a quite beautiful experience. Your family just might make you feel like you're one of their own.
Tips for a Smooth Transition to Your New Home
Communicate: When you first arrive, be sure to ask your family about house rules and expectations of you, and you can share your expectations of them as well. Also remember to always communicate your plans, where you will be, and when you will be home — so they aren't worried about you.
Offer to help: Make sure to contribute around the house. While many times hosts may insist on doing the chores, you can tell them that you want to feel like a part of the family as well. For me, this meant I helped to set the table and wash dishes. I couldn't always cook, or help in other ways, so this was my small contribution to family chores.
Share: Tell your family about yourself. Spend time with them. Share something from your own culture with them. When I was missing fall at home, I made apple crisp for my family one day after school. Try doing an activity with your host family that you love to do at home — whether it be playing a game, teaching them something at which you excel, or cooking them a nice treat.
It Depends on… YOU
A positive attitude, a kind and compassionate heart, and an eagerness to learn are some of the things that are always useful to bring with you when you travel to a new country.
Becoming involved with your new community, your school, and learning more about your students in your choice. So when, for example, my head teacher invited me to learn how to dance cueca with his 12th graders in front of the whole school for dieciocho — their independence celebration — I said "yes."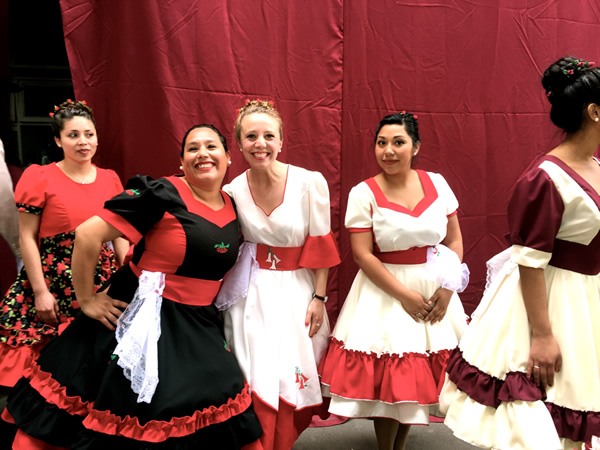 Left-to-right: Another teacher, Paola, the author, and student Theresa during dieciocho.
Say "yes" when your host family or co-workers invite you out for a meal or to enjoy a picnic. Take the metro or the bus somewhere you haven't been and wander around. Take pictures. Go to a local coffee shop and sit down to people watch. Research trips to take on the weekend. Go for a hike. Find an art class to take. Do the things that make you feel good, because while you are there to teach and be immersed in a new place, you will only be able to give it your best when you are feeling nourished and happy. 
Exploring Your New City
Ask a local: While the Web is a great place to start looking up different places to go and things to see, asking a local can be one of your best resources. They know spots that you just might not find on the Web and might know people that have already been to where you wish to go, the best places to eat, or how to find a class you want to take after school. Being friendly and willing to ask questions is a great way to meet new people and learn about the city you are living in.
Try something new: Go out of your way to do things you wouldn't normally do at home. Learn how to dance, try new food, climb a volcano… there are so many options! Being curious and proactive will help you immensely in seeking out new experiences. 
Leave time at the end to travel: Leaving a week or two (or more if you have the time and money!) at the end of your semester before returning home will allow you to explore the locations you couldn't quite reach while you were teaching. Do your research early on in the semester to ensure that things aren't booked for the dates you want to go. If you want to work on a local farm or exchange your time and labor for a free place to stay, check out some of the opportunities on workaway.info.   
What  to Consider Before Teaching in Chile
Do I want to spend my time lesson planning and teaching during my period abroad?
Some people use this experience as a method of traveling. While travel on weekends is possible, teaching requires time and energy, and there won't always be a ton of flexibility for taking time off.
Can I live on a small stipend for the duration of my service?
Your housing and food will be covered, as well as a visa to enter the country, but it's important to take into consideration the financial aspect of this program, or any other program, before deciding to participate.
Am I willing to live with a host family and share many aspects of my life, such as meals, free time, kindness, and love with them?
Another important aspect that you should be conscious of before going abroad. You may request to live on your own. If you live alone, you will then receive a slightly larger stipend that amounts to what your host family would have received to cover your rent and food.
How will I cope with communication barriers? If I do not speak the host language, am I prepared to potentially feel isolated when interacting with only native speakers?
Such situations can be frustrating for even those who have studied the host language, but also an excellent way to receive the benefits of language immersion.
While these questions apply to the English Opens Doors program, they are also relevant to many teaching programs. Make sure to answer the questions honestly with yourself, and gather as much information as you can about a program to make an informed decision.
As my program leaders said during the very first days in Chile, how your experience will play out just depends. But with an open mind, a kind heart, and a willingness to learn as well as share, working as an English teacher through the English Opens Doors program is a unique and rewarding way to spend a semester abroad.
Finding the Right Program
I chose the English Open Doors Program in Chile. If you wish to go on programs in different countries around the world, check out the section of program on teaching English for more of the many options, where you can also read many first-hand articles about the experience.
Also, check out the Study Abroad/Education Abroad Office at your school/local university to see if they have resources regarding different programs for post-graduation. You can also talk with an advisor about options you have researched on your own, questions you have, or to ask if they know of any students who have participated in the program you're considering. While everyone's experiences are different, being able to hear about the program firsthand from someone who has gone through it is truly a valuable resource.
After graduating from the University of Michigan in May 2015 with a degree in International Studies and Spanish, Alison Climes embarked on a trip to teach English in Chile for a semester.