Why Pay to Volunteer Abroad? The Student Guide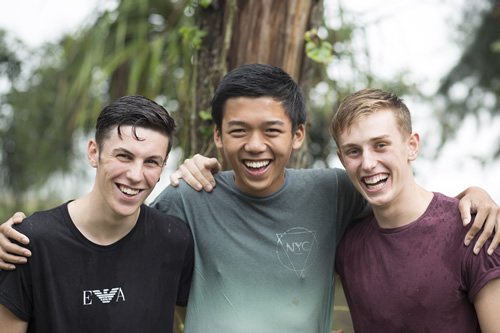 Photo courtesy of GVI.
With community service becoming more and more integral in modern educational systems, students are often on the lookout for volunteer opportunities. In fact, some high school programs, such as the International Baccalaureate Diploma, require a certain number of community service hours in order for a candidate to graduate. Similarly, colleges are more likely to accept an applicant who has demonstrated a positive impact on his or her surrounding environment. However, more than a mere requisite for entering a top university, volunteering is a desire that most students express: we want to make a difference. Many students wish to help others in locations abroad but do not know what is involved. Here is a guide addressing the issue of cost that is a consideration for many students.
During high school, student volunteer activities may involve helping out at a community organization or local church. It is usually during the college years that students begin thinking about taking their assistance a step further and volunteering abroad. A simple web search will turn up countless programs in far-away lands. But start to scroll down through the search results and a reality dawns: it is often expensive to volunteer abroad. As students on a tight budget, we ask ourselves: why pay to volunteer? After all, we are the ones who will be helping those in need. Yet this first thought may be misleading. Certainly, the volunteer is seeking to help out. But instead of reacting emotionally and immediately dismissing the program in question, you should look closer at the fees. What exactly would you be paying for? You may be surprised about what you find.
What Are the Costs of Volunteering?
It is crucial that the volunteer organization justify their fees. Some programs, such as GVI, have a section on their website dedicated to explaining the necessary expenses, and provide a detailed breakdown on how your money is spent and why it is spent. Should such explanations not be readily available for a program you are considering, it is your right as a prospective volunteer to ask the organization. Email—or better yet call—a representative and you can hear first-hand whether the reasoning is convincing.
More often that not, you will be paying for a support network. Setting up a successful volunteer program overseas requires commitment and continuity. As a 1-time volunteer, it is obviously positive that you will be helping out for those couple weeks or months for which you signed up. However, think about what has happened before you arrived and what comes after you leave. Who got in touch with the school at which you are teaching English? Who will be taking your place once you are gone? Think about the little kids and how attached they become to volunteers. When you are gone, someone will need to continue the job, or more harm will be done than good. Such an ethical issue in itself is a reason why, in favor of sustainability, one should strong advocate that students serve as teaching assistants rather than teachers if only coming abroad for a short time. All in all, an effective volunteer organization will ensure continuity, thereby providing sustainable help to the people, land, or projects in question.
But the support network involves more than just the locals. As an all-encompassing volunteer program, organizations with a strong service component, such as GVI's Educational Service Learning Programs, provide students a comprehensive support system to volunteers as well. Depending upon the program you are considering, this will involve housing, meals, insurance, in-country support, etc.
Again, the responsibility lies with the student to evaluate what works best for him or her. Those who have never been abroad alone may prefer a holistic program such as CCS that will escort them from the airport and back. For those who feel they want a little more independence, programs such as Road2Argentina that allow volunteers to cook their own meals may be best option.
Low-Cost and Free Volunteer Programs
Then there are also the low-cost or even free volunteer programs. These tend to be smaller organizations, usually local. Some workcamps such as WWOOF, with its emphasis on organic farming for room and board, are part of a larger worldwide organization. While access to the web is common worldwide, such that most organizations have their own websites, some volunteer options may only be discovered once you have arrived at the actual location. Many small organizations have, however, realized how essential a web presence is to attract volunteers. Volunteer South America, for example, details an entire list of programs on the continent, dividing them into free, low-cost, and other opportunities. In addition, their FAQ section can be useful in answering fundamental questions pertaining to volunteer work abroad. Keep in mind that free volunteer programs do not generally provide the support system you would get from a larger private sending organization.
In the end, the decision is up to you. While it is certainly possible to volunteer for free or only in exchange for accommodation and food, keep in mind that the less you pay, the less support you are likely to get. On the other hand, make sure that if you do pay a lot for a program, the money goes towards expenses which benefit you and, most importantly, the local community. Free, low-cost, and expensive volunteer programs may be less than above board, so research and ask questions beforehand by contacting as many organizational volunteer alumni as possible. In the end, what is important is the overall experience, which includes your safety. No doubt it is great to be adventurous and make your own way by finding a program that is free and off the beaten track. Just make sure it's safe as well.
Useful Links
Transitions Abroad's Volunteer Abroad section provides a wide range of programs, articles from experienced experts, and in-depth stories by volunteers with advice on where, how, and why to volunteer abroad.
Isabel Eva Bohrer is a contributor to TransitionsAbroad.com.