Student Participant Story
Volunteer Teaching in Buenos Aires
It Takes Two to Teach and Tango
Article and photo by Isabel Bohrer
Resources updated 6/6/2019 by Transitions Abroad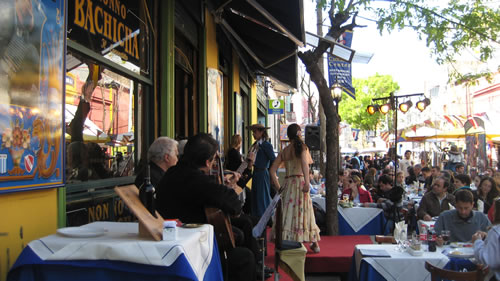 Volunteer teaching English to children, learn to tango, and live in Buenos Aires with Road2Argentina.
After studying abroad in Madrid, Spain, I thought I had pretty much nailed the Spanish language. Of course, I knew that I was never going to speak perfectly. My accent — a mixture of German and English — would always come through. But participating in a profound conversation, or even writing a critical academic paper, was no longer going to be an issue.
When I arrived in Argentina, however, it was time to rethink. Not only did I need to start using "vos" instead of "tu," there were entirely different verb conjugations with which I was not familiar. Not to mention the "lunfardo" – Argentine slang – which I had never heard. I had come to Buenos Aires to teach English and learn tango, and left with a knowledge of a language and a culture that continues to enthral me to this day.
Choosing the Volunteer Program
It was after extensive research that I decided on Road2Argentina for my immersion experience. The ink on my diploma barely dry, I began my search about five months prior to arriving in Buenos Aires. With the pomp and circumstance of my college graduation marred by the economic crisis, I considered it an ideal time to go abroad. Specifically, I was eager to get to know South America. Moreover, I wanted to find out whether teaching English was a viable profession. Learning to tango was a bonus.
Why Road2Argentina?
After consulting countless volunteer programs all throughout South America, I chose Road2Argentina for several reasons. First, it was the flexibility of the program. While many placements listed on teachabroad.com, for example, require a long-term commitment or have rigid program dates, Road2Argentina is entirely flexible – you choose the start, end, and duration of your program. The same flexibility goes for housing; you are not obliged to participate in a home stay like many programs, but are rather offered several options to choose from (see "Housing" section below). Along with ESL, Road2Argentina also offers Spanish courses, volunteer placements at NGOs, internships, study abroad semesters, or a TEFL course. Requirements vary. With regards to teaching, Road2Argentina requires neither a certificate nor in-depth experience.
At this point I called the Road2Argentina office in Buenos Aires. Unlike many other programs I consulted, my call was answered immediately and so were my questions. Was it really possible to combine teaching with tango classes? Is it possible to stay in the student residence for several days at the end of the placement? And what is life like as a vegetarian in the carnivorous capital? All my doubts were assuaged by Katie, one of the program coordinators, who also put together a customized price for my 6-month placement and 8-week stay in the student residence. When I compared this cost with many other programs, it was considerably lower. My resume—required for teaching English—was accepted, and all I needed now was the plane ticket.
Teaching English at a Bilingual School
After a perfect airport pick-up and meticulous orientation with an incredibly useful handbook detailing life in Buenos Aires, I expected Road2Argentina to arrange my teaching assignment equally well. And once I actually started teaching, I was very happy with my placement; the bilingual school Colegio Belgrano Uno had a very positive working environment and I truly enjoyed being among the well-behaved 6- to 12-year-olds. However, I would like to mention that my placement started a week later than the time for which I had originally signed up. According to the Road2Argentina staff, the school where I was initially supposed to be placed was full, and my final placement at Belgrano Uno took them a further week to organize. At first, I was disappointed, but ended up using the free week to become acquainted with Buenos Aires, and that ended up working out to my benefit. When I started teaching, I knew my way around the city. I could now focus upon learning the basic tango steps.
Tango Classes
In addition to wine tasting and Argentine cooking classes, Road2Argentina offers you the option of combining your volunteer placement with tango lessons. Held at the famous Mora Godoy studio, the tango program consists of two weekly group classes in addition to a private one. Both are fun and all levels are welcome. As a beginner, I found that private classes were a lot more useful than group lessons; after all, it takes two to tango, and when both are beginners it is a bit hard to get started!
Housing Options
Road2Argentina offers two main housing options: home stay, or shared apartment, with an optional individual room. If you are eager to truly immerse yourself in the Latin American way of life, select a home stay or an apartment shared with Argentine students.
Life in Buenos Aires and Other Road Benefits
Whether or not Buenos Aires is the Paris of South America can be debated endlessly, but while you are there you can form your own opinion. In addition to providing you with a cell phone to stay connected, Road2Argentina offers monthly activities such as concerts and bike tours. Group welcome dinners were among everyone's favorite activities. Eating out in Buenos Aires, despite the relative weakness of the peso against many currencies, can get expensive. Freshly made pizza will suit everyone's taste!
Reflecting Back and Beyond Road2Argentina
I write now from Germany and already know that I will be returning to Argentina. It is such a varied country that it will leave you wanting to explore it endlessly. During my teaching placement, I was able to travel to Iguassu, Tucumán, Bariloche, and Mendoza. The ability to travel will depend on the schedule of your placement, but most people teaching or volunteering had ample free time, including 3-day weekends, to do so.
Organized trips to other parts of Argentina are not included in the Road2Argentina program. The staff, however, does provide very useful recommendations on where to go, and all of this is in the handbook. Through group activities, or in the residence, you will undoubtedly meet people with whom you may wish to travel. In short, Road2Argentina will pave the way for a safe and enjoyable introduction to Argentina. It is all up to you to make the best of Buenos Aires and beyond.
For More Information
Road2Argentina: Study Abroad Programs, Internships, Volunteering, and Spanish Classes in Buenos Aires, Argentina; seasonal hands-on volunteering programs in sustainability in Patagonia, Argentina.