Volunteering and Educational Travel in Belize
Many Voluntourism, Field Research, and Expedition Options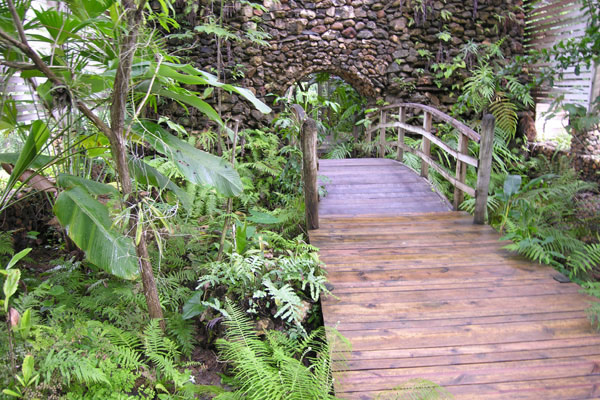 The Belize Botanic Gardens accepts volunteers, especially if they have a background in horticulture.
There are many good reasons why non-governmental organizations (NGOs), universities, and other groups play host to so many alternative tourism options in Belize. It is a small country (about the size of Massachusetts) whose tiny and diverse population of less than 380,000 speak English; it is close (about a two-hour flight from either Miami or Houston); it is safe; and it is beautiful. And the growing number of visitors who come to Belize with time and energy to teach, study, learn, and work are not disappointed. Call it "engaged," "alternative," or "sustainable" tourism and get ready to get involved.
Some organizations offer full funding and support, others expect you to pay tuition to participate. For these, find out how much money you are required to pay and of that, how the is money is divided between the community where you'll be working and the organization's overhead costs. Look for specific opportunities that may suit your skills and experience; these are difficult to find but inevitably end up being the longest lasting experiences.
Following is a list of current opportunities and their contact information. It is up to you to research each program you are considering, but this should help get you started. For more information on organizing your trip, be sure to pick up a copy of Moon Handbooks Belize.
Field Research and Educational Travel
There are many opportunities to learn, teach, and volunteer at The Belize Zoo and Tropical Education Center, located less then an hour west of Belize City and offering primitive lodging and camping facilities.
For Mayaphiles and archaeology students, the Belize Valley Archaeology Reconnaissance Project (BVAR) conducts research and offers field schools at several sites in western Belize.
In northern Belize, the Programme for Belize is the group that manages the 260,000-acre Rio Bravo Conservation Area and has a full menu of ecology and rainforest workshops (see their listing in the Northern Belize chapter).
Heading south to Toledo District, the Belize Foundation for Research and Environmental Education (BFREE) offers student programs from one week to a whole semester in length, including many activities and cultural immersion programs; BFREE has spearheaded amphibian research and monitoring in the Maya Mountains as a participant in the Maya Forest Anuran Monitoring Project, among other things.
For senior travelers looking to learn about the jungle and its creatures, or about archeology, RoadScholar has a number of tours to Belize, including dolphin and reef ecology projects.
Volunteer Opportunities
Officially, Belizean Immigration requires all long term volunteers to apply for special visas, a process which takes months and is not cheap; some NGOs get around this (for short-term assignments, anyway) by calling their volunteers "interns." Just be clear on whatever position you are getting into, as well as your host organization's expectations and Belizean legal requirements. That said, there are many opportunities to get your feet wet in the world of international development and resource conservation work. Keep an open mind about the experience (which will never be exactly as you expect it to be) and know that you'll probably end up learning much more than you teach.
Because of its relative cheap standard of living and plethora of good-intentioned folks, Cayo District is the undisputed voluntourism capital of Belize. Belize Botanic Gardens is where horticulture/agriculture specialists pay for room and board while working on various garden projects in the country's only botanic garden. Cornerstone Foundation Belize, based in San Ignacio, needs enthusiastic volunteers for a number of projects, including health, HIV/AIDS education, literacy, and community development.
The Belize Audubon Society accepts qualified volunteers and interns for a variety of land and marine projects, 3-month minimum; past skilled BAS volunteers have worked in community education, helped create trail signs, brochures, management guidelines for protected areas and wardens, and analyzed the effectiveness of BAS gift shops.
Aspiring organic farmers will want to check up on the Belize listings for the World-Wide Opportunities on Organic Farms Belize as part of the larger Latin American and global WWOOF network, which at last check had 11 independent host opportunities in Belize. You can often work on the farm in exchange for room and board, but conditions vary from site to site.
Joshua Berman has written a several editions of a guidebook on Belize, in addition to several other books which can all be found on his blog at joshuaberman.net.