Educational Travel, Tours, and Learning Vacations in Latin America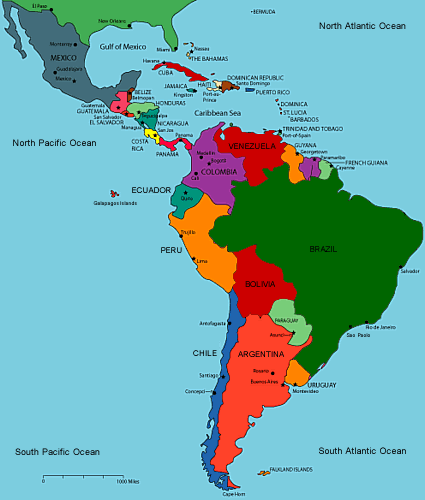 Articles on Cultural Travel in Latin America
Volunteering and Educational Travel in Belize
Joshua Berman provides an overview of the many voluntourism and research options in beautiful Belize.
Art Study in Mexico
Kelly Nicholls on the myriad of options available to those who wish to study art, even work and live as an artist, in the beautiful city of San Miguel de Allende, Mexico.
Art Workshops in Guatemala
John Brandon describes his experience at a travel writing workshop with the Art Workshops in Guatemala school in Antigua, Guatemala.
Centers for Interamerican Studies: Semester in the Andes SPRING​ - FALL​
The Semester in the Andes program combines quality academic content with an extended intercultural and language experience. Live and study in Cuenca, Ecuador, while also traveling to some of South America's must-see sites: Machu Picchu, the Galapagos Islands and the Amazon Rainforest! The semester is open to students from a wide range of majors with or without previous Spanish knowledge. The semester is divided into two academic terms, allowing students to begin with intensive Spanish courses and then choose from several options: further Spanish courses, internship/service learning project, or courses from several academic disciplines.
Contact: info@cedei.org
Tel: +1-623-240-0858
Website: www.cedei.org

Featured
Baja Expeditions
Eco-Adventures in Baja, Mexico
Whale Shark Diving Quest and Research Project
Dive with a purpose! Enjoy diving the best sites in the Sea of Cortez while you participate in a once-in-a-lifetime research project. With a spotter-plane to help locate the whale sharks, you'll observe and assist visiting guide and researcher Dení Ramírez during each encounter. As with all our Live-Aboard Diving programs, you'll visit dive sites that are out of reach for day boats, where you can explore underwater worlds few others get to see.
Digital Photography Workshop and Wildlife Voyage
Enhance your photography and digital workflow skills on this 5-day workshop led by instructor Neil Ever Osborne, a passionate conservation photographer who documents species at risk and environments in peril around the world.
Family Learning Adventure on the Don Jose
This new family-friendly program on the Don Jose combines fun, adventure and learning. Our experienced naturalist guide will lead hikes, kayak and snorkeling excursions and other environmental awareness activities sure to please all ages. Plus, certified divers can enjoy some great dive sites in the Sea of Cortez, while non-divers (ages 8 and up) can learn the necessary skills to safely try scuba diving.
Baja Expeditions Educational Explorations
We are going one step farther to customize your educational exploration in Baja, the perfect place to explore an ecosystem far removed from any text book or overcrowded national park. If you are a science teacher looking for a hands-on field study trip of a lifetime for your students, a group of retirees looking to learn about the natural history of Baja, or a group of friends and family full of outdoor enthusiasts, we will design the perfect trip for you. The opportunities to connect science with our adventures are endless and our naturalist guides will facilitate any combination of activities to fulfill the needs of the group's learning objectives.
Costa Rican Language Academy (CRLA)
Learn Spanish, Explore, and Volunteer in Costa Rica
Costa Rican owned and operated language school offers first-rate Spanish instruction in a warm and friendly environment. Teachers with university degrees. Small groups or private classes. Volunteer opportunities. Included free in the programs are airport transportation, coffee and natural refreshments, internet, excursions, Latin dance, Costa Rican cooking, and conversation classes to provide students with complete cultural immersion.