Wildlife Volunteering in Australia with Wallabies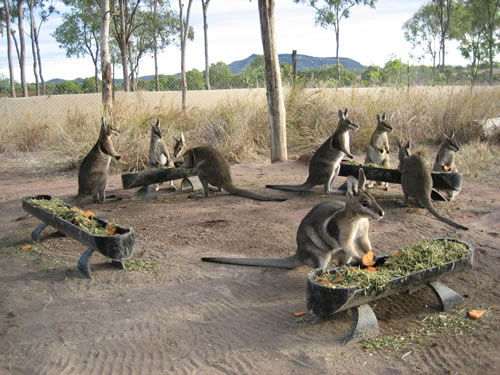 Bridled Nailtail Wallabies in Australia. Photo by Sophie Dubus.
I had visited Australia as a child, but had not been able to see very much of the wildlife. I selected the Wallaby Rehabilitation Centre because it looked like I could get very close to the animals. Project Kial works with the endangered Bridled Nailtail Wallaby. They are approximately three feet high, with distinctive dark "bridle" markings on their head and upper torso and a nail, or hard growth, at the very tip of their tail.
I was picked up in Rockhampton and driven about 60 miles to the outskirts of the town of Marlborough. Tina Jansen, who runs the program, met me with an animal at her side holding on to her pants. It was Sugar, an orphan kangaroo. Anytime Tina would stand still he would begin to suck on her pants. When shown to the bunkhouse to settle in, Sugar followed me into my area and latched on to my pillow. Once I unpacked and coaxed Sugar out the door, we entered the lounge for dinner.
Tina is a certified wildlife rehabilitator, so in addition to the wallabies, Project Kial also temporarily houses other injured Australian wildlife including possums, kangaroos, other wallabies, wallaroos, sugar gliders, bettongs, and a wombat. I was introduced to Wiggles, a Southern Hairy Nosed Wombat. I fell instantly in love and was thrilled to have the chance to hold her as she slept in my lap. For those of you who know wombats, you can tell that she was a very YOUNG wombat, only 5 kg or around 10 pounds. When fully mature, she will be closer to 80 pounds.
The farm had six buildings; bunk house, kitchen/lounge/toilet/bathroom under one roof, office (which also doubled as the infirmary), walk-in cooler, barn/shed for food storage and a private residence. The family and the volunteers shared all the areas except the private residence.
The main animal structures were six large enclosures that held the wallabies and other animals, sorted by sex and age. In front of the main enclosures were ten smaller pens where individual animals were kept for monitoring. Each enclosure had water, shade covers, and a feeding station that could be a 3-sided shed. The feeding station usually had the water source or water buckets and food troughs made from plastic pipes that were raised 12 inches off the ground. The enclosures had been constructed around stands of trees for shade and the natural grass was waist high at times.
A Day at Project Kial
Our day usually started at 7 a.m. and ended around 5 p.m. Volunteers fixed their own breakfast and lunch from the food supplied and dinner was usually a group meal. Because we were remote, ALL FOOD had to be stored in plastic or metal boxes, a fridge, or metal cabinets.
Daily chores were similar to other volunteer placements working with wildlife. The main duties included pen cleaning, food preparation, animal orphans, medical treatments, and some light office work.
Pen Cleaning/Maintenance: With three volunteers, we were each assigned two or three of the large enclosures for daily cleaning. Normally it began with a perimeter check to make sure the fence was secure and that the water source was functioning. Cleaning the feeding station required washing the food troughs and raking up the discarded hay and wallaby poo (a dry, dark brown pellet about the size of an almond). All of the waste/hay was carried out of the pen in a bucket and then added to the flowerbeds as mulch and fertilizer. The most time consuming process was walking through the entire enclosure hand picking up poo. Until we got used to the idea, there were plastic gloves to wear for poo picking. During the hot days, the water would pour out of my gloves as I changed them between pens. After my first few days, I could anticipate where the poo was located (close to the gates, in the shaded areas, and in the main passage ways through the tall grass).
Food Prep: The diet of the mature wallaby was chopped hay, barley, and sliced sweet potatoes. The hay was chopped with a machine and the mulch was stored in buckets or large burlap or hessin bags. The sweet potatoes had to be peeled and hand sliced at least every other day. Once sliced, they were stored in the walk-in cooler to keep them moist.
Animal Orphan Care: I learned that although most of the resident animals were marsupials, each different species required a special type of formula. All marsupials are born very small, blind and helpless. After they move to the pouch, they attach semi-permanently to their teat to feed. We made up various types of formulas on a daily basis and put them in specific bottles with teats that ranged from one to four inches in length. Tina and her daughters fed most of the youngest animals as it definitely took some time to perfect the technique.
In addition to bottle-feeding, a young marsupial also needs assistance using the bathroom. They have only one opening, called a coaca, where both urine and poo are expelled. In the wild, the mother would lick the area to encourage the young. I n her absence the human caregiver used a moist tissue to begin the process. Until you got the technique down, you could expect to be peed and pooed on daily.
Young roos or joeys normally sleep in their mothers pouch until they were quite large. With the orphans, canvas or cloth pouches were provided and after a meal, they would nap in the pouches that hung on the wall in the lounge. A caregiver would hold the pouch open and the joey would do a forward somersault dive into the pouch. Then they would get into a hammock-like position to sleep. Because some of the joeys would pee during their sleep, we also did daily animal laundry.
Health Treatments: As we went about our chores, we were instructed to keep an eye out for general health and watch for any obvious wounds. One morning while cleaning a pan, a wallaby came right up to me. She staggered a bit and then flopped on her side. Luckily one of the family was near and she carried her to Tina. It was Molly, a hand-raised wallaby and the smallest in her enclosure. She had mild pneumonia and was dehydrated and underweight. It was determined that she had not been getting enough food. She spent a few days in the infirmary for close monitoring and treatments. She eventually went outside into one of the small enclosures.
Another day in the most remote pen, I spotted an injured mature kangaroo outside the enclosure. Once caught and sedated, it was found that he had lost his grooming claw made up of two small toes. Tina cleaned his foot, gave him antibiotics, a tetanus shot and she monitored Duke for several weeks.
Office Work: Sophie, the other volunteer and I worked on fund raising and grant writing ideas for the center in addition to some tidying of supplies and general office cleaning.
What was it like to work at Project KIAL?
I was in Marlborough in May, or late fall in Australia. The weather was predominantly warm during the day, but the evenings could get very chilly. During my first week, it was very hot each day. Because of the brilliant sun, I was generally comfortable in long sleeve shirts and jeans. I wore gaiters over my boots and depending on the pen, I normally exited covered in foxtails. The best part about this time of year is that there were not many bugs. The second week brought lots of rain and strong winds that threatened to take down some of the shade sails and roofs off the feeding stations.
The physical work included stooping and bending to clean the pens and chopping up the sweet potatoes. I adored being remote enough to listen to the Australian birds and watch the free-roaming wildlife around the farm.
When working with wildlife, not every animal makes it. Early in my time, Tina received a female Western Grey Kangaroo with tetanus from the Rockhampton Zoo. She also had a four-month old joey called a pinkie in her pouch. Because the mother had not been able to adequately care for the joey, the pouch was filthy and the baby, hungry and dehydrated. The mother died overnight, so Tina became the foster mom to the young female joey. During my stay, the joey spent most of her time in the incubator or buddled up for warmth, as she was essentially hairless.
Another time cleaning the pens of the most mature females, I came across a shade area and found a dead wallaby. By that time, I knew how to carry them , so I picked her up by the base of the tail and took her to the infirmary . Tina had chipped all of the initial wallabies so she could track their progress. Snakebite can be a common cause of death, but that was not the case. The female was from the original group that arrived with tick infested ears and malnourished. When an animal has been compromised earlier in their life, any stress can cause death. While it was understandable, it was still disturbing.
As we lived away from town our evening entertainment usually involved reading (they had quite a good lending library) or conversation. However, one evening, the Marlborough Fair was in town. It was similar to a county fair in the US with livestock exhibits, competitions, greasy food, a midway with games and rides, and even camel races. I admit while walking through the grounds, I looked down and at my feet was a wallaby pellet. I thought that now that knew what they looked like, I would see them everywhere.
During my time at Kial , I interacted with only two other volunteers. The first was an Australian man who was at Kial on a semi-permanent basis. In addition to his wallaby work, he also managed and grew a nursery of plants to be transplanted into the enclosures to increase shade for the animals. The second was Sophie, a young woman from England, who had come to the project from Green Volunteers. This was the first time I had been on a project where volunteers came from different agencies. I found that the costs paid by the volunteers could be considerably different.
I really enjoyed my time at Project Kial. I loved that it was remote and that there were not many volunteers. I enjoyed getting to know Wiggles and Bernie and Bruce, orphan kangaroos and being allowed and encouraged to handle them daily. Even after only two weeks, I was attached to the animals and teared up when I had to leave Wiggles. If you love wildlife and a relaxed, laid back work experience with Australian wildlife, I can highly recommend Project Kial.
For More Info
Project Kial is located near Marlborough, a town Northwest of Rockhampton in Queensland. Australia.
Project Kial is a rehabilitation center for injured wildlife and captive breeding program for the Bridled Nailtail Wallaby. The Bridled Nailtail Wallaby was considered extinct until 1973 when a small colony was found in Central Queensland. Project Kial was established in 2003, when they received 130 wallabies from a former quarry. Since then, Project Kial has rehabilitated over 150 animals and begun a breeding program to increase the number of Bridled Nailtail Wallabies. The intention is for them to be released back into the bush providing that a supporting environment can be found where they be will protected from predators and be able to thrive.
For availability and current rates contact:
These agencies also place volunteers at Project Kial and may offer different amenities. Make sure you understand what their pricing covers and options offered.
Helper Exchange offers over hundreds of conservations projects
Idealist allows you to sort by multiple categories at one time.
JANE STANFIELD is the author of the book Mapping Your Volunteer Vacation. The book offers a step-by-step approach to help potential volunteers find, plan, prepare, pack, go on and return from an international volunteer vacation. See Jane Stanfield's bio for more information.