Jobs in Europe
Seasonal Work Opportunities and Paid and Unpaid Jobs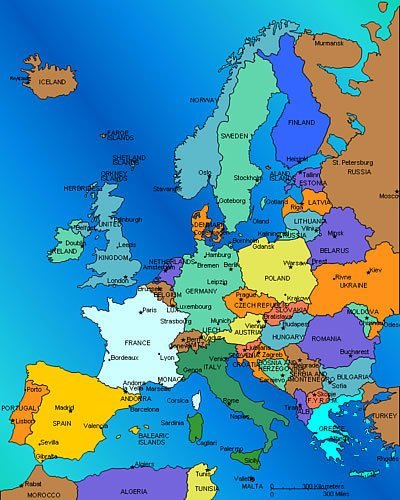 Travel to Italy to Teach English, Be a Camp Counselor, or Be a Storyteller
A.C.L.E's Programs are a unique opportunity to enhance your CV by learning how to teach through games, sports, drama, and songs all taught at our orientation.
All applicants attend a one-week intensive training course, usually on the Italian Riviera, but Rome as well, where they learn everything they need to know about teaching English through theatre and play.
Once trainee tutors have completed the orientation they attend a minimum of 3 weeks in camps across Italy from the Alps to Sardinia, putting their training into practice, teaching children and having the time of their lives. The camps usually run from June to September - Monday to Friday.
Interexchange
Au Pair Abroad
InterExchange offers au pair programs in the U.S., Europe, Australia and New Zealand. Start Your Adventure Now! Live as an extended member of your host family and provide child care in exchange for room and board and a weekly stipend. Brush up on your language skills and gain firsthand experience of a new culture! Some programs also offer insurance, language classes and paid vacation. InterExchange is a nonprofit organization and a designated J-1 Visa sponsor in the U.S. with over 40 years of experience arranging cultural exchange programs.


Camp Counselor and Teach English in France at American Village Camps
Work in France Spring/Summer/Autumn


Do you want to teach ESL both in AND out of the classroom?

American Village Camps seek energetic, creative, initiative-takers who are native English speakers & love working with children. We've been running English immersion camps in France since 1994! Our English Language Counselors live at our immersion camps, scattered in the countryside across France. It gives you experience, making lesson plans, using ESL games, working with beginners, and practicing TPR. For more seasoned ESL teachers, it is a good fit if you are ready to get out of the classroom and onto the playing field!

A salary for all days worked: 1170 Euros/month. Shared dorm-style housing with other counselors, bedding included. Meals included. Free laundry services are available at least once a week. All counselors may request a 50€ defrayal of train travel to their village.
Aliore
Live With and Teach English to a Family in France
Looking for teaching English jobs in France? Share your language 15 hours each week in exchange for free room and board in France! This volunteer program is a great opportunity to experience French lifestyle and improve your linguistic skills at a low cost.
You live with a host family and in exchange for your own room and meals, you share your English language skills for around 15 hours a week. This program has a focus on cultural exchange, it is designed for those of you wishing to experience French culture in depth. Placements are usually in Southern France, however, positions are available in Paris and other areas in France.
BUNAC Intern in Britain


BUNAC's Intern in Britain program is your opportunity to set yourself apart in today's job market by gaining a taste of professional life and work experience for up to 6 months. You'll show future employers that you are driven, cultured and can work effectively in an overseas environment, while enhancing your resume in London – one of the world's most loved and respected cities for business and lifestyle. Take the hassle out of arranging your own internship and let BUNAC organize your placement for you, choose from industries such as business, marketing, fashion and many more. As BUNAC is the largest A-rated Tier 5 visa sponsor, we work alongside the Home Office to sponsor you to legally intern in either England, Scotland, Wales or Northern Ireland.
Teach English in Summer Camps in Italy and Austria
Teach English to children aged 6 to 14 years old in a fun, interactive summer camp environment throughout Italy and Austria during the summer. Travel, teach, meet new people, and immerse yourself in a new culture!
Teach & Travel Worldwide with TEFL Worldwide Prague
TEFL Worldwide Prague is a highly reputable American owned school offering the 4-week Internationally Recognized and Accredited TEFL certificate course in the enchanting city of Prague. Become certified and gain the skills to teach English in any classroom abroad. Job placement assistance worldwide. Highly Recommended by their Graduates!
Adriatic Dolphin Project, Blue World Institute of Marine Research.
Students with a background in biology or geography may be accepted as interns. Paying volunteers join researchers in the ancient village of Veli Losinj, Croatia over the summer.
American-Scandinavian Foundation
Places summer trainees in engineering, chemistry, computer science, or business throughout Scandinavia, mainly Finland and Sweden. Also places American students and recent graduates over the age of 21 in schools and companies in Finland to teach English.
ARCHELON, the Sea Turtle Protection Society of Greece
Enthusiastic and committed volunteers are required for demanding sea turtle conservation projects run by ARCHELON in Greece. Zakynthos, Peloponnesus and Crete are major nesting areas for the loggerhead (Caretta caretta) turtle in the Mediterranean and have been monitored by ARCHELON, a non-profit making organization, for 40 years. In Athens, ARCHELON also runs the only Sea Turtle Rehabilitation Centre in Greece. Volunteers are invited to work on the island of Zakynthos where the first National Marine Park for sea turtles in the Mediterranean was established in 1999 and assist the Management Body of the Park in its task to protect the nesting beaches. In Peloponnesus, volunteers will protect nests from foxes and other mammals, experience the pilot project of sand dune restoration, help maintain nature trails and the running of the newly established Nature Information Centres. On the island of Crete, participants will work for the implementation of a Management Plan for the nesting areas. At the Sea Turtle Rescue Centre, volunteers will have the opportunity to assist our staff in daily treatment of sea turtles that suffer from accidental and deliberate injuries.
Ayusa: Au Pair in Germany
In return for your au pair work in this program, if you qualify and are at least 18, you receive a generous stipend which allows you to travel within Germany and Europe with ease, free room and board, vacation, language immersion in German which you can supplement with language classes that will certainly not hurt you with your future work and in your general cultural growth.
Au-Pair program with Kulturist
Become part of a family for 3-12 months and taking care of the children. Kulturist makes sure that the placement is done in a timely and professional manner. We offer our applicants free room and board, insurance, cheaper flights, an abundance of preparation materials regarding being an au-pair, as well as local 24-hour support in the country of your choice. This is a program for people who have a passion for children and are ready to discover another culture.
Cultural Vistas: Internships Abroad
An organization that is dedicated to providing a wide variety of cultural exchange programs for both inbound and outbound students worldwide. Cultural Vistas offers programs offering a variety of personalized professional internships and training programs in Europe in countries such as France, Germany, Ireland, Spain, Switzerland, and the U.K.
Embassy of France: The Teaching Assistant Program in France
Offers you the opportunity to work in France for 7 months teaching English to French elementary and secondary school students. Each year, nearly 1,500 American citizens aged between 20-35 and permanent residents teach in public schools across all regions of metropolitan France and in the overseas departments of French Guyana, Guadeloupe, Martinique and Réunion. The program offers a €810 stipend per month net. Applications are available in mid-October every year and after all paperwork has been completed, and your visa is completed, you will start the following October and complete the contract April 30.
Eurodivers
Dive center on an Ionian island in Greece that takes on qualified dive instructors, dive interns, and commission sales reps for the season May to October. Free room and board for interns.
La Giraudiere: Work and Stay in Southwest France helping a learning project.
Work and experience the French lifestyle at La Giraudiere, where people from around the world help restore and renovate a small hamlet, a place of learning that is being brought back to life at the same time adding to the lives of those who help make it happen. All kinds of skills are required to help supervise the volunteer and internship programs. In return for your work you will receive accommodations, 3 meals a day, advice, french lessons, training, excursions, transfers, and so much more!
Laboratory of Geoarchaeology: Volunteer Camps in Kazakhstan.
Volunteers for archaeological projects. See website for more information on current projects and expeditions.
MEDASSET (Mediterrean Association to Save Sea Turtles)
Short-term Office Volunteer. 3-5 week office-based volunteer work, including — but not limited to — assisting staff with projects, filing, letter writing, computer orientated and archive resource center tasks, database updating, internet search, etc. Free accommodation offered.
REMPART
Volunteer in Workcamps Cheaply in Beautiful Parts of France with International Participants
Volunteers are need to help restore and care for ancient monuments, including castles, throughout France. 1,000 volunteers participate yearly, of which 25% are from abroad. Projects are led by expert local technicians and charges vary, so see the website for details.
Editor's note: I participated twice and they are a great memories creating lifelong friendships.
Seasonworkers.com
A U.K. site, provides a very diverse listing of jobs for all seasons around the globe. Also provided are tools by which those who have such work experience may stay in touch and network with past co-workers via their active messageboard.
Work, Travel & Study in Spain
The Au Pair Plus Program allows summer stays from 1 to 3 months working as an au pair. $150 placement fee. $140 weekly allowance. Full Board. The regular au pair program allows 6 months or more stay with a family, but requires a work visa. Other programs allow you to stay with a family or tutor.
WorkAway in Europe
Workaway hosts offer various jobs and activities, including individual exchanges, teaching projects including English, farm stays, community projects, NGOs & charities, environmental projects, animal welfare, hostels, families & homestays, house sitting, boating & sailing, and much more across Europe.
Many of the opportunities offer free room and board with various options depending on the host. Workaway provides resources to help you get the most out of your experience and emphasizes safety. All for a small membership fee.
WWOOF (Willing Workers on Organic Farms)
Provides a list of countries worldwide, including Europe, where members may exchange volunteer farm work for food, accommodation and opportunities to learn about organic lifestyles.