Why Internships Abroad Boost Your Resume and Career
A Great Way to Shape Your Future
By Volker Poelzl
Updated 8/14/2019 by Transitions Abroad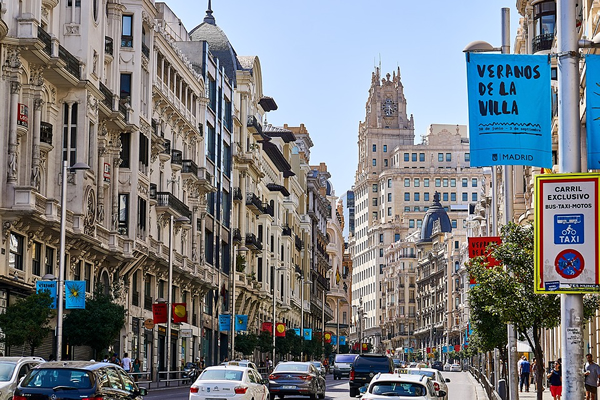 Internships are available worldwide, including Madrid.
Internships have long been valued as a vital tool for college students and graduates to gain important work experience before embarking on a career path. Over the past 20 years, international internships abroad (and short-term work abroad) experiences have become increasingly popular. During the past few years—due to a growing international work environment in many companies—internships at home and abroad have caught the attention of companies, educators, and students as an indispensable resume-builder and career tool to achieve your goals.
International Internship Organizations
Due to the volume of international trade, there is also a growing need for employees with experience in the international marketplace. In response to this demand, there are many universities and organizations that offer and refer undergraduates and graduates for international internships . U.S. students have taken advantage of this growing number of overseas internships opportunities. Several large U.S.-based non-profit organizations offering educational and experiential international exchanges have reported a significant increase in American students seeking internships over the past few years. Among the many well-established organizations are AIESEC, International Education of Students, Cultural Vistas, and the great resource for educational travel, the Institute of International Education.
There are also many experienced third-party organizations that specialize in facilitating internships all over the world, often for a fee — which can be seen as an investment in your future career. See our list of top internship organizations for some ideas, and be sure to do your due diligence when comparing the programs, calculating the cost/benefit, and contacting the alumni to get feedback.
The Benefits of International Internships
In addition to being an enhancement to study abroad, international internships are often becoming essential in the development of the career paths of college students and graduates, especially for those seeking a career in international affairs, business, or government service. But regardless of your future career plans, an internship abroad enhances your job prospects both at home and abroad. In today's competitive employment sector it is increasingly important to show skills and experiences that will help you stand out in the marketplace after you graduate from college, and this employment trend transcends the politics of the moment. In an increasingly globalized economy, even when some governments worldwide posture as isolationist or protectionist, candidates for jobs in the private, public, and non-profit sector who exhibit overseas work experience, an international perspective, and cross-cultural communication skills often have a distinct advantage over competitors without such experience. International Internships are also a great opportunity to immerse yourself in another culture, study a foreign language, and make lasting local friends.
An internship abroad can also be a great way to get your foot in the door with a company you might be interested in working for in the future. This is especially true if you are considering working overseas. Few employers are willing to hire someone for an overseas position or someone from a foreign country without any experience working abroad. Spending time as an intern in the country of your interest will no doubt make you a more attractive job candidate. To maximize your internship experience, you should make use of everything that you know. If you are an engineering graduate who has also studied German, why not intern with an American company that has a branch in a German city? You will not only get the chance to improve your language skills, but you'll also intern for a company you might be able to work for at home in a few years.
Research the Details
Internships vary greatly depending on the university, company, or referral service, so you should find out as many details before accepting a placement or job offer. Some internships are paid, while others are not. Some internships earn you college credit, while others merely complement overseas college study. Also, depending upon how you go about finding an internship position, you may be charged a fee (often significant) by your placement organization. Some internships include orientations, language, or university courses, room and board, insurance, and visa assistance, while others are simple short-term work placements which leave it up to the intern to find housing, get assistance, and study the local language. Depending upon the country, international interns may be required to have basic knowledge of the local language or take language courses. Find out the details before you commit to a placement. Apart from direct contact with the organization, get references from the organization whom you can contact, there are first-hand articles such as those published by Transitions Abroad, and now social media tools such as Facebook which may help you make some connections prior to signing up.
One of the most important considerations is to figure out if you can afford the type of internship you are interested in. At a time when tuition hikes are common and credit is tight, the last thing you would want to do is take on a big debt for a 3-month internship abroad. An internship abroad can become an expensive undertaking, unless you thoroughly plan your stay abroad. When applying for an internship most organizations charge a placement fee, which can vary substantially. Some referral agencies only charge a nominal fee for basic services, while others charge a few thousand for comprehensive services for interns, such as in-country support, orientations, language courses, and more. To assure that you are getting the services you expect and that you are paying a fee that you can afford, you should compare various internship programs in the country of your interest and again pay attention to the details. Find out what services are included, and take note of items you need to pay for separately. The cost of an internship can quickly rise if you consider room and board, travel costs, health insurance, and other expenses such as language courses. Financial aid may be used to cover some of the expenses of an international internship, if you earn college credit while working.
How to Find Your Internship Abroad
There are several different options for finding internships abroad. Many universities work with companies and organizations that place interns abroad. If you are a university student, you might be able to take up an internship together with a study abroad program, either offered directly by your university or by a study abroad organization. If you don't find the resources or help you need at your college, you should check out the internship programs of a number of well-established and renowned placement services that refer internships abroad (see below), or you could look for an internship on your own by directly contacting companies overseas. Some government organizations, trade associations, and multinational companies that offer internships list openings on their website. Check out the State Department website, or the various offices of the American Chamber of Commerce in foreign countries, in addition to large companies where you might be interested in volunteering. The United Nations offers internships abroad as well as part of its many and varied organizations.
Foreign Language Skills
Speaking the language of the country where you would like to intern is a great asset, but it is not mandatory. There are many multinational companies whose corporate language is English, and where you can get by just fine with English. On the other hand, your work experience and your stay overseas will be much more rewarding if you speak the local language or if you take language courses during your internship.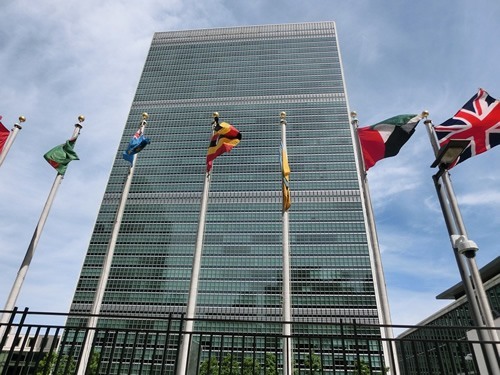 Internships at the United Nations can lead to a career or help build a great resume.
Obtaining a work permit for an internship abroad is generally easier than for a regular job. Internships usually don't last for more than six months, and since interns don't get paid regular salaries, they don't compete with the locals for permanent jobs. Each country has its own laws and rules governing internship visas, but short-term work visas for internships are relatively easy to acquire. Some countries will issue a specific internship visa, while others will only offer a regular short-term work permit. In some cases you may be allowed to extend your visa, but in general, a short-term work permit or internship permit is intended for a limited period of time. Keep in mind that internship visas do not give you the right to permanent residency, a long-term work permit, or citizenship. Also, be aware that most visas for interns are intended for one specific employer, and you may not be able to change employers without first returning home and applying for another visa. To avoid any possible confusion, make sure you learn about all the visa requirements and conditions before accepting an internship position.
Resources
For a list of organizations that offer or refer internships worldwide, go to the Internships Abroad section of TransitionsAbroad.com, where you can also find resources, and first-hand participant reports.
Volker Poelzl is a Living Abroad Contributing Editor for TransitionsAbroad.com. He has traveled in over 40 countries worldwide and has lived in ten of them for study, research and work.