Teaching English and Living in Chiang Mai, Thailand
One of the World's Friendliest Cities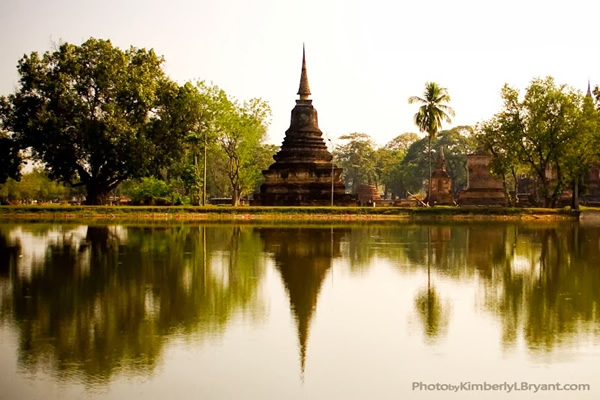 If you venture a few hours away from Chiang Mai towards Bangkok, you can stop off at the historic town of Sukhothai.
Long considered one of the friendliest cities in the world, Chiang Mai is a fantastic place to dip your toes into the world of teaching English. The relaxed environment and low-key attitude make for a gentle introduction to TEFL for those just starting out. Though you'll enjoy your time in northern Thailand, your salary reflects the laid-back atmosphere. You won't make a fortune teaching. But that should not dissuade you. Chiang Mai is a cheap place to live. Your cost of living per month may be as low as US$500. With scores of friendly foreigners and abundant surrounding areas to visit, let us help get you started on your Chiang Mai teaching journey with some essential tips and information.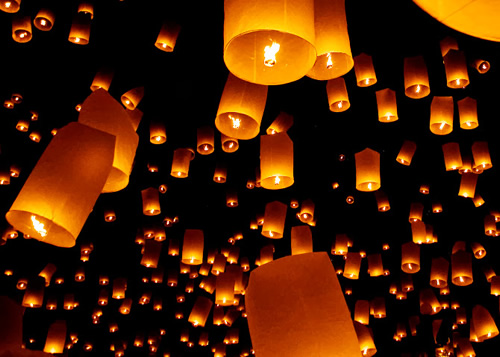 At the Yee Peng Ceremony, everyone simultaneously releases their lit lanterns into the night sky—it is magical.
First Things First: Getting the English Teaching Job
Certification
Enroll in a 120-hour in-person TEFL course in Thailand or before you arrive. ITTT is one example of an organization providing a TEFL course you can take while staying in Chiang Mai. TransitionsAbroad.com lists other TEFL schools in Thailand that often lead to teaching jobs.
If you have prior teaching experience, it is a huge bonus. Getting hired at a reputable school without a university degree is quite challenging. If applying to international schools, you must be a certified teacher in your home country (or have a connection at the school to help network for you). Another option is to volunteer with language programs or at language schools.
In every case, it is essential to be professional and culturally respectful at the workplace in Thailand, regardless of the route you take.
Reach Out Online
If you want to be well prepared for job-hunting in Chiang Mai, email a well-written cover letter and TEFL CV to schools beforehand. You can search online for schools in the area or check out the sidebar below for starting tips. You'll need to hit the ground running no matter what course you take, but having a CV, at the very least, gets your name out there. In addition, you can take these steps while still in your home country.
Hit the Ground Running
No matter the type of correspondence you've received online, you must visit every school where you want to work. For private schools, start your job hunt in March. You need to be in the city to be hired; it is nearly impossible to secure a job in Chiang Mai if you're not there. Map out the schools where you have already emailed your CV, and take a songtaew ride to visit and knock on their doors. Most schools will have a separate application form you can only complete in person. Hand your CV and cover letter to the director with a big smile and friendly demeanor. At home and abroad, personality goes a long way in the ESL field.
Mind your Manners
Good manners, smiles, and compliments go a long way in Thailand—as does having a sense of humor. Thais love to laugh! Smile, laugh a lot, and don't cause anyone to lose face. Many schools will want to see that you can entertain children primarily, so act like someone capable of holding your students' attention.
Appearance Counts
In Thailand, looks count, especially when it comes to work. Dress the best you can for an interview. A crisp, white shirt, with ironed pants if you're a boy, a knee-length skirt if female. Shiny shoes and jewelry will help women as well. You can have your hair curled, straight, or whatever works. While Thailand has many excellent assets, one challenge is that there are aspects of the customs and manners that may initially appear very superficial to Westerners. If you take the time to understand the subtleties and importance of customs and manners in Thailand, you can use this to your advantage when job-hunting.
The Lowdown on Schools
International schools pay around 60,000 Baht/month (around US$1,700-1,800 depending upon the current currency conversion rate) or more.
Private schools pay around 30,000 Baht /month or less (US$850-$1000).
Language schools pay varies, but generally is less.
Personal Experience
I made 30,000 Baht/month (~US$850+) at Dara Academy, a prestigious private school. It is a good school for which to work. Employees are allotted a total of six weeks of paid vacation yearly! Dara even helps its teachers with their work visa fees and processing. Many other schools will not help prospective employees to such an extent, so be sure to ask what they will do for you before accepting a job. Work visas can be paperwork intensive to do alone.
When working at a private school, be prepared for large class sizes of 40-50 children. Class size is no cause for worry, however, as many foreign teachers in Chiang Mai are amiable and willing to help make your teaching experience as easy and enjoyable as possible.
Life in Chiang Mai Outside of Teaching
If you're considering teaching in Thailand, chances are you're at least as interested in the way of life as in the work. There is excellent news for you! Free time will likely be a joy in this great city. Read on to find out why.
Finding a Home
One option is to rent a guesthouse room for a week (such as Somwang Guesthouse) at around US$8/night. In addition, explore apartment buildings to see what's available. I paid 5,000 Baht/month for my 1-bedroom apartment near Thapae Gate (Veerachai Court), or about US$140. The apartment complex was very safe. I made a makeshift kitchen with a hotplate and blender using the money I saved on the cheap rent. Other decent apartment buildings are Cityview, across from Veerachai, and Smith Towers, near the south gate. There are always rooms for rent in houses with other foreigners, too. To find these, try asking around on some of the many Chiang Mai groups easily found on Facebook.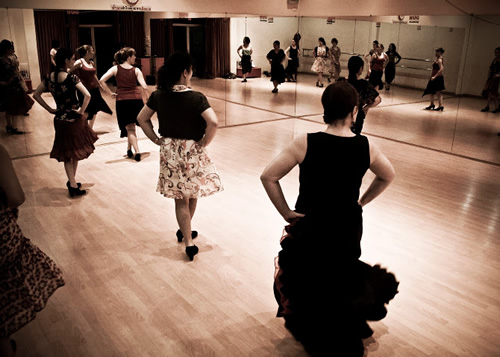 Flamenco dancing at one of the studios in the city.
A Happening Social Scene and Many Interesting Activities
What follows is a breakdown of just some of the many great activities around the city, and the many virtual communities, including details in the bo xout at the end of the article.
The citizens of Chiang Mai are very tuned into Facebook, so check out Facebook groups for up-to-date information on happenings. As seen in their Facebook group, Chiang Mai also has an active Couchsurfing community.
Yoga: There are many great yoga studios with dance classes, kirtan nights, and multiple types of yoga available in Chiang Mai (see box out below).
Vegetables: If you are so inclined, get together with fellow health-conscious comrades at one of the many veggie restaurants such as Blue Diamond, which serves an array of delicious health foods for low, teacher-salary-friendly prices.
Nightlife: Hop over to one of many bars or music venues in the city to meet the party crowd and jam to local Thai bands. Wear your clubbing clothes at Monkey Club or listen to free live jazz at Northgate.
Photography: Many photographers base themselves out of Chiang Mai. There are many low-cost photography workshops available. You can also go to Documentary Arts Asia to watch a film.
Dancers: From flamenco classes to dance meditation to zook to salsa nights, there's something for everyone who enjoys moving their bodies to music.
Foodies: Head to the Sunday market for fresh food or visit one of the many top-notch international restaurants around the city. Delicious Pad Thai is always an option for around US$1 in many informal restaurants and on the street, as is mango sticky rice, papaya salad, khao soi, and a seemingly endless variety of other dishes from which to choose.
Wats: Beautiful wats (Buddhist temples) exist around the city and are both fascinating and peaceful places to spend some time.
Festivals: There's always a festival in Chiang Mai, whether Yee Peng, Loy Krathong, or hot air balloons. Seriously, parades are weekly affairs!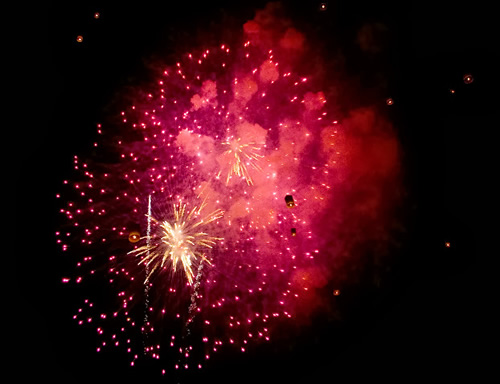 Fireworks above Thapae Gate during Loy Krathong Festival in November.
Day Trips: While there's plenty to do inside the city, check out the many stunning places just a short motorbike ride away.
Motorbiking: Rent a motorbike to explore the beautiful scenery of the Samoeng Loop or scale Northern Thailand's highest peak by riding to the top of Doi Inthanon.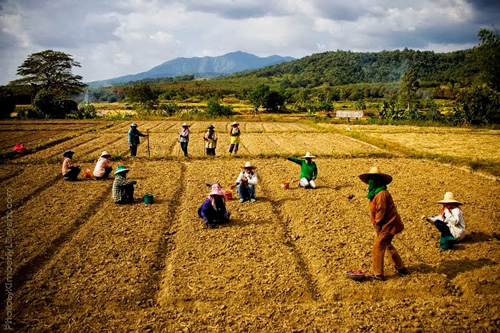 Motorbiking outside of the city leads you to scenes such as these!
Teaching in Thailand is a wonderful way to test the TEFL waters abroad. I highly recommend it as a way to "take the plunge."
Resources for Living in Chiang Mai
Yoga Studios
Some of the main yoga studios in the old city include:
Mahasiddha Yoga, located just south of the old city. Holds weekly workshops and retreats, not just on yoga but also spirituality and meditation based on the authentic tantric path.
Freedom Yoga Chiang Mai offers various styles of Yoga classes in Chiang Mai, in a Thai style Studio.
Health and Dance
Check out these Facebook groups (some closed but you can apply for membership) for health and fitness:
Kimberly Lauren Bryant is a Canadian documentary photographer and writer (and former English teacher). To see some of her work, please visit www.kimberlylaurenbryant.com.