Living in Chiang Mai, Thailand
Happily Adding the Months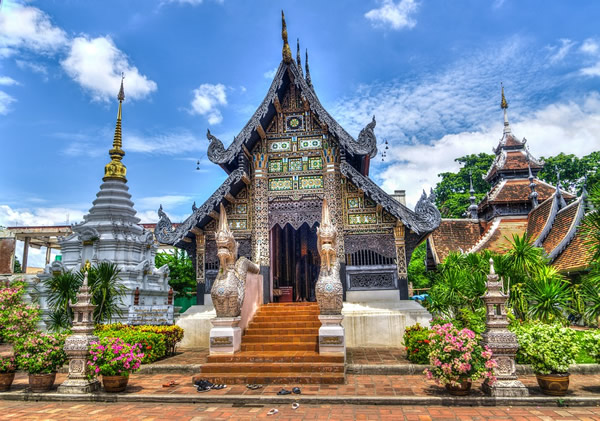 Temple in Chiang Mai.
My stay in Chiang Mai, Thailand, was about 26 times longer than expected. Most expats who live in the city would not find this surprising. More than once, upon apprising someone of that fact, they've laughed and replied: "Yeah, I know a lot of people like that."

By the time I reached Chiang Mai, I had been on the road for over five months. I'd spent four of those cycling Vietnam from south to north, and then I took a month to explore Laos on a motorbike. After three years of teaching and traveling in Southeast Asia, northern Thailand was the only place in the region I'd yet to visit. The plan was to settle in Chiang Mai for a few weeks before heading to India and, perhaps eventually, a new continent.
I'd spent too many weeks repacking my bags every few days and wanted, at least for a little while, to stay somewhere long enough to make friends, read books, and try out new activities. Chiang Mai is known as the country's cultural capital, so there were many things to learn. Flipping through a guidebook, I found that there were massage schools offering courses in numerous disciplines, yoga camps, cooking courses, painting classes, and more to try. I decided to spend a month practicing Muay Thai, Thailand's special kickboxing style, at Lanna Muay Thai near Chiang Mai University in the northwestern part of the city.
It was a good deal at $260 for a month of twice-per-day training. However, I later learned that Thais would consider this extremely expensive. An entry-level office worker might earn the same amount in a whole month. But the money helps support the local Thai fighters who sometimes come from the surrounding provinces and live at the gym while they train. (If they win their fights, the gym keeps some of their earnings.) The gym owner also helped me find a room nearby. It wasn't luxurious by any stretch, but it was clean and insect-free, with an attached bathroom, so I was happy to stay there for only $75/month. I spent that first month urging myself awake around 7:30 a.m. every morning to go for a 5km jog with the Thai fighters. I'd then spend another hour and a half stretching, skipping rope, kicking pads, doing countless pushups, and rapidly soaking through whatever clothing I happened to be wearing. (I wore a long-sleeve shirt during training so I wouldn't splatter the trainers with sweat every time I punched.) Around 9:30, thankfully before the sun got too hot, I'd return to my room and shower.
I spent that first month urging myself awake around 7:30 a.m. every morning to go for a 5km jog with the Thai fighters. I'd then spend another hour and a half stretching, skipping rope, kicking pads, doing countless pushups, and rapidly soaking through whatever clothing I happened to be wearing. (I wore a long-sleeve shirt during training so I wouldn't splatter the trainers with sweat every time I punched.) Around 9:30, thankfully before the sun got too hot, I'd return to my room and shower.
Next, I would eat an omelet of rice for 10 baht (about $0.30) while sitting on a wooden bench at a small food stand nearby. I'd read and recuperate in a café near the university while sipping $1 fruit smoothies for a few hours, and then I'd head back to the gym for two hours of evening training. After a few days, my shins were sore to the touch, and my wrists stung with every punch, but the trainers tailored my workouts so my injuries could heal. They just worked my good leg and arm twice as hard.
Despite my sore muscles and unceasing battle against dehydration, it didn't take long to realize that I wanted more than a month in Chiang Mai. I was eager to move on to other parts of the world, but life in Chiang Mai was too good to leave so soon. I made some close friends among my fellow fighters and some of the teachers in town. First, I extended my training for a few weeks and then found a part-time writing job to help pay the bills. The urge to keep moving subsided as I felt like I'd found a place that fit me. Eventually, I ended up with full-time writing work and a commitment to stay for six months longer.
Living in Chiang Mai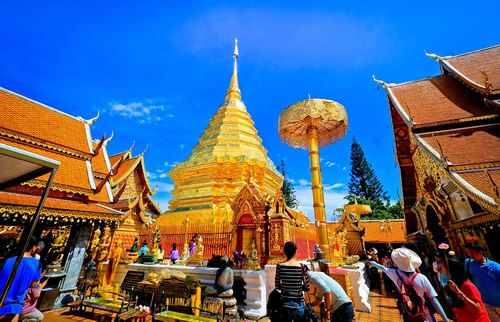 A pagoda in Chiang Mai.
The consensus is that living is easy in Chiang Mai. With about 300,000 people, the city is big enough to keep things interesting. You could live there for over a year without eating at every restaurant or having a beer at every bar. There are art galleries and film screenings for the trendy crowd. The backpackers have reggae bars, and the retired expats have sports pubs. However, it's also small enough that it's no surprise to run into someone you know accidentally. Show up at Thursday quiz night at the Irish Pub or Tuesday salsa class on the 2nd Floor, and you'll see some friends.
The city has a youthful culture, historic charm, and a laid-back pace. It's the former capital of an ancient kingdom (with brick walls and a moat to prove it) but also northern Thailand's biggest university town (with coffee shops and nightclubs). While the historic town center streets are quiet by 10 p.m., the bars and dance clubs on Nimmanhemin stay student-packed until late.
After living near the Muay Thai gym for about two months, I moved to the old city, a moat-enclosed area in the center of town. Quiet residential lanes snake their way between the streets, but walking to the restaurants and bars scattered around the neighborhood is never too far. This 2km x 2km area also almost certainly has Thailand's highest concentration of temples. Some are wooden-walled, others golden-spired, and yet more guarded by mythical lions and snakes. As every Thai male is expected to ordain for at least a few weeks during his life, there's a steady stream of people entering the monastery, and it's common to see monks walking around town.
I moved in with a friend, and we shared a small 2-bedroom house with a bathroom, kitchen, and living room. Like many traditional northern Thai houses, our Thai landlords lived next door in a big teak house built on stilts. We each paid $80 per month, which is about as good a deal as you can find for a place in the old city. (I later moved into my studio not far away from where I got a queen-size bed, bathroom, WIFI, and a furnished TV for $130/month.)
At first, I rented a bicycle for about $15/month, which was fine for getting around the old city though it limited my range and kept me from exploring as much as I might have. Many people rent a motorbike for about $70/month or buy one ($500 and up) and resell it before they leave. The old city's streets are quiet in the evenings, making it an excellent place to practice driving if you're not used to it. Learning to ride at first can be a bit scary, but it's liberating to hop on the bike and visit nearby towns or go to the supermarket or movie theater whenever you want. Often it can mean the difference between riding across town to meet friends for dinner or eating alone at the food stall near your apartment. Getting anywhere in the city on a motorbike within 10-15 minutes is possible.
No giant trucks and buses are rumbling about the city, and there are few multi-lane streets, so traffic is less intimidating than in Bangkok or other major Asian cities. Public transport is lacking in Chiang Mai, so getting around can bother you if you don't have wheels. However, you can get around on sawngthaews, red trucks with rows of seats in the back that act as something between taxis and buses.
Living in Chiang Mai can be as "authentic" as you want. Some people move to a foreign country intent on integrating themselves into local communities, and it's certainly possible to do that. There are parts of the city where few foreigners live, where you can slurp a bowl of khao soy (northern-specialty curried noodle soup) in a small food shop while sitting on plastic stools. You can live on a quiet side street where vendors sell fresh pineapple and omelets with rice every day. You can spot the monks giving their morning alms if you wake just after dawn. You can even visit swanky dance clubs where university students pound whiskey on the dance floor while the professional set (all dressed far more fashionably than you) chat on deep-cushioned sofas in the lounge.
However, there is a sizable population of expats in Chiang Mai (estimated at around 30,000), so the associated "foreigner-friendly" comforts are easy to find if you like. Hamburgers and pizza are pricier than pad Thai (a Thai fried-noodle dish), but they're easy to find when cravings strike. You can go for a run at the municipal stadium where the Thai high-school kids do sprints, and the older folks jog, but you can also run on the treadmills in the air-con at Powerhouse Gym. You can buy your fruits and veggies at the local markets or head to the supermarkets on the outskirts of town.
Working, including Teaching, in Chiang Mai
My particular job was a rather lucky find, and there are only a few similar jobs, so I will only dwell on it for a short time. I started off doing SEO writing (copywriting for websites that improve their rank in search results) for a small company. Eventually, I found another writing job with another company in the city. There are only a few English-language publications in Chiang Mai, and there are already plenty of foreigners who can snatch up writing jobs as they become available, so it's not the best field in which to look for work in Chiang Mai.
That said, quite a few foreigners in Chiang Mai supplement their income by doing online writing or teaching work. Websites like upwork.com, peopleperhour.com, textbroker.com, odesk.com, iwriter.com, and constant-content.com are popular places to pick up freelance writing work online. However, you can get some assignments from many smaller firms and websites. Some friends of mine also brought in cash by teaching conversational English lessons online using buddyschool.com
The teaching field has the most opportunities for foreigners to find work. There are enough expats with kids to keep seven international schools in business. For certified teachers, these schools offer relatively well-paid work with salaries around $2000-3000/month.
There are also many opportunities for those with a CELTA/TESOL/TEFL certificate but need a degree in education. Thailand's economy has been steadily growing at about 5% per year for the past decade, and people are investing in English education for themselves and their children. You can find English-teaching work at private Thai schools with English-language programs, private language academies, universities, and public schools. TEFL teachers can earn about 20,000-30,000 baht (~$600-$900) per month.
Finally, there is also a substantial NGO community in Chiang Mai. Some organizations work with refugees from neighboring Myanmar. Still, they generally operate under the radar, so it can be challenging to find work with them without coming to the city first. Under Thai law, an organization must employ four Thai workers for every foreign worker. The rules can hinder small organizations that may need foreign staff but need help hiring them. However, it is sometimes possible to work out a solution. Given the recent steps toward the opening of Myanmar, however, some organizations are looking to move their operations inside the country.
Studying in Chiang Mai
Hopeful teachers can earn a TEFL or CELTA certificate in Chiang Mai, though there are also many training centers in Bangkok and Phuket. Taking your course in Chiang Mai can be helpful as your school will be better able to help you find a job in the area after you've finished the course. CELTA courses are about $100-300 more expensive than TEFL courses, but the certificates they grant are more respected by schools worldwide. Check the listing below for more on these courses in Thailand.
A few schools in Chiang Mai offer intensive Thai language courses. When you sign up for a year-long course, you also get a much-coveted one-year visa. The cost is generally around $1,000 for your lessons and visa. Courses typically include about 180 hours of in-class instruction, with 6-12 students per class. Most schools place students based on their skill level and can accommodate students if they wish only to learn to speak and listen and not read and write. The listing below tells some of the Thai language schools in Chiang Mai.
Chiang Mai can be an affordable place to get a master's degree, with a few universities in town offering English-language programs. Chiang Mai University has a few international master's programs, including Sustainable Development and Environmental Science. Payap University offers master's degrees in Teaching English as a Second Language (TESOL), Linguistics, and Divinity. It also has an MBA program concentrating on international business. Tuition at either university runs around $7,000 per year. Coupled with the low cost of living, studying here can be an excellent way to get an advanced degree without going into too much debt.
Leaving Chiang Mai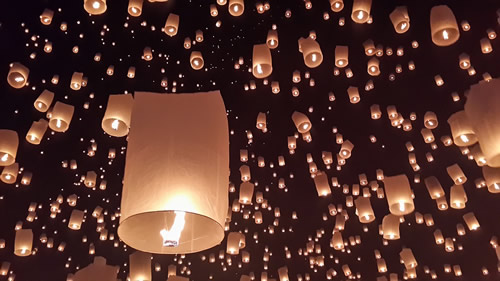 A lantern festival in Chiang Mai.
Unfortunately, I lost my writing job after about a year in the city. I've since moved to Bangkok, where the teaching work pays better, and there are more opportunities to continue my studies. Such practical considerations tend to draw expats toward the capital. But those willing to work for a bit less in Chiang Mai are duly rewarded. I still miss riding my motorbike through the empty streets at night, eating heaping bowls of brown rice and curry, running at sunset at the stadium, and having drinks with friends at roof-top bars in back-alley restaurants overlooking the streets below. When I told a good friend I'd be going away soon, he admitted that he'd also thought of doing the same. But then he said that the thought of leaving Chiang Mai behind had made him panic just a little, and now he was hoping to extend his contract for six months longer.