Slow Food Regions of France
Traditional French Cooking is Enjoyed Across the Country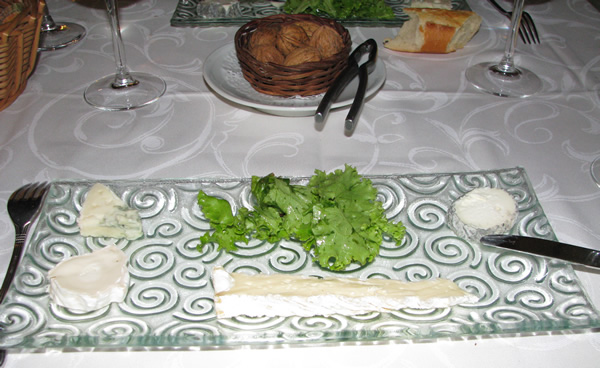 After the main course in many regions of France, there is the cheese plate composed of local favorites. And you can take your time to enjoy, as no one will rush you or take your plate away before you are properly satisfied. Photo © Transitions Abroad.
The meal seemed, marvelously, to last forever. We were staying at a humble and atmospheric chambre d'hote, the French version of the bed and breakfast, and we were in the tiny mountain village of Montsegur. After a tiring day hiking the legendary Mount Pog overlooking the village to the ruins of a Cathar castle at its peak, we returned to our room and embarked on a dinner that would live long and longingly in our memories.
The couple who owned the establishment, L'Oustal, (which was truly their inviting and vast townhouse, with a couple rooms available for travelers) spoke almost no English. Their welcoming nature, broad smiles and the snippets of French I understood were unmistakably friendly. My husband, my daughter, and I entered the large but unassuming dining room with a roaring fireplace. We were met by the hosts and 20-something Parisian sisters who spoke English very well.
Then the course and conversation began. First it was one round of starters, then the next. A large casserole dish of roasted duck legs was set down to be passed around family-style. Then came the after-dinner nibbles. Just when I thought I couldn't possibly put another bite to mouth, the dessert was brought out. Each course, of course, featured its own appropriate wine or spirit. By the end, we all felt like dear friends and my daughter, up well past her bed time, was almost asleep in her high chair.
This is the essence of French dining, the real slow food a la francaise that is often missed by tourists hitting popular cafés in big cities. But wander into France's varied regions, where territorial cuisine made of native ingredients rules supreme and you will encounter a slow food experience unlike any other.
It's quintessentially French to create dishes that take hours, sometimes days, to complete to perfection. Some of France's best regional specialties define slow food, simmering in clay pots and casserole dishes for long stretches as the flavors infuse every bite. Here is a sampling of some of France's best regions for experiencing slow, traditional, food first hand:
Midi Pyrenees
The Midi Pyrenees is the region where we had the divine dining experience described above, and I've had many others in this relatively undiscovered but memorable region of France. The Midi Pyrenees is blessed with a mix of cities like Toulouse, beautiful countryside, breathtaking chateaux and enchanting villages such as Montsegur. The Midi Pyrenees is home to some of France's best-known tastes, including foie gras, Roquefort cheese, and Armagnac brandy. Toulouse is one of the three cities best known for cassoullet, an incredibly tasty and robust stew of white beans and various meats.
This is a place where meals simply will not be rushed, and portions are always bigger than life. At a modest roadside Logis de France inn and restaurant popular with truck drivers outside Toulouse, I enjoyed another example of the Midi Pyrenees largesse when it comes to dining. The simple prix fixe meal involved a huge terrine of onion soup (all for me), a platter with a dozen appetizers of various types (also all for me), the sumptuous meal of sautéed pork and another platter of desserts to sample. All this was enjoyed for a measly 15 euros.
Languedoc
The bordering Languedoc Roussillon region is another fabulous foodie find. Cassoullet is also enjoyed here, particularly in Carcassonne or in the dish's birthplace village of Castelnaudary. This region features underrated but wonderfully intense red wines and the charming village of Limoux is the true birthplace of sparkling wine. Its dry and unassuming Blanquette sparkling wine predates Champagne.
Duck is delicately prepared here, and must be sampled. Seaside cities like Sete feature some of the world's finest seafood, prepared with the day's catches. As you get closer to the Spanish border, the Catalan influence pervades. This is also the home of sweet Banyuls wine.
Alsace
There is never much doubt about the Alsace region's proximity to Germany, which lends Alsatian cuisine the flair of the French mingled with the bold and hearty flavors of their neighboring country. The scenery is often something right out of a fairy tale: timbered houses with flower boxes bursting with red blossoms. Gingerbread baking behind a local storefront. The wine here takes on the German personality, with Riesling and Gewürtztraminer varieties commonplace. Choucroute, or sauerkraut, is popular here. The Alsatian twist on the classic coq au vin is the coq au Riesling, often served over spaetzle noodles. The Alsatian tarts are legendary, and the onion and apple varieties are the best.
There is another local dish that simply must be sampled, and is the essence of slow food. Baeckoffe is a stew of meat, onions and wine. The background is that, long ago, women in Alsace did laundry on Mondays, leaving little time for cooking. They would toss ingredients together Sunday and let them marinate overnight. Monday, while doing laundry, they took the pot to the local baker and used that oven to cook the dish. That evening, they would have a stew with meat that falls apart at the touch. Today, the same dish can be found throughout Alsace lovingly prepared.