A Traditional Turkish Cooking School in Istanbul
Cookistan Combines a Chef's Passion for a Great City and Food
In passing, one might mistake Ayşin Ekinci for a tourist. Sitting outside the Ramada Plaza near the bustling Osmanbey Metro stop holding a North Face backpack, dozens of tourists and natives alike pass her by, none of them knowing that she is one of Istanbul's most sought after cooking teachers.
A native of Istanbul, Aysin combined her love for the city with her love for food. Formerly a restaurant owner, Aysin has been running Cookistan, a Turkish cooking school, out of her home since 2013.
Her experience as a chef, businesswoman and tour guide have contributed to Cookistan's success. It's my dream job," she says. "I can cook and I can guide."
Her students meet her at the easily accessible Ramada Inn before joining her for a neighborhood walking tour through  the neighborhood of Kurtuluş.
Aysin (foreground) shows a student where to get fresh, affordable produce on her walking tour through Kurtulus.
The tour is part history lesson, part shopping lesson. Strolling through Kurtulus instantly transports visitors from the hustle and bustle of Osmanbey, just a few blocks away, to an authentic Turkish neighborhood. According to Aysin, Kurtulus is one of the few neighborhoods left in Istanbul that has maintained its socio-ethnic composition since the 17th Century Ottoman Empire.
During the tour, Aysin shows her students how to avoid tourist traps and buy high-quality ingredients without spending a fortune by shopping at family-owned, specialty food shops rather than large supermarkets.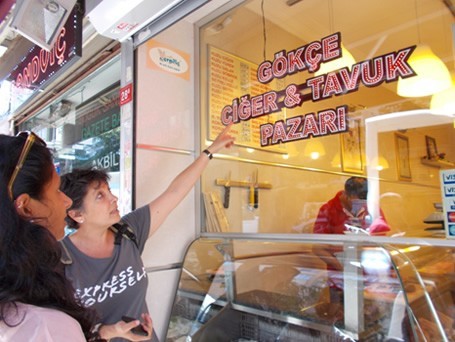 Asyin shows a student a specialty meat shop that sells internal organs for traditional Turkish meals.
After the brisk walk, Aysin takes students to her home, which doubles as the cooking school. The inside of her house is a vision straight out of a home décor magazine. Though impressive, the contemporary, hip space is simultaneously cozy enough to make visitors feel right at home. Before getting to the cooking, she insists students sit for a few moments and offers them tea and an assortment of breads and pastries.
"I want people to experience Turkish food in a Turkish home with a Turkish person," she says. "I really want them to live the life of a local."
After tea and small talk, it's time to get to work. The large, wood table in the dining room is the work space and the ingredients set out by Aysin's assistant are the tools.
The ingredients for the 6-course meal change through the evening, but the constants on the table include: pomegranate molasses, paprika paste, tomato paste, cumin, and olive oil. There are no measuring cups or teaspoons. When instructing students to use a spice, Aysin relies on spoonfuls or what she calls a "Turkish pinch," which is a relatively large pinch using a thumb and two fingers.
While students wash their hands between courses or check on their creations as they cook on the stove, one of Aysin's assistants swoops in and swiftly preps the table, swapping out ingredients and wiping up messes from the previous culinary creations.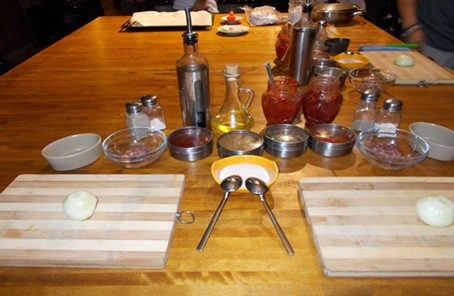 Onions, a bowl of ground meat, yogurt, and an array of spices greet eager students.
Since Aysin relies heavily on farmer's markets and local growers for ingredients, the dishes made at Cookistan change seasonally. However, all the creations are broken down into three types of cuisine: Ottoman, Istanbul, and Anatolian. Though she loves all types, Aysin's favorite is Istanbul cuisine due to the freedom and creativity that can be achieved. "Istanbul cuisine is a lot of cold starters or appetizers," she explains, "you can substitute ingredients and play with them more."
According to Aysin, Ottoman cuisine recipes are very concrete, as they originated from palace kitchens dating back 500 years. On the opposite end of the spectrum, Anatolian cuisine is common among small, poorer villages throughout Turkey.
On this particular evening, the examples of Ottoman cuisine were Süleymaniye soup, featuring tiny red lentil meatballs, and a pumpkin dessert topped with walnuts and tahini sauce.
Aysin incorporated Istanbul cuisine through a side of cirkassian chicken, a cold, shredded chicken spread comparable to chicken salad made with yogurt, garlic, and an array of spices.
Anatolian cuisine was embraced via dried eggplant stuffed with meat, rice, and vegetables along with boreck, a thin pastry shell stuffed with meat and vegetables. Boreck is similar to a Turkish version of ravioli or even empanada. According to Aysin, it is one of the most popular items cooked in Turkish homes and is rarely ordered at restaurants.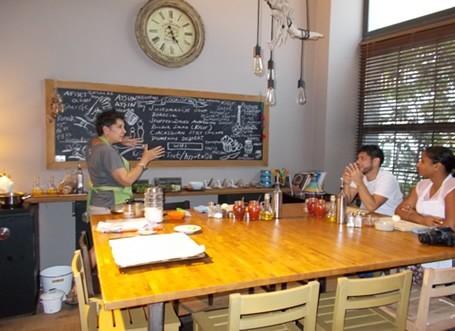 Aysin explains to students what they will be making and eating during the evening.
After all the dishes have been cooked, students are served their creations either inside or under moonlight on Aysin's relaxing patio.
A diverse selection of students have dined on her patio over the two years that Cookistan has been in business. "My youngest customer was 5 years old and my oldest was 89 years old," Aysin says.
"Students come from all over the world, mostly Australia, America and Europe. I also get some from far east countries."
In a global fast food climate where easy-to-create snacks are becoming more common than healthy and home cooked meals, Aysin has been pleasantly surprised by the number of young people wanting to learn to cook. "I never realized how many young people are interested in cooking international cuisine," Aysin said.
Despite Cookistan's success, Aysin currently has no solid plans to expand but has thought about opening a branch of Cookistan in South Turkey near the beach.
For more information on Cookistan or to book a class, please visit the Cookistan Facebook page.
Sarah Eyd is a 2015 graduate of Shippensburg University's communication/journalism program.