Vacation Home Rentals in Italy
Short- and Long-Term Rentals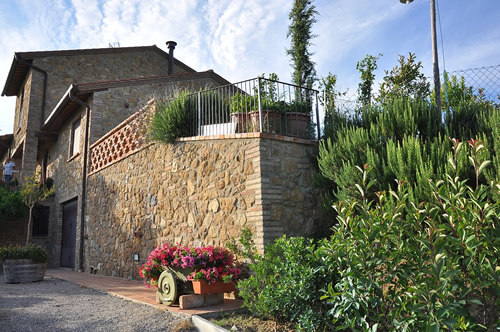 Country homes like this one in Italy are often rented to visitors year-round.
See information on staying in rentals and bed and breakfasts on megasites offering many Italian vacation rentals such as VRBO and Airbnb in our worldwide vacation rentals section.
Villa Nuba Charming Villa-Apartment Rentals for Short- or Long-Term Rental in Perugia, Umbria
Looking for a villa — short- or long-term holiday rental in the ancient green Umbria region in central Italy? Villa Nuba is the only villa rental in the countryside within 15 minutes walking distance to the medieval center and to the University of Perugia where foreigners can study Italian. Fully-furnished luxury apartments with access to a heated saltwater eco swimming pool, a beautiful garden, barbecue, cabanas, herb garden, safe playground, and parking. Each villa-apartment comes with a Jacuzzi bath, a fully equipped kitchen, a fireplace in the living room, a private patio, WiFi, and more. Some villas also have private panoramic terraces or an exclusive private spa room. Villa Nuba is the greatest place to stay in Perugia for romantic couples or families with children. The owners live in the main villa and are available to help their guests with all their needs while respecting their privacy.
Novosol Europe has a very large database of individual vacation rentals in Europe, with many in regions throughout Italy.
Summer in Italy offers villas on the Amalfi coast and across Italy, with a very good search interface.
To Tuscany Villas allows you to choose from 300 hand-picked villas, cottages and apartments with private or shared pools in Tuscany. You may check availability in real time and make a reservation online.
Tuscany Villas has available farmhouse, villa and apartments rentals in Tuscany, Italy for rent by the week. Over 2,500 accommodations. Luxury vacation villas and affordable family-style homes. Visit the website to view testimonials submitted by previous renters.