Roadtrip through Cambodia
Impressions of a Fascinating Country on the Mend
Article by Lies Ouwerkerk, Senior Contributing Editor
Photos by Christopher Bruder, Sofiya Chavdaroff, Wendy Lee, and Olivier Wullen
9/3/2017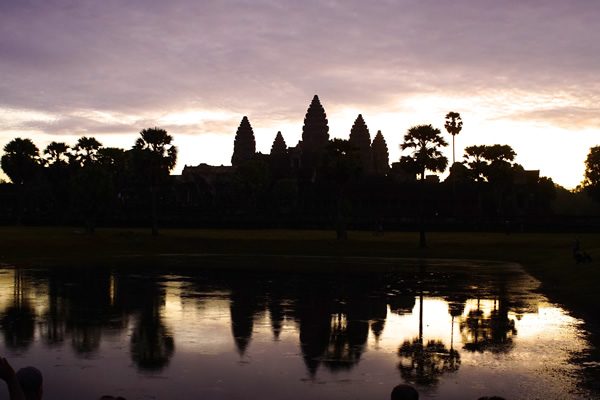 Angor Wat at sunrise.
Cambodia, heir to the ancient Khmer Empire, is a land of many facets. It boasts awe-inspiring heritage sites such as Angor Wat, the world's largest religious structure ever built. It offers impressive natural wonders like the Cardamom Mountains, a fresh water lake with floating villages, and massive rainforests with endangered animal species like tigers, sun bears, and leopards.
Cambodian traditions date back many centuries, such as the unique Apsara dances and funeral, fortune telling, and ancestor worshipping practices — combining Buddhist, Hindu, and animist beliefs. The influence of a nearly century-long French rule is still noticeable in Cambodia's colonial architecture, café's, and cuisine.
Warm temperatures can be enjoyed year-round (NB: rainy season: May - October), and beautiful coastlines with pristine yellow sand beaches and authentic seafood shacks, offering the best ever amok steamed in banana leaves, make you feel you are in paradise if you just avoid tacky Sihanoukville.
However, there is also another side of Cambodia, shaped by an extremely turbulent history, including a civil war from 1967 to 1975, a murderous Khmer Rouge rule from 1975-1979, a conflict-ridden Vietnamese control from 1979 to 1989, followed by a few years of much-disputed UN presence and spread of HIV. Tremendous amounts of lives have been lost over the past half century, decimating Cambodia's population by at least one quarter.
A new, still-healing Cambodia is now operating under a "constitutional monarchy," is hoping for a brighter future. The optimistic determination must content with an estimated 5 million landmines still lying around, a 26% illiteracy rate, a still inadequate educational system, 13.5% of the population living below the poverty line, corruption in nearly every sector of public life, and extremely poor waste management systems all over the country.
And yet, I meet smiling, welcoming people everywhere along the way. They seem to take these less favorable realities in stride and want to forget about their recent past. Often of a younger generation that has learned to speak some English, they are employed by a government agency or in one of the numerous NGOs that are helping Cambodia to get on its feet again. They are people living in rural areas (most Cambodians still live from subsistence farming), earning some extra income with a food stand in the market or along the road. Or they have found a niche in the tourist business, one of Cambodia's fastest growing industries since the 1990's, together with the garment and construction sectors.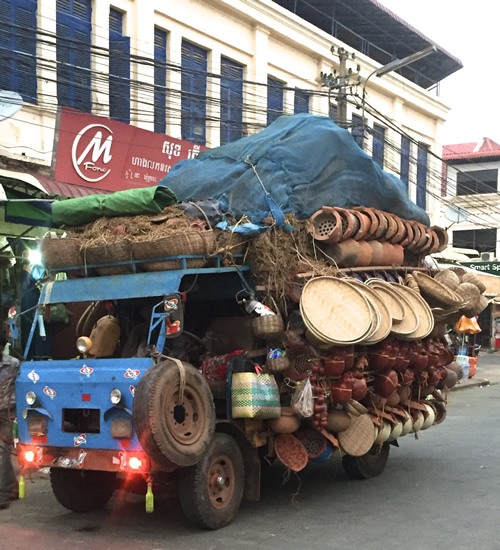 Vendors' vehicles packed to the brim are not an unusual sight in Cambodia's cities.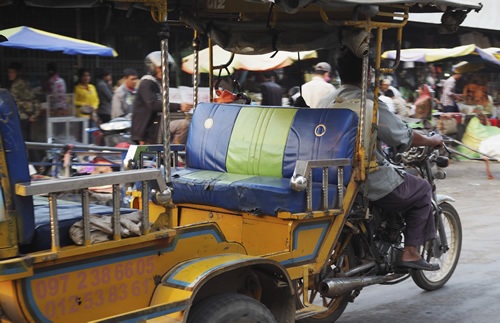 Tuk-tuk with the driver awaiting his next ride.
The Khmer Temples of Angkor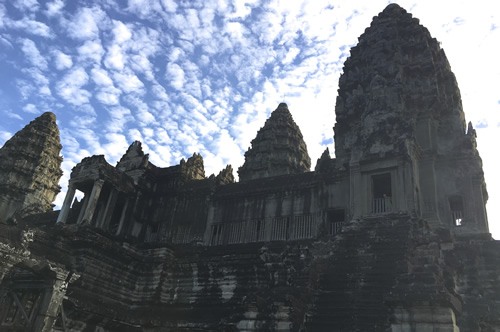 One view of the Angkor Wat temple complex.
The temples of Angkor are indisputably the major tourist draw to Cambodia and an absolute must on every traveler's itinerary.
Angkor was once a capital of the Khmer Empire — a powerful state covering what is today Cambodia, Thailand, Laos, and Southern Vietnam — and with a population of over one million people at its zenith, once the largest city in the world. Its name, meaning "temple city" refers to hundreds of temples in the area, which after the fall of the empire (15th century) fell prey to the jungle. It was only well into the 19th century that naturalists and archaeologists uncovered them again.
Of the many temple structures in the Angkor Archaeological Park — UNESCO World Heritage Site since 1992, including the ingenious system of water reservoirs and canals — Angkor Wat is the most magnificent and largest of them all. This temple complex was built in the 12th century under the reign of king Suryavarman II, a devout admirer of the god Vishnu, to whom it was dedicated.
With more than 2 million visitors a year, Angkor Wat is one of the most famous tourist sites in the world. So it comes as no surprise that it is rush hour at 5 am in Siem Reap, the closest city, with buses and tuk-tuks filled with visitors streaming out of town towards the park. Standing amid a crowd on the moat in front of the temple, with cameras clicking and flashlights flickering, I fear that this might be another overrated sunrise experience. But when the sky above the stone spires of the temple complex slowly turns pink and then mauve, it is a truly magical sight not to be missed.
The temple of Ta Prohm, commonly known as the "Tomb Raider" temple because its location was used as part of the movie set of the same name, is also high on my must-see list. Some impressive root formations of large trees winding their way over walls, towers, courtyards, and maze-like corridors remind us of the incredible power of the jungle.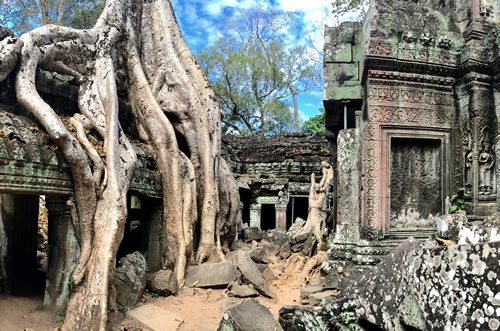 Temple of Ta Prohm, also known as "Tomb Raider Temple."
Bayon Temple, "the temple of many faces," originally a Buddhist temple built by a famous king of the early 13th century, but later altered according to the Hindu beliefs of his successors, is just a short distance from Angor Wat. Its most outstanding features are the many giant stone faces, coming in sets of four, which point in cardinal directions with their closed eyes and mysterious Mona Lisa-like smiles.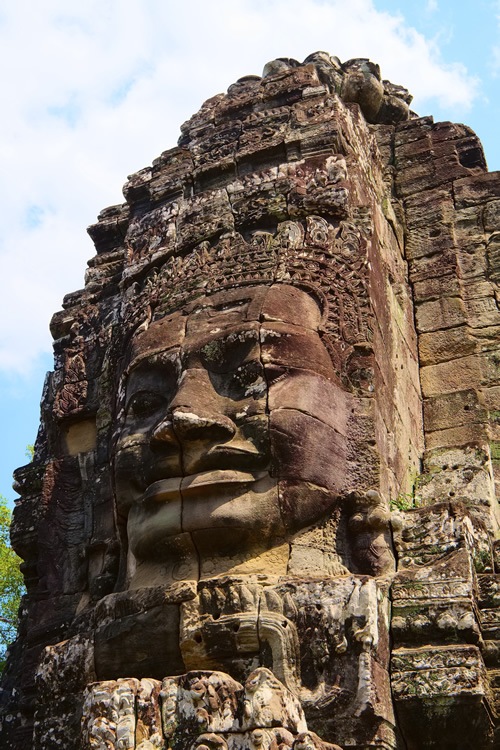 Bayon Temple or "temple of many faces."
Khmer Kickboxing
After a full day of culture at the Angkor temples, watching a live, televised kickboxing match is a great alternative. Khmer kickboxing has been popular for centuries in Cambodia, and many claim that this unarmed martial art and combat sport was invented in the country based on the bas-reliefs on the walls of Angkor Wat that depict the sport.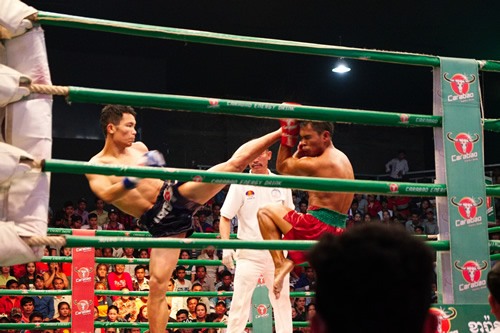 Khmer kickboxing match.
The arena is packed with locals, cheering, smoking, and betting, while an orchestra with flutes and drums plays hypnotizing traditional music. As paying visitors, we are taken to the VIP area with a great view of the ring, where talented local fighters and their Thai colleagues offer us five matches, preceded by a traditional prayer ritual. During the match intervals, Cambodian pop stars provide dazzling shows as entertainment, while the audience replenishes with local beer and snacks.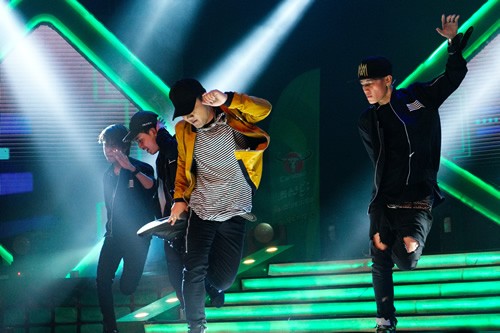 Pop entertainment at traditional kickboxing match.
Food
Insects, reptiles, and rodents, traditionally eaten as sources of protein, but for pure survival during the Khmer Rouge years when people were reduced to eating practically anything they could find, are nowadays very popular snacks. What about a portion of deep-fried scorpions, pan-fried locusts in sweetened soya sauce, grilled rat brochettes, sautéed cockroaches, termite-egg or bat soup, snakeskin chips, or crunchy, garlicky grasshoppers? Tarantulas are considered an absolute delicacy, especially accompanied by a local beer, or rice and palm wine. They don't come cheap, though, and are generally reserved for special occasions.
Crunchy cochroaches are a source of protein and now a popular snack born out of need from the Khmer Rouge years.
Preparation of the crawlies is simple: they are typically soaked in a water-based mixture of seasonings before being thrown in boiling oil in a wok for a minute or so, to make them crispy on the outside and keep them soft on the inside. Many foreigners pose for a picture at one of the many road or market stalls that sell the creatures, but for a more fear-factor challenge, you can also learn how to cook and savor them at Backstreet Academy in Siem Reap.
Rice is the principal staple of the Cambodian diet — eaten at least twice a day, and accounting for almost two-thirds of the calories consumed by Cambodia's population — and noodles are eaten as well.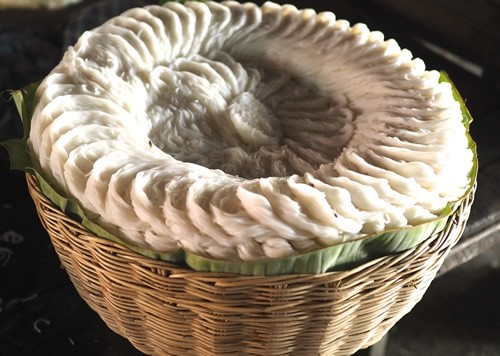 Basket with sticky rice noodles.
Rice is cultivated using different techniques (slash and burn farming in the mountains, bundled rice farming in the lower regions, and water retreat and floating rice farming around the Mekong River and lakes). Although rice is sometimes (illegally) imported from neighboring countries such as Myanmar and Vietnam, Cambodia is also among the world's top 10 rice exporters.
Many Cambodian dishes are flavored with prahok, a pungent, fermented fish paste, as well as with hot peppers, lemon grass, and ginger — supplemented by vegetables and fruits, which grow abundantly throughout the country. Among the locally consumed fruits are papayas, guavas, lychees, pomelos, durian, jackfruit, bananas, coconut, and mangos.
Jackfruit is a favorite.
In the Kep area, we visit Sothy's Pepper Farm, where it is demonstrated how Kampot peppers — internationally known as one of the best peppers in the world — are produced according to traditional procedures, without any chemicals, insecticides or fertilizers.
Green pepper is still young on the vine when harvested, while red pepper needs to fully mature first. By soaking red berries in water for a few days, white pepper will develop.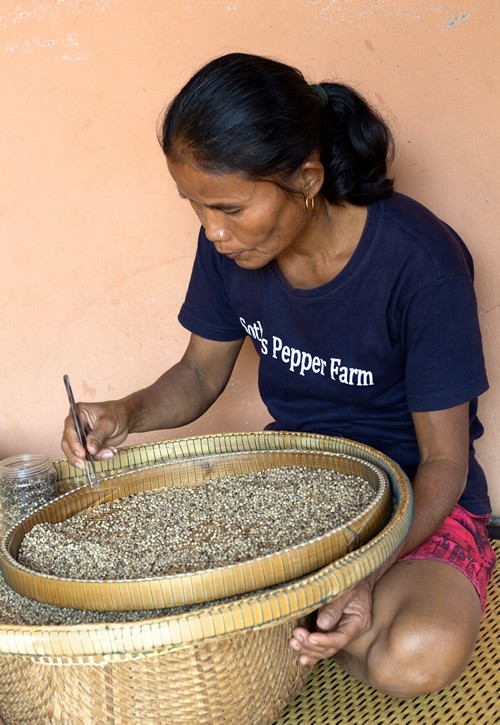 Woman selecting pepper corns at Kampot pepper farm.
The peppers can only be farmed in Kep and surroundings because of the special soil quality and climate.
The Mekong River and Tonle Sap Lake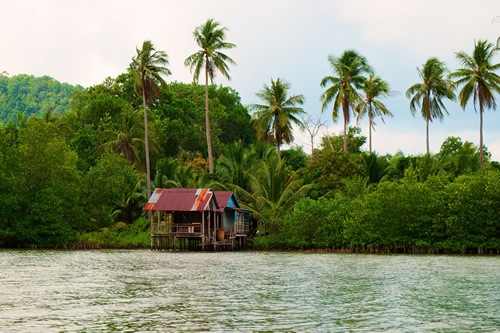 Along the mighty Mekong River.
Cambodia is both a fish-eating and fish-exporting nation. Among the many waterways in Cambodia, the Mekong River, running through Tibet, Myanmar, Laos, Cambodia, and Vietnam, plays not only a major role as a source of fisheries, but also of irrigation, transport, and hydropower generation. At Kampong Cham, we have a boat trip over the river to view the endangered Irrawaddy dolphins. Unfortunately, they are not of the jumping kind, so the event is a bit less spectacular than anticipated.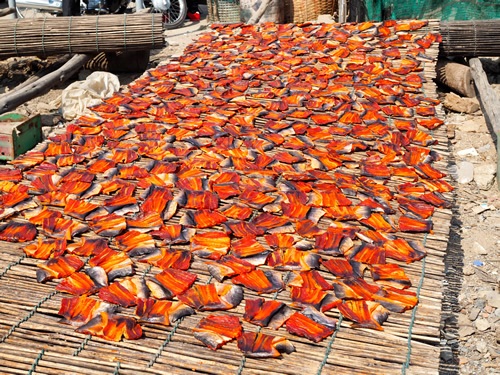 Fish drying on bamboo.
We also boat over the beautiful Tonlé Sap Lake, connected with the Mekong, Kong, and Tonlé Sap Rivers, and the largest freshwater lake in South East Asia. Fishing communities live in floating and stilted houses because of the tremendous change in surface area during the wet season.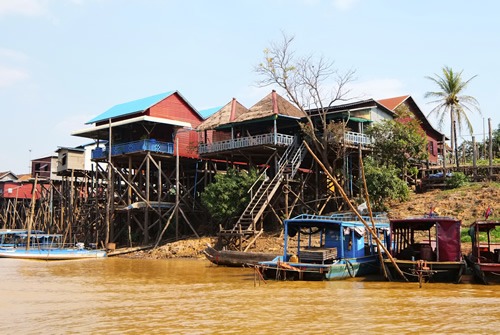 Houses on stilts at Tonle Sap Lake.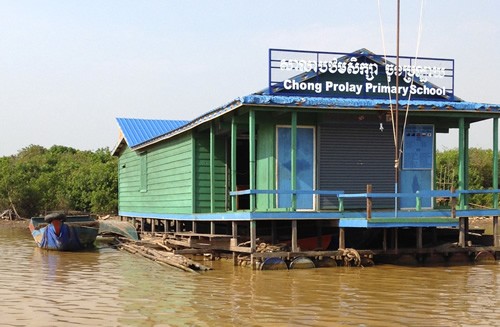 School on stilts at Tonle Sap Lake.
The Use of Bamboo
One thing that keeps grabbing my attention is the use of bamboo in so many areas of daily life. Bamboo grows abundantly in most parts of the country, sometimes up to a few feet per day. While deforestation, now illegal, is a still a problem in Cambodia, bamboo re-grows without having to be replanted after harvesting.
For some communities, bamboo shoots are a daily staple, containing many nutritious elements. Sticky rice is steamed in bamboo tubes, and bamboo racks are used for drying salted fish and rice paper in the sun. Houses are built of bamboo poles, and so are floors, fences, mats, kitchen utensils, baskets, storage pots, rafts, and scaffolding. Even bamboo waste has a function, as it is commonly used to stir up a fire.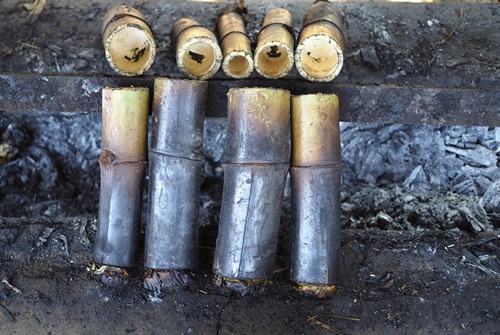 Steaming sticky rice, seasoned with black bean sauce and coconut milk, in pieces of bamboo poles.
Close to Battambang, we ride on a "bamboo train," also called a norry, over a single track constructed in 1927 by the French government. It is a simple vehicle with a frame of steel and wood, covered with light bamboo slats, equipped with a boat motor and wheels of war tanks left in the field. The unique trains are used to transport people, livestock, rice, bicycles, and bricks. When two trains going in opposite directions meet, the one with the least heavy load is quickly disassembled, so that the other one can pass.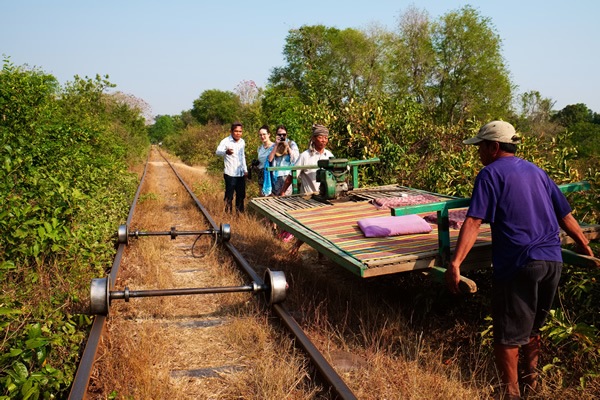 Bamboo train at Battambang.
Around Kampong Cham, we enjoy a bike ride along the pretty villages of Ko Paen Island with its shady lanes full of bougainvillea and fruit trees. The scenic island is connected to the mainland by a nearly 1-kilometer-long bridge composed of bamboo poles and slats that keep rattling alarmingly while we ride over it. The impressive bridge can also hold motorbikes and cars, the largest of its kind in the world, and is rebuilt every year after it has disappeared in the floods of the rainy season.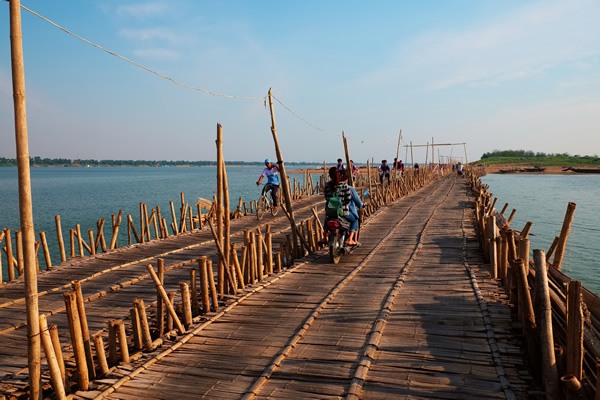 Bamboo bridge at Kampong Cham.
Genocide Tributes
Touring mass graves and sites of torture like the Killing Fields of Choeung Ek and the Tuol Sieng Prison are probably not on everyone's travel list, but a visit to these places is, although very distressing, essential to understand Cambodia. Here, and at other killing fields spread over the country, there is a lot to learn about the ruthless atrocities of the Khmer Rouge during their rule from '75 to '79, and the radical ideology of rural utopia and social reforms by their architect Pol Pot.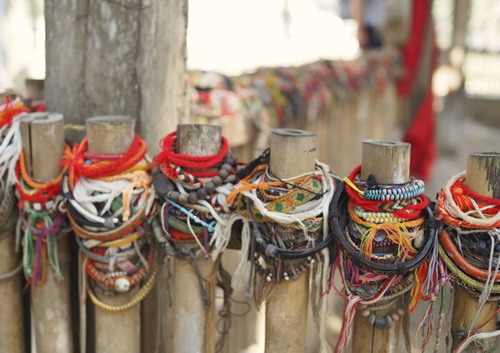 Bracelets left at a memorial at the Killing Fields of Choeung Ek, as tribute to the many victims of the brutal regime.
NGOs in Cambodia
There are currently over 3,500 registered NGOs in Cambodia, the second highest number per capita in the world after Rwanda. Whether local or international, for profit or not, each NGO touches upon social issues like the environment, human rights, education, poverty, and human trafficking.
Eating at developing restaurants to sample local cuisine, shopping for handmade products in social businesses, enjoying a massage or pedicure in a training beauty salon, or attending a breathtaking show of "Phare Circus," are just a few of the many ways to contribute to the future of Cambodia and help youth from marginal backgrounds to become productive members of a society on the mend.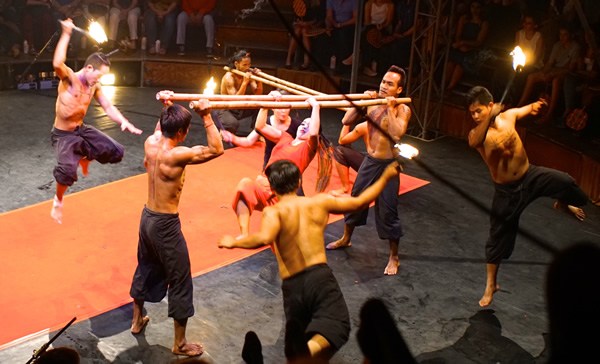 Phare show in Siem Raep: a circus with a social mission.
Additional Trip Notes
This 14-day guided Bangkok — Sihanoukville road trip (Ultimate Cambodian Adventure), organized by Gadventures, www.gadventures.com, costs $1166 US, including a flight back to Bangkok.
Reliable local guides: Koung Thol in Kompong Cham: koungthol34@gmail.com, tel. (855) 092 840 924 and Sambath in Battambang: sambath_9@yahoo.com, tel. (855) 012 639 350. They can also provide homestays and meals at locals' homes.
Tarantula cooking classes at Backstreet Academy. This social-impact company also offers 77 other unique things to do in Siem Reap, including net fishing with local fishermen and rice farming homestays.
Some worthwhile causes: friends-international.org, thinkchildsafe.org, www.daughtersofcambodia.org, and pharecircus.org.
The U.S. dollar is the de facto currency in Cambodia, but it is also wise to carry around some Cambodian riel.
Lies Ouwerkerk is originally from Amsterdam, The Netherlands, and currently lives in Montreal, Canada. Previously a columnist for The Sherbrooke Record, she is presently a freelance writer and photographer for various travel magazines.