Embracing Ancient Greek Traditions in Poros and the Peloponnese
Article and photos by Lies Ouwerkerk
Senior Contributing Editor
2/4/2018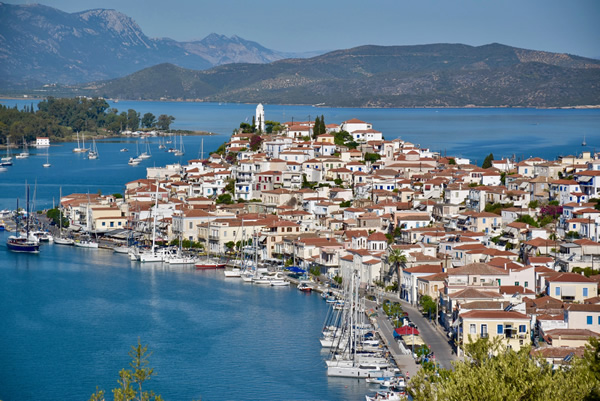 Poros panorama.
In the month of September, when most tourists have already returned home but the Greek sun is still generous enough to warm body and soul, I am invited by a friend to spend a couple of weeks on the tiny Greek island of Poros in the Saronic Gulf — about an hour per hydrofoil away from Piraeus, Athens' port.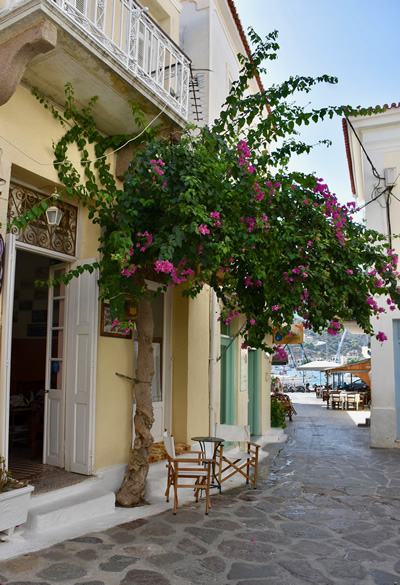 A typical street in Poros.
From the moment we meet Vangelis Papathimiopoulos, and hear him passionately talk about the various traditions of the region, we know we will be in for a treat by joining him in a whirlwind of workshops, hikes, boat tours, trips to old temples, monasteries, wineries, pastry shops, taverns, and encounters with most interesting locals, all knowledgeable about a particular Greek tradition.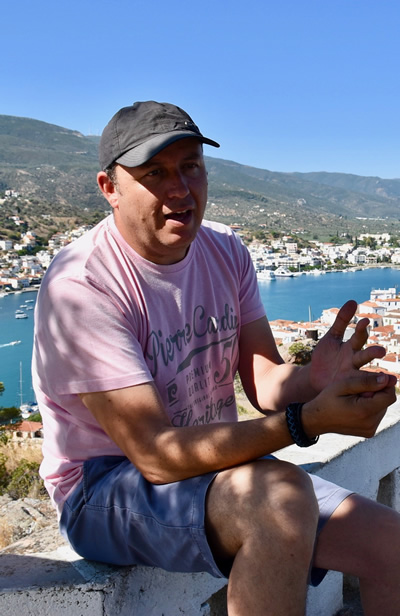 Vangelis Papathimiopoulos.
Traditional Weaving
Take Eleni, Vangelis' wife, for instance, who was already weaving as a child, and convinced her parents to use her dowry towards a much-desired traditional loom, made by one of the only two people in Greece who reconcile the art of woodworking and weaving in one person.
Passionate about the tradition of spinning and weaving, and acutely aware that this art is in danger of disappearing, Eleni decided to set up shop in Poros and specialize in centuries-old weaving patterns she uses for rugs and fabrics. Behind her atelier window in one of the picturesque narrow streets running through Poros Town, you can often watch her working on two vertical looms, one with a width of 85 cm, the other one 1.20 cm wide.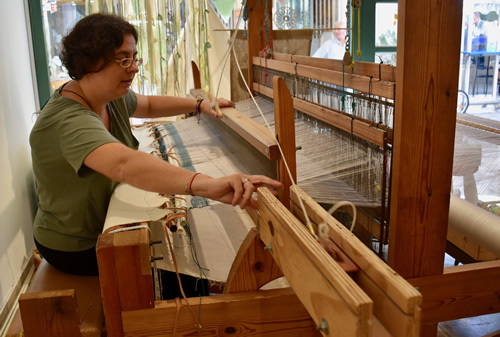 Eleni Pavlou in her weaving workshop "Argani."
In Mycenaean culture, weaving was largely an occupation of upper-class women. The craft is already mentioned in the "Odyssey," Homer's epic poem, written in the 8th century BC: Penelope, the wife of the King of Attica, Odysseus, announces she will not marry any of her suitors before a cloak she is weaving on her loom for her father-in-law is finished — secretly undoing at night what she has woven during the day, in the hope she can win time and live the day Odysseus will finally return from the Trojan War.
Not woven but braided, are the March bracelets (martis) Eleni makes. The bracelets are made of white and red twisted threads, and according to an old tradition dating back to ancient Greece, worn by young girls from the 1st until the 31st of March, to mark the beginning of spring. On the 1st of April, the girls hang their bracelets on a tree or plant, to keep them happy for the remainder of the season.
Origin of the Olive Tree
Alternatively, take agronomist George Kostelenos, whom we visit at his "Kostelenos olive nurseries" on the Peloponnese peninsula, opposite Poros. Born in a farming family from Galatas, George has dedicated his life to the production of olive propagation material, and the collection of an impressive amount of local olive varieties since the mid-nineties.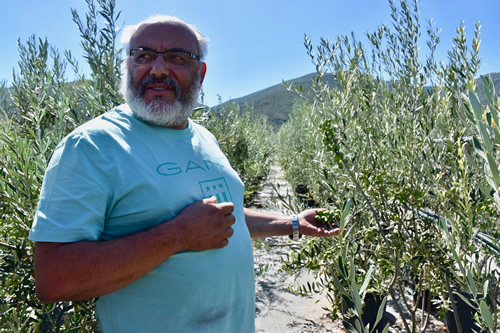 George Kostelenos at his olive nursery.
Having done extensive research on olive trees — their origin, and their development from wild olive trees to domesticated and cultivated ones — George has become a strong supporter of the theory that Greece can be regarded, if not as the birthplace of the first olive tree, then at least as the primordial place of domestication and evolution of olive cultivation. It was from Greece that the domesticated olive tree expanded all around the Mediterranean, and from there to the rest of the world.
According to George, this theory is also supported by various archeological findings in Greece such as thousands of years old olive pits, and the discovery of a multi-trunk pre-Minoan olive tree in Naxos, possibly the oldest living olive tree in the world with a diameter of over 10 meters. That tree is also of the only known olive variety able to produce — in natural conditions — edible fruits without any processing. And edible fruits were precisely the purpose for which the wild olive tree was originally domesticated and cultivated.
With over 5,000 years of history in olive cultivation, it is not surprising that some information on olive trees has also been preserved in ancient Greek literature in the form of legends. For instance, when the Greek hero and half-god Hercules returns home from one of his labors, he brings with him a wild olive tree that he plants in Olympia. And it was supposedly from this first olive tree that the wreaths offered to the winners of Olympiads were created.
Traditional Food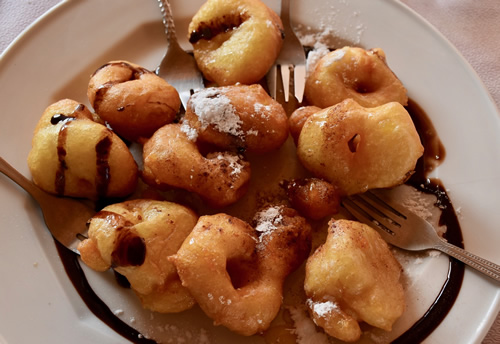 Loukoumades, a traditional dessert fritter whose origin can be traced back to the first Olympic games in 776 BC!
Vangelis introduces us to a traditional dessert called loukoumades, which can be traced back to the first Olympic Games in 776 BC, when victors were awarded these sweet fritters. At a tavern in the harbor of the small fishing village of Vathi, we devour the delicious puff pastries, served warm, drenched in honey syrup and chocolate sauce, and sprinkled with sugar and cinnamon.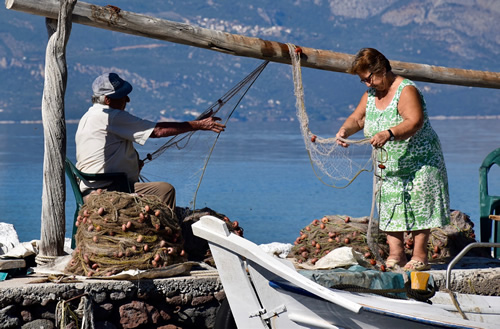 Scene from the small fishing village of Vathi, on the Methana peninsula.
Another centuries-old sweet pastry is baklava — layers of filo dough, filled with chopped nuts and held together with honey or syrup. The owners of patisserie Glykisma in Poros make them fresh each day, following a magic, secret, age-old family recipe, and display the baklava cut in the shape of squares, triangles, rectangles, or parallelograms on large trays in their store window. In Greece, baklava is often made with 33 dough layers, referring to the years of Christ's life.
Greeks and Turks both claim the origin of baklava. Turks argue that the word originates from Turkish, and deduce from there that the recipe must come from Turkey as well. Greeks, however, maintain that that does not prove anything, since, during the 400 years of Ottoman rule in Greece, Turkish was the language of the government, and a second language regularly used by many Greeks.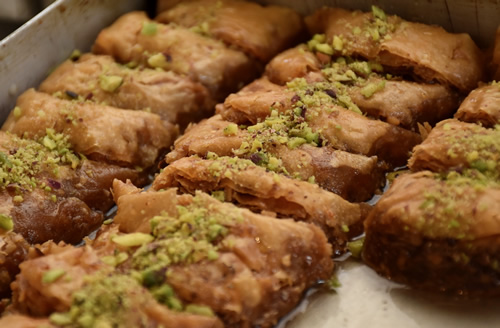 Baklava.
The word yogurt also has a Turkish root (yog meaning "condense" and referring to "thick milk"), but yogurt was probably discovered accidentally thousands of years ago by various societies in which herdsmen began to milk their animals. The milk was then stored in containers, where it fermented naturally with "good" bacteria to create the consistency of a soft gel.
We are invited by Dimitris Vlachos, the owner of "Vlachos pastry shop" in Galatas, to an impromptu get-together set in an ancient lemon grove, called Lemonodasos. While enjoying their warm welcome, a glass of ouzo and accompanying Greek delicacies, Dimitris' 84-year old mother gives a demonstration of how she makes yogurt from fresh milk, the traditional way: heating the milk, adding bacterial culture, stirring gently, then letting the liquid cool off until it thickens.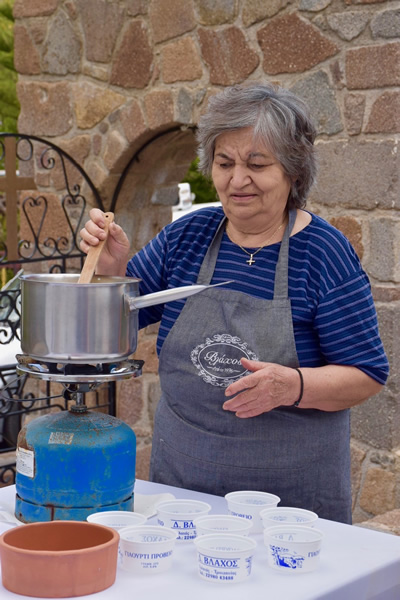 Mrs. Vlachos preparing yogurt from scratch.
When it comes to traditional Greek food, Poros native Katerina Sakelliou from Odyssey bistro in Askeli knows all about it. In her cozy restaurant kitchen, I attend one of her famous cooking classes, which she enlivens with historical anecdotes about food. Tzatziki, saganaki, psari plaki, and a "spoon sweet" of tomatoes and grapes are among the traditional dishes on her menu that day.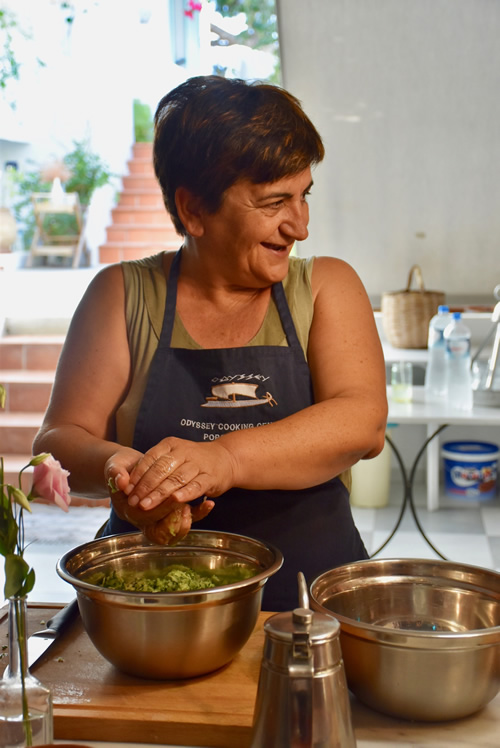 Katerina Sakelliou.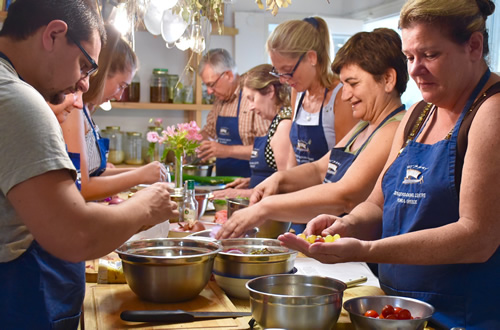 Cooking class at Odyssey bistro.
Tzatziki is made from Greek yogurt, mixed with cucumber, garlic, lemon, and mint, already a familiar combination in ancient Greece according to documents. Saganaki is a pan-seared Greek cheese and named after the small, two-handled, heavy-bottomed frying pan in which it is prepared. Psari plaki is a surprisingly simple, but tasty traditional dish of (firm) fish fillets, tomatoes, onions, sprinkled with oregano, and baked in the oven.
Offering one's guests generous homemade "spoon sweets" composed of fruits and nuts is another Greek custom dating back to Ancient Greece. There are ample references in early literature and cookbooks about fruits preserved in honey, whereas sugar was only added during the Ottoman Empire. Every Greek region or island has developed its particular variety of spoon sweets over the centuries.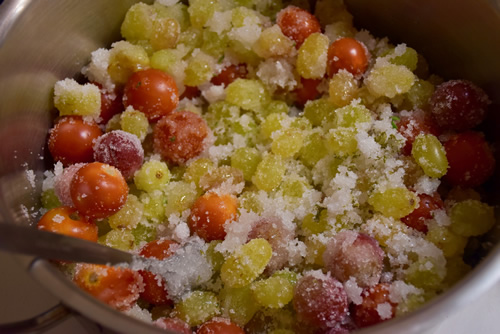 Mixture for "spoon sweets."
Wineries
Greece is one of the oldest wine-producing countries in the world, with evidence of processing crushed grapes and trading to other Mediterranean regions dating back to at least 5,000 years ago. In Greek mythology, Dionysus is the god of grape harvest, wine, pleasure, and madness. Wine is also frequently mentioned in Homer's Odyssey ("wine can of their wits the wise beguile, make the sage frolic, and the serious smile").
About a 2-hour drive from Poros is the ancient site of Nemea, where from the 6th to the 2nd century BC the Panhellenic Games used to be held in a big stadium at the site. Today, however, the region is better known as the most important winemaking area of the Peloponnese, producing mainly red wines from the native Agiorgitiko grape.
There are close to 50 wineries in the Nemea region, and most of them are open to visitors, although some only by appointment. With Vangelis as the designated driver, there is no barrier to include some wine tasting, and Nemea's wines don't disappoint. One morning, we tour the modern Domaine Skouras, one of the first wineries that brought French techniques to Greek wines, and have a most informative wine tasting afterward in their state-of-the-art facilities. In the afternoon, we head for famous Papaioannou, a family business established in the mid-19th century, with wines from their privately owned organic vineyards, spread over 57 hectares.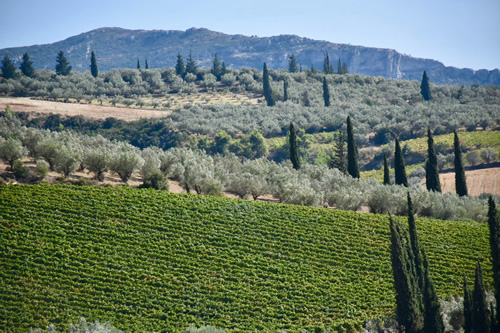 Nemea's vineyards.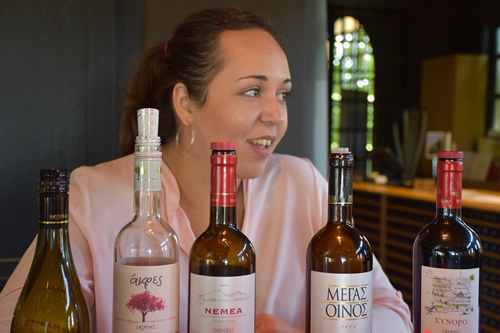 Wine tasting in Nemea.
Hiking in Poros
Vangelis also has some spectacular hikes in store. Firstly, there is a lovely path through lush pine trees along the summit of Poros' Sphairia Hill that leads to two little chapels built together where the Anorgyroi (penniless) saints and brothers Kosmas and Damian are venerated for their miracle healing practices. From there, the views of the harbors of Poros and Galatas are breathtaking.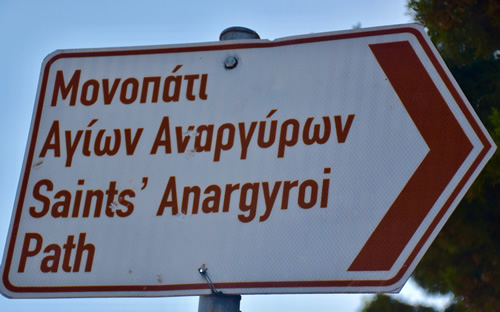 Signpost at Sphairia Hill, Poros.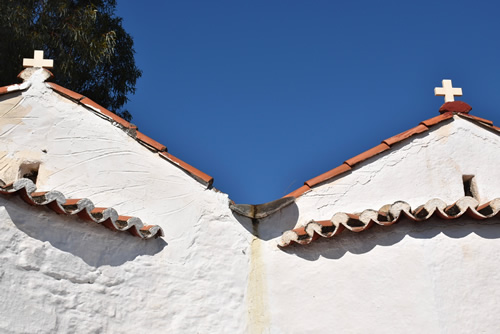 Twin chapels of the healing saints Kosmas and Damian.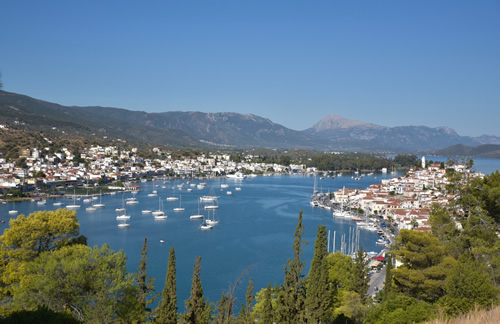 View over Poros, Galatas, and the Saronic Gulf seen from the twin chapels.
A longer hike leading to one of the highest points of the island brings us to the ancient ruins of the temple of Poseidon, the god of the sea. The place served as a sanctuary for fugitives and wrecked sailors, and according to legend, the famous Athens-born statesman and orator Demosthenes died here by poisoning himself instead of surrendering to his enemies. Not much of the sanctuary has remained after its marble stones were hacked out in the 18th century, and transported to neighboring Hydra for the construction of a monastery.
The beautiful island of Hydra, popular with artists, is a mere half-hour ferry crossing away from Poros. Several famous movies were shot here ("Boy on a Dolphin" with Sophia Loren, among others), and motorized vehicles are prohibited to keep the island "un-spoilt."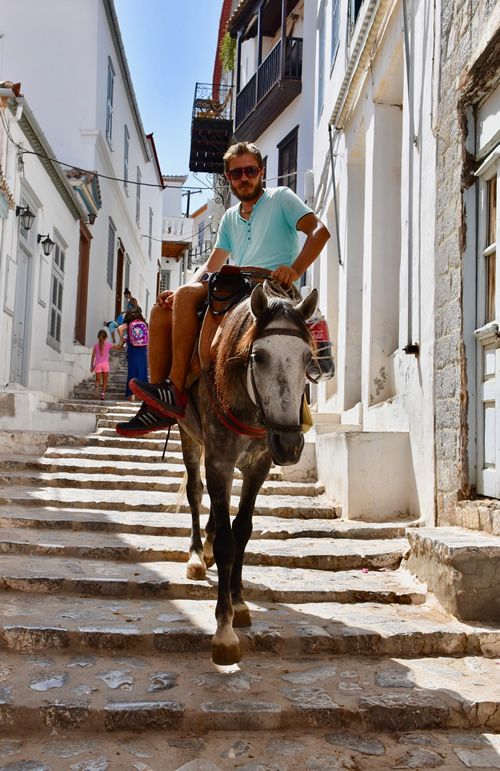 Motorized vehicles are not allowed in Hydra.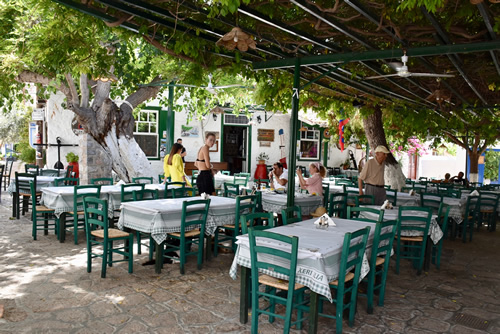 Vine-covered terrace of a restaurant in Hydra, frequented by the late Leonard Cohen.
Not many know that Hydra is also a largely undiscovered paradise for adventurous hikers. Beyond the narrow lanes and steep steps on the slopes surrounding the port, there are many ancient goat herders' paths crisscrossing the island along churches and monasteries, through meadows and pine forests, into fishing villages, small beaches, and swimming coves. NB: Although some paths are tree-covered, most are not, so bringing along enough water is essential!
Last, but not least, there are great hiking opportunities on the volcanic peninsula of Methana, originally an island, but now connected to the Peloponnese by a narrow isthmus, created thousands of years ago during one of the many volcanic eruptions there.
Close to the tiny village of Kaimeni Chora is a hiking path with beautiful vistas, which leads along huge piles of boulders, lava stones, rocks, and pine trees, to one of the 32 craters in the area.
Volcanic rock along the hiking trail in Methana.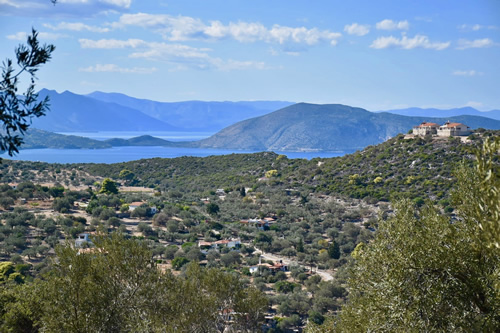 View from the trail in Methana.
Just outside the village is a traditional tavern called Oinotherapeftirio, where owner Theodoros happily pours us a glass of his homemade wine on the terrace covered with flowers and grapevines. Close to the tavern is a small open-air theatre that Theodoros built himself for theatre and music performances during the summer.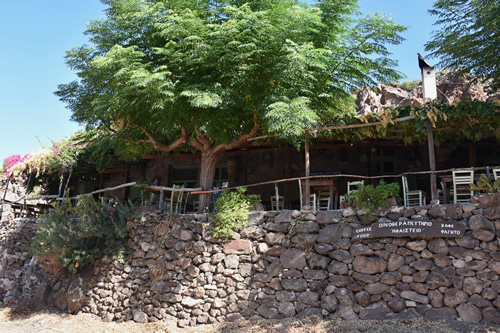 Traditional tavern in Kaimeni Chora, Methana.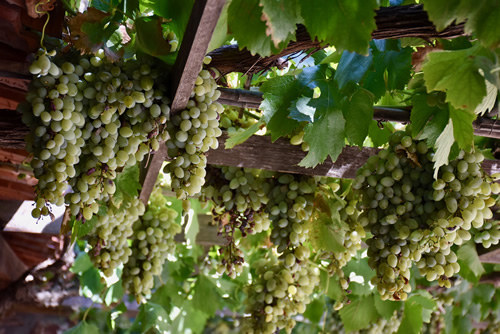 Grapes cover the trellis above the terrace.
Greek Hospitality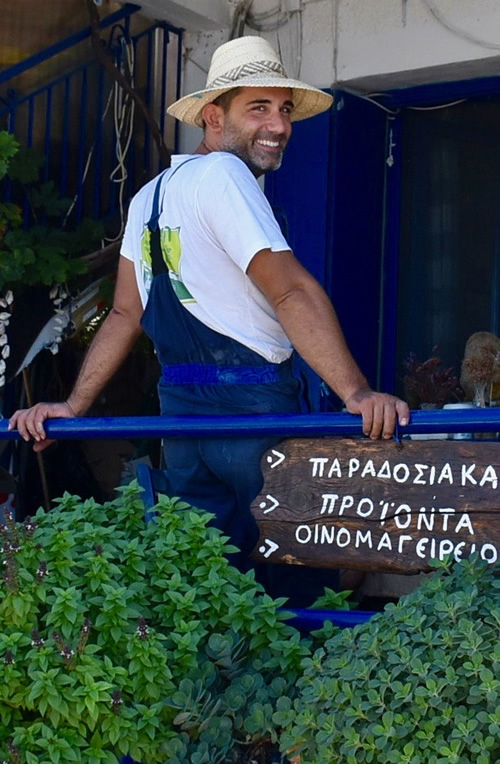 Ilias, one of the local volunteers who regularly clear the hiking trails around the Methana volcano.
Everywhere, we are met with incredible generosity and hospitality. The ancient concept of Greek hospitality and courtesy offered up to those who come from afar is called xenia, and it is one of the major themes in the Odyssey. Good xenia is rewarded (the swineherd Eumaeus provides Odysseus, dressed as a wandering beggar upon his return from Troy, with food, drink, and shelter; his life is consequently spared when Odysseus slaughters his servants who had turned against him), but bad xenia can incur the wraths of the gods.
When I consult a doctor in Poros about a nagging flu, that xenia is echoed again. When I ask him for the bill in the end of a thorough examination, he is visibly embarrassed, and not knowing what to say, he turns to Vangelis — the epitome of xenia himself — with the question "do you really think I should charge her?"
Lies Ouwerkerk is originally from Amsterdam, The Netherlands, and currently lives in Montreal, Canada. Previously a columnist for The Sherbrooke Record, she is presently a freelance writer and photographer for various travel magazines.