The Paradox that is Kolkata
"'Dying City" or "City of Joy?"
Article and photos by Lies Ouwerkerk
Senior Contributing Editor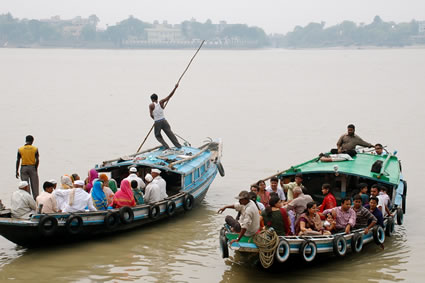 Ferries between Belur Math and Dakshineswar Kali, a few miles north of busy Kolkata.
I did not deliberately choose Kolkata. It rather chose me.
Whatever I had read or seen about the city had never prompted me to mark it on my travel map. Writers such as Gunther Grass and V.S. Naipaul called it "a city without a future," and Bombay-born Rudyard Kipling referred to it as "The City of Dreadful Night." Rajiv Gandhi once said that it had become a "dying city" after the economic relapse of this once celebrated industrial and cultural center of India. And the description of life in the slums of "The City of Joy" by Dominique LaPierre, later depicted in the famous film adaptation of Roland Joffé, as well accounts of Mother Teresa's life and work amidst the city's most destitute had further contributed to the desperate image I had of this West Bengal capital.
Nevertheless, of all places, Kolkata (called Calcutta until 2001) became my travel hub four times in a row in one year, when visiting Bhutan, Sikkim, Orissa, and Myanmar. Since there were never connecting flights at the hours I arrived, I found myself repeatedly wandering through this once second largest city of the British Empire, asking myself: "does this feel like a dying city or a city of joy?"
Sensory Overload
From the moment I arrived at the small and somewhat dingy international airport, I was surrounded by noise, dirt, and chaos: littered streets and sidewalks cluttered with shops, hawkers, and beggars, dilapidated buildings with paint peeling off everywhere, and nightmarish traffic moving in multi-directional streams in which crowds of pedestrians and man-powered rickshaws adroitly tried to avoid rickety buses, colorfully decorated trucks, and yellow Ambassador cabs hooting at every obstacle.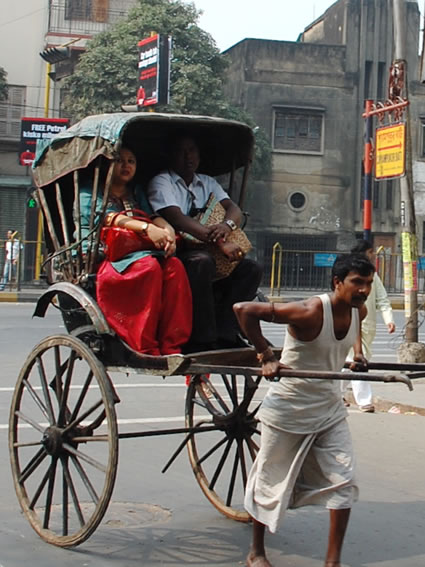 Kolkata is still the only city with man-powered rickshaws.
"If you wish, I can show you some really beautiful places" suggested my driver apologetically, and promptly maneuvered me along the main tourist staples of downtown Kolkata, all legacies left by the British: Victoria Memorial, St. Paul's Cathedral, Dalhousie Square, Park Street, Sudder Street, Howrah bridge, and even cricket fields. During our stroll over Hogg Market, a string of aggressively hissing vendors soon followed us, trying to strike deals with my driver behind my back before I even could have set eyes on whatever they wanted to sell.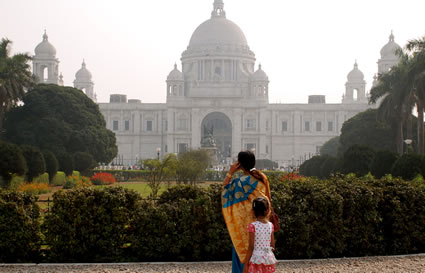 A view of the Victoria Memorial.
Charming and cozy hotel Bodhi Tree was the perfect antidote to all the hectic mayhem. Located in a quiet street of a south Kolkata neighborhood, the hotel has a very friendly and welcoming staff, and is tastefully decorated with Bengali art, artifacts, flowers, and little fountains. It also offered simple, tasty, and affordable meals, and best of all, it was at walking distance from the Mother Teresa House for the Dying, and Kalighat Kali Temple—one of West Bengal's major pilgrim sites.
Kalighat Kali Temple
That proximity allowed me to visit Kalighat Kali Temple the next morning, before returning to the airport. It happened to be a Saturday, one of the special days for worship, so hundreds of pilgrims and other visitors had already flocked to this surreal location, where centuries-old ceremonial rites and deep reverence go hand in hand with unlawful, bloody animal slaughter and skillful scam artistry.
Already at the busy thoroughfare Shyam Prasad Mukherjee, touts had started to approach me, and once closer to the complex, I was accosted by dozens of hawker "priests," offering me their services (i.e. helping me to bypass the long lines and giving me an explanatory tour) in exchange for "whatever you can afford to donate, mam".
Examining the immense crowd, I gave in to the best English speaker among them and entered the temple, where I was requested to tread the utterly dirty floors barefooted. Hordes of devotees pushed and pulled to get the best views of the various shrines; goats were beheaded for offering, with worshippers praying at the chopping blocks; moaning and whispering women received blessings for conception and childbearing at the image of goddess Manasa; and everyone shoved frantically to catch a glimpse of the dark, 3-eyed goddess Kali—the mother goddess with whom many Hindi have a deep bond in spite of her ferocious appearance—and receive the tilaka, a red-orange dot on the forehead symbolizing the third eye.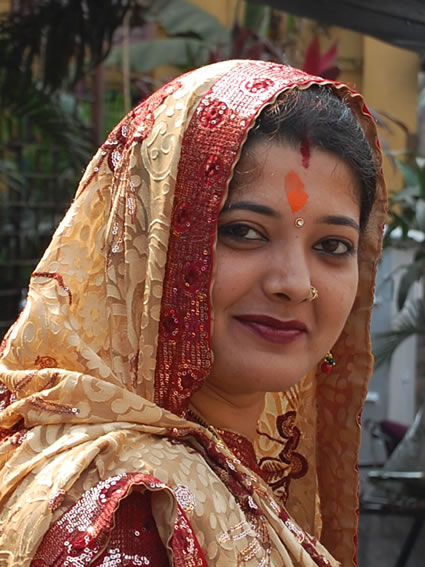 A newly-wed after receiving the tilaka and blessings for conception.
During this approximately 15 minutes lasting madhouse tour, rupees were demanded at every step of the way: for buying offerings, for keeping an eye on my shoes, for flowers, for sacred threads strung around my wrist, for a "policeman" letting us inside the temple, for receiving the priest's blessings, for the maintenance of the temple (at which point an impressive book was shown in which astronomical amounts and their generous donors were documented), and last but not least for the "priest" himself, who became quite outraged by my final contribution.
Calcutta Walks
It was the beginning of February when I returned to Kolkata, and the city was brimming with excitement over the upcoming Saraswati Puja, the yearly festival of the goddess of knowledge and the arts. Rickshaws with images of the goddess—a veena (ancient string instrument) in one hand, a book in the other, and a swan as symbol of wisdom at her feet—were cycling through the crowded streets on their way to various schools, shrines, and other places where art contests, offerings, or ceremonies would be held. This time, just back from quiet Myanmar, I was more ready to spend the night downtown and become part of the inner city's frenzy. So I checked in at Hotel Dee Empresa, conveniently located near Park Street Metro and signed up for a city walk through the Sovabazar area next morning, organized by Calcutta Walks, a company that boasts that it can show you the city's most interesting off-the-beaten-path places you would not easily discover on your own.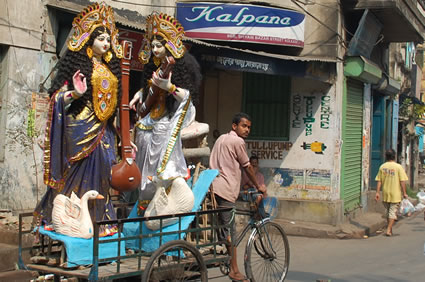 Saraswati goddesses transported by tricycle.
A small group of about eight people, foreigners and natives alike, met at the exit of a metro station with Ifte, the "brain" behind this most original company. With obvious enthusiasm, he walked us through the narrow, twisted alleyways of typically Bengali Sovabazar, explaining its history under British rule, and the impressive blend of architectural forms that made up the dwellings of the wealthier Bengali's of yesteryear. It was also the place to see authentic Bengali life in action: people bathing themselves at street water pumps, barbers practicing on the sidewalks, worshippers at ancient Bengali Hindu temples, street vendors with chapattis and sugar cane, and locals getting together at their neighborhood hangouts.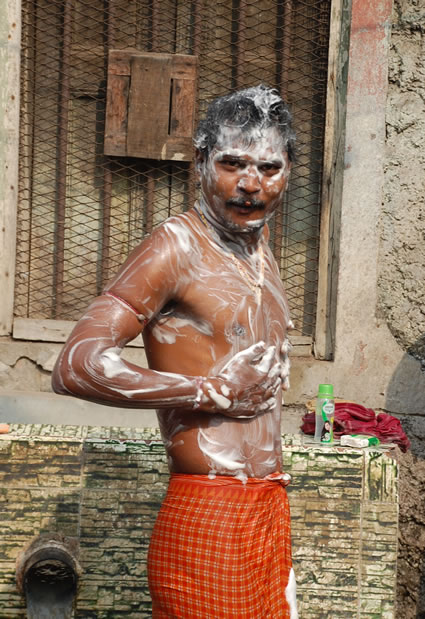 Bathing in the street.
We learned about Ramdulal Deb, the first millionaire of Bengal who did roaring business with American ships coming to India, and his spendthrift sons in whose name the heritage building Chatu Babu Lattu Babu Thakurbari is now known. The tour also took us to Sovabazar Rajbari, a famous palatial dwelling where West Bengal's grand autumn festival Durga Puja started its yearly tradition in 1757 after Lord Clive, then chief officer of the British East India Company, had won a decisive battle. To satisfy our sweet tooth, the tour ended at Chittaranjan Sweet Shop on Shyambazar Street, where we enjoyed their famous mishit doi, a curd sweetened with caramelized sugar.
Calcutta Walks is dedicated to the notion of pro-Kolkata, eco-friendly tourism and makes a point of patronizing locally produced goods over the course of its walking tours. Other activities organized by this creative company are home stays, Bengali cooking classes, river cruises, Sunday city tours on bike, graveyard tours, and trips to Santiniketan, Tagore's Utopia, with visits to the open air university and homes of people who gave up their everyday life to become part of this "abode of peace."
Kolkata Heating Up
Returning from Bhutan and en route home, I had again some time to spare in Kolkata. By then it was late March, and not only were temperatures soaring, but the city had also fallen prey to the fever of upcoming state elections, judging by the fluttering banners, loud processions, tricycles equipped with microphones blaring political messages into the streets, and tramways changed into polling stations due to the sheer lack of any other space to cast one's vote.
In desperate need of some breeze, I settled into eco-friendly Floatel, a marine vessel turned hotel, permanently moored at Kolkata's downtown jetty, on the edge of the river Hooghly close to the Vidyasagar Setu Bridge, the look-alike of Golden Gate. The Hooghly is a tributary of the sacred Ganga, in which ashes are being scattered of the many people cremated at the adjacent burning ghats. Nevertheless, people also come there to bathe, to do their laundry, or to go fishing. Nearby is also the colorful Malik Ghat flower market with its frenetic activities, still flourishing after more than a century, as flowers remain a most essential part of festivals, temple rituals, and regular offerings.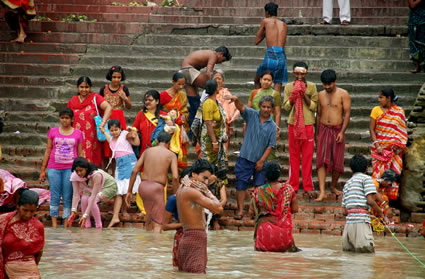 Bathing ghat along the Hooghly river.
Belur Math and Dakshineswar Kali
To get a fuller picture of Bengal's spiritual heritage and architectural splendor, I ventured some 10 km (6 miles) north of Kolkata, where on the banks of the river Hooghly, two extraordinary religious complexes are located.
Belur Math is the headquarters of the Ramakrihsna Mission and was founded to celebrate the diversity of all Indian religions, reflected in the confluence of its various architectural styles: the main building resembles a temple, a mosque, or a church depending on the different positions from which you see it.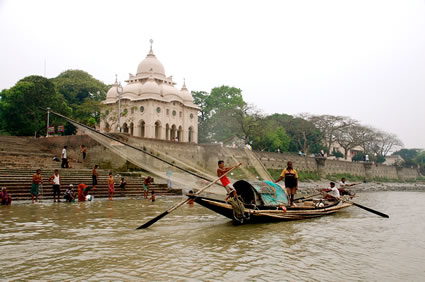 Belur Math.
From there, I took a relaxing ferry ride to the Dakshineswar Kali temple further upstream, with excellent views of the typical bathing ghats we passed.
The Dakshineswar Kali temple compound is also associated with the mystic Ramakrishna, a fervent Kali devotee, who received a divine message to erect a temple here in the 1850's. The main construction is built in the traditional Bengali nine-spires-style, while the idol of goddess Kali, standing on the chest of a lying Shiva (Kali's companion) is housed in the "sanctum sanctorum" of the complex.
At night, while sipping a cool drink on the upper deck of Floatel to commemorate my last night in Asia, and watching the sun go down behind the Hooghly River, I posed myself the question again: "City of Joy" or "Dying City?" Considering all the poverty, dirt, and decay I had witnessed, I could not call this enigmatic city a "City of Joy." However, it certainly did not seem like a "Dying City" to me either, and I would happily give its vibrant, colorful, and diverse soul a rightful second chance.
Lies Ouwerkerk is originally from Amsterdam, The Netherlands, and currently lives in Montreal, Canada. Previously a columnist for The Sherbrooke Record, she is presently a freelance writer and photographer for various travel magazines.