How to Pick the Best Small Group Tour
Realistically Exploring the Pros and Cons of Three Sustainable Adventure Travel Organizations
By Stephanie Rachel Dyson
Resources updated 7/12/2023 by Transitions Abroad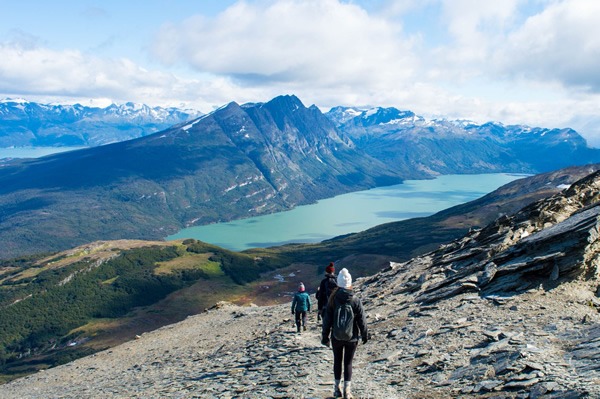 Trekking in Tierra del Fuego National Park at the "Ends of the Earth."
The landscape of travel has changed dramatically over the past few decades. With 25 million global international arrivals in 1950 to over 1.4 billion tourists in 2018, there have never been more people exploring the globe. (Travel is returning in the summer of 2023 to levels not seen since before the dip during the global Pandemic.)
Although it's still possible to book yourself on a large tour group, and the percentage of solo travelers continues to rise, if neither way to travel sounds exactly like your cup of tea, small group travel is a way to bridge the gap. Although it's never quite the same as solo backpacking, where you can slip unnoticed into new places and experience those moments of unadulterated proximity to a new culture, small group travel has its real merits. The best organizations, as described below, place a huge emphasis on sustainability in tours which contrasts with the actual practices of many generic large group tours.
From sharing a trip with a traveling family to being able to discover some of the globe's hardest-to-reach places, it is a very different experience than traveling alone.
The Pros of Small Group Travel
1. An Excellent Alternative to Traveling Solo
When I took my first small group travel tour (34-days in an overland trip through Patagonia), I was surprised by the mix of different travelers onboard. There were a large number of single men and women of all ages who had chosen the tour as a way of traveling by themselves — without actually being alone.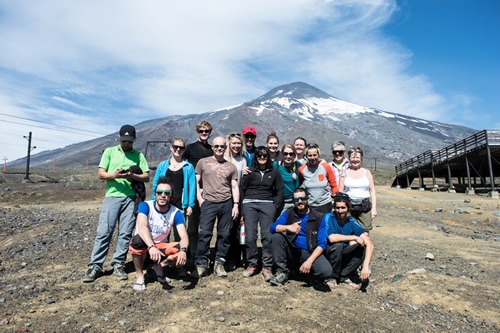 A team photo after scaling Volcano Villarrica, an active volcano accessible from Pucon in Chile
Small group tours are designed such that you can expect to find yourself as part of an already — established travel "family" from the moment you join. As a result, such tours are an excellent way to avoid the oft-cited single-traveler nightmare where you imagine that you will not meet other people while abroad.
In my experience, these tours often include people across the age spectrum. Many of the companies with whom I've spoken suggest that, on the whole, small group tours do tend to attract those in the 40 or 50+ age group — and this makes sense. In some parts of the world — such as South East Asia and South America, where traveling tends to take the form of a well-defined backpacking route stereotypically taken by younger generations—small group travel where you're likely to be around others of a similar age can certainly be appealing.
In my case, I enjoyed traveling in this way more due to the diversity of the people joining me. As R. M. Obrien points out, groups are best when they're around 12 in size: large enough to offer a varied selection of like-minded people offering interesting conversation en route and small enough to avoid overtaking restaurants, thereby acting as a barrier to immersion in a new destination.
2. A Viable Way to Explore Less-Accessible Locations
For people who tend to travel alone, like me, one of the main motivations for taking a tour is the accessibility that it can grant to places that are otherwise logistically impossible or prohibitively expensive to visit.
Remote communities and barely reachable natural landmarks are vastly easier to explore when part of a tour; if you're operating under strict timeframes, they can sometimes only be accessible by traveling as part of an organized group.
In places where renting a car alone is expensive, overland tours (using modified trucks) can help to reduce your costs and make possible experiences that you would never be able to have alone.
3. Explore Places That Would Otherwise Be Dangerous as a Single Traveler
Even the most intrepid of travelers might shy away from visiting destinations such as Iran and Mongolia or parts of Africa by themselves. Many female travelers think twice about traveling to certain countries in South America. One of the best features of small group travel is how a happy medium is nurtured between safe travel and access to adventure.
Also, as Lies Ouwerkerk writes on this site, small group travel can also be excellent for adventure activities. Hiking, cycling, and any activities requiring local knowledge or technical equipment is best attempted with others and particularly with a local guide. Small group travel can help to keep costs down for such adventurous activities as well since expenses associated with a tour are shared.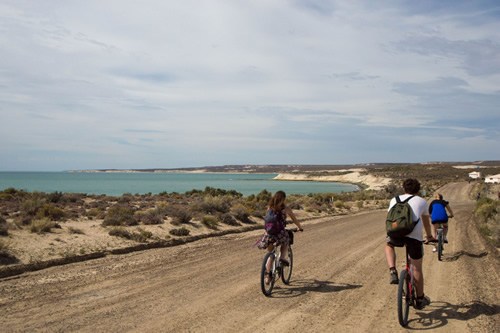 Cycling near Puerto Madryn in Argentine Patagonia.
4. Your Itinerary is Planned When You Book
Here is the aspect about group tours that most divides opinion: like a holiday package, itinerary planning, logistics, and booking have already been made for you. All you're required to do is pay and show up at the tour starting location. If you're someone with an open mind and happy to leave most of the decisions about your holiday in someone else's experienced hands, then this is ideal for you. If you're not, the arrangement might involve some sacrifices. However, depending upon the tour booked, you will be provided free time while visiting destinations, so you will still maintain some degree of control.
5. Help Reduce Your Environmental Footprint
With the growing demand for environmentally sustainable travel, an increasing number of group tour operators have sought to demonstrate their "green" credentials. In some cases, such expert operators can help you travel more responsibly than as a single traveler.
All of the companies I've spoken or traveled with are keen to promote their commitment to protecting the environment, so you often find that the tours advertise and run using "green" initiatives. Such programs might include providing all members with treated water as a way to reduce reliance on bottles or offering carbon offsets to your environmental impact.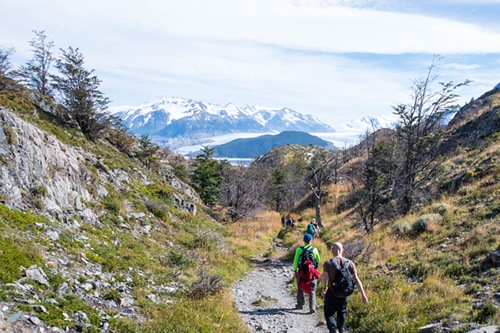 Trekking through Torres del Paine National Park, Chilean Patagonia's premier attraction.
The Cons of Small Group Travel
However, as someone who has experienced small group travel and independent backpacking, I'll be honest in saying that it's not for everyone.
1. Costs Can Be Significantly Higher than Solo Travel
Obviously, when you involve a company in your travel plans, costs are usually increased. In solo travel, your money goes directly to local accommodations, restaurants, and any in-country guides or tour operators you may choose. International tours need to pay for advertising, administration, and their guides at every stage, so a proportion of your money will go towards covering such costs.
2. No Itinerary Flexibility
If you want to be in charge of every moment of your journey, small group tours are not for you. You've signed up for a fixed itinerary and a certain number of days in each location; if you want to follow up a recommendation from another traveler about somewhere nearby that you should visit, forget about it.
3. Harder to Engage With Local Cultures
Although the idea of small group travel is to avoid the large, unwieldy, and impersonal groups you find on bigger tours, those containing 12 people are still enough to create a distance between you and the local people.
Already surrounded by other travelers, you may find that you have to make a far bigger effort to integrate with the local culture and people. Doing so is possible, but it's much easier to get comfortable in your group and miss out on the experiences you would have had as a single traveler.
Tips for Choosing and Taking a Small Group Tour
Depending on where and how you plan to travel, you may decide that small group travel is a good fit for you. If so, in my experience, the following considerations are important before you select the itinerary and the tour operator with whom you'll travel:
Find out how much time you will spend getting between each destination and how long you will be there. Tours range considerably regarding pace, and this can affect your enjoyment of the whole experience substantially. 

Note the average size and demographics of tour groups, information that can usually be found on the company's website.

Check out what's included in the initial payment. In some cases, you are paying to cover transport costs only and will be expected to come up with a lot more money for your in-country expenses – a surprise for some travelers who've not read the small print.

Read up on how the tours contribute towards sustainable, responsible tourism, including how they aim to minimize environmental impact. Companies advertising themselves as having a commitment to such goals should have at least a page on their website that explains their credentials and adherence. 

Consider, realistically, how long you want to spend on a tour. While often they are great introductions to new countries allowing you to see some normally inaccessible places, there's always room to see more of a destination on your own when your tour finishes.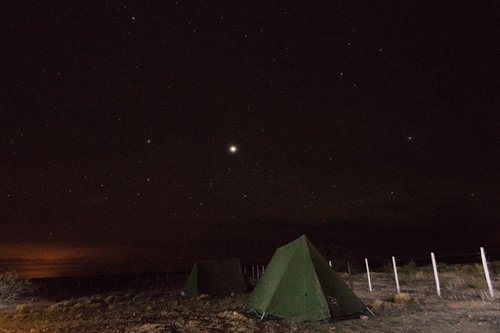 Camping beneath the stars in the middle of the Patagonia wilderness.
Recommended Small Group Tour Operators
Where they travel: Since 1981, they've been running tours across Africa, Asia, and the Americas. They have over 300 different routes to choose from with tour durations ranging from four days to over six months.
Types of tours: Dragoman specializes in overland travel. Purpose-built trucks are used to allow travel to less accessible places. Depending on the tour, wild camping, and hotel stays are included. 
Commitment to responsible and sustainable travel: Dragoman has a lengthy policy outlining their credentials in this field with the stated goal to benefit communities through which their trips pass by using locally-run hotels and campgrounds. Their trucks also carry drinking water for their passengers to reduce reliance on plastic bottles. In 2009, they won the Sustainable Tourism Achievement Award in recognition of their work on community-based tourism in the Peruvian Andes.
Five most popular tours: Patagonia, Peru, Gorilla trip in Uganda/Rwanda, Central Asia Silk Route, and Mongolia.
Demographics: The average age of those taking the tours varies according to the region but is around 41. In South America, passengers tend to be younger, while in West Africa and Central Asia the average age is higher.
Experiences:
I traveled with Dragoman between Buenos Aires, Argentina, and Santiago, Chile on a 34-day Patagonia tour. The plan was to spend a great deal of time wild camping in the Patagonian steppe as well as exploring lesser-visited places, such as the Cave of Hands near Perito Moreno, and the King Penguin Colony in Tierra del Fuego.
Our truck did experience engine failure, which resulted in having to miss out on some of the wild camping as we traveled by local bus for some of our journey. However, I still enjoyed the company of the group and our excellent tour leader who worked tirelessly to sort out what was an unfortunate (and exceptionally rare) event.
We still experienced the region's highlights and observed places that it would have been very difficult for me to visit alone.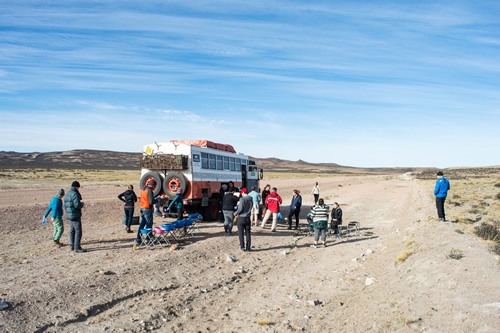 Breakfast by the side of the road in the Patagonian steppe during my overland tour with Dragoman.
Where they travel: At present, they run tours to parts of Central and South America, Mexico, and Spain.
Types of tours: Culture Xplorers are best known for offering tours where local food becomes a catalyst for diving deeper into a culture and allowing visitors to more actively engage with all elements of a country. Beyond these "Gastronome" tours, they offer adventure activities, tours of local festivals, and trips to visit local NGOs. They are also able to organize custom-designed private tours, such as chef-hosted departures to the Basque Country and Catalonia.
Commitment to responsible and sustainable travel: They work with a variety of NGO partners, local producers, and small communities with the aim of making travel more reciprocal between visitors and locals. As part of their interest in responsible travel, they set up the Peru Weavers Awards to celebrate Peruvian weaving, and now offer $6,000 in prize money. They have also money for art scholarships in Mexico, Guatemala, and Peru, among countries.
Demographics: On average, travelers with Culture Xplorers are between 45 and 75 years old, 60% of whom are female, and all of whom are physically active. They also have a number of solo travelers in each group.
7 most popular destinations: Mexico, Argentina, Brazil, Chile, Portugal, Guatemala, and Spain.
Experiences: Roots, Revolutionaries Spain
"As you can probably tell, I really loved this trip. The experiences were those that would be difficult to have enjoyed with a larger group or on my own. Kudos to Jim and Culture Xplorers for the amazing connections and friendships he has made and the ability to put together such an interesting and exclusive trip."
"I think I would actually go almost anywhere with Culture Xplorers." — Linda W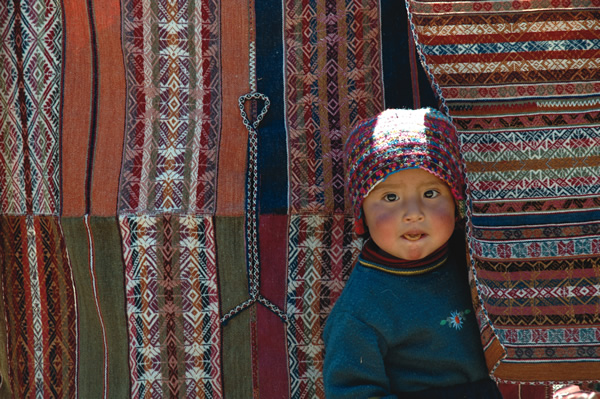 A young admirer of weavings (and pretzels) peeks into the competition through his mother's entries. Photo by Jim Kane of Culture Xplorers..
Where they travel: Explore have been running tours for 30 years and now offer more than 500 trips in over 100 countries across all seven continents.
Types of tours: Explore group tours consist of 14-16 people. Depending on how you travel, they have three different tour styles to suit your needs: "simply," classic, and premium. Simply tours have fewer included activities and involve travel using local transport, while premium tours are characterized by top-quality, local accommodations chosen for their historical significance. All of their tours are guided by the idea of exploring harder to visit places and accessing places larger tours cannot or do not go.
Commitment to responsible and sustainable travel: They support sustainable, responsible travel by funding charities in the regions they visit and ensuring that all those who work for Explore are treated fairly and paid a good wage. They also ensure that locals benefit economically by being employed as leaders, guides, and drivers. Tours also use local restaurants and hotels where possible. For reduced environmental impact, they offset their carbon emissions and support conversation projects in the regions they visit.
Demographics: The demographics of their groups vary from trip to trip, with a mixture of ages, interests, and nationalities. The average age is around 50, but there are still many younger and older travelers who take tours with Explore. Hiking and cycling trips attract younger participants while cultural discovery trips attract those of an older age group.
Five most popular tours: Vietnam, India, Greece, South Africa, and Italy.
Experiences: Wine, Walks and Tapas in Spain
"Our guide made the trip for the group. She was enthusiastic about her country and wanted to share it with us. She was knowledgeable and had lots of information that we wouldn't ordinarily know. She gave everyone in the group attention and helped to make the group cohesive and happy. The accommodations were not fancy but well picked to allow us to get to know more of the people in the towns we stayed in. The wineries were diverse and interesting as was the olive oil tasting. My favorite place was Montblanc where we stayed in a lovely place in the old city and had a home-cooked dinner by the owners. I can't wait to find another trip with Explore for next year." — Flora S.
Steph Dyson is a travel writer and educational volunteer who advocates slow, adventurous and sustainable travel as well as meaningful volunteering. She has spent the past 16 months living, volunteering, and breathing everything that is South America. Find her at WorldlyAdventurer.com.