Trekking in Morocco's Magical Sahara Desert
How to Plan Your Own Trip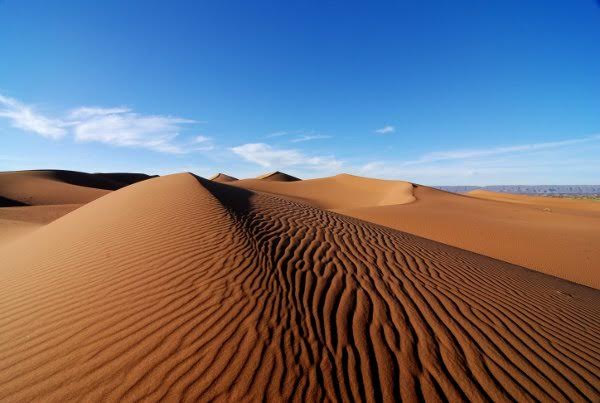 The great sand dunes of Chegaga in the Moroccan Sahara desert.
In my travels I have seldom have felt the desire to return to any given place. The drive to experience new places, adventures, and landscapes is constantly flowing through my veins. So it says a lot about the magic of the Moroccan desert that I have visited not once, but three times, over the past seven years.
There is nothing quite like the joys of climbing up a lofty Saharan sand dune at dusk to watch the sunset, or to experience the peace when walking for an entire day without seeing another soul. A trek in the desert is as much a meditative experience as it is a trip to see a new part of the globe.
The customs and tenacity of the local nomadic people are fascinating. Nomads appear out of nowhere, springing from the dark, to gather around my evening campfire and exchange information. Placing their calloused feet in the hot coals to keep warm, and sipping glass after glass of mint tea, the questions go on for hours, shining a light on the mysteries of a world I barely understand. Where did you find water? Who is camping by the great dunes of Chegaga? Did you see the sky? Maybe a sandstorm is coming.
One of the nomadic tents that dot the Sahara desert.
More than anything, it is this contact and intimacy with the land and the people that keeps me coming back to the desert. I leave vowing to return and spend most of the time between trips convincing others to go. If the idea intrigues you, here is a practical guide to planning your own desert adventure:
When To Go. Trekking is possible from October to April, but the best time to go is from December through February. Daytime temperatures are pleasant (20-25°C or 68-77°F) and the sun is not as strong as during the rest of the year. Spring is a wonderful event in the desert and arrives in late February or March, bringing the amazing sight of flowering plants to the base of the sand dunes. Sandstorms can happen anytime but are most common towards the end of March and into April.
Where To Go. Morocco has two main desert areas set around the towns of Merzouga and Zagora. Both are in the southeast of the country but are yet quite far apart from one another—and each town has its own distinct flavor.
The advantage and the disadvantage of Merzouga is that it is more developed than Zagora. In Merzouga, there is a much wider choice of hotels—from budget to luxury—set literally at the feet of the giant sand dunes. It is hard to go anywhere in town without seeing the dunes of Erg Chebbi towering on the horizon. If you are short on time or want a room with a view, and you do not mind sharing the desert with groups of fellow travelers, then Merzouga is the place to go.
Zagora's desert is further removed from civilization. The bustling town of Zagora and the village of M'Hamid (100km away) are merely bases where you can book a guide or buy supplies for the trip ahead. The largest dunes are only accessible by 4×4 or by trekking for a few days on foot. You will get the most out of Zagora if you are willing to camp and have 3-5 days to spare. There are still tourists in Zagora, but they are spread out in the vast landscape, so encounters with other groups tend to be rare and brief.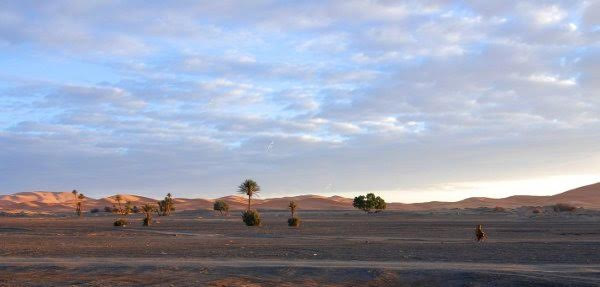 The sand dunes of

Merzouga

.
Prices. Shopping around is key since prices for desert tours vary widely. Much of this can now be done online, through the websites of overseas and local operators. Among the questions to ask:
How many people will be on the tour? Tours vary from private to large group excursions.
How many people to a tent? The cheaper tours may make you share a bivouac – a traditional Moroccan wool tent – with up to 10 people. The best ones offer every person or couple a private tent.
Will there be a generator? Some tours cater to tourists who want a shower and electricity at night. Others are more rustic but preserve the silence of the desert.
What is included? Check in particular to see if you have to bring your own sleeping bag or buy your own water.
Count on spending 350-650 Moroccan Dirhams (US$45-82) per person, per day for trekking—including food, camels and guides. At the lower end of the price range, expect to share your trip with other travelers, while at the high end couples or small groups should get an all-inclusive private tour.
If you do not want to walk long distances, rent a 4x4, driver and guide to take you to the desert highlights. Prices start from about 3,000 Dirhams (US$380) per day for 2-3 people or 4,000 Dirhams (US$510) a day for 4-5 people, including food, drinks, and a stay in a bivouac.
In Merzouga, because of the proximity of the dunes to the hotels, you can also arrange camel tours at sunset or sunrise for about 200 Dirhams (US$25).
Book ahead. It is certainly possible to turn up in Merzouga or Zagora and do all your comparison shopping and booking on the spot. This is a viable option if you are on an extended trip to Morocco and enjoy the bargaining process. Most people, however, only have 1-2 weeks of vacation so ask yourself if you really want to spend a day of your precious time off running from shop to shop, haggling and debating the options, and another day of waiting while the guide prepares for the trip. The argument for booking ahead is even more compelling during high season, when the best guides will already be busy with clients.
What to bring. Packing lightly is best. Remember, on a trek it is the camel that carries all your things, along with the supplies for cooking and camping! Put everything in bags that can get bumped and thrown around. This is not the place for fine suitcases. Among the most important things to bring are:
Clothes suitable for trekking under a hot sun. There may be lots of sand but this is not the beach and you will be in the sun all day long. To protect your body, bring along light pants and shirts and a big hat to keep your head under cover. You can buy a typical Moroccan scarf that wraps around your head like a turban when you are in the country.
Thermal underwear to sleep in. The days are hot but the nights can be near or below freezing. A good pair of long johns is essential.
Sunscreen. High SPF sunscreen isn't always easy to find in Morocco. Get some that is at least 30 SPF – higher if your skin burns easily.
A comfortable pair of walking shoes. Sandals are not the best choice. Sometimes you can wear them, but in other places the terrain is rougher than you might imagine, with many small rocks on the ground.
A camera. The desert can be hard on photographic equipment, so a compact camera is best since it is enclosed and better protected against dust and sand. If you bring something fancier with changeable lenses make sure to get a good carrying bag and extra plastic bags to protect everything against grit. Consider a second battery for long treks.
A short-wave radio. This is debatable. If you travel to get away from it all, you may want to leave the radio at home. On the other hand, the local people love tuning in radio stations and the songs that come over the airwaves will often start off a round of singing.
Baby wipes. If you are doing a longer trek, water to wash with may not appear for 3-4 days, until you reach a well. A pack of baby wipes helps to take off the day's grime and they can be burned in the fire at night, leaving no trace on the landscape.
Games or Your Best Performance. Games are commonly played at night around the fire. Memorize a few word games, bring a small puzzle along, and be prepared to sing a song or anything else you can do to entertain. This is a good way to share and get to know your guides and fellow travelers.