Localized Accommodation in Italy
More Privacy than a B&B, More Authenticity than a Hotel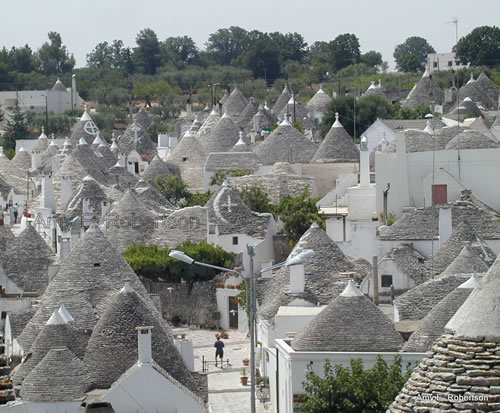 The skyline of Alberobello, Puglia.
Connecting with local culture and people is a priority for me when traveling. When I'm in Italy, however, my connections are by default. I travel with my Italian husband Luca, stay with his family, and dine on his mother's pasta alla norma. But not everyone has in-laws to stay with, and Italians have a solution, called an albergo diffuso.
Albergo diffuso means "scattered" or "spread-out" hotel. There is typically a central reception office, while rooms or apartments are spread out across town, placing tourists next door to local residents. Breakfast might be at a local café or delivered to the door of your lodging. With more privacy than a B&B, and more independence than a typical hotel (there usually isn't room service or a formal lobby), alberghi diffusi are accommodations that immerse visitors in the local community.
Conceived in the 1980s by tourism consultant Giancarlo Dall'Ara, the albergo diffuso provides a way to rehabilitate and re-inhabit forsaken villages and historic centers, by restoring them for tourism. Many are located in borghi, or medieval hamlets that take travelers off the beaten path into lesser-known destinations. Owners are encouraged to source local products and decorate in a way that is authentic to the location. Some are intentional about offering interactions within the community, such as cooking classes, wine tastings, and more.
I didn't know any of this history when Luca and I booked our stay in a trullo in the town of Alberobello. What I did know was that trulli were unique white bee-hived shaped homes, and that I wanted to be sure to stay in one during a rare trip away from the in-laws to Puglia (Apulia), the heel of Italy's boot. Made of whitewashed limestone boulders, trulli are small round buildings with conical roofs of grey limestone slabs. The trulli of Alberobello are recognized by UNESCO as a World Heritage Site for their cultural importance and the use of a drystone construction method that derives from prehistoric building techniques. I wanted to stay in one because they looked cute.
We had reserved a simple trullo in town, but when the receptionist realized we had our own car, she offered us a spacious double trullo outside of town, in campagna. We took it. Simple but charming, with quaint wood furniture and a fireplace, the trullo remains one of the most memorable "hotels" that I've stayed in.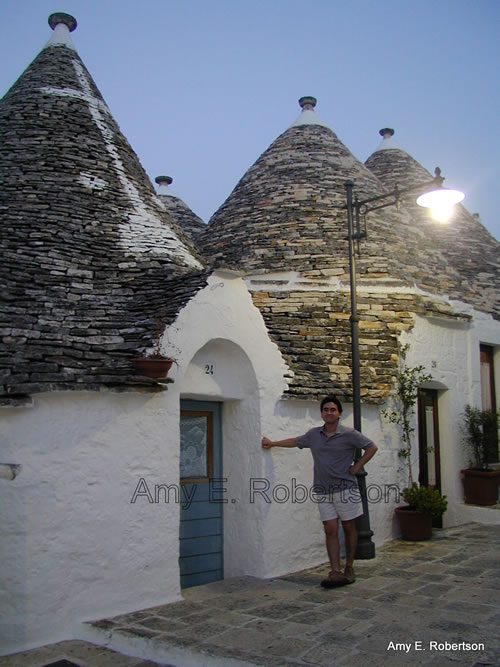 The author's husband Luca, poses in front of a trullo of Alberobello.
A Worldwide Movement
While the albergo diffuso has its origins in Italy, similar stays are available in Spain and France. Communities in other corners of the globe have created their own versions: desert camps in the Wadi Rum of Jordan, ecolodges run by the Huaorani Indians of the Ecuadorian Amazon, and more. No matter their name or place, this kind of localized accommodation brings the traveler into the community as a local, if only for a night.
Alberghi diffusi are found across Italy, and to get you inspired, a few standouts are listed below.
Abruzzo
In the province of L'Aquila, Italian-Swedish magnate Daniele Kihlgren has worked to resuscitate the tiny medieval village of Santo Stefano di Sessanio through his 27-room albergo, Sextantio. Everything from the hand-woven bedspreads to the artisanal soaps are locally sourced. Prices range from €80-250 per night, plus optional add-ons such as guided village tours, bike and wine packages, or a craft shop visit and gourmet dinner.
Basilicata
In Matera, Sextantio operates a second albergo diffuso in which guests can take a room built into the town's famed caved hillsides. Called Le Grotte della Civitá, caves that were once dark homes for the town's poorest have been transformed into comfortable accommodations with curved walls and high ceilings. Rates start at €300, and go up for larger rooms and perks like personalized bakery tours or guided night walks. (If your budget doesn't permit luxury, there are other more economical cave hotels around Matera as well.)
Friuli-Venezia — Giulia
The Albergo Diffuso Altopiano di Lauco is a nature-lover's paradise, with rooms spread out among the hilltop villages of Lauco, Vinaio, Avaglio, and Trava. Accommodations are near the nature reserves of the Carnian Hills and the Friulian Dolomites. Hiking, mountain biking, and Nordic walking are all popular activities, as is skiing for winter visitors. Rates range from €26 to €46 per person per night.
Lazio
Just beyond Rome lie the Castelli Romani—country hills dotted with villages like Nemi, which is home to the Locanda Specchio di Diana. Its name means "Diana's mirror," referring to the small lake near town. Eight suites are spread out in various buildings, each no more than 100 yards from the heart of the albergo, where the reception, bar and restaurant are found. Shuttle service between the hotel and Rome's Fiumicino airport can be arranged. Rooms go for €50 to €120/night.
At the top of a wooded hill, the village of Labro is home to Albergo Diffuso Crispolti. The "Crispolti Palace" houses three standard rooms and one Junior Suite, while the Barbellini Palace houses another suite, as well as three apartments. All options have breathtaking views, some over the Piediluco Lake, and others over the Valle Santa. Rooms are €90 to €250 per night.
Puglia
Trullidea (€105-€120/night) is well regarded.
Sardinia
The Albergo Diffuso Mannois, located in the town of Orosei, has rooms in three different buildings of the historic center. In addition to accommodation, Mannois offers the use of its beach club, bicycle rental, excursions ranging from canoe trips to visits to prehistoric villages, as well as a restaurant. Rooms are €60-€180/night.
Other Ways to Connect in Italy
Connecting by Volunteering
Those interested can find volunteer opportunities ranging from joining an archaeological dig or working on art restoration, to dolphin monitoring. A few options with locally based organizations are described in the Volunteering in Italy section of the TransitionsAbroad.com site.
Connecting Online
Those who read Italian can check out Albergo Diffusi for many additional listings and information. When using Facebook, search for Associazione Nazionale Alberghi Diffusi to view posts, mostly in Italian
Amy E. Robertson is the author of Volunteer Vacations in Latin America. Her writing has been published on NPR, Vice MUNCHIES, Budget Travel, Delta Sky, National Geographic Traveler, Wall Street Journal, Christian Science Monitor and Travel + Leisure, among others. Amy has lived in six countries and traveled in more than 60. Her volunteer experiences include building houses in Washington State and Honduras, monitoring presidential elections in Ecuador, working with youth on social documentaries in Bolivia, and serving lunch at soup kitchens in Seattle and Beirut. She has a background in international development and nonprofit management and has worked in both the private and nonprofit sectors.

You may see Amy's many articles for us, her numerous books, and her expanded bio page here.