Cooking Lessons in Italy
Mamma Knows Best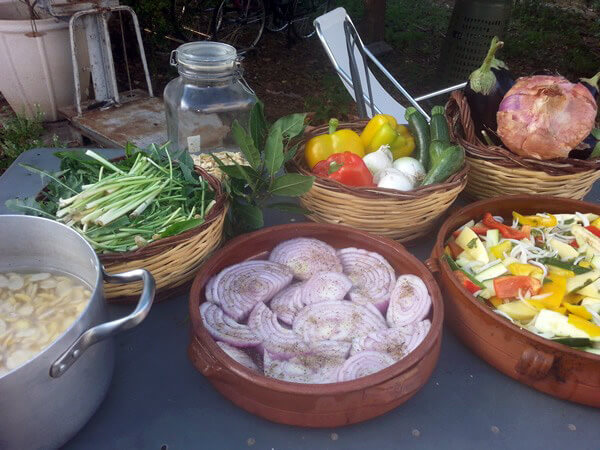 Some of the fresh ingredients used to prepare a home cooked Italian meal. (Photo courtesy of Cucina in Masseria.)
I was nervous the first time I met my mother-in-law. She was no ordinary mom; she was an Italian mamma. My husband and I had already been dating for a year, and instead of returning to his home country of Italy to settle down, I was stealing her first-born son away to live with me in New York City. She wasn't comfortable in English; I barely spoke Italian. And that was just the beginning.
She is a scientist; I am a writer. She is a homebody; I am an adventurer. She is skeptical; I am gullible. She is Catholic; I am (gasp!) Protestant. Even physically, I didn't fit in: at 5'8" (172cm) I towered over Mamma, and I nearly knocked her down the first time I hugged her hello.
Luckily for me, there was food.
I was young and hungry. When we sat at the table, I ate heartily and accepted seconds. She may have been surprised to see a nice young lady eat quite so much, but as a quintessential Italian mamma, her heart was warmed by my appreciation of her delicious home cooking.
She accepted the marriage. I got better at speaking Italian. We traded recipes, although nothing ever came out for me quite like when Mamma made it. My husband and I had two kids, and her title changed from mamma to nonna (grandma). She became more determined to ensure I learn her cooking secrets. The only way to do so was to invite me into her kitchen.
"The next time I make meatballs, you will make them with me," she informed me. "I don't measure; it is based ad occhio,"—literally 'by the eye,' or how the food looks and feels. We mixed ground beef, bread crumbs, milk, salt and parmesan, I observed the color and the feel of the meat. I took copious notes. I went back home and made meatballs for the kids.
"Pretty good," the kids declared. Success!
"Not as good as Nonna's, but pretty good."
I'll take it.
I shared this essay with my mother-in-law, who had the following feedback: "Add that I welcomed with joy the news of your decision to get married." Awww.
"And add an egg to the list of ingredients for the meatballs." Whoops! I didn't forget the egg when I made the meatballs, I promise! Ground beef, bread crumbs, milk, salt, parmesan, and egg.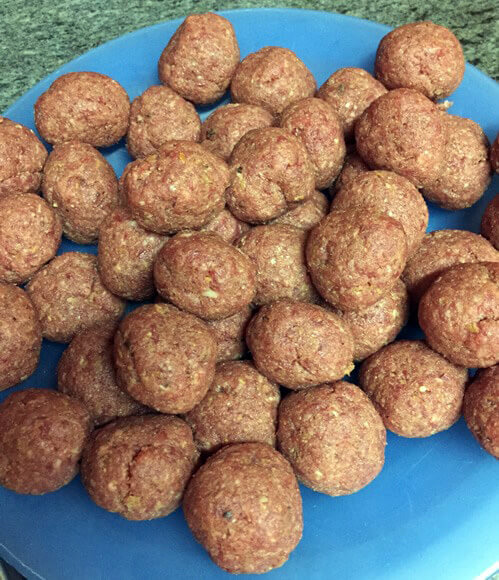 The author's replication of Nonna's meatballs, ready to be cooked. (Photo by Amy E. Robertson.)
Getting into the kitchen is a fantastic way to connect with Italians. For those of you who don't have your own Italian mamma or nonna, here are cooking classes around Italy where you can learn the secrets of their food. As you might expect, many of these mammas and nonnas welcome children in their classes as well.
Mamma Agata — Ravello (Salerno/Amalfi Coast)
A meal at Mamma Agata's is a family affair. Mamma is head chef, her daughter Chiara is translator and guide, and Chiara's husband Gennaro (who learned to cook at the side of his own mamma) is the sous chef. Mamma Agata and Gennaro have both cooked for celebrities—Liz Taylor, Federico Fellini, Jacqueline Kennedy, Pierce Brosnan, and Woody Harrelson, just to name a few. The family has even written a cookbook, but if you want to know the secrets behind Mamma's eggplant parmigiana, pappardelle pasta, and lemon cake, you must come learn firsthand. Homemade, organic products such as pasta, olive oil, and dried herbs are available for purchase on the site, making it easier to recreate the flavors once you're back home. Maximum group size is 14, and private lessons can also be arranged.
Duration: 6 to 7 hours including the lunch
Price: €230 to €290 per person depending on the season.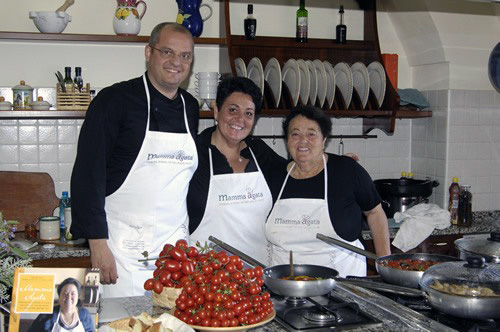 Gennaro, Chiara, and Mamma Agata in the kitchen. (Photo courtesy of Mamma Agata.)
Mama Isa — Padua (near Venice in the Veneto region)
Mama Isa learned how to make traditional Italian dishes from her own nonna Elsa and her mamma Paola, and she is enthusiastic about sharing her knowledge with others. There is truly something for everyone with more than 25 class options: vegetarian and vegan, special dietary requirements (including kosher and halal as well as allergies and intolerances), romantic, organic, pizza-making, a master class on pasta, and more. Maximum group size is 8-10, depending on the class.
Padua is half an hour from Venice or Verona and easy to reach (Mama Isa can provide detailed instructions for public transportation), as well as a destination in its own right, particularly for art and architecture.
Duration: 4 hours plus the meal. Lunch or dinner. Full day and multi-day classes available as well.
Price: depends on the class, but starting at €120 per person.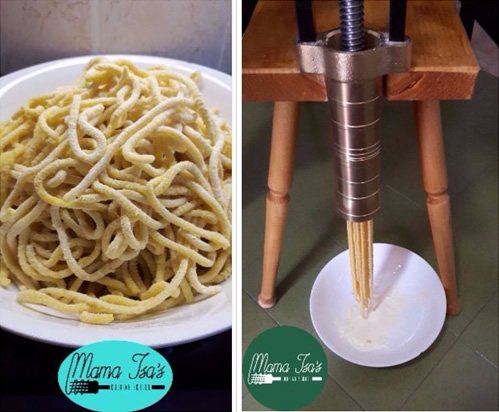 Bigoli, a 17th-century pasta originating in the Veneto region, is one of the pastas taught by Mama Isa. (Photos courtesy of Mama Isa.)
Anna Bini — Florence (Tuscany)
Proud mother of two and grandmother of six, Anna will turn 85 in July but refuses to let age slow her down. After a long career working in the fashion industry in France, Anna opened an Italian restaurant in Paris, Casa Bini, then co-authored two books about traveling and eating in Italy. Passing Casa Bini into the capable hands of her son, Anna returned to Florence and at the age of 83 opened her cooking school. Truly a day in the life of an Italian nonna, the class starts with a market visit and stroll through the center of Florence, then Anna teaches her guests how to make both flat and stuffed pasta, such as tagliatelle, pappardelle, ravioli, cappelletti, and tortellini. Sauces are next, with instruction on which kinds of sauces go with different types of pasta: "Every pasta has its sauce, and every sauce has its pasta." Of course, the class is capped by a meal, which includes an aperitivo, a tasting of the pasta, and a full lunch accompanied by wine.
Anna is happy to try and accommodate special requests on food and timing, and can also conduct the class in multiple languages. Group size is minimum two, maximum 10.
Duration: 6 hours.
Price: €120 to €130 per person, depending on the number of participants.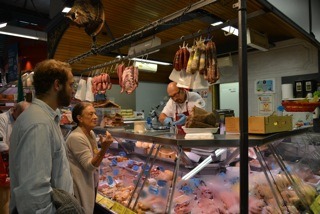 Anna Bini takes her students to the market to shop for ingredients. (Photo courtesy of Anna Bini.)
Cucina in Masseria — Mola (near Bari, Puglia)
Chef Rita offers cooking classes every weekday, inspired by the recipes of her own Nonna Rita, her great-aunt Nina, their mother Angelina, and their grandmother Ritella – four generations of Italian home cooks. "I consider myself one of the last 'Mammas' or 'Nonnas,'" says Rita, because now even the nonnas have no time to share with their girls the secrets and the traditional dishes." Her full-day class includes a visit to the morning market, a lunch made together as a group, an afternoon boat ride to buy fish, then dinner made from the early purchases. The emphasis is on regional recipes, and accommodations can be made for dietary preferences/restrictions.
The masseria, or farm, has five rooms and suites available, no cooking class required. Those who are as passionate about cooking as Rita can sign up for multi-day cooking courses.
Duration: all day (9 a.m. through dinner).
Price: €150 per person for a group of at least four.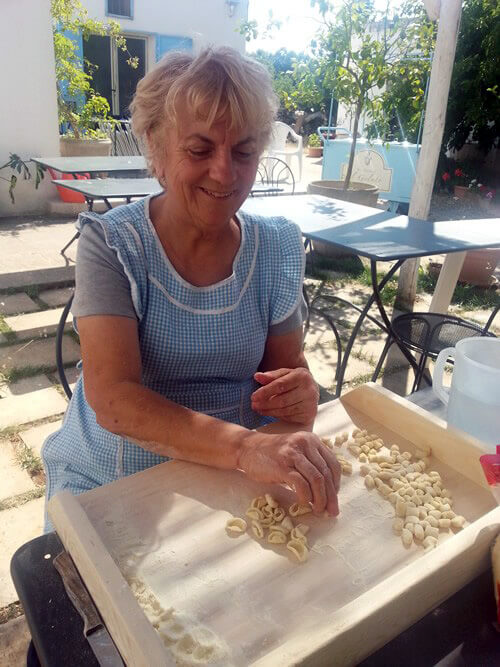 Chef Rita demonstrates how to make cavatelli the way her nonna did. (Photo courtesy of Cucina in Masseria.)
Amy E. Robertson is the author of Volunteer Vacations in Latin America (2013, Moon Handbooks). Her writing has been published on NPR, Vice MUNCHIES, Budget Travel, Delta Sky, National Geographic Traveler, Wall Street Journal, Christian Science Monitor and Travel + Leisure, among others. Amy has lived in six countries and traveled in more than 60. Her volunteer experiences include building houses in Washington State and Honduras, monitoring presidential elections in Ecuador, working with youth on social documentaries in Bolivia, and serving lunch at soup kitchens in Seattle and Beirut. She has a background in international development and nonprofit management and has worked in both the private and nonprofit sectors.

You may see Amy's many articles for us, her numerous books, and her expanded bio page here.