Volunteering and Living in Kenya
Ahdiambo gets a bed! She and her baby had been sleeping on the bare dirt and when this bed was donated, she could not stop smiling.
Culture Shock
My first day in Kenya was like walking into a Discovery Channel documentary— I couldn't stop marveling at the brightly dressed women, the lean graceful men, the purple-blossomed jacaranda trees and the buses belching black smoke. It was overwhelming. Being a white woman never felt so conspicuous, the hard, appraising glances cast my way, the man who commanded "buy me banana!" when I purchased my first three-cent fruit off a bunch hanging in a vendor's stall. Tales of pickpockets on the crowded matatus (buses) had me walking everywhere for days. I got conned on purchases, my stomach rebelled against too much goat meat, and I could not speak the local language. Walking from my homestay to the town internet café felt like running the gauntlet, as everyone up and down the street followed my passage with silent stares. For years I had wanted to volunteer in Africa, but those first days, I hated it. I could not wait for my two weeks to end.
Adaptation and the Decision to Stay
But by the end of those two weeks, I knew how to ride a matatu and recognize the telltale signs of a pickpocket on the prowl. I knew which remarks from passersby to respond to ("habari," how are you), and which to ignore ("buy me banana!"). I knew to carry pocketfuls of hard candy for the street children who cried "sweet! sweet!" when I passed. I knew how to eat the staple food, a maize flour called ugali cooked with water until it is thick enough to be eaten with the fingers, and I knew to accept it from even the poorest of women because they need to feel they have something to offer me in exchange for the rice and beans I bring. I knew that buying food for a starving woman may save her life that day but it does not solve her problems in the long run—and I knew, despite the disease and theft and uncertainty, despite the absurdity of leaving my comfortable life in the United States behind, that my place was here. I knew I was going to help implement a program to create sustainable incomes for women living with HIV/AIDS, facilitating their long-term self-sufficiency instead of dependence on daily handouts. I knew I was going to stay.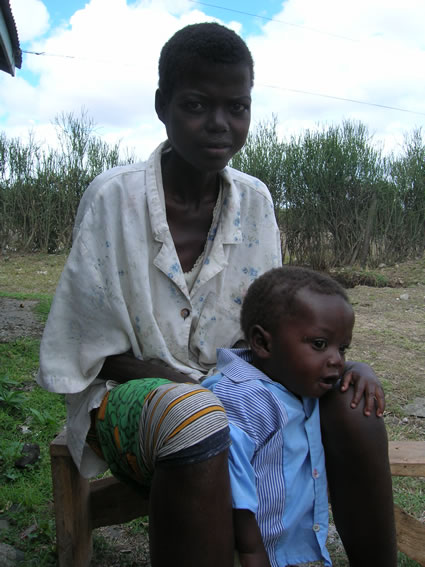 An HIV positive woman with her baby; barely able to walk when this photo was taken, she is now preparing to open her own store.
The adjustment was massive, but not in the ways I expected. Squatting over a stinky hole in the ground to do my business? Piece of cake. Sleeping under a mosquito net, purifying my water, and never walking after dark—these are effortless accommodations, the new facts of daily life in place of "don't drink milk that's past its expiration date" or "don't forget to floss." What is hard is the emotional part. I never imagined a time when it would be necessary to walk past a little girl asleep in a wheelbarrow and do nothing to help her. This is just her life; what is bad is not that she is poor; it is that she lacks proper nutrition and clean water and a roof over her head. These are the issues my non-profit organization is working to address. Which is why I have to walk past her; picking her up out of her wheelbarrow won't give her a better future, but providing women with sustainable incomes will. It still breaks my heart. Life in a developing country requires a thick skin if you are going to be useful, but it is hard to grow it nonetheless.
Snapshots of Life in Kenya
Several days as week, about an hour outside Nairobi in the town of Kitengela, I visit HIV-positive women in their homes. Leaving behind the modern houses surrounded by 8-foot security walls, I follow a dusty footpath into the village proper, one long corrugated-metal structure of single-room apartments after another, each room housing an entire family. Donkeys doze in the middle of the road. Children play in the trash. My passing creates a local sensation, no matter how many times I walk by: "mzungu!" they cry. White person! My route passes the government clinic where anti-retroviral drugs are dispensed for free in a condemned wing, past the long fence covered with dusty bougainvillea where fat white goats are tied to graze, to the little grocery stand where I buy soap powder or sugar or fresh greens for women who cannot afford their own, across a ditch of standing sewage that I once miscalculated, my foot sliding in as I hopped across, releasing a pungent stink that followed me till one of the neighborhood mamas walked out, took my flip-flop from my foot, and washed it without a word. Chickens and a few ugly turkeys run free, pecking the dirt. Sometimes I stop to watch, admiring, as a mama bends over a laundry basin, her stature displaying a strength and flexibility any yoga teacher would envy, her hands moving with the marvelous efficiency all the African women seem to share, as if handed down in the genes, mother to daughter. They have tried to teach me, laughing helplessly at my efforts to scrub my dusty clothes clean, but in the end one of them always removes the garment from my clumsy hands, unable to bear my mediocre results. They are right: I am terrible at laundry. I cannot throw a few eggs and tomatoes in a pot on a charcoal stove and produce a delectable lunch. I cannot stretch one pot of water to clean my dishes, my guests' hands, and a baby. Their practical life skills put mine to shame. This is the synchronicity of life here: I need the help and education they offer, too; I care for them because I want to make the world a better place, but they care for me because I am part of their community. This is a good fortune I never take for granted, because in Africa, community is everything.
Wearing Two Hats in Kenya
I wear two hats here; one, the hands-on humanitarian visiting AIDS victims in their homes, and the other, the businesswoman with laptop and briefcase attending business lunches. I love this mixture of the two Africas, rural Kitengela where I sit in the dirt eating ugali with my fingers while chatting with the mamas, and downtown Nairobi where I wear heels and attend meetings on microfinance—a fascinating juxtaposition of volunteer and professional life. Though the worlds of the haves and the have-nots are painfully separated, I find my own balance lies in my ability to move respectfully in both—to share 3-cent bananas arm-in-arm with a woman dying of AIDS and then to share $20 whiskey shots with a microfinance professional who drives a Mercedes, without ever becoming anything other than myself, a 32-year-old woman whose marriage suddenly fell apart, who came to Kenya on a 2-week volunteer stint and ended up moving here, just a girl creating a new life for myself while helping my sisters take back control of theirs. We all want the same things in the end: health, comfort, a home where we can raise our babies in safety. We want a better world for us all.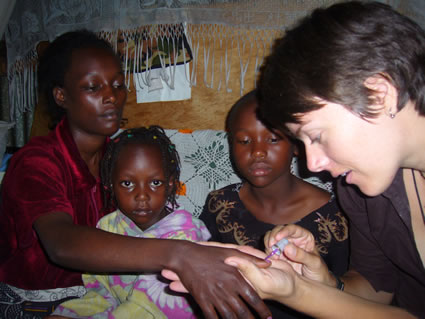 Home-based care is fun! Here I'm putting nail polish on Violet, a woman "living positively," her positive daughter, and her AIDS-orphaned niece. Girl time is girl time, no matter what country you are in.
Kenya is modernizing as fast as it can, with internet cafes in the seediest slums and cell phones a staple even for many who cannot pay rent. The government, hopelessly corrupt, doles out funds for AIDS awareness and looks the other way as millions face starvation from food shortages, and the tension of last year's post-election violence still lingers—yet the individual politicians I have met are determined to usher their country into the prosperity that its millions of earnest poor are willing to work hard to earn. Kenya has tangles that cannot be worked out in a day. But with each layer I remove, I find more and more to admire, a mixture of beggars and expats, of enterprising slum-dwellers exuberant over the better lives microfinance has made possible, of western imports like me who are still learning which way to look before we cross the street. With each day that passes, I understand the land a little better, and appreciate the gift it is to be here, under purple jacaranda trees, living bigger than I've ever lived before. And while I love the Kenya that is, I am full of hope for the Kenya that will be— where little girls will be able to sleep in beds instead of wheelbarrows, and where everyone will be able to buy their own bananas, all the bananas their hearts could desire.
For More Information
Nairobi is nicknamed "Nai-robbery," which I found kind of intimidating, but while the moniker is justly earned, it is also easy to protect yourself is you follow these basic tips.
Do not go out after dark except in a taxi (having a regular driver is helpful).
Do not carry valuables in your pockets. Carry a bag that zips shut and keep the zippers inward toward your body.
MOST IMPORTANTLY, when riding the bus or the matatu, be VERY alert. Hold your belongings on your lap. If anyone, for any reason, places anything across your lap—a bulky shopping bag, an open newspaper—it is a 100% guarantee they are trying to pick your pocket. Push it off. Look them in the eye. Tell them you know what they're doing. If possible, move your seat—and guard your valuables as you do so.
A few tips for interacting with the locals:
The touts and vendors are extremely persistent, but do not be bullied. Nairobi's famous Maasai market features exquisite handmade goods and extremely pushy vendors. They love to barter, so Western-style items like T-shirts are useful tools, and that gorgeous hand-carved ebony giraffe can be yours for a lot less if you throw in a baseball cap to sweeten the deal. Plan on talking thee vendors down to about a quarter of their original price.
Bring a few photos of your family, your friends, or even your pet. Kenyans are community-oriented and want to know who your network is; they love seeing family pictures.
Be willing to say no. The sob stories are scams. Period.
Good eats:
Azalea offers a comfortable, higher-class bar-style environment to eat and drink; heavily frequented by businessmen and politicians, it is not a backpacker-type place so much, but it is nice if you want to pretend to be civilized for a night (believe me, after a few weeks in the same sweaty clothes, you do), and the Scottish owner Paul will welcome you like an old friend. It is located in Yaya off Wood Avenue.
Habesha is an Ethiopian place with a lovely outdoor patio, with entrees in the 400-shilling ($7 U.S.) range. Also located in Yaya, on Argwings Kodhek Road, it is more low-key than Azalea, but still a nice place.
Do not be scared to try the hole-in-the-wall eateries that abound. The food is safe and cheap, and there is nothing like eating what the locals eat. Try the mkimo or mkembe, both delicious vegetarian dishes, and you cannot visit Kenya without trying nyama choma—barbecued goat meat, a local specialty.
If you want to drink what the locals drink, it's got to be Tusker, the Nairobi-brewed beer. There's also a decent Pilsner called "Pilsner." At local joints you can get these for 150 shillings, but be sure to ask for it cold or it's going to be room temperature.
Practical considerations:
Tourist visas can be obtained upon arrival for $50 U.S.—be sure it is American currency, whether you're coming from America or not! They will not accept any other currency. There's also a $20 U.S. exit fee and, while this is usually covered in the price of your plane ticket when you leave, it does not hurt to have it on hand just in case. Your tourist visa can be good for up to three months but they won't automatically give you that long, so be sure to ask for it if you need it.
If coming from the U.S. or other developed nations, no vaccinations are required, though many are recommended. The exception is if you have recently visited a country with a yellow fever problem, in which case you must show proof of your yellow fever vaccination.
Mobile phones are easily and cheaply obtained at any Nakumatt, the large Wal-Mart-style chain which caters to expats, starting around 1500 shillings (about $30 U.S.). Credits are a shilling a minute (less than two cents) and can be bought in quantities as low as 20. SIM cards can be purchased for 50 shillings (about 65 cents U.S.), and are available from Zain or Safaricom. Zain is more reliable in-country and sells at a flat rate; Safaricom has cheaper rates on international calls but is more expensive in-country and charges more if you buy small quantities. International phone cards can be purchased from pharmacies; 500 shillings ($8) will get you around two hours 45 minutes to the U.S. or Canada with Zain and longer with Safari.com, but as little as ten minutes to, say, Syria. Mobile coverage is widespread, even in rural areas, but the networks are inconsistent and during busy times of day it can be difficult to get through.
Nearly everything you need, from toiletries to mosquito nets, is available in Kenya at roughly the same prices as home. Internet can be found virtually everywhere that has electricity.
Extremely affordable volunteer opportunities are available throughout Kenya with International Volunteer HQ, based out of New Zealand, providing placements in schools, and clinics, with lodging in local homestays. Check out their programs at volunteerhq.org. The NGO I work with is called Sustainable Aid Women's Agency and its mission is empowering women living with HIV/AIDS to take control of their futures—we offer home-based care and psychosocial support, education in wellness and business skills, and a fledgling microfinance program.