Living in Turkey: Awakened Dreams in Gölcük
The author's students, orphans of the 1999 earthquake in Kocaeli, Turkey.
I live East of Istanbul in the little Navy town of Gölcük, Turkey. The town experienced an earthquake in 1999, which resulted in mass death and destruction. The infrastructure of Gölcük has nearly recovered from the devastation and is now experiencing a revitalization of culture, art, and enthusiasm for life.
As I write this, I hear the afternoon's call to prayer resonating from the lofty minaret of a local mosque. The sun is shining warmly over the Sea of Marmara, and soaring above it is snowcapped Kartepe Mountain rising above the ancient city of Izmit. I'm excited because today is the opening ceremony for my art exhibition at the Gölcük Belediyesi Sanat Galerisi, a new local art gallery.
I prepare a quick, fresh meal for myself and my friend Serpil, who is coming for lunch before my art show opens. I use the produce I have purchased at a neighborhood produce bazaar. In hand-painted ceramic bowls, I arrange tomatoes, figs, creamy white feta cheese, crusty bread, and a variety of Turkish olives. I've also prepared börek (savory pastries) and yaprak sarma (stuffed grape leaves). My Turkish double-boiler tea kettle is steaming hot and full of freshly brewed Turkish tea from Turkey's Black Sea region. It is ready to serve in clear tulip-shaped glasses.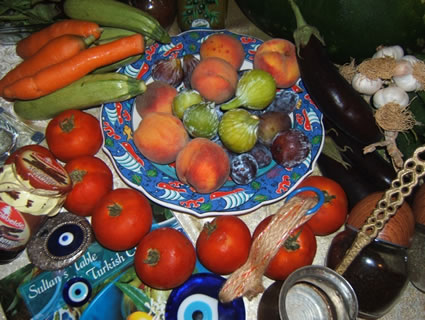 Turkish goods from a local market.
Serpil arrives at my door and chimes my bell. I open my door and find her exquisitely refined in her etiquette and appearance. What I love most about being an expatriate in Turkey is the humble nobility of the Turkish people. I greet my friend in proper Turkish style with kisses on both cheeks. She removes her shoes, and I give her slippers for her feet, which is the custom in Turkish homes.
After our lunch together, we walked through the mazes of streets and covered passageways in our little town of Golcuk. Serpil is a modern Turkish woman, wearing trendy yet modest European fashions and a fresh hairstyle. She chooses not to cover her head, yet she is a Muslim. We see abundant displays of baklava and pastries in the bakery windows. The city of Golcuk is a swiftly improving jumble of concrete buildings, some abandoned and dilapidated from the 1999 earthquake. Then suddenly, like an oasis, a sleek, ultra-modern building of metal and glass appears. It's the Gölcük Belediyesi Sanat Galerisi.The Art Gallery was an outcome of post-earthquake funds for the town.
As I enter the gallery, there is an air of excitement because the Mayor has arrived, and people are dressed in their best black suits for the official ribbon-cutting ceremony. I'm sharing this exhibition with artist Rose Deniz, another American expatriate living in Kocaeli Province. Together, we've named our show "Uyanik Ruya," Dream Awake. The show combines paintings and mixed media collages relating to our transition from the US to Turkey. The Mayor interviewed me briefly about my art, and luckily, I have been studying Turkish using a computer language tutorial called "Rosetta Stone." I can answer his questions well. Steaming tea and pastries are served in the name of Turkish hospitality. I see some of my colleagues from Bahçeşehir Private School who work as full-time English teachers. The warmth of the public is wonderful, lots of kisses on both cheeks and the expression "hayirli olsun", congratulations. Our exhibition in Gölcük is ground-breaking because it is the first art exhibition by expatriates.
On our walk home after the art opening, it's evening. We hear the call to prayer as we walk along the sea and see little boats in the bay with their charming red Turkish flags with white crescent moons and stars. I feel at home here and feel grateful that I can express myself freely through art, language, and friendship.
I first began dreaming of living abroad as a child in California. I caught little glimpses of expat life from the contents of brown paper packages covered in airmail stamps, which arrived on my doorstep each month from Yemen. The packages were addressed to me by my grandmother, an expatriate English teacher living in Yemen in the early eighties. I would open the packages with anticipation and excitement, which rivaled Christmas morning. The boxes contained all sorts of little treasures for me, a nine-year-old girl. I loved the Arabic coloring books, sweets, colorful dresses, seashells, and, best of all, the fantastic letters she wrote! The letters told of chivalrous men, elegant women, splendid hospitality, delightful food, and the cultural richness of the Middle East.
I made my dreams come true by simply becoming a certified ESL teacher, getting on a plane, flying to Turkey, and getting fully immersed in Turkish life. Now, I'm established as an artist, an English teacher, and a member of a Turkish family since my husband is a Turk. Now it's me who sends home the brown paper packages to California, to be found on the doorstep covered in airmail stamps. I'm thrilled to be the one abroad this time; I'm living out my expatriate dreams in full awakened color.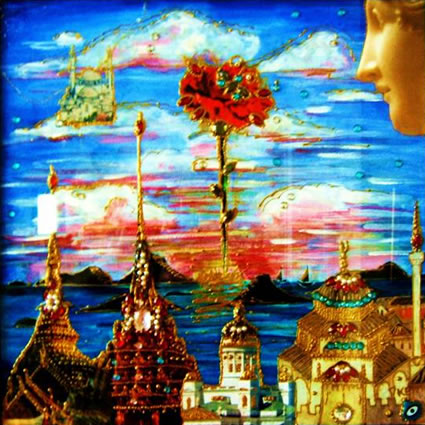 Mixed Media Artwork by the author.
Titled: "Angel, Mosque, Church and Temple."
Dream Awake Exhibition, Gölcük, Turkey 2007.