Living in Mexico: The Why, Where, and How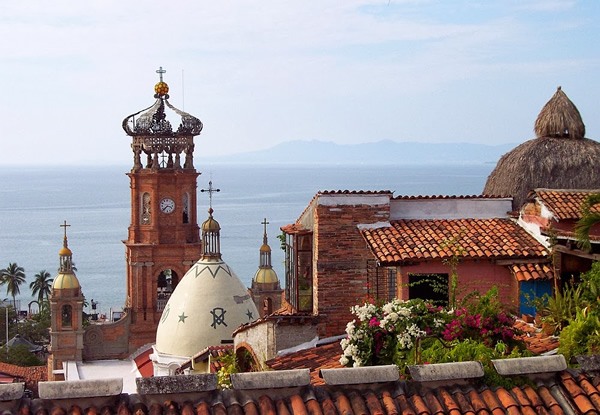 View of Puerto Vallarta.
My daughter wasn't exactly thrilled when we said, "Honey, we're selling the house, moving to Mexico, and not coming back to this city you've lived in for 10 years." Like most kids though, she adjusted quickly and after making friends with kids in the neighborhood who didn't speak English, she was fluent in Spanish in no time. Now after living there for three years, she's truly bilingual.
Moving to another city in the same country is stressful enough, but moving to a whole other country involves even more planning and preparation. Upon arrival, you confront a whole list of differences in culture, customs, and bureaucracy.
Why Move to Mexico?
A view of the colorful and picturesque town of Guanajuato.
Mexico is a relatively easy country to move to compared to many, however, partly because of how easy it is to get to from the U.S. or Canada. While income requirements have gone up for a non-working residency visa, the process is relatively straightforward and unlike in much of Europe, getting a work visa is not difficult either once you have a job offer.
The language is one you can actually use in multiple countries and almost any Mexican city of a decent size has Spanish schools where you can get lessons for a reasonable price. You can also find an experienced private tutor for $10 or less an hour or do a language exchange of English lessons for Spanish ones. There's a mind-boggling array of books, online courses, and videos to help you learn the language.
You don't have to be a pioneer going down a thorny path when moving south of the Rio Grande. Hundreds of thousands of foreigners have gone before you and in some of the most popular areas there are thousands of them there you can get advice from in person or on local message boards. There are excellent books and websites to consult on Living in Mexico, and plenty of e-books you can buy for specific places and subjects.
While there are certainly cheaper places to live in Latin America, like Guatemala, Nicaragua, or Ecuador, Mexico's proximity, flight choices, and great food make it a better choice for a lot of retirees and families. Medical care is good in almost any city (no long trips to get to a private hospital) and dental care is excellent throughout the country, assuming you're not moving to a tiny pueblo somewhere. Any doctor or dentist working on you will cost a fraction of what you would spend in the bloated U.S. health care system—with better service.
It's hard to estimate costs since some people are comfortable living like a low-middle-class Mexican and others need to duplicate the style of living they had in their home country. In general, most expatriates live a better life in Mexico than they did previously for anywhere from 30% to 60% less. For us, our total costs in Guanajuato are less than half of what we spend when living in Tampa, Florida.
The "better life" part often includes a maid, gardener, or inexpensive babysitter in the mix. Here you can get custom furniture and kitchen cabinets for less than what's available prefab in stores at home. Our handyman and maid both charge less than $5 an hour and we're paying above-market rates.
Be advised though that some things do cost more, such as electronics, appliances, and cheap items from China like clothing and toys. It's hard to top the United States for relentless price competition and its efficient distribution system.
After a lower cost of living and better health care, the reason many people make the move is for either better weather or quality of life. It's warm all year in Mexico of course, downright hot in a place like Los Cabos. But many popular cities are in the highlands, so you can get an "eternal spring" climate that's cooler than the southern United States in places like San Miguel de Allende, Guanajuato, Cuernavaca, Ajijic, Zacatecas, or San Cristobal de Las Casas. Even Mexico City is far cooler than Texas or Louisiana.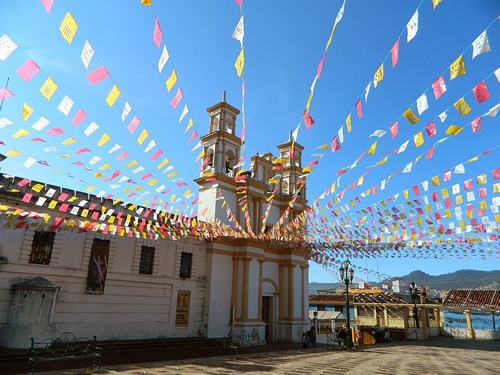 San Cristobal de las Casas.
Where to Live in Mexico?
Nobody can answer the question of "Where should I live in Mexico" except you. The country is incredibly diverse geographically, from hot beaches to snow-capped mountains, humid jungles to bone-dry deserts. The best way to figure out which place really speaks to you is to figure out your priorities and do some exploratory trips to try them out. Many times I've read about how great a place is, only to be disappointed in what I have found upon arrival. The very first day I visited my home of Guanajuato, however, I called my wife and said, "I think I've found the place where we should live." (We did a one-month trial run and decided I was right. Now we own a home here.)
Here are some of the most popular places for expats in Mexico and whom they're good for:
San Miguel de Allende — Around 25% of the 40,000 population here is foreigners. Good for those who don't speak much Spanish, who like spring-like weather, and enjoy walkable picture-perfect colonial streets.
Guanajuato City—Between the Leon airport and San Miguel de Allende, this small hilly city filled with steep pedestrian-only streets has just a couple hundred expatriate foreigners  most of the year and English is rare, but is an important historic city. Its roots go back to the silver mining days of the Spanish Crown and it staged the first battle of the Mexican Revolution.
Ajijic—On Lake Chapala near Guadalajara, another place where you seem to see as many gringos as locals. Good for those who want American-style homes with garages and don't mind depending on a car.
Puerto Vallarta region—Full of foreigners who came and forgot to leave, a tourist magnet with lots of beachfront condos and hillside homes with panoramic views. For beach bums and barflies, seafood lovers and those who want multiple flight choices out.
Sayulita region— The coast stretching north from Punta de Mita is full of surfers and bohemians, plus rich people who used to be one or the other. Wilder beaches and mellower towns than Puerto Vallarta, but with the same easy air access.
Los Cabos region—Southern Baja is a very hot place, a desert landscape by the sea. Favored by Californians with lots of money to spend, those who want luxury digs and golf courses. La Paz and Loreto are the more laid-back alternatives to the north on the peninsula.
Mexico City—The world's second-largest city by population has a strong pull for those who want an urban lifestyle akin to other world capitals but at a lower price. Many come here for jobs and end up staying or they find multiple freelance opportunities through the strong local network.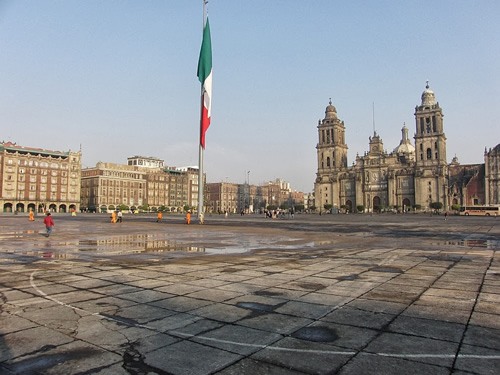 Mexico City Zócalo plaza.
Oaxaca—A colonial city with a large indigenous population, this is Mexico's finest food destination and offers a lot to explore in the surrounding region, culturally and for adventure activities.
Merida—Just a short hop from the US in the Yucatan state, this flat colonial city near the coast gets quite hot part of the year, but attracts residents with a gorgeous historic center, easy beach access, and great Mayan ruins to explore nearby. Lots of retirees are spread along the nearby Gulf Coast beach towns.
Cancun and Riviera Maya—As with Puerto Vallarta, many come here on vacation and decide to buy or rent something more permanent, especially in Playa del Carmen, where there's a large expat community. Prices are not so cheap in Mexico's #1 tourist destination and it's a warped version of Mexico, but well-equipped condos and good restaurants are geared to foreign tastes. 
Mazatlan—This west coast area offers some of the best beach city values and is probably has the lowest foreigner-to-Mexican ratio of the beach communities in Mexico: most of the tourists are domestic. Foreigners enjoy the tight-knit community, great housing options, a colonial center, and golf.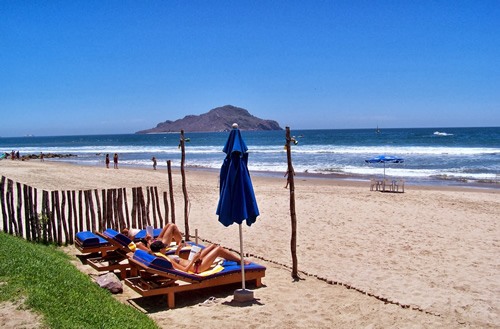 Beach in the Mazatlan area.
If the idea of moving to Mexico only to be surrounded by people from your own country is not appealing, it's easy to find a place where you can do the opposite. This is a very big country with metropolitan cities and gorgeous "Magic Towns" that are more manageable spread from coast to coast. Schools are better in the former, prices are lower in the latter. Naturally the smaller the town, the faster you'll need to learn Spanish.
How to Move to Mexico?
For many, moving to Mexico is as simple as entering the country and then going home six months later. From most developed countries you can get a tourist visa for 180 days just for the asking upon arrival. Many snowbirds get one of these every year, living half the year in Mexico and half the year elsewhere. Some stay close to a year by going on vacation once abroad and starting the clock over again upon their return.
Becoming a permanent resident of Mexico requires several years of living in the country: four for most people, two for those married to a Mexican national.
Therefore, even if you plan to move here for good, you first need to apply for a temporary resident visa in your own country and finish the process where you're going to live in Mexico. You renew it for several years and can then apply for permanent residency. See these Transitions Abroad articles on the process for getting a temporary resident work visa or non-working resident visa.
You can try to set up a rental or purchase in advance, but in most cases you're better off finding a temporary vacation rental or inexpensive hotel and looking for a permanent place to live after arrival. Some opportunities are only advertised locally or are not advertised at all: you need to ask around.
You can drive a car into Mexico, but you have to drive it back out again and laws are getting stricter on residents bringing their own vehicle indefinitely. In many cities you don't need one anyway: streets are pedestrian-friendly, taxis are cheap, and the bus systems are good for both local and city-to-city transportation. If you buy a car locally, you'll pay more than you would in the United States or Canada, despite the fact that many US cars are made here.
In theory you can get your household goods shipped to Mexico, but it's expensive and you'll often be hit up for a 17% duty on some items. Many decide to drive down a loaded vehicle, unload everything, drive it back, then fly back down. We decided to just come with lots of suitcases instead and pay a few baggage fees. That means our house wasn't instantly furnished, but we are able to get things made to our liking and buy interesting handcrafted items.
One important thing you'll need to pack: extra patience. Nothing moves as quickly or efficiently as you're used to and Mexicans don't resolve problems by shouting or insulting people. Get used to the idea that things will happen when they happen and adjust to a life of less hurry, less worry.
TIM LEFFEL is living in Guanajuato, Mexico for the second time with his family, his daughter enrolled in a Spanish-only middle school. He is the author of several books, including A Better Life for Half the Price: How to prosper on less money in the cheapest places to live. See more on his Cheapest Destinations Blog.