Living and Teaching English in Hanoi, Vietnam
Vietnamese for Life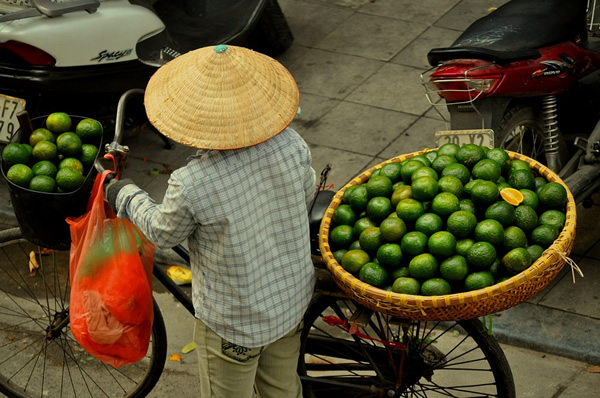 Woman selling oranges from her bike in Hanoi.
It's 6:30 a.m. Ten minutes ago, I was asleep, dreaming about a beach, a boat, and beer. Now, I am on my feet, listening to the early morning lament of a woman selling bread on my street. I may be in bed now, but in 45 minutes, I will be in front of a classroom, wearing an orange tie, ready to teach English to Vietnamese schoolchildren with the aid of a few scrunched-up pieces of paper and the type of enthusiasm that can only derive from hopeless love.
I arrived here three years ago, clutching a TESL certificate, ready to earn my keep overseas. While I only imagined staying up to six months, I did not count on remaining in Hanoi.
I ride to work on bicycles. In winter, the journey is gloomy and frigid. In summer, though, it is the nicest time of the day, and the Hanoians know it. There is a market at the end of my street, and if I wanted, I could take my pick of fresh pig leg, pineapple, or lychees sitting in a basket. My colleagues buy loads of apple pears and then slice them up for us all to enjoy. There is something sacred about gathering in the morning over shared fruit.
When I first arrived in Hanoi, a friend set me up with a job interview. The school's director was easygoing and ready to see me teach. Could I start the next evening? I spent the rest of that day buying supplies and marveling at how, at any moment, something was happening, from the man selling handmade clay figurines to the lilting speech of gossiping flower women.
Living in Hanoi
In Hanoi, reality and romance are woven together unapologetically. When the traffic relaxes, it is impossible not to sing, at least in your head. These are the times when being in a place so far from your own home is a thing of immense excitement and beauty. When the delivery boy stares at me, I wave at him. If I hurry a little, I get to school in time to enjoy a hurried iced coffee while I hunch over miniature plastic chairs, sharing lesson plans. Often, though, my mood depends on traffic. There have been times when I have arrived hollow and dry, grimy and coughing, struggling to shake off the Hanoi rush hour. The sound of 1,000 impatient motorbikes is comparable to an enormous waterfall. The traffic itself is not unlike a river, gathering momentum in little streets, picking up stray pieces along the way until it is a monstrous torrent, which does not stop to consider anything. I have seen riders go down, swallowed up, only to emerge shaken from the fray minutes later.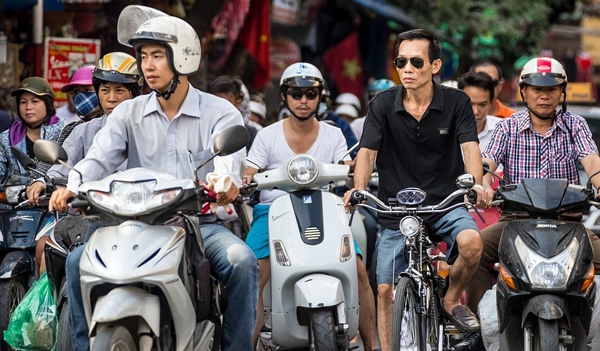 Scooters, motocycles, and bikes coexist in Hanoi.
Teaching and Playing
The first lesson is the hardest. I remember walking into the classroom and receiving a boisterous reception from 25 children, all eager to clutch pieces of my clothing and chat about English football. A support teacher sat in the corner, marking homework. I approached her, babbling nonsense about my approach to this lesson. I had over-planned it by about two and 1/2 half hours — that is what new teachers tend to do. The support teacher did not understand what I was saying, and the children all clambered around me: "What's your name-how old are you-are you married-why aren't you married-do you love Vietnamese-what is you girlfriend's name old is she?" I learned more than the kids did. For a start, I suspected that I had found my passion — a strange mixture of improvisation, careful planning, and theater.
These days, I see new teachers arrive on the scene: eager faces, fresh off the plane, clutching their workboxes nervously as they wait for class to begin. I have three years on the job, and sometimes I feel old. Lessons that eluded me for hours now come together from memory, with a couple of exercises thrown in from my backups and perhaps something new that I am trying. The kids manage to surprise me daily. As I walk into my first lesson today, a serious boy with a shaved head and a handful of Pokémon cards confronts me in the doorway. He wants to ask me why I would leave Australia in the first place. "They have kangaroos," he says, with the authority of someone who has seen it firsthand. I cannot answer him right away. I am unsure if I can put the feeling into words when you have found something special, a calling perhaps, or a vision. Maybe excitement evolves with bits and pieces of everyday existence, like a shy smile from a pretty lady or a grumpy acknowledgment from the man who sells me pho noodle soup. So perhaps I will tell the little boy that I have found "Cuộc sống," which, in Vietnamese, means life.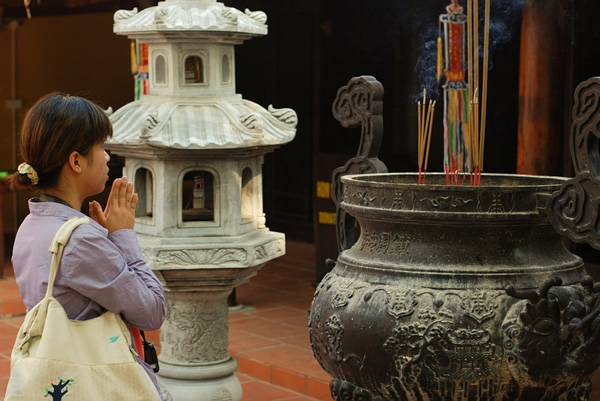 Girl praying at a Pagoda.
For More Information of Teaching in Hanoi
What qualifications do you need to teach?
The debate rages. Some people will insist you need proper qualifications, while others wave you through an open door. Before doing anything, you should know Vietnam's visa requirements. A visa is necessary even for a visit — applying for a one- or three-month tourist visa in your country is easy. Officially, you need a working visa if you are going to work. Reputable schools should offer to sponsor you for a work visa, providing that you have the right qualifications. Generally, a school to sponsor you requires a bachelor's degree. When you are looking for work, it is desirable that you also possess a TEFL or a CELTA certificate. With these tools, you should not have any trouble finding classes. While it is possible to find work without these qualifications, it will be hard to find a school to sponsor your visa, which in turn will make it hard to work in Vietnam legally.
How will you find work?
There are two primary options: try to set up work before you go, or, like me, you can wait until you are in the country before you approach employers. There are merits to both options. Consider the first one. Larger language schools recruit from overseas. Reputable schools like Apollo and British Council and Language link advertise internationally. It is possible to negotiate a contract, which may include bonus pay packets, and even return airfare. Proceeding in this way means that you have a steady job set up before you have even set foot in the country and that is a great way to hit the classroom on your feet.
Hanoi is overwhelming and unique, which can sometimes translate as "very hard to deal with." The city offers many activities, which is not always for everybody. If you are unsure if it is your place, visit the city for a while. Make some contacts and explore. If you set yourself up with a little bit of cash, you can approach employment gradually, offering you the chance to consider what you want to do.