Do It Yourself Travel in Costa Rica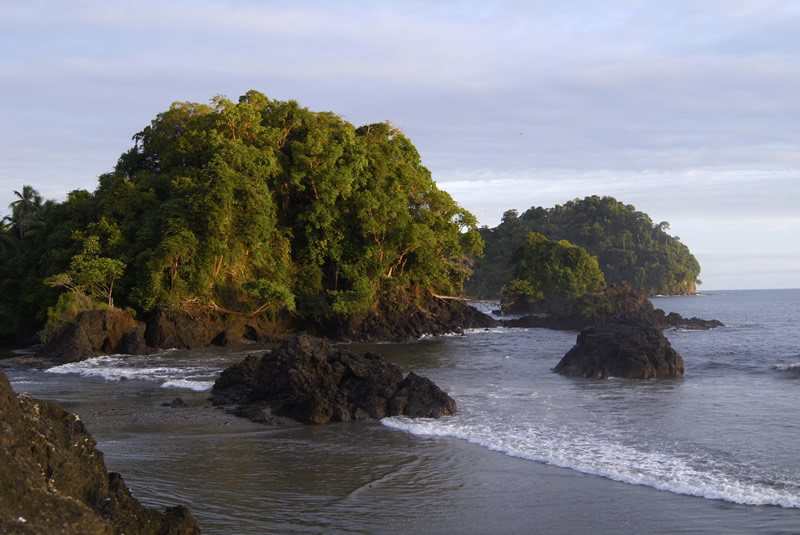 Manuel Antonio beach is part of a lush park.
I've met travelers on the Central American backpacking route who skip Costa Rica altogether. They board a bus on the Nicaraguan border and don't get off until Panama. This isn't because they disparage Costa Rica's beauty or its opportunities for fun and adventure, however. No, it's strictly a financial decision.
Costa Rica is the most expensive country in Central America. It's also the one most often visited by non-backpackers—tourists, in other words, who pay for a guided trip and don't even learn the exchange rate, preferring to pay for everything with U.S. dollars. These travelers have more money and fewer vacation days than the average backpacker, and they probably wouldn't even consider the country expensive. After all, it's still cheaper than back home, although not to the low-price extremes of neighbors like Guatemala or Honduras.
Sure, you can choose to take a guided, planned, and all-inclusive tour of this accessible jungle paradise, and many people do, as evident by the congestion of modern buses and white passenger vans around popular destinations like beaches, private nature reserves, and zipline parks.
But if you're the type of traveler who likes to make your own decisions, discoveries, and mistakes, don't sign up for a tour of Costa Rica. Plan your own trip instead. The country is generally well organized, easy to understand, and safe. And its main charm, nature, is much better appreciated among only a few close travel companions rather than a noisy group of camera-wielding strangers.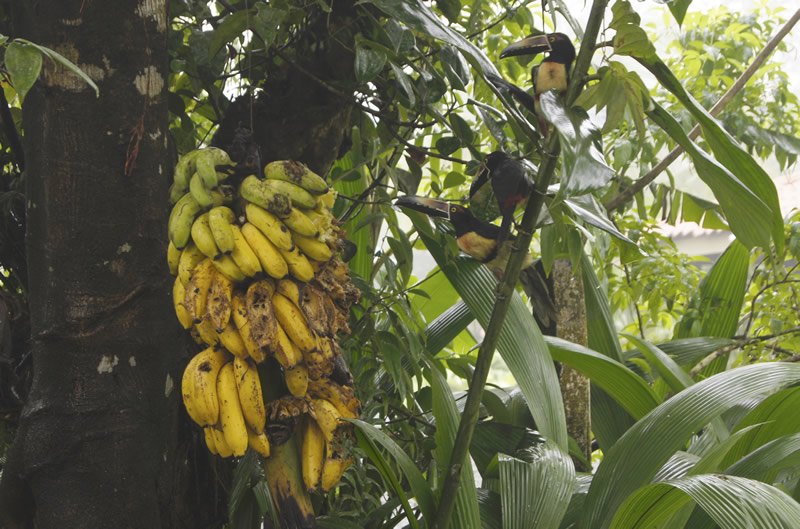 A hungry toucan eyeing some ripe bananas.
So, if you decide to do it yourself in Costa Rica, here are a few tips to get you started.
Prices in Costa Rica
As mentioned, Costa Rica is expensive by Central American standards. A modest meal in a local restaurant might cost more than $10 USD, and you can expect to pay similar prices by comparison with what you would back home in foreign restaurants or those in tourist areas, with meals costing upwards of $20 to $50 USD.
Most hotels cost between $50 and $150 USD, depending on location. A zipline tour should cost from $80-100, entrance fees to a private reserve around $40-60, and entrance fees to a national park about $20. Two ice cream cones at the nationwide franchise Pop's came to more than $5 USD.
So, no, Costa Rica is not exactly a budget destination. But you may find the higher prices a fair tradeoff for traveling in a stable democracy with few instances of crime against tourists.
Besides, you can save a lot of money by doing two things: eating at restaurants frequented by locals, not tourists, and paying in the local currency instead of U.S. dollars.
Yes, U.S. dollars are accepted practically everywhere, but you can be sure that the exchange rate will be a little less favorable than the official rate. By paying in U.S. dollars, you'll end up paying a bit more than if you were to withdraw colones (the local currency) out of an ATM and pay with them.
When you pay with a credit or debit card at a restaurant or hotel, for example, they will give you the option to pay with U.S. dollars. Always choose colones—the exchange rate imposed by your bank is bound to be less than the one used by the restaurant.
Also, check your bill to see if the tip was automatically included. In nearly all tourist restaurants and many local restaurants too, 10% is automatically added to the bill. Tip a little extra if you want, but it isn't necessary.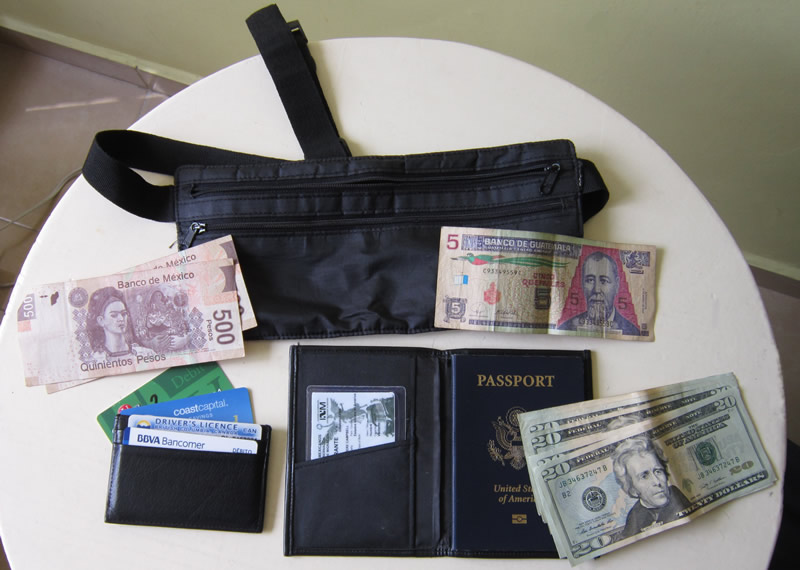 Costa Rica is more expensive than neighboring countries, but there are simple strategies to keep costs down.
Food and Drinks
Especially in tourist areas, you can find all kinds of good foreign food in Costa Rica. But don't miss out on the local cuisine, served at small diners called sodas.
A generous scoop of gallo pinto, the ubiquitous rice and black bean mixture, is included with every meal. Alongside you'll have some fried plantains (a cookable cousin of the banana) or patacones, which are flattened discs of plantains fried a little harder.
The plate may also contain a small piece of white cheese and a small salad or some vegetables. For breakfast, there will surely be some fried or scrambled eggs, and for a late lunch you'll have a piece of meat or fish. Look for lizano sauce on the table, an indescribably tangy garnish that goes with just about everything. (If you want to bring some home, don't wait for the airport to buy it, where it's ridiculously overpriced.)
The set meal that includes most of everything described above is called a casado, which literally means "married." In some restaurants you can put together your own casado from options in a cafeteria-type setup.
Of course, there are other options besides the casado, such as typical dishes olla de carne (a beef stew), sopa negra (black bean and vegetable soup), and the snack chifrijo, a combination of chicharron (pork rinds) and frijoles (beans).
Set meals usually come with a drink, a fruit or herbal infusion. Try limonada con hierbabuena—lime juice mixed with spearmint. Many other options for fruit drinks are available too, so bring your Spanish-English dictionary to translate all the options.
You'll surely enjoy the coffee, which is not only locally produced and high quality, but also brewed in a creative way. The chorreador (literally "dripper") is a little cloth or canvas pouch full of coffee suspended on a wooden stand, through which you pour hot water. The coffee isn't only delicious, but also served with style.
Like with lizano sauce, don't wait for the airport to buy a bag of whole-bean coffee to bring home, as it will be overpriced and your options will be limited. Instead, visit any grocery store and sniff the little valve in the bag to choose a variety you like.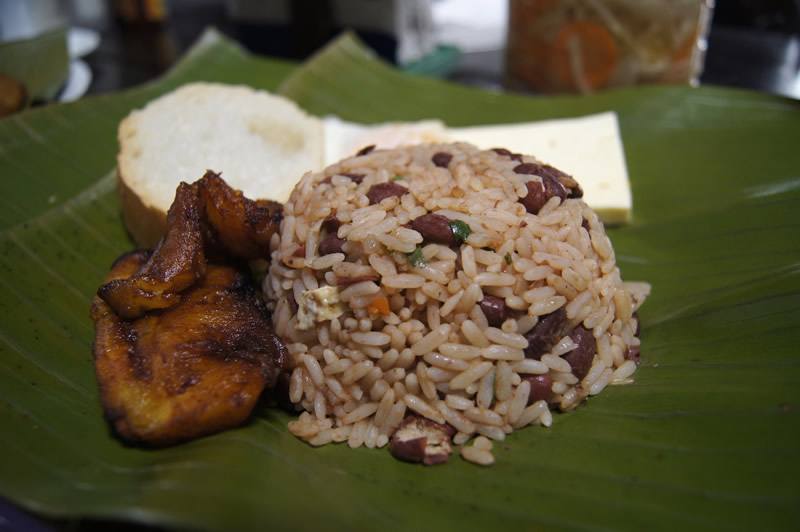 Gallo pinto, simple yet satisfying, is an accompaniment to every meal.
Renting a Car in Costa Rica
To enjoy Costa Rica's prime asset, nature, you'll need a car to get around. Sure, you can take public buses between towns and cities, but unless you splurge for a taxi or sign up for a tour, you'll need a car to get to national parks and out-of-the-way beaches.
Renting a car in Costa Rica involves the confusing contracts full of fine print and borderline scams that are common in developing countries that receive many tourists. You might find what appears to be a good rate online, such as $2 USD a day, but once you get to the counter, the price goes up astronomically as soon as you are inevitably pressured into buying insurance.
Your best bet, then, is to reserve directly via rental car company websites and be sure to read the fine print. Be aware that to avoid paying for maximum insurance, you'll need a credit card (not a debit card) with a high credit limit, usually around $5,000 USD.
You may end up with a manual transmission vehicle even if you book otherwise. It's actually a better option for country roads, though obviously not if you don't know how to drive standard. If that's the case, then call or email the rental car company to confirm that you actually will be getting an automatic.
Unless you're certain that the roads are particularly bad in the places you want to visit, you probably don't need to rent a 4x4, despite recommendations in their favor from many sources online. You'll be fine in a regular car, especially if you have previous backroads driving experience.
Yes, the car rental process can be a hassle, but once all the forms have been signed and all the tires kicked, you'll be free to explore the country at your own pace.
Driving Around the Country
Major roads in Costa Rica are generally good. It's the road signs that need some work. Don't plan on simply showing up and following signs to get around, even if you also have a map. Except for major multi-lane highways, most smaller roads have no signs or street names at all.
So, download an app to your phone that will give you directions, like Waze. And make sure you will have data on your phone to be able to use it. If not, you can buy a temporary data plan. Go to a little booth in the baggage claim at the country's main airport in San Jose, the capital.
Although you won't see too many reliable road signs, definitely look out for the yield signs in front of narrow bridges. Many have only enough space for one car on a single lane, so if you're coming from the side with the yield sign, you'll have to wait until the traffic from the other direction clears. If you approach from the side with no yield sign, slow down and cross carefully.
The good news is that, compared to drivers in other Latin American countries, Costa Ricans are generally calm and cautious. In fact, you might find that the biggest nuisance is other drivers going too slow.
Hotels in Costa Rica
Sometimes it's fun to travel around with no plan, finding hotels as you go. But for Costa Rica, you should book a few places online beforehand. This isn't because of a shortage of hotels, but so you can find an exceptional place to stay.
Instead of that boring motel in a small crossroads town, look for bungalows surrounded by jungle. For instance, my wife and I stayed in a small cabin at the Hotel Catarata right next to Tenorio Volcano National Park. The first morning, we were awakened by a group of Capuchin monkeys leaping from tree to tree right outside our window. They peered down at me as I took a shower in the outdoor stall.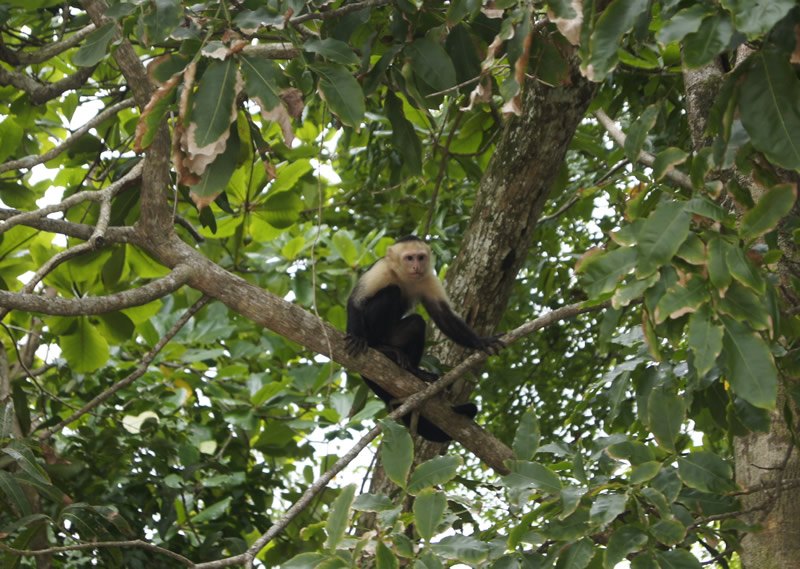 A monkey peering down at me.
The hotel's website didn't mention it, but it turned out that the hotel compound used to be the original entrance to the national park. A wide grassy path went between farms and grazing land to the foot of the mountains, where a trail began. The trail went up into the deep rainforest, crossed several streams, and we never saw another hiker for the entire three hours we spent on it.
This wasn't some fancy resort—the cabin was about $60 USD a night, and there were cheaper, smaller ones available. There was a nice bar and restaurant on site, a swimming pool, and of course a friendly guide offering excursions and free advice. (He told us about the hiking trail, for instance.)
Later in the trip, we paid more (about $120 USD) for a hotel right outside the entrance to Manuel Antonio National Park on the Pacific coast. The hotel itself was pleasant, with a swimming pool and restaurant, but what made it worthwhile was the location. We could have saved some money by booking a hotel a little farther away, but what the maps didn't show is how steep and twisty the road is. What appears to be a short walk is actually a quite strenuous climb. But, with our hotel only minutes away from the park entrance, it wasn't only easy for us to get to the park and the nearby beach, but also easy for animals from the park, like birds and monkeys, to visit the hotel.
My two favorites are Booking.com and Expedia.com, but you can choose practically any travel site to search for well-located hotels with lots of perks and character.
Two Unavoidable Companions: Rain and Bugs
It rained every day we were in Costa Rica. I suspect that in most parts of the country, it rains every day of the year. What else could produce all that thick green jungle?
Sometimes it was a steady drizzle that lasted hours, and sometimes it was a driving downpour that soaked me to my socks and underwear. Because of this, if you plan on spending any time outdoors (and why else would you go?), pack a good raincoat, waterproof boots, and some quick-dry clothing.
Even with those, your clothing will still get drenched. The good news is that a few hours of sunlight in the afternoon should dry up everything for the next day.
It's not only rain that you must prepare for, but also armies of bugs. Bring long pants and a long-sleeved shirt, bug spray, and something to treat bites. (I like Tiger Balm for that, available at most pharmacies and any Chinatown.) Don't worry about diseases like malaria, though—nothing so dangerous from bugs is common in Costa Rica.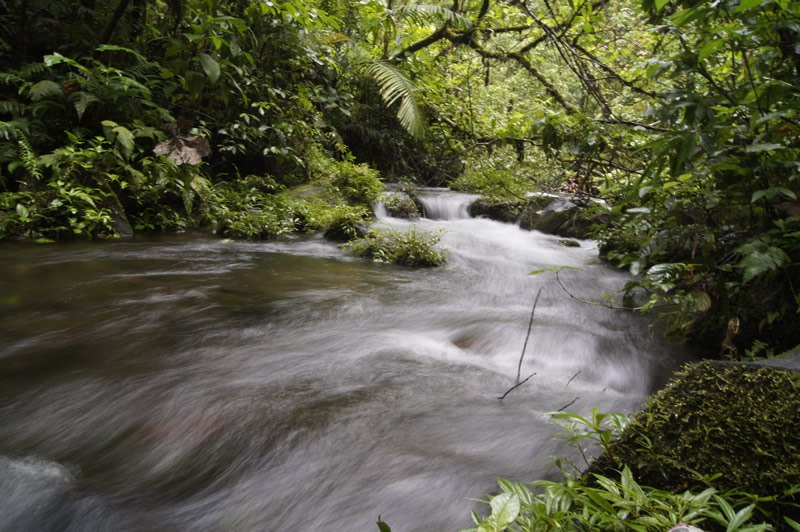 The daily periods of rain in Costa Rica also produce beautiful rushing streams and dense jungles.
National Parks
Costa Rica is full of private reserves with wooden footbridges, impossibly long ziplines, and all kinds of adventure activities like rafting, rappelling, riding ATVs—you name it. They have contracts with tour operators, who bring their clients to them for the day. If you visit independently, you'll pay for it—usually $100 USD a day, more or less.
But if you love nature, like hiking, and want to be on your own, look no further than Costa Rica's fabulous national parks. There are 28 in the country, such as the huge black cone of the Arenal Volcano surrounded by forests and waterfalls; the turquoise streams and waterfalls of Rio Celeste flowing through heavy rainforest over the slopes of the Tenorio Volcano; and the beaches and rocky jungle coastline of Manuel Antonio, Costa Rica's smallest and perhaps most famous national park, which is full of animals like deer, two-toed sloths, caimans, and three kinds of monkeys, including the endangered squirrel monkey.
You don't need a guide or tour group, although hiring one of the guides who hang outside of park entrances may be a good idea, especially if they have a telescope on a tripod. They're experts at spotting animals, especially small ones like chameleons that are impossible to find without experience.
You can wait to hire the guide until you arrive at the park, however. For a fun day of hiking, simply choose a park, drive in, pay the fee, and get a map at the entrance. The somewhat pricey fees (between about $15 and $25 USD) mean well-marked trails, so don't worry about getting lost. Bring good boots, a raincoat, bug spray, a camera, and binoculars.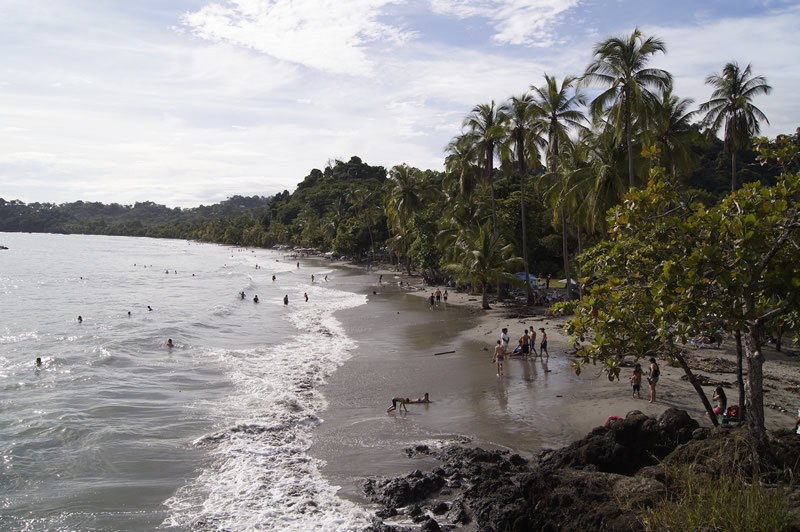 Locals enjoying a beach day.
Seeing Animals in Costa Rica
Even if you never visit a national park, you'll see animals every day you're in Costa Rice. A restaurant at a hotel where we stayed had a bunch of bananas hanging outside, where toucans descended to poke at each morning. Later in the day, several coatis (a tree mammal like a jungle raccoon) would creep up to pick at what was left.
While stuck in traffic one morning, we heard sounds from high in the nearby trees, where a large troop of monkeys was jumping around. While crossing a long bridge another morning, we couldn't help but notice all the people standing by the railing, looking below. So we parked and walked out on the bridge, and peered down at a huge group of crocodiles, some of them longer than a car. Even in the capital of San Jose, we saw a small parrot climb out of a hole in the base of a statue and fly away.
Once you're in a national park or nature reserve, the animal parade is practically endless. We saw a huge snake twisting on the trail below a zipline tower. A little later, our progress was delayed by a group of tiny squirrel monkeys climbing along the line.
Perhaps the best experience was seeing a sloth descend in slow motion from high up in a tree, lowering one long-clawed limb after another. We got lucky—apparently, sloths climb down the trees only once a week to defecate on the jungle floor. (Their digestion is even slower than their motion.)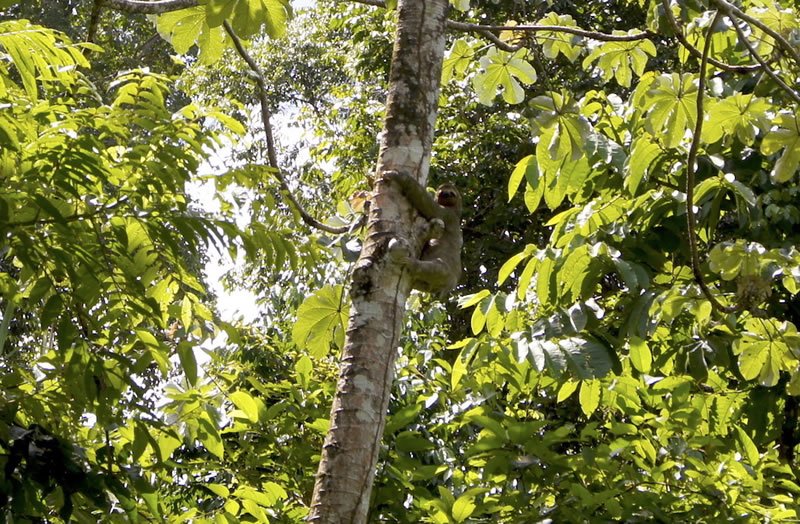 Look carefully and you will see a sloth staring back at you during a rare descent.
And, Sure, do the Zipline Thing
Finally, don't deny your desire to sail above the trees on a zipline just because you may have the impression that it's a cheesy tourist activity. It's also a hell of a lot of fun, and you'll get another perspective of the jungle that you wouldn't get from just hiking.
We did our zipline tour at El Santuario Canopy Adventure Tour near Manuel Antonio National Park. For $80 USD per person, we were picked up at our hotel, driven for about an hour to the private reserve in the jungle, and taken down 10 ziplines, including what they say is the longest zipline in Central America. (At 8/10 of a mile, it may actually be true.) And at the end of it all, they fed us a chicken casado before driving us back to our hotel.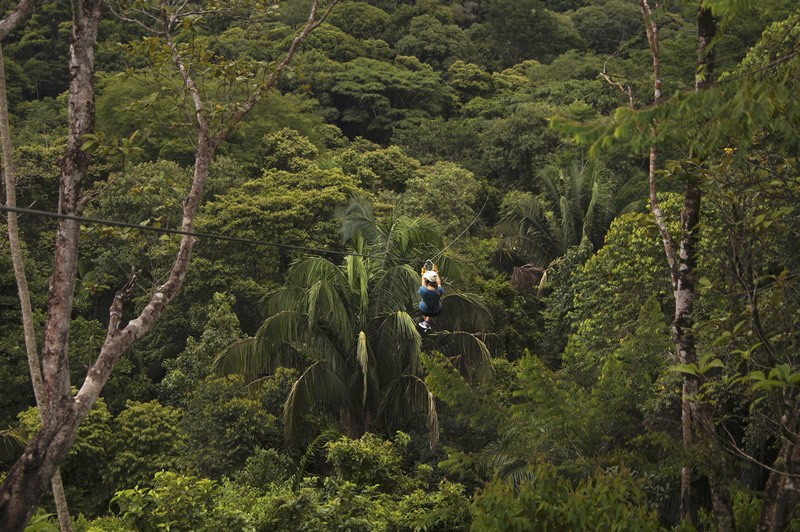 Enjoying a ride on the zipline.
Sure, the zipline reserves may be a little expensive and a little touristy, but they're actually a noteworthy source of good in the country. Because of them, natural areas are restored and preserved, and they're a source of employment for people in the community. At least 10 people attended our small group of about 15, and that estimate doesn't even include the cooks and drivers. So, please don't feel bad about a screaming your way down a zipline—it's a good thing, both for you and the environment. But, of course, check out some national parks too.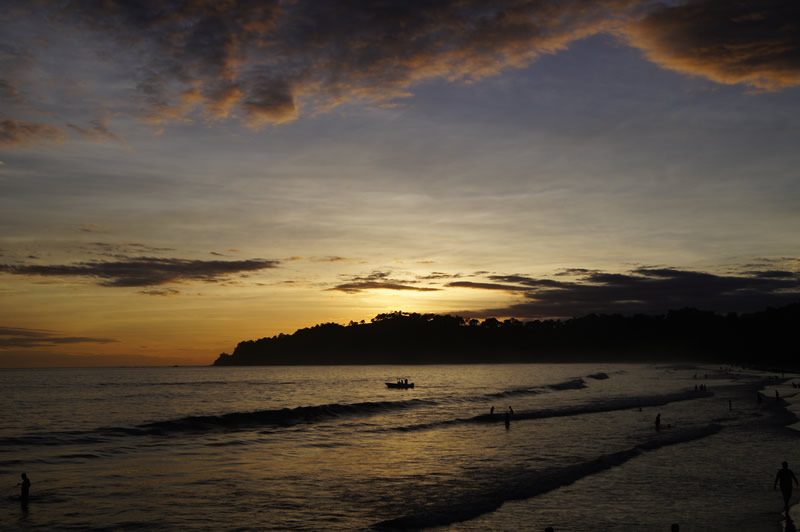 A Costa Rican sunset.